Would you like to hire a photo booth? Look no further! Contact us now
The Best Photo Booth Hire
Photobooth Hire in the West Midlands & Wales
If you're looking for alternative wedding ideas or fun entertainment for your wedding, birthday or event, why not hire a photo booth from myPhotoBooth? We supply our photo booth hire service throughout the West Midlands, England and Wales. Including Birmingham, Cardiff, Manchester, Gloucester, Cheltenham, Worcester, Swansea, Newport and Bristol.
Headed by a World Commended photographer, you'll find the quality of our photos exceptional as well as our friendly service as we strive to provide the best photo booth hire service in the UK!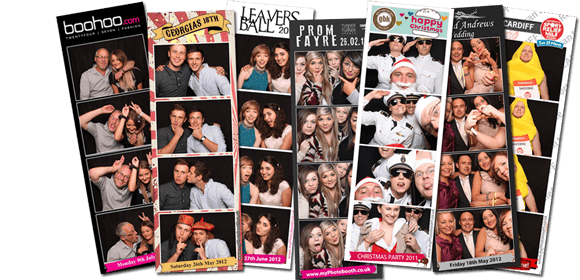 Book one of our exciting photobooths for your school PROM this year
Unlimited Photobooth Usage
You and your guests are welcome to use the photo booth as much as you like! We don't limit how much use it gets as long as everyone gets a fair turn. And all of the photo booth pictures are included in the hire price, why not build up a collection?
FREE Guest Book
If it's your wedding, birthday or Bar/Bat Mitzvah or similar, you will receive our message book at no extra cost! For proms and balls we can also supply a FREE photo board. We print 2 strips of photos, one for your guests to keep and one for the book/board.
FREE In House Design Service
We can design your prints to match your event, as you can see from the photo strips above - and at no extra charge! Whether it be your new name on your wedding day or a complete corporate branding for a product launch, we'll have something fitting.
Amazing Photo Quality
Using a combination of professional photography equipment and years of experience in the photography field, we make sure our cameras and professional studio lighting is setup to capture you at your very best.
Take a look
Professional Camera Kit
We've spent thousands on professional equipment so that we can give you the best quality photos possible. Using laboratory quality "Dye Sublimation" printers that provide amazing result compared to the normal home inkjet printers.
Instant Prints
Our Dye Sublimation printers are designed to give professional, laboratory quality prints in a superfast time. Once sent to the printer, it only takes touch dry and water resistant using up to 16.7 million colours!
Commitment to Excellent Service
We believe that good customer service is one of the most important and yet most over looked areas of running a business. We are committed to excellent customer service - providing you with an enjoyable, hassle free service. When you choose us for your photo booth hire, we provide you with unlimited use, free photos, a box of props, free inclusion to our online gallery and all photos on a custom printed DVD in high resolution. You can be sure that your guests will be talking about how great your event was for months to come - and they'll have the pictures to prove it! Whether you're looking for great wedding ideas, birthday party entertainment or corporate entertainment for you Christmas party, awards ceremony or product launch, our photo booth hire service is a fantastic way to add a unique twist to your special occasion.

No Hidden Travel Costs
All of our quotes include travel so you won't find any hidden charges added on after. And if you live within 100 miles of Hereford all travel is included in the base price! That means that there are no travel costs for photo booth hire in Birmingham, Chester, Worcester, Coventry, Oxford, Gloucester, Cheltenham, Cardiff, Bristol, Newport or Swansea!
ШОКИРУЮЩИЕ НОВОСТИ