A top radio producer has apologised after he said that gay people need to be rehabilitated in prisons.
On Wednesday, Kagiso Sebudi, who is listed as one of Lesedi FM's producers on its website, posted a photograph of a same-sex couple on Facebook.
In the image, a man is on his knees, proposing to the other, who seems overcome with emotion.
Sebudi commented along with the photo: "Majita a ratang bo ausi a fokotseha guys. [There's a decrease in the number of guys who love woman.] I think we need a good rehabilitation program in prisons. Most of them are there as well."
The post was widely shared on social media, with many reacting with outrage at the blatant homophobia; not only his suggestion that gay people should be "rehabilitated" but also that most of them are criminals.
The belief that LGBTQ people's sexuality or gender identity can be changed is the basis behind dangerous so-called "conversion therapies" as well as "corrective rape" violence against lesbian women.
Sebudi took the post down and then issued an apology, writing: "I would like to apologise to the Gay community for the post that I made recently. The aim was not to offend anyone. I wrote it in a light-hearted manner. Not to say there is something wrong with gay people but to talk about the the shrinking number in guys that date women. I apologise unreservedly."
The apology, however, only raised further ire. Carla De Bouchet, who refused to accept it, commented: "You are the one who needs rehab for your homophobia. Are you aware of the violence you have enabled towards Queers with your reckless statements as a person in the public eye? Their blood will be on your hands."
Moreki Mo added: "An apology means nothing if you don't show changed behaviour and attitude towards Queers."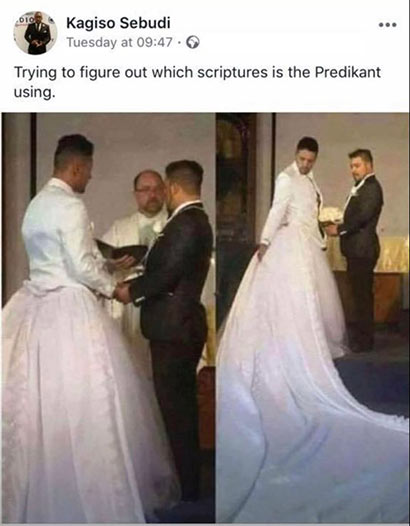 Lerato Phalakatshela, Hate Crime Manager at OUT, and spokesperson for the Love Not Hate campaign, agreed that Sebudi's apology was insufficient and wholly inappropriate as he repeated the idea that homosexuality is somehow being "spread".
"That's not good enough," said Phalakatshela. "What does he mean that there's a decrease in the number of guys who love women? It's just that there are more gay people coming out – they were always [gay]. That's just a stupid statement to make."
Sebudi's homophobic post doesn't appear to be an isolated incident. Mambaonline has received a screengrab of another alleged post of his in which he commented on a photo of a male couple being married by a cleric.
Sebudi's sarcastic statement there was: "Trying to figure out which scriptures is the Predikant [minister] using."
Earlier this year, Lesedi FM presenter Chomane Chomane was forced to apologise after he asked a gay listener on air who would "play the woman role" if he was in a relationship.
Based in Bloemfontein, Lesedi FM is the fourth largest radio station in the country, with almost 3,5 million listeners. Mambaonline's calls to the station on Thursday went unanswered.
ШОКИРУЮЩИЕ НОВОСТИ