SPONSORED LINKS:

The Bullets - Final Race
Stage Records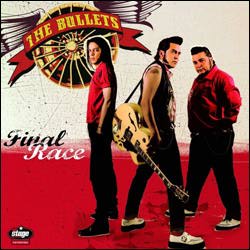 Track listing: Final Race / Little Sister / I'm Sorry / Ramblin' Gal / She's Wicked / You Treat Me Badly / Daniela / One Cup Of Coffee / Don't Pass Me By / I Don't Know / Holiday Memories / I Wanna Be Alone / Baby Blue / Pulsar
The global influence of rockabilly takes a detour to Thessaloniki, Macedonia where the Bullets formed in 1988. That's a twenty year unbroken run which has seen them build up a local following around Greece without ever becoming one of the big players on the European circuit. They hope that can change with this release on Stage Records. For a group of such longevity they appear to have seen very few recording action. Their debut didn't come until 2003 and since then it's basically been the odd track on the odd compilation 'Дм odd. Well they're here now and are making up for lost time.
It's one of the most diverse albums I've heard for ages with splashes of doo-wop, a little bit of psycho and plenty of rockabilly. The title track is great neo-rockabilly in the Restless category and they storm through the Fuzztones' She's Wicked. Sister Mary takes the lead vocals on the doo-wopper I'm sorry that wouldn't have been out of place on the Grease soundtrack - don't let that put you off though, it's good. I don't know goes from tender doo-wop to a manic call-and-response rocker that somehow works. There's a touch of the Stray Cats to Ramblin' Gal, which goes like a hotrod. There's surfabilly with You Treat Me Badly while Daniela has the Jets sound. They revisit the Cotton brothers for Holiday Memories, which could have come out of Northampton such is the sound they get on this rockin' bit of doo-wop.
The cover of Elvis' Little Sister is blistering with savage guitar and a hard driving beat that could be the king of the strollers on dancefloors for years to come. Gene's Baby Blue is rock solid and would have done his leathers proud. Not for the faint hearted, but a great version from the piano to the backing vocals. Glen Glenn's One Cup Of Coffee (And A Cigarette) bounces along nicely and rounds off a great trio of covers. Sometimes too much diversity can hamper an album, not so here though. This is an enjoyable release which should offer something for everyone.
Shaun Mather
September 2008.
Bye Bye Love
(Sept. 2008) This week was supposed to be all about saying goodbye to heroes. Thursday 11th was the Stray Cats in Manchester. The Stray Cats were my heroes in school and my love for them has never diminished. I've supported all their solo projects and seen them live a couple of times before. This tour though is billed as their final tour and was therefore something I couldn't miss. The reviews have been great from shows across Europe and anticipation was high. My neice was even going, she's only 14 and loves the Cats, the future generation if you want. Then, disaster strikes, as Slim Jim falls off the stage at the end of the London show and breaks his arm in three places, causing the remainder of the tour to be cancelled. Next comes the final one-day game of my favourite cricketer of all time, Graeme Hick. I've watched him hundreds of times and he is outstanding, absolutely brialliant to watch. I've seen him punish bowlers to the point where you almost feel sorry for them - almost. Anyway, before the big day comes, Worcester is under 9 foot of water and the game gets moved to Kidderminster, which isn't big enough for the members never mind the general public. I'm just glad Elvis Presley isn't alive to play Pele in a farewell game of head-tennis. I could imagine I've got front row seats and then the world ends. The pathetic old line, ah well, there's always tomorrow doesn't work with farewell shows and games. All you got left are the memories - thank God they're precious.
Shaun Mather
September 2008.
Carlos & the Bandidos -
The Good, The Bad & The Bandidos
Part Records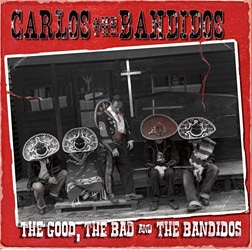 Track listing: You're Gone, Gone, Gone, My Poor Old Heart, Miserlou, Come Home To You, My Baby Thinks She's A Train, You're Crazy, A Murder Of Crows, I Wish I Had Died In My Cradle, The Alibi, I'm Shakin', The Devils Slate, Mary Jane, The Sun Shines Brighter, An Unhealthy Obsession, Go On Your Way, The Vanishing Race
Carlos & the Bandidos go from strength to strength with each release enhancing their reputation. This latest release maintains the momentum and sees them taking their sound to new levels of mexibilly. For those unfamiliar with their sound, it's basically hard-edged rockabilly played to a spaghetti western theme. Paul "Monkey" Maitland, Neil Scott and Roger Van Niekerk lay down a solid, sometimes exotic beat, underpinned by hot guitar picking from Malcolm Chapman. Bringing it all home is Carlos Mejuto who's vocals are never less than interesting and one of the best on the current rocking scene.
This CD was recorded by Big Boy Bloater and includes guest spots for his misses, Lil Lisa on sax and Dave Priseman on Trumpet. There don't appear to be any weak spots on the album, but the standouts for me are Mary Jane, Miserlou, An Unhealthy Obsession and the best of all, You're Crazy, a full-on blasting rocker. Also on the market is a best of Carlos & the Bandidos, a great place for novices to start their Carlos collection. You won't regret it.
Shaun Mather
September 2008.
Los Fabulocos Featuring Kid Ramos -
Los Fabulocos
Delta Groove Music 125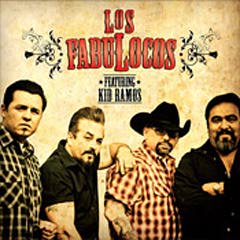 Track listing: Educated Fool, If You Know, Crazy Baby, Lonesome Tears In My Eyes, Un Mojado Sin Licencia, Day After Day, Como Un Perro, You Ain't Nothin' But Fine, You Keep Drinkin', Just Because, All Night Long, Burnin' The Chicken, Mexico Americano
Los Fabulocos are an all emcomposing rock 'n' roll abnd who describe themselves as Cali-Mex which is basically roots oriented, with equal measures of blues, zydeco, Conjunto, Norteno and rock 'n' roll. In the 80's I used to listen to a lot of this sort of hybrid music from Los Lobos and the Texas Tornados to the Beat Farmers, but in recent times I've become a bit limited in my taste, listening to just rockabilly, blues and country. This release is therefore a breath of fresh air for me, and I would suspect, anyone with an ear for rootsy music with a party atmosphere. Don't get me wrong, this isn't sing-a-longa Jive Bunny, this is raw, energetic forays into mainly blues and zydeco.
Kid Ramos will be familiar to most as his CV includes the James Harman Band, X, The Blasters and a seven year spell with the Fabulous Thunderbirds. He also released three successful solo recordings on Evidence Records and currently plays guitar for the all-star revue, The Mannish Boys. When he teamed up with vocalist/accordionist Jesus Cuevas (The Blazers), bassist James Barrios and drummer Mike Molina, Los Fabulocos were born. Executive Producer Randy Chortkoff sums up the whole feeling behind the band and the labels aspirations, "I knew upon hearing Los Fabulocos that this project would strongly add to the flavor and diversity of the Delta Groove label. Being from California myself, I saw this as a perfect fit and a wonderful opportunity to expand our brand to accommodate a larger slice of the American musical art form without straying too far from my original vision for the label. Their music encompasses the roots of all American music; from Rhythm & Blues to Rockabilly, Tex-Mex to Blues, to the origins of early Rock 'N' Roll."
The album is split half and half between originals and covers but the general ambience of the CD sees them gel seamlessly. The album kicks off with a chugging, bar-room interpretation of Huey Smith's Educated Fool which sets the scene for the whole shebang with lashings of hot guitar and accordion. Cuevas' own If You Know is hypnotic, totally engaging and goes like the clappers. There's a swamp pop burner in Crazy Baby and some fun-time rock 'n' roll on Barrios' You Keep Drinkin'. I love the version of Lloyd Price's Just Because, it epitomises everything great about this band. There's a couple of songs sung in Spanish including the attractive ballad, Como Un Perro which could be about fighting a donkey with a switchblade but is probably a love song! Un Mojado Sin Licencia is surely what Cali-Mex is all about, fun, danceable and thoroughly hypnotic. There was only two I couldn't really take to, the call and response cover of Clifton Chenier's All Night Long and surprisingly, the Burnette Brothers' Lonesome Tears In My Eyes, which was a bit to Latin for my tastes. Best of an excellent bunch is the instrumental, Burnin' The Chicken. The poor hen couldn't have been the only thing burnt as the guitar must have been near melting point as Ramos scorches away. Surely a starring role in a Tarrantino movie awaits this sizzling instro. A cracking album that should find a wide ranging audience - I bet they're cracking live.
Shaun Mather
September 2008.
Johnny & The Jailbirds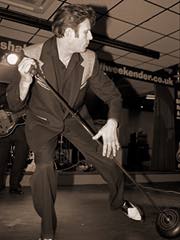 In rock 'n' roll, as with most strains of music, you get bands who never make it beyond the pub circuit and a few that have that little bit extra quality and are therefore able to really make a name for themselves on an international basis. Johnny and the Jailbirds fall in the latter category, having achieved cult status across the European continent. They were formed in late 1973, when Johnny Red moved from London to Northamptonshire. He placed an ad in a local newspaper, looking for some like minded rockers to form a rock 'n' roll band. He auditioned the applicants and after a few rehearsals Johnny and the Jailbirds were up and running. From the humble beginnings of their first gig in a local village club they quickly developed a reputation for one of the top bands in the UK.
They signed to Charly Records in 1979. When Richie Ball joined on lead guitar, the final piece of the jigsaw was in place. As well as being a top picker he was a songwriter and Ball and Red began a fruitful partnership. These contributed eight songs for the bands debut album 'Out On Bail'. Rockabilly was rife in Europe at that time and the Jailbirds took advantage with two of their strongest numbers, 'Eileen' and Too Much Wine' making the top five of the French Rock 'n' Roll charts. The album became an instant classic and was to be the highlight of their career. They called it a day after just seven years but reformed a few years ago and Red and Ball wrote all the tracks for the comeback album 'Rockin The Blues Away'. They charted in the E.M.S. European country charts, with 'Lonestar Boogie' which went to No5 in October 2000, and 'Red Eye to Memphis' which reached No3 in January 2001.
My Johnny & The Jailbirds Top 5
1. Eileen - brilliant hot pot of rock 'n' roll with ringing guitar and Elvisy vocals combining with a splash of doo-wop.
2. Too Much Wine - more of the same, melodic with some fine Red vocals. Their songs are so catchy.
3. Lonestar Boogie - melodic rockabilly which kicks off in Johnny Cash mode.
4. Stay Away - Taken from a 45 on the French ? Label, Stay Away is a singalong rocker with a short, but oh-so-sweet guitar solo.
5. Red Eye To Memphis - another exciting ditty with a commercial, catchy chorus.
Shaun Mather
September 2008.
Clyde McPhatter & the Drifters -
Jukebox Hits 1953-57
Acrobat ACMCD4322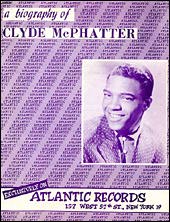 Clyde McPhatter was one of the greatest vocalists of all time, influencing future doo-woppers and soul singers alike, and was a favourite of none other than Elvis. Acrobat have taken advantage of the 50 year rule to bring us a collection of twenty odd numbers from the mid 50's. Most collectors will no doubt have most if not all of what's on offer here, but if not, they can snap this up with confidence. The music is wonderful, coming from three distinct periods. The first part gives us eight marvellous numbers from Clyde and Drifters, with classics like Money Honey, Such A Night and Honey Love needing no introduction. Next come seven Drifters tracks post-Clyde, with Johnny Moore stepping to the plate to hit more home runs. Ruby Baby and the dance-floor filler Fools Fall In Love are perfection and I've always adored the beautiful Soldier of Fortune. The CD is rounded off with a handful of McPhatter solos, with the likes of Seven Days and Treasure of Love being just about perfect. Listening to Clyde McPhatter again takes me back to the mid 80's when I first heard him on the Rock & Cry album on, I think, Charley Records. What a singer.
Shaun Mather
August 2008.
Jack Rabbit Slim - From The Waist Down
Western Star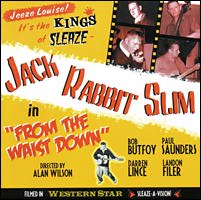 Track listing: Rock-A-Cha / Petrolhead / Bikini Bull Ridin' Baby / Wolf Call / Wild Cavewoman / Rest Assured / Let Me Home Baby / The Tease / Blues Caravan / Generous Lover / Daddy's Got A Gun / Helldorado / Trailer Queen / Justine.
For their last album Jack Rabbit Slim came up with the name Sleazabilly was more than just the album title, it described their sound. If Betti Page was in a hard rockin' band, this is what it would sound like. This is their third release on the wonderful Western Star label, their line-up consisting of Bob Butfoy, Darren Lince, Landon Filer and Paul Saunders. Butfoy again wrote most of the songs, having a hand in all but two of the fourteen songs. Rock-A-Cha and Petrolhead set the scene for a feast of 21st Century rockabilly. The low-down Bikini Bull Ridin' Baby is a rollocking number with a country edge. There's a Buddy Holly I'm Lookin' For Someone To Love beat to Rest Assured. Let Me Home Baby isn't so much a nod to the Johnny Burnette Trio as a handshake with some back-slapping from the spare hand. I really enjoyed the call-and-response rocker Generous Lover and the instrumental Helldorado.
Elvis' Girl Happy movie fodder Wolf Call is miles better than the King's effort. If he'd have done it like this, Rusty Wells would have got out of Fort Lauderdale a lot sooner. Don and Terry's Justine owes a lot to Shaky and the Sunsets and is a great closer. So, another quality item from one of the top bands around. I love the title (playing on the Elvis television restrictions of the 50's) and the cover is a great 1950's b-movie interpretation.
Shaun Mather
August 2008.
Sleepy LaBeef - Sleepy Rocks
Bear Family BCD 15981 AR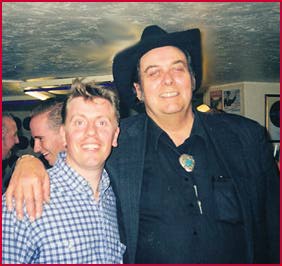 The latest in the excellent Rocks series looks at the distinguished and prolific career of the Human Jukebox, Sleepy LaBeef. The 6'7" man mountain was born Thomas Paulsley LaBeff in Smackover, Arizona. Heavily hooded eyes earned him his Sleepy moniker while the Human Jukebox comes from the fact that's he's reputed to have thousands of songs in his repertoire. Thirty five of them are included here and it probably goes without saying that the sound quality and packaging has that usual German precision we've come to know and love.
As for the music, Sleepy has the fantastic quality of giving everything a genuine edge. The brilliance of the early stuff is beyond reproach, but what amazes me is the songs he did in later decades. By the '70s and '80s most covers of Roll Over Beethoven and Ride On Josephine sound like karaoke but not in the hands of Sleepy LaBeef who always gave his covers a forceful drive. If it's the early stuff that floats your boat you're gonna find it hard to go past the opening tracks with the well know belters, All The Time and I'm Through being as goods as rockabilly gets. There's a couple of early demos here, one being the scorching reading of Elvis' Baby Let's Play House.
There's a great feel to the trio of numbers from the Columbia Nashville session in September 1965, with the harmonica adding a welcome addition - You Can't Catch Me is perhaps the best Chuck Berry cover west of Dave Edmunds. When he joined the reactivated Sun label he cut a few first class albums, the pick of this hear being his cover of Sandford Clark's Lonesome For A Letter. This CD maintains the high quality of the series and is a worthy addition to anyone's collection.
Shaun Mather
July 2008.
The Bellfuries - Palmyra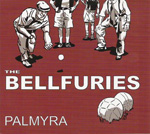 Have you ever had your heart ripped out of your chest and been left to bleed to death in the gutter. The sorrow you feel during those last moments is probably comparable to the misery this album will give you. After their stupendously good debut, Just Plain Lonesome in 2001, this long awaited follow-up seems even more pitiful. It's just pop music, miles away from the previous rockabilly outing.
In case you're interested, it's produced by The Bellfuries with "Southpaw" John Adams and Barrett Walton at Infinity Recording Studios in Austin , Texas. A girl called Antje wrote on their Myspace page "Your new record is Just Plain fantastic." I'd drop the fantastic and say "Your new record is Just Plain". Having said that, if you're into a sort of poor man's Beach boys this could be the album for you. The debut is being re-released later this year, I'd suggest you buy that again. Better off having two copies of that!!
Shaun Mather
July 2008.
Bo Diddley - YouTube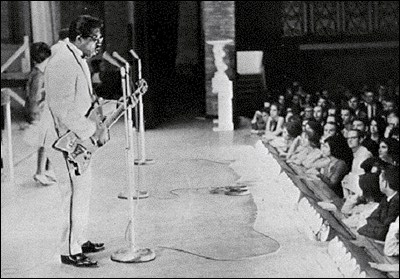 What better way to remember the great man than by checking him out on youTube. He was a very visual artist with his dancing, his prototype guitars and with Duchess grooving away alongside.
Bo Diddley

In glaring technicolour from late 60's I'd guess.
Road Runner

Great 1960 tv black and white clip, great black and white band. Buperb picture quality as well.
Hey Bo Diddley

With a band as big as his flairs, this clip comes from 1985. Just like Bo there's horn a plenty.
Who Do You Love? (with Ron Wood)

Live from Tokyo, 1988. Those Stones boys worshipped the Chess guys as is obvious by the genuine smile on Wood's face.
I'm a Man

Powerful, menacing performance from Rennes, France, 1989. Forget the yera, this is vintage.
Let The Kids Dance

Wow. Fabulous 1965 clip from Hollywood a Go Go, complete with neat intro from show host KHJ Radio's "Boss Jock" Sam Riddle. There's the bonus of plenty of Bo dancing.
You Can't Judge A Book By Its Cover

Just watch it!
Bo Diddley is Crazy

1996 promotional video for the single from the great A Man AMongst Men album.
Dueling guitars (with Chuck Berry)

Battle of the guitar from Let the Good Times Roll, 1973. I love the part where Bo pretends to run away from Chuck's duckwalk.
The Blues and Elvis - LAST INTERVIEW

You can't look at Bo without letting him remind us that he invented everything. Taken from Electrified: The Story of the Maxwell St Urban Blues.
Shaun Mather
July 2008.
Cordwood Draggers -
A Good Ol' Country Jamboree
RHYTHM BOMB RBR 5675 AH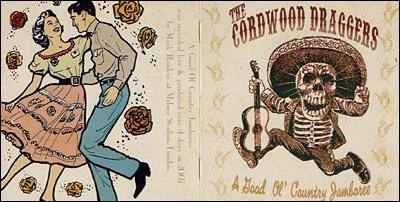 Track listing: Gamblin' Man / Jukebox You & Me Girl / Beady Lil' Eyes / Hole In My Pirogue / Enter The Heart / Simple Lies & Half Truths / Rositta / Let's Tie The Knot / You Never Looked Sweeter / Feel True Love / That Gal's Not Mine / Cried In Knots Again / Lover's Moon.
Formed in 2002, The Cordwood Draggers are a British hillbilly band who have evolved from a trio to a quartet. Mick Cocksedge is the chief songwriter, vocalist and rhythm guitarist, Eddie Potter plays lead guitar, Tony Hillerbrandt is what's commonly known as a drummer and the guy who slaps the bass is the bass player. Simple - just like the best hillbilly. For this new release, the band are joined by Phil Morgan (pedal Steel), Dave Priseman (trumpet) , Jim Morrison (fiddle) & Slim (Accordian & Piano). It was recorded over just four days in 2007 by Mark Rankin at Miloco Studios, London.
They have a pure hillbilly sound with all but three tracks coming from Cocksedge. The majority of them are melodic, uplifting affairs that could easily have been written 50 years ago. Listen to numbers like the opener, Gamblin' Man or the wonderful Jukebox You & Me Girl then listen to Big & Rich and tell me who should be on every jukebox in every Waffle House in every one horse town in Texas. Rositta is given the Marty Robbins touch while Let's Tie The Knot is circa 1954 in everything but it's actual timeline. Johnny Horton's Hole In My Pirogue is given an engaging reading that would have made ol' Tilman spin his bass.
A fabulous album that will appeal to fans of Wayne Hancock, BR549 or country fans in general. The songs are clever, not your run-of-the-mill, country music by numbers fodder, expertly played, topped off with engaging vocals - this package comes highly recommended.
Shaun Mather
July 2008.

That'll Flat Git It Volume 21 - Atlantic
Bear Family BCD16721AH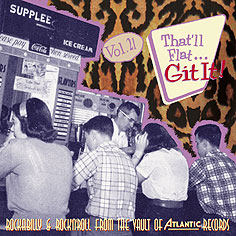 HAL WILLIS: My Pink Cadillac 2. DAVID GATES: Swingin' Baby Doll 3. AL HENDERSON: Ding Dong Dandy 4. TEDDY REDELL: Judy 5. GLENN REEVES: Rockin' Country Style 6. BOBBY BRANT: Piano Nellie 7. BUDDY THOMPSON: This Is The Night 8. KINGSMEN: Weekend 9. DEAN BEARD: Rakin' And Scrapin' 10. JIMMY SIMMONS: Too Hot To Handle 11. MAD MAN TAYLOR: Rumble Tumble 12. BARBARA GREENE: Long Tall Sally 13. RAY & LINDY: Big Betty 14. PAT & THE SATELLITES: Jupiter C 15. HAL WILLIS: Bop-A-Dee Bop-A-Doo 16. DAVID GATES: Walkin' And Talkin' 17. AL HENDERSON: Mary Jane 18. DEAN BEARD: Party Party 19. KINGSMEN: Better Believe It 20. TEDDY REDELL: Can't You See 21. GLENN REEVES: Drinkin' Wine Spo-Dee-O-Dee 22. SONNY WEST: Rave On 23. BUDDY THOMPSON: I've Got A Good Thing Going 24. MAD MAN TAYLOR: Rock 'n' Roll Espanole 25. BRACEY EVERETT: The Lover's Curse 26. BARBARA GREENE: Slippin' And Slidin' 27. CASTLE KINGS: Jeanette 28. JUNIOR THOMPSON: Jungle Girl 29. KINGSMEN: The Cat Walk
This amazing series has been running since 1992 and except for the Festival one, every CD has been of the highest quality. This latest volume is the much delayed Atlantic compilation which marks the 25th in a series that has been immaculate in everything but it's chronology. Running at the usually generous portion of 29 tracks the songs come from Atlantic and it's subsidiaries, Atco and East West.
I heard the much of the content here for the first time on the Red Hot Rockabillies album (Cruisin' 58344) in the mid 80's and have been waiting for years for this stuff to get the Bear Family treatment. Hal Willis kicks things off with the excellent My Pink Cadillac and also stars on the uptempo b-side, Bop-A-Dee Bop-A-Doo. Like so many of the songs on show here, it's not flat out rockabilly but pure unadulterated rock 'n' roll with plenty of sax and piano adding to a fuller sound. Perfect example would be Al Henderson's 1958 East West single Ding Dong Dandy that would probably sound crap as a three piece but with the extra sound it comes over fine. His other number, Mary Jane, was knew to me but it's gets into a great groove with some tasty sax to boot. Teddy Redell has been served better than some in recent times but it's always good to hear his original of Judy and his Hayden Thompsonesque Can't You See.
Bill Haley's Comets moonlight as the Kingsmen and there three numbers are a mix of acceptable instrumentals and Better Believe It which borrows more from the Jodimars than Haley - and why wouldn't it? Atco 45-6080 was a hot two sider from Glenn Reeves with both Rockin' Country Style and Drinkin' Wine Spo-Dee-O-Dee hitting the spot. Another artist from the top drawer is Dean Beard who rocks out on Rakin' And Scrapin' (love the drums) and the brilliant Party Party. Long before he earned his dough in Bread was David Gates who sounds so young and cool on Walkin' And Talkin' and the scratchy, acoustic cracker, Swingin' Baby Doll. I dare you to play Bobby Brant's Piano Nellie without playing some air piano along to Big Al Downing - impossible. Sonny West's original is engaging but can't quite live with Buddy's cover. Bracey Everett's The Lovers Curse has become an underground classic over the ensuing decades and it has a charm that's hard to understand.
There's a handful of tracks that are okay without reaching the standard of Dean Beard and David Gates, among them Mad Man Taylor's Rumble Tumble and Junior Thompson's Jungle Girl from late in the day in 1967. Don't worry about the lessor ones, embrace the dozen or so classics. A great release with the usual big booklet and perfect sound. Here's to the next 25.
Shaun Mather
July 2008.
The Reno Brothers - 90 Miles To Reno
Tombstone Records, TOMBCD 2086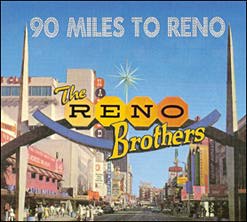 Tracklisting: Let The Devil Come Out / Rollin' Roadhouse / Johnny Law / 90 Miles / Travellin' On / Still In Love With You / Make It All Right / Rolling Ramblin' Man / I Don't Know / Hotrod Saturday Night / Don't Even Know Your Name / Truckin' Man / You Gave Me A Mountain / White Corn / East Bound & Down
Dutch quartet the Reno Brothers come from Holland and are Rogier Hermans (Lead Vocals, Lead Guitar), Rolf Hartogs (Backing Vocals, Acoustic & Lead Guitar), Eddy Poppes (Double Bass) and Aeilko Van Der Wagen (Drums). I wonder if they were going to call themselves Love Me Tender but changed their mind at the last minute (Elvis joke there!). They formed in 1998 after Hermans and Poppes had served their apprenticeships in rockabilly bands the Red Shots, Get Rhythm and Jimmy and the Bamboozies. Following the release of their debut album, Born To Party, they have undertaken shows across Europe and in the process have gained a reputation as one of the top exponents of country based rockabilly. There seems to be an increase in the number of bands who are going for that rockin'-truckin'-hillbilly sound at the moment, with the Reno Brothers being up there with BossHoss and Smokestack Lightning.
Hermans who wrote half the songs here is a talented guy with a voice that is a dead ringer for Dale Watson - and that's no bad thing. After the two excellent openers, Let The Devil Come Out and Rollin' Roadhouse I actually thought I'd put the wrong CD on, it was so much like DW. Ironically, he sounds less like him on the Watson song Truckin' Man. Jerry Reed's East Bound And Down rocks like the clappers as do their covers of Wayne Hancock's Johnny Law and Alan Jackson's Don't Even Know Your Name. Rolling Ramblin' Man again from the pen of Hermans is given some nice blues harmonica from Andres "Zwiebel" Swiatlowsaki. It's a cracking album full of driving rhythms and enough variety to keep it interesting. Great stuff.
Shaun Mather
July 2008.
John Fogerty at the Manchester Apollo
22nd June 2008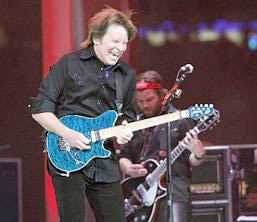 This was John Fogerty's first Manchester gig for 37 years, so it was no surprise to see his much anticipated return play to a full house. In truth, it wasn't as good as his London show of two years earlier where he'd cherry picked Creedence and solo stuff from down the years. This time he was promoting the Revival album, which though very good, doesn't quite match up to the CCR classics. There was a spell midway throught he show last night where I actually found myself wandering what the score was between Spain and Italy. I think Billy Burnette helped save the day when he got everyone clapping and encouraged us to stand up during the intro to Down On The Corner. Until that point the only people allowed to stand were the family and friends in the front road. This seemed ludicrious as they already had perfect seats but by being allowed to stand-up they simply blocked the views of those sat behind them. People were obviously getting agitated as their seats in row 2 and 3 were now turning from what appeared to be brilliant to blind spots. Me and Phil were in the fourth row and are tall enough not to be hampered but a lot of women and short-ass guys looked very peeved. When confronting the security guards to get the front row to sit, they were inexplicably being informed that it was Fogerty's wish for his family and friends to be able to stand - strange, I mean don't they get to see him all the time - and for free? Me and Phil were quite happy for the babe in the cut-off shorts and cowboy boots to carry on wiggling but the hairy hippy could have sat down as he offered nothing except a denim wall of obstruction.
What about the show though, any good? Well yes, it was excellent actually. When you launch your show with Born On The Bayou, Bad Moon Rising and Green River you've pretty much got the audience in the palm of your hands. Pick of the new album was Gunslinger which was performed with the whole band sat in a row, sort of "unplugged" but plugged-in! Covers he performed included a sterling version of Leadbelly's Midnight Special and Rockin' Sidney's My Toot-Toot, which I could have done without but seemed to please the masses, Phil included. After sharing his daughters painting with us he gave a rousing Have You Ever Seen The Rain. Two of his compositions that are more famous in the UK via Dave Edmunds and Staus Quo were Almost Saturday Night and Rockin' All Over The World both of which were given top notch outings. Blue Suede Shoes was a bonus but the highlights of the night for me were Bad Moon Rising, Proud Mary and Lookin' Out My Back Door.
Finally, another gripe. Has anyone noticed that most shows nowadays advertise "Special Guests" and no guests turn up, special or otherwise. Were they the front-row-standers? It can't be Billy Burnette, he's part of the band!! The Rolling Stones don't advertise Special Guests who turn out to be Keith Richards and Charlie Watts! In these times of sueing culture, what would happen if three thousand people took Fogerety on under the Trade Descriptions Act? Anyway, despite these grumblings I really enjoyed the show, it was electric and he's one hell of a great performer and he was only for two hours.
Shaun Mather
July 2008.
Sureshots / John Lewis & His R&R Trio
Thousands 1000CD-022


The Sureshots - Juanita, Snatch It And Grab It, Little Heart Attacks. John Lewis & His Rock and Roll Trio - Here Comes That Train, If You're Happy Then I'm Glad, Lay Back And Be Cool, Hard Travelling. The Sureshots LIVE - Straight Skirts, Bop A Lena, Teenage Ball, Don't Treat Me This Way, Twenty Flight Rock
A bar-owners dream pairing this, with two line-ups that can drink as hard as they rock. The pride of the north (forget Newcastle Brown Ale) meets the pride of south Wales (forget Brains SA) for a rocking feast on the Japanese Thousands label. While we're talking in drinking terms, it's a shame that this is just a quick thirty minute session not some all-nighter, surely they could have had two or three more from John Lewis.
The Sureshots number come from an April 2007 session and a live hometown show a week before. The studio cuts are three great covers with Snatch It And Grab It being particularly good. Guitarist Joe Guillan plays some mean stuff on Glenn Johnson's Little Heart Attack. The sound is good on the live tracks and again they sound spot on the four covers including Gene Summers' Straight Skirts who they've backed when he's come to the UK. Lead singer Gary Allen wrote Don't Treat Me This Way, my favourite studio song of theirs and the live cut here does it credit.
John Lewis wrote half his quartet of tracks, the covers being a hopped up version of Woody Guthrie's Hard Travelling and a blinding version of Eddie Bond's Here Comes That Train. He retains the acoustic feel of the original and adds some great vocals and a very tasty guitar solo, making this the best thing on the album. I really enjoyed the two originals, the Sun country styled If You're Happy Then I'm Glad and Lay Back And Be Cool which harks back to the old Rimshots sound. What a talent.
Shaun Mather June 2008.

Elvis - The Last 50's Session
June 10-11, 1958
RCA Studio B, Nashville, Tennessee
I Need Your Love Tonight
A Big Hunk o' Love
Ain't That Loving You Baby
(Now And Then There's) A Fool Such As I
I Got Stung
Musicians: Guitars - Hank Garland, Chet Atkins, Elvis Presley. Bass - Bob Moore. Piano - Floyd Cramer. Drums: Buddy Harman, DJ Fontana. Backing vocals - The Jordanaires (Gordon Stoker, Hoyt Hawkins, Neal Matthews and Ray Walker).
Producer: Steve Sholes.
Engineer: Selby Coffeen
When Elvis Presley first entered a studio at Sun Records in Memphis, he was a young kid looking for a break, unsure of his role in life and probably happy just to make a souvenir record for posterity. By the time he entered the RCA Studios in Nashville, 50 years ago today he was the best selling artist in the land, and the biggest, most shocking star the entertainment world had ever witnessed. The 50's were his decade, he ruled the airwaves and was a star of the silver screen. On top of that he was the most photographed man on the planet, the world's most eligible bachelor, number one selling artist, the premier live attraction and top of the FBI's wanted list for a pair of swivelling hips that were causing havoc with teenage girls from San Diego to Boston.
Having been enlisted by the US Army, the June 1958 session was of paramount importance to him and RCA as he was required to come up with enough good songs to keep the flag flying whilst he served Uncle Sam in Germany. Although he only actually came up with five songs, such was the quality that they could all have been a-sides, which with reasonably spread out releasing could have taken up about a years worth of singles.
Kicking off at seven o'clock on the night of the 10th, the session ran until five the following morning. The fact that it was productive is being doubt, and by all accounts it was an enjoyable affair. Elvis was ecstatic with the band, after all they were the backbone of the Nashville A-Team, and was particularly blown away with guitar whiz Hank Sugarfoot Garland who'd depped for him briefly the year before. By the end of the session, which would be Elvis' last for almost two years, everyone was happy except Colonel Tom who thought the music was too loud - further proof that he knew more about dancing, electrified chickens than rock music. They cut five brilliant, blues based commercial rock 'n' rollers and with it, enough ammunition to fuel the fires over the coming months.
The proof is in the pudding as they say. I Got Stung was the first song to see the light of day and although it was released as the b-side of One Night, it went to number 8 in the US charts in it's own right and to number 1 in the UK charts. (Now And Then There's) A Fool Such As I was coupled with I Need Your Love Tonight for the next single, surely one of the greatest two-siders ever. Both sides went to the very top in Britain and to 2 and 4 respectively in the States. Late in '59 A Big Hunk o' Love again topped the pile in the UK and peaked at number 4 back home. The Clyde Otis/Ivory Joe Hunter number, Ain't That Loving You Baby, being perhaps the weakest of the five was held back until 1964. By then it was being used between Kissin' Cousins and Do The Clam and was therefore looking a quality item. The songs crop up everywhere but the best way to enjoy the whole shebang is the Totally Stung! bootleg on Madison which is crammed with outtakes and gives a great feel for the way the songs progressed through the night.
Shaun Mather
10 June 2008.
The Western Aces - Introducing The Western Aces
El Toro ETCD3021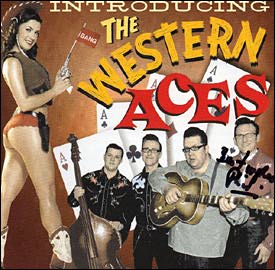 Track listing: Ice Cold Water / Same Old Cell / Drinkin' Man's Boogie / Seeing Double / Tell Me Why (We Can't Be In Love) / Leave That Junk Alone / Hep Cat Baby / Four Walls and a Table / Oh Boy / Mean Mean Mama / Old '32 / I Was There When It Happened
The prolific El Toro Records seem to be on a quest to become the most important rockabilly label on the planet. The latest addition to their already impressive roster is the young British quartet The Western Aces who play rockin' country. They sum it up best themselves quoting their influences as "Too many to mention them all but good old Honky Tonk, Western Swing, Rockin' Hillbilly, Country Jazz, any old Steel Guitar stuff, Sun Rockabilly and most others too, vocal harmonies but not The Spice girls, The '50s Opry vibe, early Bakersfield, rods and rats, '50s Chevy 3100's, Fender Telecaster's, Fender Steel guitars, vintage western wear .... the whole damn thing!"
This is the bands debut release and they consist of Gordon Doel on lead guitar and vocals, Phil Morgan on steel guitar, rhythm guitar and vocals, Dave Doel on bass and vocals and Mark James on drums. Gordon Doel and Phil Morgan also do a bit of song-writing, both of them contributing three numbers each. Morgan takes the lead vocals on his trio, Drinkin' Man's Boogie, Tell Me Why (We Can't Be In Love) and Old '32. They all come packed in binder twine and could have been written in 1954. Doel's Oh Boy is a hopped up hillbilly with a catchy call-and-response that again masks it's recent vintage.
For the six cover songs they've avoided the obvious and chosen well, uncovering a couple of gems. Eddy Arnold's Hep Cat Baby and Glenn Barber's Ice Cold Water have been known to pick up the odd cover version over the years and The Western Aces do them as well as anyone. The other three include fine stabs at Johnny Cash (Leave That Junk Alone and I Was There When It Happened) but the pick of the lot is his buddy Merle Kilgore's sprightly Seein' Double, pure hillbilly heaven. Talking of covers, I love the album cover - who is that cowgal? Her little ol' pistol's got the "bang" sticker popping out the end - I damn near shot my load as well. A cracking debut that will appeal to those of a rural persuasion, and is hopefully the first in a lengthy career.
Shaun Mather
June 2008.
Arsen Roulette - Live In Mono-phonic
El Toro Records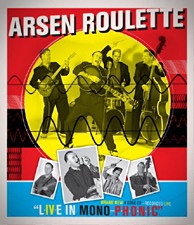 EP Tracklisting: Tangled Web, What You Do To Me, Quantum Leap, High Priced Woman
Hot prospect Arsen Roulette is at it again with another feast of rockabilly, this time in the condensed form of the EP, again for the great Spanish label El Toro. The first track is primitive rockabilly with energetic vocals and guitar. The most commercial track here is What You Do To Me, which comes in with some Tennessee Two guitar before being transformed with some rocking piano from a guesting Carl Sonny Leyland. Quantum Leap and High Priced Woman are no-frills boppers with more menacing guitar, the latter benefiting from some bluesy slide guitar. So a short review, but it's a short record! Fans of straight-ahead, no-bullshit rockabilly can buy this with confidence.
Shaun Mather May 2008.

Rudy La Crioux & The All Stars - Wild 'n' Pretty
Western Star Records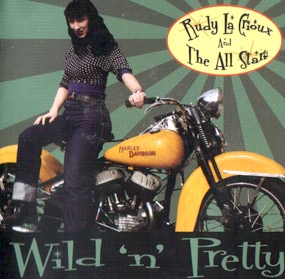 Track listing: Folsom Prison Bop, I Want My Baby Now, You Give Me Lovin', Hello Baby, The Sheriff Man, Bluer Than Blue, Baby Fan The Flame, Wild 'n' Pretty, Jumping From Six To Six, Teenage Ball, (I Don't Know Why) She Makes Me Feel Blue, What I Did Wrong, Teen Age Bug, House Of The Rising Sun
Rudy LaCrioux and the All Stars celebrate their tenth anniversary with a new record on the excellent Western Star company. They play an authentic style of rockabilly with some interesting backing vocals that add an exciting extra dimension. The band consist of Russ (Rudy La Crioux) Sear on lead vocals, Paul (Woody) Woodmansey on bass, Ian (Rocky) Cumming on rhythm guitar, Neil Fisher on drums and Barry Lowe on lead guitar. Previous releases have been on Spindrift and Foot Tapping as well as a few songs a couple of Western Star compilations, and have always mixed a few originals with some covers. This new album is the same, with seven of the fourteen songs coming from the band.
Sears wrote five of these and they are a diverse bunch that except for Hello Baby are excellent rockers. The pick of these is Bluer Than Blue, a great number that has the energy and vibrancy of the early High Noon days. Woodmansey wrote the title track and Cumming penned What I Did Wrong, both decent boppers.
Baby Fan The Flame and Teenage Ball are fine, fine rockabilly but the best cover might just be Jumping from 6 to 6 which is as good as Big Sandy's cover from yesteryear. The bookends of the album are covers of two legendary songs. JC's Folsom Prison Blues is given a driving Meteors style rendition that works well, ending with one of the band joking "San Quentin you can kiss my ass." House Of The Rising Sun is a less obvious song for a rockabilly band to have a crack at, but they rock it up with a touch off ska and it works out really well, rounding off an excellent album. Star of the show ­ Bluer Than Blue.
Shaun Mather
May 2008.
Hayden Thompson - self titled
Blue Light Records, 2007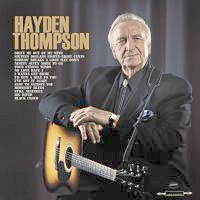 Tracklisting: Sorrow Breaks A Good Man Down / Black Cloud / Big River / Just To Satisfy You / I've Got It Again / .88 / Midnight Blues / I'd Run A Mile To You / I Wanna Get Home / 97 More To Go / Drive Me Outta My Mind / Four Strong Winds / No Love Have I / Still Nineteen / Mystery Train aka The Happy Song
Hayden Thompson is one of the last surviving members of the Sun Records rockabilly fraternity. Like Billy Lee Riley he's been lucky enough to have released new material through pretty much every decade since the golden days of the 50's. Whereas Billy Lee has frequently branched out into the blues with his wonderful Excello type albums, Hayden Thompson has always veered towards the country side of life. It's in that vein that he has recorded his latest album for the Finnish label Blue Light Records. He has such a natural voice that is perfect for either rockabilly or country and this album further emphasises the feeling that he was one of the true unsung heroes that should have made the grade. As well as three originals, this latest release includes well chosen covers of Waylon Jennings, Charlie Rich, Ed Bruce, Johnny Cash and Mel Tillis. The cover is based on his 1966 Kapp lp, Here's Hayden Thompson and is a neat idea.
The two Waylon Jennings songs Sorrow Breaks A Good Man Down and Just To Satisfy You fit HT like a glove with his vocals and Tommi Viksten being particularly haunting on the latter. Ed Bruce's Ninety Seven More To Go gives him a chance to show he used his time in Chicago wisely, aided by some neat guitar work and tasty blues harp by Pepe Ahlqvist. Charlie Rich's catalogue could have been written for Hayden Thompson and it's therefore no surprise that he nails Midnite Blues so perfectly. Four Strong Winds and Big River are what you'd expect.
Of the three originals, .88 and I Wanna Get Home are remakes of the Kapp record. .88 is a pitiful tale of hardship that shows his voice has lost nothing over the ensuing forty years. Drive Me Out Of My Mind has a bit of pep in it's step with a rockabilly edge that possibly makes it the best song on show, although I'm very partial to the Nashpop of Black Cloud. Also good is the country ballad No Love Have I from the pen of Now Dig This writer Jim Newscombe.
I'd Run A Mile To You comes from the unlikely combination of country song-writing legend Glenn Sutton and rockabilly king Mac Curtis. As for the song it's heartbreaking country at it's most agonising - a classic. This is real country music the likes of which haven't been recorded since the early 60's, down to the Floyd Crameresque piano. Stick this on CMT and see many fake cowboys start to cry into their beer - brilliant.
A superb album that will no doubt sell to rockabilly fans only despite the fact that this contains some of the best country music I've heard for years. Reba fans need not apply but if you like pure country sang with style and a hint of Elvis, grab it and enjoy.
Shaun Mather
May 2008.

Al Willis and the New Swingsters -
Got Some Rockin' To Do
Crazy Times Records CTRDC 107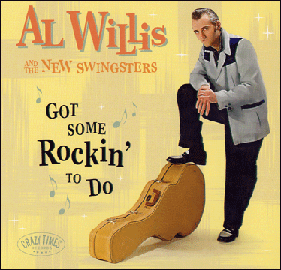 Tracklist: Got Some Thinkin' To Do, No More Love, (I'm So Blue I Could Cry) Feelin' Low, Nice And Polite, Brown Mountain Light, Coffee Time, Dead Dodo's Blues, Georgia Bound, Love All Through The Night, Samuel Hall, You're My Queen, Goin' Mad, Big Iron, Voodoo Woman
Al Willis hails from Poitou-Charentes, France and is known for two cracking releases on Tail Records. His new album sees him with a new band, The New Swingsters and a new label, Crazy Times Records. It's a newly launched French label managed by Crazy Little Peter of Crazy Times Music. The New Swingsters are Yves "Vivi" Selem on drums and Pascal Albrecht on slap bass. Willis himself takes on the guitar duties and the vocals, obviously. He lists his influences as Mac Curtis, Elvis, Bob Luman, Johnny Cash, Merle Travis and Chet Atkins and you can see elements of them all in his work. Vocally he's in the Bob Luman mould, and if that sounds like high praise indeed, then it should be.
The title track is a brilliant rockabilly number that sets the scene for a great album. His voice sounds so much like Luman on Nice And Polite, an unusual rocker that really appealed. The instrumental Big Iron starts off like a bad Dire Straits number before turning into a classy tribute to the country pickers of the past like Chet Atkins and Merle Travis. You're My Queen and Voodoo Woman aren't as good but that's getting picky. His cover is Samuel Hall is fine with his Luther picking spot on and the country of (I'm So Blue I Could Cry) Feelin' Low suits him to a tee. A couple of other highlights are Love All Through The Night which sees him rock-out and the controlled rock 'n' roll of No More Love. A thoroughly enjoyable album that will surely sell by the bucketfull following his set at this summers Rockabilly Rave.
Shaun Mather
May 2008.
Top 15 YouTube Rockin' Gals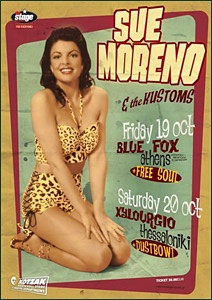 There seem to be more female performers on the rockin' scene now than ever before and to quote one of the greatest, Barbara Pittman, they're getting better all the time. Here's 15 hot performances with apologies to any I've missed out.
Marti Brom - Black Cadillac

To me, still the cream of the crop, Marti Brom gives a scorching version from the 10th Rockabilly Rave in March 2005.
Vicky Tafoya - Why Do Fools Fall In Love

With her backing band, the Big Beat, live at The Rhythm Riot 2004. With a voice to match her look, she's the Marie Adams of the new Millennium.
Cari Lee & The Saddle-Ites - Eenie Meenie Miney Mo

Hot version with great sound. I love these country-girl outfits.
Catslappin' Crissy - Rock My Baby

New one on me but goes like the clappers.
Miss Mary Ann & the Ragtime Wranglers - Watchdog

Miss Mary Ann shows off her great vocals at the Hi-Rockabilly Festival in Calafell, Spain in September 2004.
Imelda May - Johnny's Got A Boom Boom

From the Old Joint Stock Theatre in Birmingham, April 2008, Imelda hypnotises with her band that includes hubby Darrel Higham and the great Al Gare on bass.
Josie Kreuzer - Good Time Girl

Always enjoyable, but where is Josie Kreuzer these days?
Kim Lenz - The Swing

Great cover of my favourite Johnny Carroll song from the Hollywood Showdown 8.
Lil Esther and her Tinstars - Rock Boppin Baby

The Edwin Bruce bopper get's a fitting tribute from the wonderful Lil Esther at the Rockers Club Festival 2008.
Honeycats - Happy Hour

The Japanese rockaphillies cover the old Housemartins song.
Eva Eastwood - Shake This Shack

The Swede recorded on stage at Hemsby 2006
Sue Moreno - Believe What You Say

More than just a pretty face, Sue Moreno gives a hot performance of the Ricky Nelson number at the 2007 Rockabilly Rave. Did I mention hot?
Ruby Ann & Eddie Clendening - Hoy Hoy

Duet from the New Years Party 2008 at the Amsterdam Cruise Inn. They burn up the Collins Kid classic with two dymanic guitar solos from Eddie Clendening.
The Southerners

Hot and sweaty might in an Anaheim juke joint in 2007.
Ranch Girls & the Ragtime Wranglers - Way Down Yonder in New Orleans

The much-missed Ranch Girls from a gig at a big jukebox fair in Holland in May 2002.
Shaun Mather
April 2008.
The Hi-Strung Ramblers -
Run Boy Run
Wild Records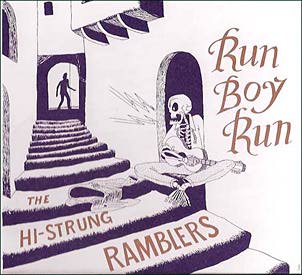 Track listing; Under Your Spell, Searching for My Baby, All is Wrong (without you), Lonesome Wolf, Baby Goodbye, Run Boy Run, Lessons Learned, Pure Misery, Last Time, Dirty Dog, Alone on a Saturday Night, Rivers of Tears, Fleet Bleep Boogie
One of the latest additions to the ever expanding Wild Records roster is the The Hi-Strung Ramblers who only formed in 2003 but have made big in-roads on the scene in during that short time. They play a hybrid style of rockabilly and rockin' blues and consist of Carlos Gomez on lead guitar and vocals, Iggy Garcia on upright bass, Dandy Sutphin on rhythm guitar and harmonica and Jesse Gomez on drums. To me the thing that helps the band stand out from the crowd is Sutphin's harmonica which adds a layer that some rockabilly bands lack.
Their debut release from 2005, Hobo Bop, sold well enough to warrant a reprint, helped by their flamboyant stage shows. Three years later they are again undertaking an extensive touring scheule to promote Run Boy Run. It's a relentless album of pulsating rockers and will please the punters. There's a western quality to the opener rocker with a Johnny Cash guitar run throughout that helps kick the album off in fine fettle. The title track is a shit-kicking stomper that will fill dance floors around the world. Alone on a Saturday Night reminded me of the early Ronnie Hayward years and Lonesome Wolf returns to Johnny Cash territory. I couldn't spot a weak song on the set and would happily recommend it.
Shaun Mather
April 2008.
Runnin' Wild -
I Dressed In Black Today
Drunkabilly Records CG33188CD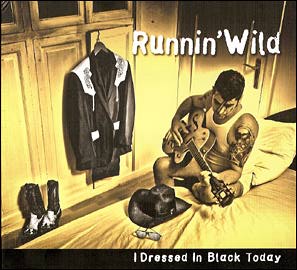 Track List: All I Want, Don't Come To Near, I Dressed In Black, Bad Case, Ice Cream Crime, That's What I Like, If You Wanne Be My Baby, Guitar Breaker, Little Ole Wine Drinker Me, Hungry For Your Love, Big Bamboo, Jack O Roonie, Lejour Ou T'es Partie, My Gal From Abilene, Bright Light, Don't Come Too Near.
I just loved the bands single Killer Taco Stomp which I think is still available from El Toro Records. A hard rockin' anthem that proved there's still plenty of space for rockabilly in the modern era. The band hail from Brussels in Belgium and consist of Patrick Ouchene on guitars and vocals, Koen "Johnny Trash" Verbeek on drums and Jack Fire on stand-up bass. This is their fourth album to date and has a pretty unique sound that is both exciting and dark at the same time. It's rockabilly of the new Millenium (is it still new, eight years in?) with the band playing their own style - very rocking but never sounding like some forgotten song of the 50's.
The mood for the album is set from the opener, All I Want, that goes like the clappers with a couple of jazzy guitar solos. The title track pays homage to a lost love, not Johnny Cash as I imagined when I say the title. Bad Case starts as a haunting ballad that builds into a stepped up slice of rockin' hillbilly with fiddle and steel. That's What I Like is a galloping tribute to the fairer sex in general while Hungry For Your Love praises the chubbier ones in particular.
Lejour Ou T'es Partie, Big Bamboo and the instrumental Jack O Roonie didn't do much for me, but apart from that it's good stuff all the way. Guitar Breaker is a storming rocker and Dean Martin's Little Ole Wine Drinker Me sparkles with this swinging treatment that ole Deano would have been intrigued to hear. Ouchene and Verbeek's If You Wanna Be My Baby takes Muddy Waters down Union Avenue in the style of the 80's band Riverside Trio and it's great fun and no doubt a highlight of their live show. My favourite on the album is the bopper My Gal From Abilene which sounds like Paul Ansell's Number Nine. A worthwhile album that will no doubt please their legion of followers.
Shaun Mather
April 2008.
Deke Dickerson -
King of the Whole Wide World
Major Label Records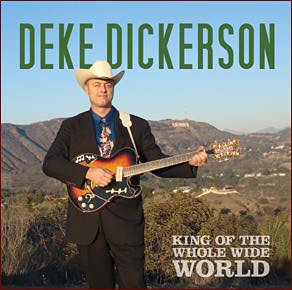 Track listing: King of the Whole Wide World (introduction); Deep River; I Can't Wait To See You (Go); Misshapen Hillbilly Gal; Put Me Down; Boone County Blues; Make Way for a Better Man; Itchin' for My Baby; Do You Think of Me; Fool's Gold; Trumpet; Early for the Bell; Bomb Shelter (for My Heart); Double-Clutchin'; King of the Whole Wide World (reprise)
Deke Dickerson is the Chet Atkins of the modern rockabilly/hillbilly scene, who has a well earned repuation as the model professional. His guitar picking is second to none and he has also won acclaim for his production work and even his sleeve notes on a variety of vintage retrospectives. Despite all thisa, I have to hold my hand up and say that his albums have never really done too much for me, they all contain a couple of good tracks but nothing that stands comparison to his live shows. Until now that is. This latest release sees him go up a couple of notches and finally does justice to his undeniable talent.
Deke perfected the act of guitar playing on his custom double-neck Mosrite guitar and made his name in the vibrant California scene with Dave Stuckey as the hillbilly duo Dave and Deke, whose Hollywood Barndance included the great tribute to our bald headed heroes, Chrome Dome. When they parted amicably he formed his own band the Ecco-fonics, the best of whose albums is 1998's Number One Hit Record album on HighTone's HMG label. I've heard two or three of their albums and as I said, they've never quite hit my spot.
The new CD, King of the Whole Wide World is a varied set from hooped-up bluegrass to rockabilly. Among the guests on it are Chris "Sugarballs" Sprague, Carl Sonny Leyland, "Crazy" Joe Tritschler, The Lucky Stars, Jimmy Sutton, Pete Curry of Los Straitjackets, Mitch Polzak and Mary Huff of Southern Culture on the Skids.
Among the rocking side of things we get the moody bopper Deep River, a tasty over of Put Me Down, the wonderful Sun-styled I Can't Wait To See You (Go) and the flat-out rocker Itchin' for My Baby. There's a Blasters quality to Fool's Gold, Trumpet harks back to 706 Union and Bomb Shelter (for My Heart) is one of those delightful numbers that sits on the fence between rockabilly and country. Firmly on the country side of things, "Double-Clutchin''" sees Deke trading blows with Tritschler on a Buckaroosesque twin guitar instrumental whilst the excellent Boone County Blues has him in Flatt and Scruggs territory. Make Way For A Better Man may have been written by Willie Nelson but sounds like a Charlie Rich Smash record. Do You Think Of Me is a stone-cold country classic with Huff.
The CD kicks off and ends with the title track (not the Elvis song) which is smothered in track featuring digitally applied vinyl crackle for authentic effect. The pick of the whole shebang has to be Misshapen Hillbilly Gal, a hillbilly tour-de-force with the Lucky Stars. Fans of Junior Brown will lap this up. The vinyl version comes with the bonus track Beans on Toast but I've no idea what that sounds like - bloody good if the rest of the album is anything to go by.
Shaun Mather
April 2008.
Warren Earl - Original Rockabilly
Earl Records
I wasn't really expecting much from this because the front cover wasn't the most professional, it seemed like a run-of-the-mill cheapie jobs that you could do with a colour printer, a ream of paper and plenty of printer cartridges. But as Bo Diddley says, you can't judge a book by looking at the cover. Hailing from Brisbane, Australia, you would swear that this guy came from Eddiebondsville, Tennessee. The first time we heard Don Cavalli we all thought that someone had discovered a box of unissued Charlie Feathers in a Memphis warehouse. Well Warren Earl is like this but with Eddie Bond - to my ears anyway.
Released on his own label, Earl plays all the instruments (with the aid of overdubbing obviously) and he does a pretty mean job. I thought his double bass work was particularly well played and recorded. Playing from the age of nine, he got into music via his father's record collection consisting of rockabilly, hillbilly boogie, country, western swing and jazz. If that worries you that his sound may be a bit too varied, fear not, this album is pure Tennessee rockabilly. No need for a track by track review, it's all excellent. Try Rocket Ship Blues or Be Bop Boogie for examples of the Eddie Bond sound.
Copies can be purchased by contacting Warren on his Myspace page at
Shaun Mather
April 2008.
Memphis YouTube
What can you say about the Memphis rockabillies?
Johnny Burnette - Hound Dog

From 1956 this is prime time Memphis rockabilly. No wonder the flying saucers were scared to land.
Sonny Burgess - We Wanna Boogie

Sonny Burgess & fellow pianist Kern Kennedy playin at High Rockabilly 2005 (Spain).
Billy Lee Riley - Pearly Lee

Recent front row footage of BLR with Dutch band The Bellhops from October 2007 in Roermond, Holland.
Carl Perkins- Blue Suede Shoes 1956
http://www.youtube.com/watch?v=pGib9ror1dQ
From Green Bay 2007, it's sadly too short a clip but the bright suit is enough to get you going.
Hayden Thompson - Love My Baby

Original Sun Rockabilly Star at The Rhythm Riot 2006
Jack Earls & the Ragtime Wranglers - Take Me To That Place

Live at the Rockabilly Rave Camber UK, October 2004.
Barbra Pittman - I'm Getting Better All The Time

Ms Pittman at the Rockabilly Rave shortly before her untimely death. Miss Mary Ann and Lynette Morgan look more than happy to supply backing vocals. Great rocking version, and probably the first handclapping solo I've ever enjoyed.
Carl Mann - Mona Lisa / I'm Comin' Home

Carl Mann rocked it up at Screaming Fest Saturday the 9th of June 2007.
Narvel Felts - My Babe

The always excellent Narvel Felts rocks the Green bay 2005 festival with Ashley Kingman on lead guitar.
EXTRAS:
Charlie Feathers - That Certain Female

Not concert footage of Charlie but a funny guy called Mike miming. Great face.
Junior Thompson - Raw Deal

Again, not a clip of the artist but equally exhilarating footage of the ultra rare 78 spinning around on an old record player. I just wish it was my 78!
Shaun Mather April 2008.

Lil' Esther And Her Tinstars -
Gone Is My Mind
Empire Records EMPCD109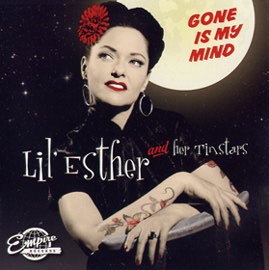 My Heart Gets Lonely / Mr Sun / Love That Man / Confusin' Love / Small Change / I've Got A Lot Of Time To Do A Lot Of Things / Gone Is My Mind / True Or False / Rock 'Til My Baby Comes Home / I've Got The Boogie Blues / Arguments & Alibis / There's No Right Way To Do Me Wrong / I've Had Enough / Treat Me Kind / It's Love.
With a voice as delightful as her appearance, Lil' Esther remains one of the true darlings of the rockabilly circuit. She burst onto the scene as a third of the Bugaloos but has been working solo for a number of years now. She works with the Tinstars who are led by her husband and rhythm guitarist Rick De Bruijn. Such is her standing that no less than Big Sandy, John "Rimshots" Lewis and Don Cavali have written songs especially for the album. For anyone not familiar with Lil' Esther, she sounds comparable to Marti Brom. She comes from the country side of rockabilly and is more akin to Patsy Cline than Wanda Jackson, in both her voice and the band's sound.
The duet True Or False, the hypnotic Rock 'Til My Baby Comes Home and Cavalli's Arguments & Alibis rock as hard as anything on the album. Charlene Arthur's I've Got The Boogie Blues swings along with guests Joost van Es and Rini Goldini adding some tasteful fiddle and steel guitar. Goldini plays some nice harmonica on John Lewis' cleverly written Small Change. Big Sandy's Love That Man is a highlight of the album and his other contribution Confusin' Love is a tidy high stepper.
The two standout tracks for me include the opener, My Heart Gets Lonely, with Ronald Visser's piano adding a nice touch to a really engaging slice of rockin' country - her voice is simply wonderful on this. The other is The Miller Sisters' There's No Right Way To Do Me Wrong, a beautifully crafted country number that could have been written just for her, it fits her and guest singer Judith van den Berg like a glove. Credit should also go to the Tinstars who sound so authentic throughout.
Shaun Mather
April 2008.
Hi Voltage -
I Gotta Gun
Rollin Records - RRCD005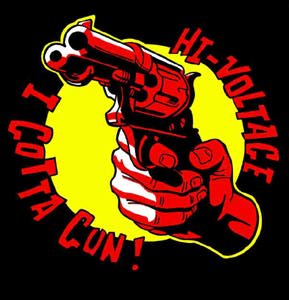 Hailing from the Scottish capital Edinburgh, Hi-Voltage are now in their ninth year and seem to enhance their reputation with every new release. This latest is their fourth to date, and its a cracker, one of the best albums I've heard for a couple of years. The diversity is astounding and they excel in all styles, whether from the modern day sound of the title track to the traditional, authentic rockin' hillbilly of Say What You Mean. The band members are Keith Turner on vocals, Paul Paterson on lead guitar, Matt Curtis on doghouse bass, Ian Morris on drums and Kenny Tomlinson on sax. There's not a weak link amongst them but special plaudits to Turner and Paterson who are both the cats knacks.
What Paterson's wife must have thought when he ran My Gal Lillie past her is anyone's guess, "ugliest gal in town, but I don't have to worry 'bout her running around". Pretty Baby is one of the most upbeat, fun rockers you'll hear and a joyous spirit literally jumps out of the grooves. Jack Scott's I Never Felt Like This is given a fresh injection of life and the picked-up pace is wonderful. Movin' On has Turner sounding like a 70's Elvis behind a throbbing beat. He sounds a bit Way Downish on Ice Cold Baby as well, a neat number that gives Tomlinson a chance to blow his brains out. Lonesome Road is an unusual ballad, sounding like the guys wrote it for Rio Bravo forty years too late. The album finishes with the stomping Sittin' By The Pool, another reminder that the band are playing in 2008 not 1954.
The band have a fuller sound than your basic three-piece, sounding more like the top 70's bands Johnny & the Jailbirds etc. I think it's they're a breath of fresh air on the scene (as both performers and songwriters) and more power to their elbow. A great album, thoroughly recommended to everyone with hearing.
Shaun Mather
April 2008.
Shaky's Occassional Bootleg Series No. 7
Stray Cats -
BBC Radio 17 June 1992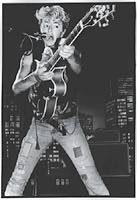 When I got home from work tonight the first thing I spotted on the doormat was a little brown envelope of joy. Inside were my tickets for the Stray Cats Farewell Tour concert in Manchester, so I just slipped some Cats onto the CD player and spent the next couple of hours listening to an array of recordings by them. One of them was the interview and set they did for the BBC in the summer of 1992. The interview sees them in great spirits despite the worst efforts of the interviewer. They talk glowingly about Dave Edmunds and when asked what makes him so special they say, "as a lover he's gentle, he's sensitive to our needs and he's Welsh"!
Although they were touring to promote the Choo Choo Hot Fish album, luckily they only play Lust And Love from it. It's an acoustic set and kicks off with a very rhythmic version of Eddie Cochran's Nervous Breakdown, with Setzer in fine voice for the mumbling giggly bit at the end. They get cajoled into doing Crazy Little Thing Called Love and it's a good version despite the lack of lyrical knowledge. If I'm being picky I'd say that Stray Cat Strut is a bit too jazzy and Lust And Love is well, something from the Choo Choo album - nuff said. They generate a lot of excitement in Mystery Train complete with extended yodel solo. The rehearsal for this show from earlier in the day is also out there and is worth tracking down as it contains neat versions of Summertime Blues and Oh Boy.
Shaun Mather
March 2008.
Shaky's Occassional Bootleg Series No. 6
BR5-49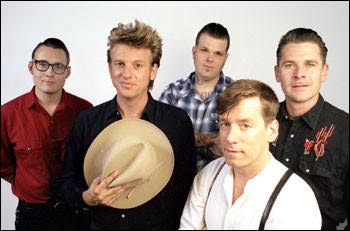 Live at Disneyworld, Orlando, Big Bang Concert Series - 27 May 1997
Time Changes Everything, Long Gone Lonesome Blues, Even If It's Wrong, Little Ramona, Pain Pain Go Away, My Name Is Mudd, Baby Are You Gettin' Tired Of Me, Crazy Arms, Hometown Boogie, The Party's Over, Cherokee Boogie, You Are Never Nice To Me
Live at Lawrence Clinton State Park, Wakarusa Festival - 19 June 2004
Cajun Persuasion, Cherokee Boogie, So Doggone Lonesome, Ain't Got Time, Shakin' The Blues, Honky Tonkin' Lifestyle, I'm Alright, My Window Faces The South, Long Gone Lonesome Blues, Run a Mile, Me N Opie, No Friend of Mine, Tangled in the Pines, Charmin' Betsy, That's What I Get
BR549 must be pretty much everyone's favourite barroom band. An entertaining live band that pack a solid punch of skill, fun and a massive repertoire they looked at one stage during the 1990's as if they were going to be country music's saviours. Amongst their back catalogue is a live album but there has been relatively little on the bootleg front, so I was especially pleased to come across these two gems a while back.
This Disneyworld concert comes from their original days and being a soundboard recording the quality is really good without all the instruments coming through loud and clear. I saw them a couple of times in the UK and was blown away by their stage presence. The interplay between all members was brilliant and the two guys up front clicked better than Keane and Berbatov. Gary Bennett was a pure hillbilly vocalist while Chuck Mead sounded more uptown and loved the rockin' stuff. It was a great blend that allowed them to play just about anything in the country and rockabilly songbook. Their two styles can be seen as early as the first two songs with Bennett breezing through Bob Wills' western swing classic Time Changes Everything whilst Mead rocks up Hank's Long Gone Lonesome Blues. The twelve song set here include a handful of tracks that have become synonymous with the band, Even If It's Wrong, Cherokee Boogie, Little Ramona and My Name Is Mudd and they're all played as expertly as you'd expect.
The Wakarusa Festival (from Mead's hometown) bootleg comes seven years later and sees a new line-up without Gary Bennett and the happy-go-lucky Smilin' Jay and perhaps less importantly without the hyphen between the 5 and the 4. The tracklist shows more of a lean toward the bands then current album Tangled In The Pines. Again the mix is everything you'd expect from the band, from their own Me N Opie to Johnny Cash's So Doggone Lonesome. Who else in Music City has the knowledge, ability and even the desire to play the likes of Long Gone Lonesome Blues and Shakin' The Blues. Of their own stuff, Honky Tonkin' Lifestyle says it all. A great band and these two items here are fit to improve anyone's collection.
Shaun Mather
March 2008
Imelda May -
Love Tattoo
Ambassador Records - AMBA1004
Imelda May is the Dublin born bombshell who has been around the scene for a couple of years as a solo artist and with Mike Sanchez and Blue Harlem. She's also the wife of rockabilly star Darrel Higham, who plays some exhilarating guitar on her latest album Love Tattoo. I've seen her live a couple of times, once at the Rhythm Riot and once in Shrewsbury as part of the Mike Sanchez Extravaganza with the Extraodanaires and was impressed by her torchy, dark vocal style. She seems to have got better over time and the new album sees her stretching herself both vocally and as an artist.
This isn't ordinary rockabilly, it's got jazz and blues infusions, seductive vocals and the backing of the band gives it a professional edge that her debut album lacked. The band consist of Dave Priseman on all the horny instruments, Dan McCormack on the plinky bits, Dean Beresford on drums and the ever reliable Al Gare on double bass. To top it off we have hubby Darrel on all the burning guitar bits. This album allows him to show his versatility that isn't always possible in a three-piece rockabilly setting.
Highlights of the set are the rockabilly title track, the explosive opener Johnny Got A Boom Boom and the raunchy Wild About My Lovin'. The only track not written by Imelda, It's Your Voodoo Workin' has an early 60's r'n'b feel and smokes. Big Band Handsome Man is the best of the lot, complete with exotic beat, her best vocal performance to date and great trumpet from Priseman. It reminds me of a modern day Tico Tico. There's a couple of really slow numbers that drag a bit but otherwise this is a really enjoyable album from an artist that just could go all the way to the top. Last year she was nominated for Best Burlesque Singer 2007 and make her movie debut singing in the forthcoming American gangster movie, 'Dark Streets'. If the world is looking for a new Amy Winehouse without the baggage, Imelda could be the one.
Shaun Mather
March 2008
Top 15 Neo-Swing on YouTube
I know swing isn't everyone's cup of tea and some would even question what place it has on a rockabilly site. I'd counter that by saying, put your pre-conceived ideas to one side and just listen to the music without trying to pigeon-hole it. To my mind, neo-swing isn't too far from big band rock 'n' roll and r'n'b. So for those who don't mind a little bit of the swing revival, here's a few bands to enjoy.
Ray Collins Hot Club - Barefoot

The original Ray Collins Hot Club video of their song floor-filler, Barefoot. Shot in black and white the video is so authentic, you'd absolutely bet your house that this was from the 50's. Brilliant.
Squirrel Nut Zippers - Put A Lid On It

Great song, great video, great performance from the hot and talented Katherine Whalen
Puppini Sisters

Short but sweet ad for todays Andrews Sisters. A fun group with a great sound, this quick promo should get you hooked.
Lindy Hop Showdown 2006

A seven minute dance-off with some of the best lindy hop you'll ever see.
Big Bad Voodoo Daddy - Mr. Pinstripe Suit

Black and white promo with the gangster look. One of my favourite swing songs.
Brian Setzer Orchestra - In The Mood

Promo with Hollywood glitz and some hot-rods. MTV with some style at last.
Royal Crown Revue - Somethings Gotta Give

Fun promo for the legendary Royal Crowns.
Vicky Tafoya - Why Do Fools Fall In Love

Vicky Tafoya and the Big Beat, live at The Rhythm Riot 2004 on her first show in England. She seemed to rock the joint.
King Pleasure - Mr Blues Is Coming To Town

Professional slot from BBC TV with their great cover of the Wynonie Harris classic. One of the top bands on the circuit they were swinging before it became trendy.
Lavay Smith - Between The Devil & the Deep Blue Sea

Lavay Smith on the San Francisco variety tv show Fog Town Network on April 30, 1995. The band cover the old Arlen-Koehler classic made popular by Cab Calloway in 1931 and Louis Armstrong in 1932 amongst others.
5 In Love - Walk Like An Egyptian

A really swinging version of the Bangles 1980s hit.
Black Cat Zoot - No Swingin' In Your Walkin'

New German band show their wares with this cool promo vid from last year.
Pinstripe Suit - You, Me, and the Bottle Makes Three

Robin Phillips' 6-piece swing band, Pinstripe Suit, play their version of Big Bad Voodoo Daddy's, You, Me, and the Bottle Makes Three. The band's good and the gal who shares the vocal duties is smokin'.
Whizz-Bang - A swing nem jatek

Hungarian neo-swing band in the tradition of bands like Big Bad Woodoo Daddy, Royal Crown Revue, Cherry Poppin Daddies and the Brian Setzer Orchestra.
Bellevue Cadillac

Jack Nicholson appears as guest chauffeur and sometime singer with a band called Bellevue Cadillac.
Shaun Mather
March 2008
Ruby Ann -
Train to Satanville
Wild Records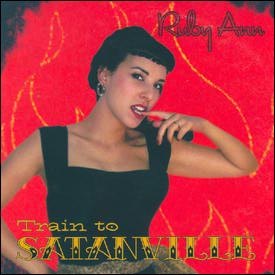 Track listing: Train To Satanville, Dynamite, Ain`t That Loving You Baby, That`s The Way I Feel, I Want A Lover, I Hear You Talking, Just For You, Look At That Moon, Eeny-Meeny-Miney-Moe, The Big Bounce, Don`t Call Me Honey, King Of My Heart
Ten years after hitting the scene with the Boppin' Boozers, Ruby Ann has joined the much celebrated Wild Records label in Hollywood, CA. By all accounts Ruby Ann is a lively personality with a voice to match. She started her career with the Portuguese band The Boppin' Boozers, before going solo with gigs across Europe. She''s played all the big European festivals and now appears to be giving the States a taste of her magic.
The band for the new album are a star studded bunch with Eddie Clendenning and Gautier Golab sharing lead guitar duties across the album. Iggy Garcia plays upright bass, Jeff Gerow takes it out on the drums and Li''l Luis Arriaga plays rhythm guitar. If that''s not enough, the CD was recorded and engineered by Omar Romero. Ruby Ann tackles a mixture of originals and covers and has a big voice that sees her shine on most of the numbers.
The title track is the best thing on the album, a dark bit of rockabilly with strong Wandaesque vocals that builds from a torchabilly burner into a flat-out rockabilly. You would be doing her an injustice to label her a Wanda Jackson soundalike or just a rockabilly singer, because she''s more than that. There''s rockabilly in the storming Sun covers of Jimmy Prichett''s That the Way I Feel and the Miller Sisters'' Eenie-Meenie-Miney-Mo, and there''s more than a dash of r 'Дтn'' b in the excellent take on Ain''t That loving You Baby and The Big Bounce. I Want A Lover and Don''t Call Me Honey are highlights of the album, courtesy of raunchy vocals and plenty of driving guitar from Li''l Luis. King Of My Heart sees her assume the title of Miss Rockabilly 2008, a masterful piece that should get the strollers onto their feet. So, a highly recommended album that can only enhance her reputation as one of the top performers currently on the scene. Shaun Mather
March 2008
The Loveless Cousins -
No Squares Ever Tag Along
El Beasto Records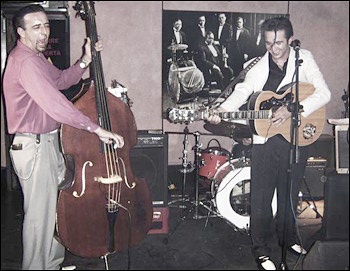 The Loveless Cousins hail from A Coruna in Spain and are the new kicks on the block, only forming in December 2004. As the name suggests, they are a family concern with cousins Quique and Nestor Pardo forming the backbone of the band. Quique had been the bass player for The Honky Tonkin' Boozers and he persuaded their guitarist Ramon Corona and a drummer Santi Roma to complete the Loveless Cousins line-up. They tampered with country music before settling on a rockabilly sound. After a couple of years tearing up the Spanish scene they are poised to take their energetic sound farther afield and the sound on this CD suggests they will do just fine. The band are proud to announce that the album was recorded in analogic and mono at the Circo Perrotti Estudios where bands such as the Nu Niles have recorded.
The music is hardcore rockabilly in the style made popular by Hot Boogie Chillun and Runnin' Wild. The best numbers are Lyin' Lips Woman, the less frantic I Don't Wanna See You Go and Lose My Mind. They do a fine cover of Ray Smith's You Made A Hit, but the pick of the bunch for me is the hypnotic Mischief Woman, very Hot Boogie Chillun. Available from , it's well worth a listen.
Shaun Mather
March 2008
Golden Age of American Rock & Roll 11
Ace Records CDCHD 1200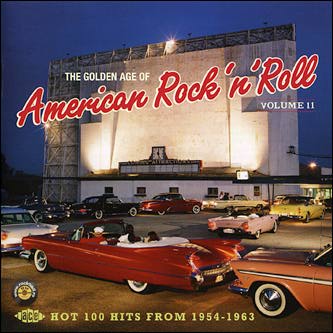 I thought this series was done and dusted but happily, Ace seemed to have buckled under public demand and so five years after it's predecessor, we now get Volume 11 of the legendary Golden Age of American Rock & Roll series. As is customary for the series, the CD runs to a generous thirty tracks and comes complete with an exhaustive booklet. It goes without saying that compilers Trevor Churchill and Rob Finnis have come up with a brilliantly varied set.
Some of the tracks have seen the light of day time and again and certainly don't need reviewing here, suffice to say that they've never sounded better than they do here. Lavern Baker, Charlie Gracie, the Drifters, Cookie and the Cupcakes and Shirley & Lee are all as clear as a bell.
There are plenty of less obvious choices that maintain the standards. Picture Billy Fury trying swamp pop and you might come close to Last Chance by Collay & the Satellites, which came out on the New Orleans label Sho-Biz in the spring of 1960. You're The Apple Of My Eye is a great white doo-wopper from the Five Lovers, apparently billed as the Four Elvis Presleys. It's great but it ain't that great!! Bobby Pedrick Jr was only 13 when he cut White Bucks And Saddle Shoes and although he sounds like a girl it's a strong rocker from Pomus-Shuman with a ringing guitar break. The song rose to number 74 in 1958 and with a bit more plugging Big Top could have taken it higher. Bobby Comstock's hopped up version of Tennessee Waltz on Herb Abramson's Blaze label is a fine romp and the booklet has an interesting report on the battle that ensued in 1959 when Comstock's version vied for airplay with Jerry Fuller's version on Challenge. The 5 Satins (of In The Still Of The Nite fame) moonlighted as the New Yorkers for the exotic Miss Fine.
Other notables are the beautiful Sammy Turner version of the standard, Lavender Blue which hit the top three in 1959 on Big Top Records. Ronnie Love's 1960 Dot release Chills And Fever has the Little Willie John feel to it and picked up a cover from none other than Tom Jones.
I'm not sure what the plan is with the series, but would like to think that future volumes will now be forthcoming. I can't imagine they'd just release volume 11 in isolation, I certainly hope not because this is one of the best rocking series we've ever had. As an aside I saw a review of the album on Amazon and a guy from Blackpool said, "Its also good to see this is not Rock Critics stuff - I don't need to be told yet again that Pat Boone was ripping off black music." Fair comment mate - I agree. Ace just give you the heads-up on the song and let us judge for ourselves.
Shaun Mather
March 2008
James Intveld -
YouTube Top Ten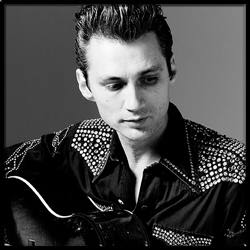 Singer James Intveld is one of the coolest guys on the scene and as great as his CD's are, there aren't exactly hundreds of them. SO another way to get your fix is to watch him on YouTube. Here are a few highlights ...

Fame & Fortune

Taken from Elvis's Birthday Bash 08 at the Music Box Theater in Hollywood, this year was the 22nd event. The brainchild of Intveld and Ronnie Mack it's now run by Art Fein with help from the L.A. City Council. JI sizzles on this great cover of a much overlooked Elvis classic.

Wake Up Little Susie

A duet with Russell Scott from Art Fein's brilliant Rockabilly Bandstand. Filmed on March 13, 1989, the boys pay homage to the world's finest siblings.
Good Rockin' Tonight

From Art Fein's Poker Party in 1987, JI is joined by Billy Zoom and Brian Setzer. It's a driving acoustic version with Setzer and Intveld inspiring one another. Poor old Billy Zoom gets tongue tied when called for the first solo, although he gets to redeem himself later.
One Sweet Letter

A great version of Joe Liggings' One Sweet Letter from the Viva Las Vegas Rockabilly Weekend. He looks cool in his jacket with plenty of hip shaking stage presense. This is what i imagine Billy Lee Riley must have been like in his heyday.
Stringin Me On

JI and his band perform Stringin Me On at the Saxon Pub in Austin, Texas during SXSW on March 14, 2007
Let's Get Started

Live at the Mercy Lounge, Nashville in November, 2007. Looking every inch the cowboy for the Nashville crowd, this is great country music in the best Intveld vein.
Perfect World

Again from the Viva Las Vegas Rockabilly Weekend, he comes across as the cool Elvis manersisms wityhout ever looking like one of them tosspot impersonators.
Country Hick

Ronny Mack and James Intveld duet at the Rockabilly Bandstand show, in March '89. James plays bass, but the real star of the show must be Ronny Mack's heair which looks like something from the Hair Bear Bunch dressing room. Good song, amazing hair.
Modern Don Juan

Again from the VLV weekender, James is tailor made for Buddy Holly and the laidback soft rock of West texas.
James Intveld & Friends - SXSW 2007

Artistically shot eight minute look at JI's set at Jinny's Little Longhorn on March 17, 2007.

Shaun Mather
March 2008
Bobby Lee Trammell - RIP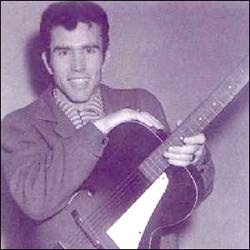 The other day I checked my emails and the Digest I had from the Rockabilly Hall of Fame yahoo list had three messages. Kick in the teeth 1, Billy Lee Riley had suffered a heart attack during hip replacement surgery. Kick in the teeth 2, the Stray Cats would be calling it a day after making a farewell tour. Kick in the teeth number 3, the great Bobby Lee Trammell had died at home in Jonesboro, Arkansas. I know that we've become acustomed to our heroes dying but three bits of crap news in one day was going a bit far. It now appears that Billy Lee is doing fairly good considering and although it's sad that the Cats are finishing at least they're playing a tour first, but there isn't anything remotely positive about Bobby Lee Trammell. The poor bugger is dead - the wildman of Arkansas has screamed his last word. Like all great rockabilly stories it involves Memphis somewhere along the line. In BLT's case he made his stage debut thanks to the charitable Carl Perkins and soon auditioned for Sam Phillips, but a lack of patience saw him head to California where he came to the attention of promoter and label owner Fabor Robinson. Anyhoot, here's to man deemed too wild for Ozzie and Harriet.
MY TOP 3 BLT's

1. You Mostest Girl - one of the greatest Elvis style rock 'n' rollers. I would love Elvis to have cut this at either the Big Hunk O' Love session or for the Elvis Is Back album. Cut in March 1958 at Western recorders in Hollywood, this peach should have made him a star. Thanks to a four-piece black harmony group and some crisp backing, it's his finest ever moment.

2. I Sure Do Love You Baby - from Bob Luman's band he used James Burton on lead guitar, James Kirkland on bass and himself on rhythm guitar, the b-side of Shirley Lee is a fine slab of mid tempo rockabilly.
3. My Susie J, My Susie Jane - Same setting as You Mostest Girl this time from the back end the 1958 summer, and a straight ahead rocker with sax, backing vocals, piano and a sparkling solo from the great Joe Maphis. His third single, this one really should have been a hit. Brilliant.

Shaun Mather
February 2008.

Billy Fury - 25th Anniversary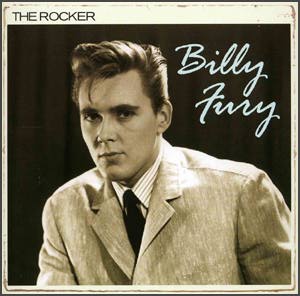 It doesn't seem possible but its twenty-five years ago today that the great Billy Fury passed away. I come from a family of Billy lovers with my mum being a fan since the heyday and no doubt helping turn myself and my sister into fans. My mum was working in a shop window in the early 60's when Billy walked by, causing her to knock half the stuff over. To top it all, my wife is a fan as well. Whereas she frowns a bit when I play a Don Williams or some other country shit (her words not mine), its always okay to play The Sound of Fury. When I first got into rock 'n' roll my earliest heroes were Elvis, Eddie Cochran, Gene Vincent, Jerry Lee Lewis and Billy Fury and although others became special to me over the years, Johnny Cash for instance, those original five will always be the top dogs. As I'm writing this Julie has just said that whenever she thinks about our music she always thinks Elvis, Gene and Eddie, Billy and the Stray Cats because that's what we always listened to as teenagers together.
Something that still stick in my mind long after it should have vanished is when the May Fair came to my hometown Presteigne when I was a school kid and one of the prizes at the darts stall was a postcard of Billy in his leopard skin shirt. I tried as hard as I could to get that picture but the darts were blunt and the board was rock hard - proved by the fact that the postcard was still there when the fair came back the following year. The first answer phone we ever had used to play Billy's Phone Call which was always nice to listen to before speaking to some double glazing quote.
Whereas the past 25 years have seen the star of Elvis burning as bright as ever, sadly the name of Billy Fury has all but died here in his homeland. Apart from my beautiful and sadly missed pussy, Billy Furry, I don't think I've heard the name mentioned in years. I know there's a couple of tribute acts doing the rounds, with Colin Gold being very good. As I mentioned in my review of the recent Rockers Reunion, the young Liverpool Teddy Boy band Furious played a couple of his songs, so perhaps there's hope for a revival. Let's face it, he was a million miles better than most things Britain produced and at least a couple of miles better than the far more successful Cliff Richard. The old Bachelor Boy might have done a mean lip curl but for the all around package Billy was the man. He has stage presence and his performances were raunchy in a way Cliff just couldn't carry off. Billy was a good looking dude who you could imagine would carry through the dirty deed whereas Cliff might look okay but if you took him home he'd probably help your mum knit a cardigan. I've asked the three girls in my life to give me their top 10 and here they are.
Julie's (wife) Top 10 - no order except for the first one
Gonna Type A Letter
Halfway to Paradise
You Don't Know
Maybe Tomorrow
I Will
In Thoughts of You
In Summer
A Thousand Stars
Last Night Was Made For Love
Like I've Never Been Gone
Pat's (mum) Top 10 - no order
Last Night Was Made For Love
Like I've Never Been Gone
Halfway to Paradise
A Thousand Stars
I'll Never Find Another You
In Thoughts of You
Wondrous Place
Once Upon A Dream
Somebody Else's Girl
It's Only Make Believe
Sharon's (sister) Top Ten - in order
Wondrous Place
In Thoughts of You
My Advice
Don't Leave Me This Way
Maybe Tomorrow
Jealousy
Alright, Goodbye
I'll Never Find Another You
Don't Say It's Over
You Don't Know
My Top 10 - in order
Don't Knock Upon My Door
Wondrous Place
Don't Jump
Margo
I'm Lost Without You
That's Love
Baby How I Cried
Maybe Tomorrow
Turn My Back On You
I'm Lost Without You
Shaun Mather
28 January 2008
Rivermead Leisure Complex, Reading - Saturday, 19th January 2008
The 25th Annual
Rockers Reunion Winter Party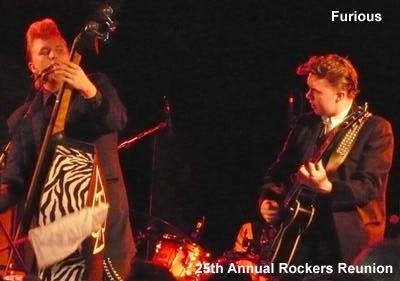 The last Rockers Reunion I attended was when the Blue Caps headlined at the Brixton Academy, so this was my first visit to it's new home at Reading and I must say it's an ideal venue for this event. There's enough room for the stalls, the bar, the dancers and general loiterers. On top of that the sound was good and the whole ambience was terrific.
The first two bands, Mean Streak and particularly Midnight Shift were fine openers who played their part in getting the crowd warmed up. The temperature rose with the much anticipated set from Liverpool teenage teddy boy band Furious. It's an interesting name which shows attitude and menace, but does anyone know whether it is in any way a play on words for Liverpool's own Billy Fury? Their wild version of Billy's Don't Knock Upon My Door was breathless, full of energy and drive. There seemed to be a genuine affection for the boys from the older generation of Teds, which is a great boost for them and the scene alike. As much as I love Cavan (and I do), there has to be new blood coming through. Other highlights of their set were Please Don't Touch and Baby Blue.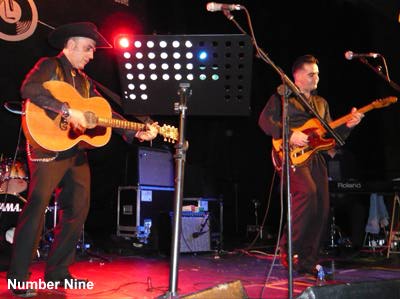 I was a bit nervous about the reception Paul Ansell's Number Nine would get with a ted crowd. Dressed in a cowboy hat and singers covers of Billy Ocean songs isn't what they're used to, but such is the quality of this band I shouldn't have worried. Ansell's voice is a wondrous thing and Antonio Conti plays a beautiful bit of guitar. They opened with a cracking version of the Ruby, setting the scene for a great set of country styled rockabilly. Red Lights hit all the right buttons and I was blown away If I Ever and Early Morning Rain. Best song of all had to be Don Gibson's Sea of Heartbreak, a simply stunning version. They encored with a Roy Orbison Sun number, and while everyone else would have done Domino or Rockhouse, these guys treated us to a blinding Sweet And Easy To Love.
For some reason I wasn't really expecting much from Johnny Powers. I knew he'd be good because he had Chris Casello with him, the same guitarist who played the Baby Face Assassin for Jack Scott at Hemsby a couple of years ago. He's a really talented guitarist and together with a sax, bass and the ever wonderful Mark Kemlo (Rimshots/Gene Gambler) on drums, the sound was solid rock 'n' roll. I enjoyed JP more than I thought and he had a good stage presence and a powerful voice. Rock Rock and Me And My Rhythm Guitar were particularly pleasing but the show stopper was obviously Long Blonde Hair which was sung twice much to the delight of everyone. The band were tight, JP was rocking and Casello was on fire.
The night was brought to a quite end by the laid back doo-wop of Crazy Cavan & the Rhythm Rockers - well, not quite. Cavan and the boys gave a wild, romping set that included all their biggies from Teddy Boy Boogie to My Little Sister's Got A Motorbike. From the opening strains of Both Wheels Left The Ground the stage was inundating with fans helping out on vocal and lap-dance duties. Lyndon Needs is a lethal weapon on guitar and his energy levels haven't lowered over the years. The Spanish Ted we met in the hotel before the gig was loving it by us and there was even a glimpse of the halcyon days of the 70's with a couple of dancers getting in to handbag scuffles. Great stuff, the perfect end to a perfect night.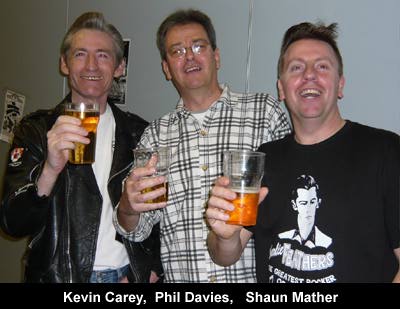 Shaun Mather
January 2008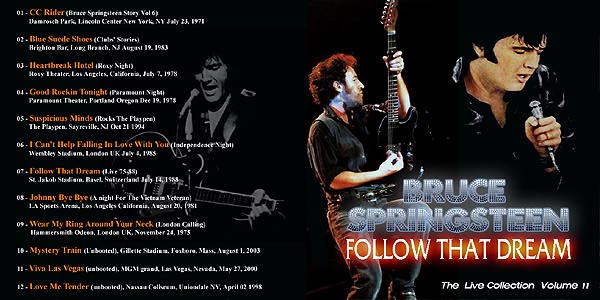 Shaky's Occassional Bootleg Series
Bruce Springsteen Play Elvis
SPL Live Vol. 11 - BigBallsBilly's FTP
01. CC Rider - (BS Story Vol 6)
02. Blue Suede Shoes - (Clubs' Stories)
03. Heartbreak Hotel - (Roxy Night)
04. Good Rockin' Tonight - (Paramount Night)
05. Suspicious Minds - (Rocks The Playpen)
06. I Can't Help Falling In Love with You - (Independence Night)
07. Follow That Dream - (Live 75-88)
08. Johnny Bye Bye - (A Night For The Vietnam Veteran)
09. Wear My Ring Around Your Neck - (London Calling)
10. Mystery Train - (Foxboro, MA, August 01, 2003)
11. Viva Las Vegas - (Las Vegas, Nevada, May 27, 2000)
12. Love Me Tender - (Uniondale, NY, April 02, 1988)
Bruce Springsteen has never been shy about singing the praises of rock's earliest pioneers, especially Elvis. He saw Elvis live at the Philadelphia Spectrum on 28th May 1977 and the previous year during his Born To Run tour he even claimed to have jumped the Graceland walls and made it to the front door in an effort to get to Elvis. Unfortunately the security guards rejected him, although Elvis was in Lake Tahoe anyway. The similarities between the two entertainers are considerable, from their stage charisma to the dedication of their fans. It's one of these heavenly souls from the world of the Boss who has undertaken this sterling job here, collating a dozen live Springsteen performances of songs Elvis had cut. They range from 1971 to 2003 and for the most part the sound quality is excellent.
I saw Springsteen at Roundhay Park in Leeds during the legendary Born In The USA tour of 1985 and although the show was in excess of three hours he didn't manage to squeeze in an Elvis song - big fan my arse! Even Springsteen's biggest detractors, who might argue that his voice isn't great, would be hard pressed not to acknowledge the quality of his E Street Band.
I was really looking forward to this album, intrigued to hear what sort of job Bruce would do on Elvis. Heartbreak Hotel from the Roxy in LA in '78 absolutely smoulders. The guitar, piano and sax are lowdown and dirty and it's possibly the greatest vocal performance I've ever heard from Bruce and I've got virtually everything he's cut. Blue Suede Shoes goes like the clappers and has all the vibrancy of the Boss at his best. He gives his best to Good Rocking Tonight and Wear My Ring Around Your Neck but the sound quality is poor.
Follow That Dream is supposedly the Boss' favourite Elvis song. You won't recognise the song when it starts, it sounds like something from Bruce's wrist-slashing Nebraska period but it's a builder as they say. Suspicious Minds and Can't Help Falling In Love with You (cut at Wembley three days before I saw him) are fine versions that stay true to the King's arrangements. His intro to the latter and the way he talks about the waste of Elvis' death is a lovely tribute. As is Mystery Train, dedicated to the late, great father of rock 'n' roll Sam Phillips, who'd just passed away. BS added that without him none of us would be here today, before giving it a great blues reading. Viva Las Vegas has the holiday gamblers well up for it and although the sound is ropy you can't fail to feel the excitement.
BS wrote Johnny Bye Bye about Elvis and before it starts he reminisces to the A Night For The Vietnam Veteran audience about being nine years old sitting in front of the tv set, and on came Elvis and thinking "I wanna be just like that." The slow version of CC Rider didn't work for me at all, devoid of any passion or excitement and I wasn't expecting much more from Love Me Tender but I actually enjoyed it a lot. Well worth checking out on the web, an excellent addition to the collections of Elvis and Springsteen fans alike.
Shaun Mather
January 2008
The Hydrant 2007 -
Rockabilly Live!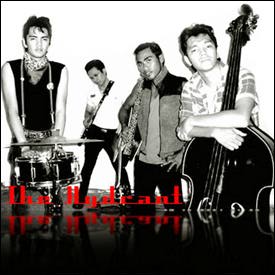 Tracklist: Sisir Opa, Show Time, Rockabilly Riot, Jalan-Jalan, Kakikukaku, Ku Jatuh Padamu, Rockin' A Rock, Pantai Surga, Taste Of Rock, Jump, Baby, Jump, Saturday Night, Shout
When Sam twiddled at the control panel as Elvis, Scotty and Bill laid the foundations for what was to become rockabilly they had no idea whether that sound would actually make it outside of the studio walls. History tells us that not only did it escape the studio, it spread like hellfire across the world. Nowadays that sound is stronger in pockets like Scandinavia and Germany than it is in its homeland. Even countries like Croatia have had there own bands but until now there has been nothing out of the Bali/Indonesia area. Until now that is, so step the mic The Hydrant, a vibrant four-piece band steeped in the rockabilly sounds from Elvis Presley to the Stray Cats. Formed from various bands in 2004, Wiz, Zio, Morris and Marshelo share a love of all things rocking and are proud to be the premier band of the region.
They're live shows have gone down a storm and they are now one of the top attractions in the area in any musical genre. I can see why this might be so as this album is an high energy affair. The sound is more Stray Cats than Elvis and is very '80s. The rhythm section is tight as a nun's snatch and the guitar work is very exciting. If I'm being really picky I'd have to say that the lyrics and vocals are not quite up to the mark. It's not a bad voice it's just the quality of the English isn't great, and why should it be. Half of the CD is in their native tongue and I can't blame them for that. I'm sure some hot rocking instrumentals would shut me up.
Well worth supporting, I'd love to see this band carry on spreading the world out East. Fans of the Stray Cats will find much to admire here and for that I'd say this was worth purchasing. Good luck to the band for the future.
Shaun Mather
[email protected]
January, 2008
Jerry Lee Lewis -
10 YouTube Classics

Following the Wembley country show in London in 1987, some of the tour moved on to mainland Europe. The clips here are from Stavanger, Norway. Tanya Tucker looks hot but Jerry Lee is smokin'. The live show clip is breathtaking but the interview with him walking through a car park, playing guitar, singing Jimmie Rodgers is vintage - the best clip I've seen this year.

70's Killer in leg-shakin' form. Looking good, fit and crazy, just how we love him.

The Killer rocks through "Boogie Woogie Country Man" on a memorable episode of "Nashville Now" in late 1985. The picking and Jerry's playing are great, the sound is good, but the Killer's jumper and yellow glasses need to go - decide for yourself with the gloves.

Taken from October 12th 2006 when Jerry Lee was in Hollywood to promote the Last Man Standing CD. He plays a few songs for media and fans.

From Paris in 1987, the Killer treats us to a rare version of Hey Baby. Complete with JLL standing on top of the piano playing with his cowboy boot, it's great to hear Bruce Channel's greatest moment given the Memphis Beat jangle. Even the ending where Jerry puts the mic back in it's stand is class.

Taken, I think, from a Country Awards show in 1979, Jerry opens with the classic quote, "Me and Elvis Presley might not of won any awards but we know who the kings of rock and roll are" the Killer proceeds to rasp his way through his headstone-song.

From April '72 BBC's Old Grey Whistle Test is given a country treat in the shape of Think About It Darlin'. If he ain't the greatest country singer ever I'll eat Garth Brooks' hat.

8 minute documentary circa '72/73. "Modesty is not one of Mr Lewis' virtues. His fans think he's adorable and Mr Lewis admires their taste." I like it.

From 1994 it's great to see the Killer backed by a bona fide, slap bass rockabilly band. The guitarist has a quiff that would make Kenny's hair curl!!

Dixieland rock 'n' roll from Conway twitty on the Mississippi. Charley pride and Loretta Lynn are among the guests in the crowd.
Shaun Mather
December 2007

Terry & Gerry -
Let's Get The Hell Back To Lubbock
Cherry Red Records CDMRED315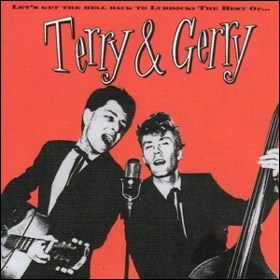 Hello / Butters On The Bread / TV Song / Dennis & Brian / Wait Until Your Older / Clothes Shop / Kennedy Says / Banking On Simon / Wolfman's Request / Hello (LP Version) / Joey / Ballad Of A Nasty Man / C.A.R.S. / A Thousand Towns / Percy Crusoe / The Good, The Bad, The Usherette / Fashion Rodeo / The Armchair Terrorists Song / How Long Johnny / Reservation / A Sea Shanty For The Gravy Boat / Hello (Slow Version) / Oscar's Theme / Reservation (Ira Hayes Mix) / Pizza Pie & Junk / The Last Bullet In The Gun / Victory Polka / Independents' Day / Joey (Piano Version) / Butters On The Bread (Live At The Powerhouse 1985) / Dennis & Brian (Live At The Powerhouse 1985) / Wait Until Your Older (Live At The Powerhouse 1985)
Two decades after the demise of the political skiffle duo Terry and Gerry, Cherry Red Records have collated all their singles, album tracks and a few live numbers on one superb CD. I loved their From Lubbock To Clintwood East album and played it to death in my Aberystwyth bed-sit. We had a local student band at the time, Railroad Bill and the Box Car Stompers who played traditional skiffle and I dreamed that Britain's own contribution to rock 'n' roll was on the verge of a comeback, thirty odd years after Lonnie Lonnegan and Nancy Whiskey.
Terry and Gerry seemed to have everything it took to make the big time, a good novelty sound and the type of socially aware lyrics that were so popular at the time. It was like John Cooper Clark or Billy Bragg with some decent melodies. Gerry Colvin had taken American Studies at university and worked for an American bank before turning to music. Terry Lilley had started his career in the punk bands Dennis & the Din Makers and Vision Collision. The line-up was completed with Doreen Deville on washboard and Andy Downer on second extra guitar, with Jeremy Paige and Mick Howson coming in off the subs bench. Their lilting vocals and driving acoustic sound was fresh and they made an immediate impact on the independent scene. They were more MNE than Smash Hits and more Janice Long than Dave Lee Travis. They seemed a bit too smart for an indie band in their black jackets and ribbon ties, but their tales of Thatcher's Britain hit the right cord for lefties everywhere. They came to the attention of the legendary BBC disc jockey and champion of the unknown bands John Peel after he picked out their demonstration tape because his wife's best friends were also known as Terry and Gerry. They ultimately recorded three sessions for the John Peel programme.
Their debut EP came out on Robert Lloyd's Vindaloo Records, with the top side featuring 3 songs that ran for a whopping total of five minutes. The highlight was Butter's On the Bread, a great song about the miners' strike of 1984 "the butter's on the bread of the rich man's life". From the very beginning, the wonderful thing about their songs was the perfect combination of fun music with a serious message. In early 1985 they moved to In Tape records where their first single was the energetic call-and-response romp, Clothes Shop. A cynical look at the fashion trend of the day, it got a favourable review from Morrisey on Radio 1 and reached number 5 in the UK Indie chart. Later in the year they released the follow-up, Banking on Simon which became the theme to regional children's television show Poparound. It was the flip-side Joey, which caught my ear though - a downbeat ballad about a young man addicted to drugs.
Their first and only album was the brilliant From Lubbock to Clintwood East, a fourteen song, dufferless masterpiece. The whole album is included on this new release and newcomers to the group will be able to wallow in such classics as Ballad of a Nasty Man, / The Good, the Bad and the Usherette, C.A.R.S, A Thousand Towns, The Armchair Terrorist's Song and Fashion Rodeo. The next single was surprisingly, Reservation, a good song but surely not as good as the half dozen just mentioned. The b-side was Pizza Pie and Junk, a story of the dream of going to America on either Freddie Laker's or Richard Branson's then revolutionary cheap airlines - "get my picture taken with little Mickey Mouse, truck on down to Washington and spit at the White House".
Their last single before calling it a day and going their separate ways was the suicide ballad, Last Bullet in the Gun which went all the way to #1 in the indie charts. A great finish for a great little duo, who came on the scene for a fleeting moment and vanished all too soon. Gerry Colvin has since worked with The Man Upstairs, Alison Moyet and now now performs and records with Nick Quarmby as ColvinQuarmby. Terry Lilley studied for and achieved a higher national diploma in jazz studies - aparently, the only double-bass player ever to do so. Jeremy Paige formed Rumblefish and Mick Howson joined the Destroyers, a 15 piece gypsy band.
It's a shame Terry and Gerry didn't stick around a while longer and that this Cherry Red release only had to be a single set. If only their complete works required a four CD box set to do it justice. A fabulous CD that is well worth checking out whether you've heard of them or not.
Shaun Mather
December 2007.
Charlie Hightone and the
Rock-It's - EP
Sleazy Records SR03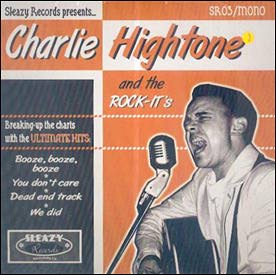 Tracklist: Booze Booze Booze, You Don't Care, Dead End Track, We Did
Ivan Vela - Vocals and acoustic guitar: Ricardo Cuenca - Guitar: Emilio "Sioux" Fuentes - Guitar and Lap Steel: Conde - Double Bass: Juan Fresneda: Drums.
Rockabilly bands seem to be growing like oranges in Spain in recent years. Fairly new to the scene are Charlie Hightone, a five piece bunch that formed in 2002 as a quartet before the addition three years later of Emilio "Sioux" Fuentes on second guitar and lap steel. This enhanced sound coincided with their debut release on the Malaga based Sleazy Record label. The present day sees them playing the big festivals, including next years Rockabilly Rave in the UK. Hopefully this little ol' EP is just a taster for a full blown album early next year. The four numbers are excellent ventures into the various guises of rock ''roll' Booze, Booze, Booze rocks hard with Hardrock Gunteresque vocals and the best rockabilly whistles since the heyday of Gene Vincent and the Blue Caps. If there was such a thing as a rockabilly chart, then this slab of rab would go straight to number one. You Don't Care is unusual with it's western strains and some understated Chet Atkins style picking. Dead End Track sounds like Duane Eddy backing Johnny Cash, in a broken rhythm that has Sun written all over it - especially when the singer sounds like Sonny Burgess. We Did is a fun romp with some wonderful country guitar and is the Collins Kids type of song that just doesn't get done anymore. A thoroughly enjoyable EP that hints at one of the freshest acts we've seen for quite a while.
Shaun Mather
November 2007.
Jack Rabbit Slim -
Sleaze A Billy
Western Star Records WSRC016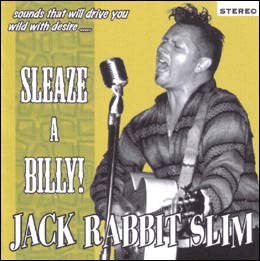 1.Jeeze Louise 2.The Man Who Counts 3.Lula Mae 4.Kitten With a Whip 5.Dragstrip 6.Bop Attack 7.Black Dog 8.A Devil's Heart 9.Hightone Woman 10.Queen Bee 11.Wild Wild Party 12.Cars
Wild rockabilly quartet Jack Rabbit Slim are back with their second CD, the long awaited follow-up to 2005's Sin-uendo. I'm not sure whether the band are named after the bar in Pulp Fiction or the woman's bedroom accessory. If it's the latter, why don't they cover I Vibrate or Big 10 Inch? Lead singer and former Bob and the Bear Cats front man, Bob Butfoy wrote eleven of the tracks here, the exception being their strolling cover of Gary Numan's Car. The rest of the band consist of Tom Hayes on guitar, Nick Linton on bass and Paul Saunders on drums. The whole shitandshaboodle is rounded off with Eileen Earley on sax and Steve Holbrook on piano. It's this full blooded sound that turns this from a run of the mill rockabilly albums into one of the finest albums I've heard for many a year. There's no better example than the opening track, a red hot rocker that sounds like something from the rockabilly revival of 25 years ago. I know I've said it before but too many bands have the basic trio set-up and unless they are of the highest quality the sound comes over a bit shallow. Happily, JRS avoid that trap by having a fully rounded sound and just as importantly, their songs are extremely well written. The piano on Jeeze Louise is a case in point, the song is great anyway but the touches of piano make it sound like Cavan's Both Wheels Left The Ground or any Gene Summers numbers. This is such an exciting rocker, one of the best new songs I've heard.
The Man Who Counts is a fine Johnny Casher with touches of Big River flowing through it after a Folsom intro. Lula Mae is more hardcore bop in the style of Jeeze. Kitten With A Whip is my least favourite on the album - the lyrics are more than interesting and I'd love to see a video for it, but the beat sounds like a so-so Cramps song. Dragstrip is a flame-throwing instrumental which must have Link Wray looking down with a warm heart. Wild Party and Bop Attack say it all in the titles and Black Dog is a blistering slice rockin' blues. The atmospheric Devil's Heart is enhanced by some tasty sax and drums. There's a Johnny Burnette Trio feel to Hi-Tone Woman and a touch of Bo Diddley to Queen Bee.br>
The band are working hard on the circuit and this superb release is bound to enhance their reputation. My album of the year without a doubt. Brilliant.
Shaun Mather
November 2007.
The Droptops -
Wild Hare Pecords Presents
Wild Hare Records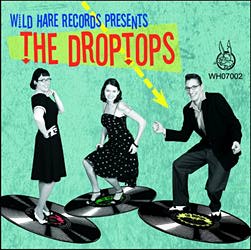 Here's a pleasant little package from retro record label Wild Hare. From West Virginia, Wild Hare have an impressive roster that includes originals Pat Cupp and Joe Penny, together with new young blood like Buck Stevens, Thommy Burns and Slick Andrews. They seem to be a friendly label and are constantly on the look out for new bands. Check out their website www.wildharerecords.com for further details on how to contact them or to buy their product. This Droptops release is packaged in a printed cardboard folder and therefore retails at a very reasonable . A neat initiative that will be interesting to see how it goes.
As you can see from the album cover the band consist of one guy and two girls - just like all our dreams. They come from the appropriately named Rockville, Maryland and have been performing in the DC metro area for the past four years. Lead singer and bass player Johnny Bozarth comes from the mild mannered style of rockabilly vocalists, sounding more Jimmy Bowen than Sonny Burgess! That's okay though, we all need a change from a frantic screamer - I'm drifting back to my dreams again. Elizabeth plays a mean Gretsch guitar in true rockabilly fashion and Christine keeps the beat together on drums.
The songs are all written by the trio and they show an affinity for Sun Records and Clovis, New Mexico in particular. If I had one complaint it would be that there's a lack of variety. Most of the album is mid paced and perhaps would benefit from a flat out belter and a couple of ballads. The excellent lead off track Where There's Smoke and When You Go are fine examples of the band's sound, not unlike a Roulette Record. She's My Baby sees them kick up a gear, the guitar being particularly hot. The pace goes down a notch for You Treat Me Mean but in all honesty it's a weak song. So all in all, a fine release that is definitely worth checking out, especially at that price. Don't forget to check out the Wild Hare website as well.
Shaun Mather
November 2007.
John Fogerty - Revival
Concord Records


The beauty of John Fogerty's albums is that they maintain the timeless sound that he'd captured with Creedence Clearwater Revival. Blue Moon Swamp was a magical album that could have been from any point on the Fogerty timeline. The reason is equal parts the catchy songs and the passionate vocals, which haven' changed a bit despite the advancement of age. This latest release is also a homecoming of sorts. Fogerty hasn' been on speaking terms with his old Fantasy Records label for many a year, but now they've been bought out by Concord Records, who have managed to sign him. It seems to have reinvigorated him and he gives his strongest nod yet to the Creedence days.
CCR are revisited with tunes like the scornful Gunslinger, and the brilliant Don' You Wish it Was true. If this was included on a Best of Creedence no-one would know different. How has he managed to retain that glorious, exuberant voice? It Ain' Right is a rockabilly workout that should become a feature of his future tours. Summer of Love pays tribute to the Woodstock years with a sound steeped in the heavy tones of Hendrix. This blistering tribute is as close as my record collection will get to Old Jimi. Talking of tributes, guess what Creedence Song is about?
Broken Down Cowboy might be a tad lightweight in such esteemed company as Gunslinger, and I wasn't blown away by Somebody Help Me where his voice actually shows it's age for the only time on the album. River Is Waiting is a reflective ballad, while Longshot and Long Dark Night see JF attack today''s society and politics, not unlike his heyday classics like Fortunate Son. So all told, a mighty fine release that should hit the spot for all Creedence/Fogerty fans.
Shaun Mather
October 2007.
Brian Setzer Orchestra
Wolfgang's Big Night Out
Surfdog Records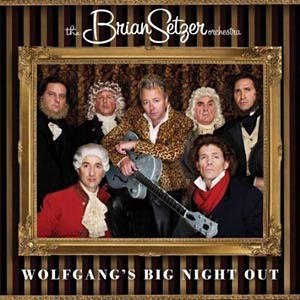 Having had a crack at the 50's and then the 40's, Brian Setzer now revisits the 30's - the 1830's! For his seventh studio album with the BS Orchestra Setzer has decided to take his Gretsch down the classical route. My misses has her car stereo tuned to a classical music station most days, but I soon turn the dial when I get in. I know some of the biggies but I'd say my knowledge of classical music was about the same as my grasp on house music - zilch.
The idea for the album came about after Setzer was playing The Blue Danube Waltz on his guitar when his wife heard him and suggested he do an album in a similar vein. He enlisted the help of legendary 84 year-old composer and arranger Frank Comstock, who had worked with the likes of Les Brown and Doris Day, and together they rewrote the charts to the three minute format. They encorporated the big band sound to the classical tunes and as ever, Brian's guitar virtuosity is evident throughout.
Beethoven's "Fur Elise", retitled For Lisa is very jazzy with Setzer's acoustic runs, a clarinet and the violin being at the songs core. The title track comes from Mozart's "Eine Kleine Nachtmusic" and is as big bandish as the album gets. The opening guitar to Take The 5th (Beethoven's "5th Symphony") is a joy and his electric solo is just that - electric. You won't be surprised to find that 1812 Overdrive is based on Tchaikovsky's "1812 Overture" and again it's well written and performed.
Here Comes The Broad (based on Wagner's "Lohengrin" and Mendelssohn's "A Midsummer Night's Dream") is the best way to go down the aisle with a thumping double bass, Glenn Miller brass and rockabilly guitar. The most rocking song on the CD is Honey Man, a Stray Cats meets Andrews Sisters take on Rimskey-Korsakov's "Flight of the Bumblebee". Swingin' Willie (Rossini's "William Tell Overture") does indeed swing and you'd be forgiven for thinking that Sinatra was going to start singing.
"God Rest Ye Merry Gentlemen" is renamed Take A Break Guys and is a bit too jazzy for me, leading me to hit the skip button. One More Night With You sounds like an something from the Vavoom era and is pretty enjoyable. Khachaturian's "Sabre Dance" goes like the clappers and Setzer gives Dave Edmunds a run for his money, ultimately losing because of the arrangement not because of the guitar technique. When the song is going hell for leather it's shit hot but the quiet moments tend to spoil it a bit. Still great stuff but DE did his in one blistering take. Having just spent a long weekend in Budapest on the Danube, Strauss's "Blue Danube", rechristened Some River In Europe, hits all the right spots.
On first hearing I thought the album was pretty good but not totally overwhelming. As have to admit that I've now heard it three times and have started to really enjoy it. At least I now have a classical CD in my collection.
Shaun Mather
October 2007
Pop Goes the Rockabilly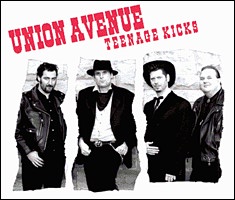 1. Union Avenue - White Wedding
Rockabilly quintet Union Avenue hail from Scotland and have found a niche in the market by covering pop songs in the style of Johnny Cash and the Tennessee Two. Some songs work better than others but the ones that do work are great. They make the songs like they were always Cash songs, in no small part to the vocals of Andrew Cardno and the Luther picking of guitarist Paul Paterson. They recently had the Radio 1 record of the week for their cover of Motorhead's Ace Of Spades and have been support acts for The Stranglers and Lee Rocker among others. Billy Idol's White Wedding was a frantic slice of pop in the early 80's, with a full blown production. Union Avenue stripped the song to the bare bones and even recorded it on vintage equipment for an authentic Sun sound. They pulled a master stroke in slowing the tempo and letting the song breath the way JC's best songs did. A classic version that makes Billy Idol's redundant.
2. Paul Ansell's Number Nine - Red Light
A highlight of Number Nine's live set, Red Light does indeed spell danger when the wrong version is played. Billy Ocean is as shite as Paul Ansell is great, and their versions show the difference. Ocean's is just drab pop music whereas Paul Ansell and Number Nine give a menacing rocked up performance. Not rockabilly per say but that isn't what they're about. It's high energy with a rocking emphasis but not restrained by the narrow parameters of pure rockabilly.
3. Big 6 - Tiger Feet
The Dream Team of the rocking scene, band members include Mike Sanchez and ? among its ranks. They play with a smile on their face and the music ranges from Bill Haley style rock to ska. They are particularly adept at converting glam-rock songs into rock 'n' roll with the likes of Slade and T-Rex being given the sax and slap-bass treatment. Their version of Mud's Tiger Feet is a romp, heavy on the sax and drums. Like the original it's a dance-floor cert.
4. Dave Phillips - Tainted Love
If ever you needed to explain to someone why a guitar is better than a synthesiser just take a listen to Soft Cell's version then take in Dave Phillips. I first heard this on Radio 1 on a school trip to see the Severn Boar and tried to convince everyone on the bus that this was better than Soft Cell's limp version. I'm not sure what percentage of John Beddoes School was bent, but no-one agreed with me.
5. Darrel Higham - Kingston Town
I know it wasn't the original but it was the UB40 version that I first heard back in the 80's. I never liked them and thought Red Red Wine was abysmal. Darrel's version of Kingston Town is a different animal all together. There isn't a lot of difference between reggae and rockabilly, the hypnotic, incessant beat being the embodiment of both styles.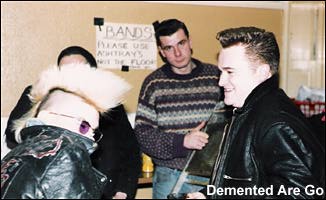 6. Demented Are Go - Crazy Horses
There couldn't be a bigger contrast between the squeaky clean Osmonds and psychobilly trio Demented Are Go. The two versions of the song echo the differences with the toothy Mormon family sounded contrived and controlled as they reach for an orgasm of excitement. The Cardiff stompers, by contrast are totally convincing as they rape the song and bring it to a crazy level that would make Donny and Marie blush.
7. Doug Church - Graceland
Elvis impersonators aren't my favourite people in the world but where Doug Church manages to avoid my hatred is that he doesn't copy Elvis songs. Instead he gives modern songs the Elvis styled vocals, and it works well. There's the saying that riding a moped and shagging a fat girl are both fun to ride as long as your mates don't find out. I think listening to Doug Church is a bit like that as well. It's surreal hearing what sounds like Elvis singing about "going to Graceland, in Memphis, Tennessee".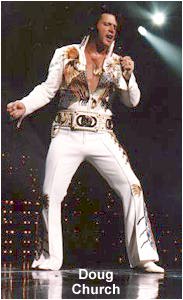 8. Stray Cats - You Can't Hurry Love
Not the Stray Cats' greatest moment but still a lot better than either Phil Collins or Diana Ross. Much like the Dave Phillips selection at number 4 it was good to hear a pop song with a double bass and therefore given a bit of balls.
9. Jets - Yes Tonight Josephine
I didn't even realise this wasn't a Jets original when I first heard this back in the day. It seemed such a straight ahead rockabilly song that it was impossible to imagine it was just a run of the mill pop song. This was the break out song for the Cotton brothers and for a couple of years they were on tv everytime you turned it on. Oh how we wish those days would return.
10. Meteors - These Boots Were Made For Walkin'
Apparantly Frank Sinatra hated Tommy Sands as a son in law so much that he used his Mafia influence to make sure that Sands couldn't get work. If Nancy had of married Meteors front-man Paul Fenech instead I reckon Ol Blue Eyes would have arranged for Fenech to take a trip down the Hudson in a body bag. Whatever, the Meteors version of These Boots Were Made For Walkin' is a miles from Nancy, just like a good psycho should be.
Shaun Mather
October 2007
Buddy Holly -
Hollybilly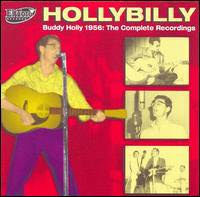 El Toro Records
Disc: 1 1. Baby, Won't You Come out Tonight? 2. Love Me (With Studio Chat) 3. Don't Come Back Knockin' 4. Midnight Shift 5. Blue Days, Black Nights 6. Rock Around with Ollie Vee [Fragment] 7. Rock Around with Ollie Vee [July 1956 Version] 8. Because I Love You 9. Changing All Those Changes [Clovis Demo Version] 10. I Guess I Was Just a Fool 11. It's Not My Fault 12. I'm Gonna Set My Foot Down 13. Rock-A-Bye Rock 14. Girl on My Mind 15. That'll Be the Day 16. Ting-A-Ling 17. I'm Changin' All Those Changes [Fragment] 18. I'm Changin' All Those Changes [Nashville Version] 19. Modern Don Juan 20. You Are My One Desire [False Start] 21. You Are My One Desire 22. Rock Around with Ollie Vee [November 1956 Version]
Disc: 2 1. Hony Tonk [Undubbed Lubbock Demo] 2. Good Rockin' Tonight [Undubbed Lubbock Demo] 3. Brown-Eyed Handsome Man [Lubbock Demo] 4. Bo Diddley [Lubbock Demo] 5. Rip It Up [Undubbed Lubbock Demo] 6. Blue Monday [Undubbed Lubbock Demo] 7. Blue Suede Shoes [Undubbed Lubbock Demo] 8. Shake, Rattle & Roll [Undubbed Lubbock Demo] 9. Ain't Got No Home [Undubbed Lubbock Demo] 10. Holly Hop [Undubbed Lubbock Demo] 11. Bo Diddley [Undubbed Clovis Demo] 12. Brown-Eyed Handson Man [Undubbed Clovis Demo] 13. Have You Ever Been Lonely? #1 [Undubbed Lubbock Demo] 14. Have You Ever Been Lonely? [Fragment] 15. Have You Ever Been Lonely? [Fragment] 16. Have You Ever Been Lonely? #2 [Undubbed Lubbock Demo] 17. Gone [Fragment] 18. Gone #1 [Undubbed Lubbock Demo] 19. Gone #2 [Undubbed Lubbock Demo]
When I was a kid my record collection consisted of a few Elvis, Stray Cats, Jerry Lee, Gene and Eddie albums and I played them to death up in my bedroom playing snooker on a little snooker table. One Christmas I asked my mum and dad for a Buddy Holly album, which they were happy to do as my dad was partial to a bit of the boy from Lubbock. I was expecting to hear wall-to-wall rock 'n' roll hits but was surprised to hear some lessor known gems that hinted at a Buddy Holly I never knew existed.
Tracks like Baby, Won't You Come out Tonight?, I'm Gonna Set My Foot Down and Holly Hop became as well known in my house as Oh Boy and Maybe Baby. Over the years I've heard more and more of the early stuff and find it fascinating. This latest double CD set from the splendid El Toro label is therefore a welcome addition to everyone's collection. Running at 41 tracks and costing the price of a single CD it's great value for money and should be snapped up.
This collection includes his complete 1956 recordings, a pivotal year in his development. It includes all the surviving masters from his three Nashville sessions for US Decca, together with his first demo sessions cut for Norman Petty in Clovis, New Mexico, and home recordings from Lubbock, Texas.
I'm sure you're all familiar with the majority of stuff here so a song by song review isn't needed. Highlights for me are the Nashville sessions where Floyd Cramer, Harold Bradley join Buddy together with the brilliant Grady Martin.
Basically you've got a rough and ready second CD which is never less than interesting and a truly wonderful first CD that stands up there with Elvis' Sun sessions as the benchmark by which rockabilly standards are set. If there's a better song than Rock Around with Ollie Vee, I ain't heard it. And by the way, what a great name for this CD.
Shaun Mather
September 2007

Robert Gordon & Chris Spedding -
It's Now or Never (2007)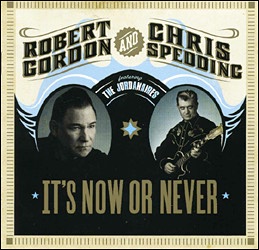 RYKO Records - RCD 10915
A Mess of Blues - I Beg of You - Don't Leave Me Now - I'm Left, You're Right, She's Gone - Peace In the Valley - Don't Be Cruel - Lawdy Miss Clawdy - My Baby Left Me - Too Much - Love Me - Trying To Get To You - (You're So Square) Baby I Don't Care - It's Now Or Never - It Feels So Right - Young and Beautiful
The summer of '77 kicked off with the release of Robert Gordon's first album and ended with the death of Elvis. The King may have died but a worthy disciple had been born. The past 30 years have seen Robert Gordon stand tall and strong as one of the torch bearers for '50s rock 'n' roll, a role he continues to this day. This latest release sees him team up with old buddy, guitar wizzard Chris Spedding. From his debut with Link Wray, Gordon has seen the value in having a first-rate axeman at his side. For this tribute album, he chose to record in Nashville, home to many an Elvis session and used the legendary Jordanaires on backing vocals.
The material is from the early days of Elvis from the Sun period to the earlier days on RCA, with just A Mess of Blues and the title track from the post-Army years. The renditions are true to the originals and there's not a weak track. As you might expect, the rockers are great with Lawdy Miss Clawdy and My Baby Left Me being exceptional. I really dug the well chosen movie classic (You're So Square) Baby I Don't Care, and the Sun gem I'm Left, You're Right, She's Gone where Spedding gives a big nod to Scotty Moore.
If you can't listen to a cover version without moaning that the original was better then pass this by, but if you can enjoy any rendition for its quality, you'll love this. Robert Gordon sounds brilliant throughout and it was an obvious labour of love. Probably the best tribute album to Elvis that I've ever ehard.
Shaun Mather September 2007.

Elvis 30th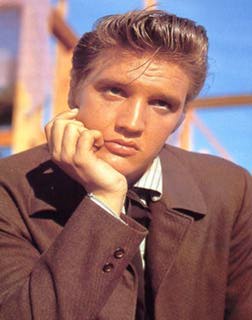 Being an Elvis fan has been an odd experience over the years. You find yourself having to defend why you like him, explain what was so great about him and asked why you don't just catch up with the times. The last part is easy to answer, I'll catch up with the times as soon as someone starts recording anything that can hold a light to what I listen to. As to what made him great, I just offer to lend them a DVD or a CD and find out for themselves.
I always find it strange when someone says that they don't like Elvis' music ­ what, none of it. Not the rock, the country, the blues, the folk, the gospel or even the pure pop? What do you listen to? Such was the quality of his voice that whatever genre he sang in, provided the material was strong, his version was top drawer. So if for example you like a bit of blues then surely you must like the songs Elvis did in that style. Unless, you're an ass-wipe who just doesn't want to give him a shot. See, I'm getting defensive now and this is a rockabilly site where most people like Elvis.
One of the things that doesn't do Elvis any favours is the loony, OTT fans he's acquired over the years. For example, in today's Commercial Appeal, there's a story about a brother and sister who are making their first pilgrimage to Graceland this year, though they've loved Elvis for years. The sister makes her own Elvis jumpsuits, sewing on the plastic beads while watching Elvis movies over and over. "The first Elvis suit I made for my son when he was 3, and now he's 15," she said. "I'm sorry I didn't name him Elvis." Try defending that in an argument with your mates!
The star of Elvis continues to shine bright, with album sales still keeping him in the charts around the world. As I write, there's a new double CD "Elvis The King" (who came up with that imaginative title) at #2 in the UK midweek sales charts. A single of Hound Dog is hovering around the top 10. I read the other day that the average age of visitors to Graceland is 34 which considering that he's been dead for 30 years is some achievement. It hopefully shows that he will still be relevant for a few years to come.
What then is his appeal? I think he appeals to different people in different ways. We've got a 17 year-old lad living with us at the moment and he likes all the modern bands but is also a fan of the 70's Elvis. My misses loves the 50's Elvis and is completely turned off by his later stuff. Me, well I like everything. I could give some of the movie soundtracks a miss, but even during that period he still recorded the odd gem. Anyway, here's my favourites of the various genres he recorded in.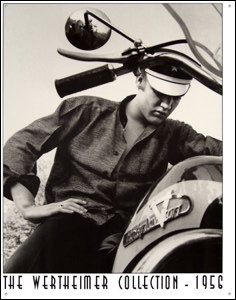 Rockabilly - Baby Let's Play House
This is rockabilly personified. Whereas with gospel, country and blues he was recording in a long established genre, treading in the footsteps of his idols, with rockabilly he set the standard. His five singles at Sun defined the sound. Rockabilly was born with him, Scotty Moore and Bill Black in Memphis and everyone else would be forever compared to their efforts. Baby Let's Play House was a salacious slab of mayhem. Mom and pop might have thought this mumma's boy had dish washers and baking cakes on his mind, but the kids knew that is was tongue-tennis and belt-buckle rubbing that the Memphis Flash was really thinking about.
Gospel - An Evening Prayer
I must admit that my knowledge of gospel music is limited, very limited. In fact it extends to the recordings by Elvis, Jerry Lee, early Sam Cooke and a few other bits and bobs. I know there's the revival type gospel that Elvis did like Saved and then there's the dramatic ballad type. Those are the gospel songs that sound like doo-wop-for-God. Elvis was brilliant as this, his voice and heart gelling as one. An Evening Prayer, like Mahalia Jackson's original is all about power of the voice, and belief in the words. From an eclectic couple of days in 1971, the session produced more than a few gems, but none better than this - the piano and organ ooze Sunday mornings down South.
Blues ­ Reconsider Baby
Elvis and Boots Randolph must have eaten turnip greens on the steps of a black Chicago speakeasy for months before this session. They are low down and dirty and totally immersed in the blues. I don't think Boots ever sounded better than this and Elvis is at the absolute top of his game. It's a shame that a full blown concept blues album wasn't recorded around this time ­ can you imagine Elvis tackling some of the Excello stuff with Lazy Lester or Slim Harpo wailing away on the harmonica?
50's Rock 'n' Roll ­ Don't Be Cruel What can you say about this. They say that it was the first Elvis RCA song to move Sam Phillips, and you can see why. The perfect rock 'n' roll record, it covers every aspect, from the lyrics of teenage love, driving bass and guitar lines, backing vocals ­ about the only thing it doesn't have is a sax solo.
Country - Just Call Me Lonesome
Elvis was more known for destroying country music than singing it in it's purist sense. From the earliest days of Blue Moon of Kentucky, he took country songs, stripped them of their whiteness and added his own soul and some Mississippi blackness. Just Call me Lonesome is straight ahead Nashville country with plenty of steel but no fiddle. Elvis sounds so at ease and this is one of my favourites in his vast catalogue.
Pop ­ Suspicion
A beautifully exotic pop song that was perfect for the time. I always feel it was an injustice that it was Frank Sinatra who hosted the Welcome Home TV special on Elvis' return from the Army. Can you imagine if Ol' Blue Eyes had been replaced by Dean Martin. Instead of Frank's flat dulcet tones we could have had the dream-team pairing of Deano and Elvis exchanging verses, flirting with the words, two of the worlds greatest singers in perfect harmony. Them crooning, the audience swooning ­ ah, if only.
Shaun Mather
16 August 2007.
Rocky Velvet -
It Came from Cropseyville!
RVM CD001

Despite forming in the Albany, NY area, there's still a new kids on the block feel about Rocky Velvet. Apart from a single on Cacophone in 1997 they haven't released anything as a band until this beauty. The past decade has seen long periods of inactivity as a band although the individual members have been busy on the scene. Guitarist Graham Tichy has played with Wanda Jackson, Linda Gail Lewis, Robert Gordon and Commander Cody and His Lost Planet Airmen. Bass player Jim Haggerty has been playing with the likes of Wanda Jackson, Chuck Berry, Robert Gordon and Bo Diddley. 2007 finally sees the release of a full blown album and the wait has been worth it. The band worked closely with producer Frank Moscowitz to get an authentic 50's sound.
The band are absolutely solid as a rock with drummer Jeff Michael and bassist Haggerty powering the rhythm section along. The thrills come from Tichy who is one of the most accomplished guitarist in the rockabilly world. While singer Ian Carlton doesn't have the most distinct voice he can certainly carry a tune and doesn't let the sound down.
The majority of the CD is covers and they're pretty much all well chosen and well played. The only one that didn't do anything for me was the opener but King Kong has never hit my spot. Wayne Walker's All I Can Do Is Cry, Johnny Powers' Rock Rock and Benny Joy's I'm Gonna Move all stand up well to the original but the covers that really shine are the Rocking Saints' Cheat On Me and Move Around. It's given a rocked-up hillbilly reading which to these ears is better than Groovey Joe Poovey's excellent original.
Of the originals, the impressive Don't Stop is a stop-starter with call and response vocals and tasty picking from Tichy. The best song though is Haggerty's Poor Poor Lonely Me, the best thing on the album. I'm not sure how to describe it, but would say it was closer to Restless' Tag Man Tag than Robert Gordon's Red Hot ­ know what I mean!
So, a classy release and one of the best of the year. Surely we won't have to wait another ten years for something else. I'd be intrigued to hear the follow-up and would hope that it might include a few more originals. The band have just been voted 2007's Best Band in the Capital Region by the Metroland Magazine so hopefully that and the new album can spur them on to the next level.
Shaun Mather
September 2007.
Darrel Higham -
Monochrome Dream

Foot Tapping 050
With a new release seemingly coming out every couple of months, Darrel Higham is rapidly becoming the Willie Nelson of the rockabilly scene. Again on his Foot tapping imprint, Monochrome Dream is one of his best to date. It's got the usual mix of originals, straight forward covers and a couple of surprises where songs are given a fresh reading, far removed from their originals.
The album kicks off with a rockabilly version of a 70's Elvis song. He's done it before with Burning Love, and I think Patch It Up works just as well. The chugging rhythm is cemented by Darrel's rich guitar figures. He also visits the King's catalogue for Gonna Get Back Home Someday, a moody, underrated number from Elvis' equally underrated 1962 Pot Luck album.
Baby Take Me Back, Lonesome Tears In My Eyes and Hank Davis' superb One Way Track stay pretty faithful to the originals with a bit of pep added to the solos. But She's Not You rocks and reminds me of the Jets, No Teenagers Allowed is okay but This Is The Night and Wasting My Time didn't do much for me. I don't know what to say about the Red And White Army. The music is good but the lyrics are shocking! That's not just because Sunderland beat Spurs this weekend, it's just that surely this song only makes sense to Black Cats ­ someone who follows Sunderland home and ha'way!!
I really love his version of the latter day Carl Perkins number The EP Express, Carl's heartfelt tribute to his friend Elvis. Every band of the last 30 years has covered his Sun classics but very few have delved into his more recent vintage. It's a bad oversight because they all lend themselves to the modern sound, witness Lee Rocker's great version of Restless.
Last time around Darrel tackled the ska classic Kingston Town, this time he turns Bruce Springsteen's I'm On Fire into a fine rocker. The Boss has written some great songs over the years and I'm surprised more haven't been covered by either rockabilly or country bands. The Guana Batz covered I'm On Fire a few years ago but it's not as good as Darrel's.
After listening to this album for the second time it struck me that Darrel Higham is one of the few modern guitarists that has his own sound. There's some brilliant pickers on the scene but most of them play in the style of others, very few have got their own calling card. Darrel has, and long may he continue to thrill us with it.
Shaun Mather
August 2007
Brian Setzer & The Nashvillians - Red Hot and Live
Lee Rocker - Black Cat Bone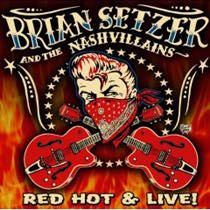 BS Track listing: Red Hot, This Cat's On A Hot Tin Roof, Get It Off Your Mind, Slow Down, Put Your Cat Clothes On, Take A Chance On Love, Broken Down Piece Of Junk, Peroxide Blonde In A Hopped Up Model Ford, Tennessee Zip, Mini Bar Blues, Runaway Boys, Stray Cat Strut, Rocket Cathedrals, Fishnet Stockings, Rock This Town, Gene & Eddie
LR Track listing: Gone, Crazy When She Drinks, One More Night, Black Cat Bone, Lost Highway, Rebel, Sold Us Down The River, What I Don't Know, String Bass, Guitar and A Drum, The Wall of Death, Sometimes You Win, The Highway Is My Home, Free Bass
Well there's no denying the prolific ness of ex-Stray Cats Brian Setzer or Lee Rocker. As with all their releases nowadays it comes with the propaganda about how they gave life to a long-dead art form in the shape of rockabilly. I'm not sure how the European acts like Crazy Cavan, Matchbox, Shaky, Flying Saucers or the Americans Robert Gordon or the Blasters feel about that, all of whom were seasoned rockabilly stars long before Rockabilly Boys. In fairness to the Stray Cats, did give the music a freshness and a hipness that took the music to a new level, but they didn't really reinvent it. Anyway, enough preaching, what about the latest releases.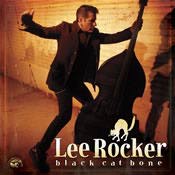 Lee Rocker continues to impress with his modernised rockabilly sound, eleven of the thirteen being self-written. The band consists of Buzz Campbell on guitar, long time sidekick Brophy Dale on guitar, slide and vocal duties with Jimmy Sage still on drums. The opener, Gone is a solid, atmospheric rocker and a fine way to kick off proceedings. There's a neo-sound to Crazy When She Drinks and the echo-laden Black Cat Bone is not unlike SCStrut. Both Rebel and String Bass, Guitar and A Drum are slightly contrived but still well worth a listen. Of the two covers, I enjoyed Dylan's One More Night but found the speeded-up version of Leon Payne's Lost Highway less satisfying. Rockinest track is the bopping Wall of Death, but the pick of the album has to be the swampy Sold Us Down The River - Tony Joe White meets the Blasters. Although the album doesn't quite match up to the J-Bird classic of a few years ago, it's still a hard rocking affair that is well worth a listen.

Brian Setzer and the Nashvillians, as you'd have gathered from the title is a live set, recorded during a recent tour of Japan. They worked together for the Sun records tribute, Rockabilly Riot and a half dozen of the tracks here are from that source. Red Hot smokes, Get It Off Your Mind swings and Tennessee Zip is just plain brilliant, frantic and controlled at the same time. Slow Down, Put Your Cat Clothes On and Peroxide Blonde In A Hopped Up Model Ford complete the 706 fix and they all rock like the clappers, especially Setzer's phenomenal lead on Cat Clothes. The sound is full and has a rounder edge than his trio sound, augmented by Robbie Chevrier on guitar, Ronnie Crutcher on bass and Bernie Dresel on drums. The rest of the album is made up of Stray Cat songs and other items from the BS back catalogue, all nicely played and no doubt lapped up by the crowd on the night, but not sure when they'll displace the original Cat versions on Joe Public's record player. That said, if you haven't got any like CDs by them, give this new one a whirl, the sound quality is excellent as are the songs and the playing.
Shaun Mather
August 2007

Billie Furry Mather - R.I.P.

Unbelievably, so soon after losing little Missie we've just had another sad day. The world's softest cat Billie Furry has just died. She arrived into our lives from goodness knows where on Julie's 30th birthday and left us nearly 12 years later on my mum's birthday. Always one for the special occasion, Billie even made it onto national TV here in Wales. Phil used our house to film an episode of Wedi Saith to commemorate Elvis's birthday. They wanted to use our other cat Elvis but he wouldn't sit still on the presenter's lap, so we used Billie as a stunt double - the world's furriest Elvis impersonator! She was the friendliest cat you'd ever meet, always making friends with any visitors as soon as they walked through the door. If you've been to our house I can guarantee you've had Billie on your lap. We haven't spent a night in the last twelve years without Billie lying in bed between us, always warm and never giving up an inch of her space. I've slept for years with my bum hanging over the edge of the bed while Billie and Julie lay nice and cosy in the middle. We miss your loud purr and every quirky little thing about you Bill - rest in peace babe and we'll see you again one day.
Shaun and Julie

Missie Mather - R.I.P.

Monday, July 6, 2007 - Today is a sad day. My little gal Missie died this weekend on what would have been her 14th birthday (and it also the 17th wedding anniversary for me and my wife Julie). Missie and her brother Elvis have been with us since they were six weeks old. While Elvis is a bit of a mummy's boy and spends his time resting his head on Julie's breast (can't blame him for that!), Missie has been my little companion. I've watched thousands of hours of sport with her on my lap and listened to millions of songs. Most of the things I've written on here have been with Missie on my lap - any typos were probably where she went walking over the keyboard. Musically I think she was a bit of a doo-wop girl, but she was pretty patient whatever I played. She also had a great knack of calming me down whenever Tottenham through away another 2 goal lead. These 14 years have been a pleasure sweetie. Rest in peace Miss, we love you and we'll see you again one day.
Shaun and Julie
July 2007.
Johnny Bach & the
Moonshine Boozers - Baching Mad
Foot Tapping Records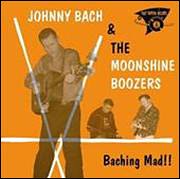 Track listing: 1.Travellin' light 2.Hey porter 3.Walkin' after midnight 4.Stranger blues 5.Summertime blues 6.Sam Hall 7.Jumpin' from 6 to 6 8.Boppin' the blues 9.Something might be happening 10.Sugar sugar 11.49 tons 12.Trouble in mind 13.Tear it up
It seems hard to believe that it's over 10 years since Johnny Bach's manic debut 10 incher Feelin' No Pain on Hepcat records. Not exactly subtle, JB and the Moonshine Boozers play frantic rockabilly for the anti-Pat Boone establishment. The band, in case you've had your head up your arse for the past decade, is John Lewis of the much missed Rimshots, guitar virtuoso Darrel Higham and for this release, Roger Van Niekerk of Carlos & The Bandidos on drums.
The guys are renowned for taking on some of the rock 'n' roll classics and turning them completely on their heads with full throttle versions. The opener is a perfect example. Fans of Cliff will be thumping the CD player with their tennis rackets as this gentle number is transformed into a frenzied bopper - the guitar pattern not a million miles from Woodpecker Rock. If you can't deal with the change here, don't bother listening to Walkin' After Midnight. The believers though can rejoice, this is one of best Johnny Bach tracks to date.
After speeding up everything to Formula 1 pace they've taken the hard rocking Tear It Up and slowed it down and it works a treat. John Lewis is brilliant and sounds like prime time Rimshots and Darrel is so delicate on his fills and runs. The much covered Trouble In Mind is taken at a mid tempo that works really well.
Sun classics to get the Johnny Bach treatment include Hey Porter and Boppin' The Blues and Johnny Cash's Sam Hall is a blast. I didn't rate the rumba sounds of Something Might Be Happening and thought Jumping From 6 to 6 didn't match up to Big Sandy's version.
Of the straight ahead rockers I'd say that Stranger Blues is the best, vying with Tear it Up for best track on the album. So, great fun and easily their best album to date.
Shaun Mather
July 2007.
Jerry Lee Lewis's Complication -
A Recognised Medical Condition!
We've just been received the following from Scottish Jerry Lee Lewis fanatic and friend of the Killer himself, Graham Knight: "A doctor friend was looking up references to "pain relief" in a Medical Dictionary when he noticed that there is a condition that has been known as "Jerry Lee Lewis's Complication". It was first detailed in the medical journal "Anaesthesia" in 1997."


It turns out that the doctor in question, Dr Notcutt is a Jerry Lee fan himself.
Shaun Mather - July 2007.
The Jime ­
New Set Of Rules

Track listing: How Could I Tell / London Town / A Little More Time / I Had Enough / Break It Down / Can't Forget / Don't Tell Me What I Want / New Set Of Rules / Till End Of Time / Take This Heart / From Day To Day / I'm All Right Now / Where The River Flows / I Want You To Know / Closer To The End / I'm Still Around
I remember reading a review of an early Jime CD in Now Dig This and although it sounded intriguing I'd never gotten around to buying one of their albums. Well I've put that right with this their third album. All sixteen tracks are written by the bands main man Vince Gordon who plays the majority of the instruments, and handles the production and engineering. The first thing you notice is their truly unique style, it's a manufactured sound but that shouldn't detract.
London Town is just great. I'm not sure how to describe it other than it's rockabilly with a twist (no, not the Hank Ballard type). A Little More Time has a Travelling Wilbury's feel to it - I never thought I'd say that about a modern rockabilly band. I Had Enough is easier to classify, it's got the JC boom-chick-boom sound and is not dissimilar to the Barnshakers.
The neo-rockabilly Can't Forget sounds like no-one else much like the Stray Cats when they hit the scene. Don't Tell Me What I Want is a mover with a hot guitar solo, and vocals that at times sound like Mike Sanchez. I was disappointed by the title track, a sort of 21st Century Stray Cat Strut and the ballad Till The End of Time didn't really hit the spot.
Take This Heart and From Day To Day bring the CD back on track, stop-starters in the best tradition of neo-rab. The rest of the album is pretty good with the melodic Where The River Flows and Closer To The End being highlights.
I'm not sure that this Danish band are the best thing since sliced bread as some fans seem to think, but New Set Of Rules is definitely worth a listen.
Shaun Mather
June 2007.
Elvis Presley ­
50,000 Elvis Fans Can't Be Wrong

Elvis' Golden Records Volume 2
Follow That Dream 8869703615-2
The latest in BMG's long running Follow That Dream looks at the classic 50,000 Elvis Fans Can't Be Wrong album. Released in the USA in December 1959 it helped to keep the Elvis flame burning whilst he served Uncle Sam overseas in Germany. The original ten tracks were classics at the time and the passing of nearly half a century has done nothing to diminish their powers. The album cover is timeless, with Elvis in his iconic Nudie gold lame suit repeated no fewer than 16 times. This 2CD reissue wisely keeps the same cover, coming in EP size together with a fairly detailed booklet.
It's the music that makes this little baby so irresistible though. The first CD features the original album augmented by un-dubbed versions and work-in-progress takes. The quality of the band and Elvis' voice shine throughout and this fly-on-the-wall format is as close as we'll ever get to being there. Some of the versions have been out before, most notably on the official Essential Elvis Volume 3 CD from 1990 (was it really that long ago?). The best bootleg I've got of this period is Totally Stung on Madison (Madison CWP04), which was heaven sent at the time but has now been superseded by this latest Follow That Dream release.
He has moments of great harshness on take four on Hank's Your Cheatin' Heart, but unfortunately we heard that on the Essential 3 set. Same fate for take 1 of A Big Hunk O' Love, but it's great to hear the first stab at this rock gem. The band and the Jordanaires don't have far to go and Hank Sugarfoot garland is already there. What a player Sugarfoot was, his notes powering away throughout and his solos so fluent and in-yer-face. Takes 2 to 4 show the song evolve with Elvis' vocals improving as the words and the rhythm become more familiar. Floyd Cramer gets more into the game with each take.
We get 11 takes of Ain't That Loving You Baby and that's just fine as it's a song that was tried in different tempos. It's amazing how great this track was from the very first take. The only thing that prevented them calling it a day after the first take was a few fluffed lines. By take five the song had quickened with Elvis requesting "boogie Chet" to Chet Atkins, whose acoustic guitar was the songs driving force.
18 takes of I Need Your Love Tonight are fascinating from the broken down first take to the glorious last. This session reaffirms the quality of the Nashville pickers. Floyd Cramer may have sounded a bit square on On The Rebound, but he kicks INYLT into life with his boogie woogie intro - the rest of the guys were obliged to join in. Sugarfoot doesn't need a second invite, plugging away before treating us to another master class in fluency. The drums take on a jungle rhythm before the collapse of take 10 and would have made for interesting listening if that avenue had been pursued further. (Now And Then There's) A Fool Such As I was familiar to the whole gathering but from the first take it was a million miles from Hank Snow. The early takes are a treasure with Elvis sounding so young and vulnerable as he searched for his own sound. By the time he'd cracked it he was full of swagger and any remnants our country afflictions in his voice were long gone. The 24 takes of I Got Stung are equally as enthralling although they were pretty much on the money from the very beginning. There's a great bass pattern on take 14 but the vocals lack the passion of other takes.
The second CD ends with the Elvis Sails EP featuring the three interviews/news clips of the time. The Press Interview from the Brooklyn Army Terminal shows Elvis is fine spirits, answering most of the questions in a light hearted manner, including the "what's your favourite type of girl" question to which he replies "female sir". The only time he's serious is when he talks about his recently deceased mum. The Pat Hernon interview taken moments before he sets sail to Europe comes across like the Last Supper. It's a quiet Elvis who talks with an emptiness in his voice that shows just how insecure he was about the future. We all know in hindsight that he would return to the entertainment business two years later as big a star as when he left, but in 1958 he had no such assurances. Again, like the rest of this CD, it's fascinating.
I'm not sure what his army buddies were doing during their leave on duty but I can guarantee it wasn't as rewarding as the few days spent by Private Presley in Nashville. Legendary sessions and given a justified treatment with this splendid release. One of the crown jewels in the Follow That Dream box of treasures.
Shaun Mather
June 2007.
Shaky's Occasional Bootleg Series - No. 5
Dwight Yoakam Country Festival,
Zug, Switzerland - June 14, 1987
Zug Records 101 - Can't You Hear Me Callin', Guitars Cadillacs, Smoke Along The Tracks, Down The Road, Big Boss Man, 1000 Miles, Please Please Baby, Readin' Rightin' Rt. 23, Little Ways, I'll Be Gone, Honky Tonk Man, It Won't Hurt, My Bucket's Got A Hole In It, Miner's Prayer, The Grand Tour, Heartaches By The Number, Little Sister, Washed My Hands In Muddy Water, Since I Started Drinkin' Again
This little bootleg makes a great memento for anyone lucky enough to have been in Switzerland in the summer of 1987, but what about the rest of us? Well, the sound quality is pretty good without being crystal clear. Whilst the sound may only be eight out of ten, the content is a ten. A great mixture of Dwight originals together with covers of country classics and even a couple of r'n'b gems. The band, the Baylonian Cowboys are in fine fettle with Brantley Kearns shining on fiddle and the late Eddie Shaver standing in for Pete Anderson on lead guitar.
The set kicks of with a trio of high energy movers that get a great reception from the crowd. His cover of Stonewall Jackson's Smoke Along The Track was one of the highlights of his second album Hillbilly Deluxe, and it's one of the picks of this show as well. Flatt and Scruggs' Down The Road is dedicated to his granddaddy and is given a lively outing. Big Boss Man is hypnotic and Washed My Hands In Muddy Water smokes.
1,000 Miles, Miner's Prayer and Readin' Rightin' Rt. 23 are all personal songs for Dwight and his gives them beautiful, heartfelt renditions. The honky tonk - bluegrass fusion Since I Started Drinkin' Again is a blast, a great way to end the show. Little Sister simmers with Eddie Shaver playing every note he knows. Not sure where you can pick up a copy but I wouldn't recommend you pass it by if you do see it. Vintage Dwight, at the top of his game and fresh as a daisy.
Shaun Mather
June 2007.
Shaky's Occasional Bootleg Series - No. 4
Dion - The Saturday Sequence,
BBC Radio One, 30 September 1989
Track listing: Intro - Written On The Subway Wall - I've Got To Get To You - Chat 1 - The Wanderer - Intro to pt 2 - King Of The New York Streets - Chat 2 - Drip Drop - Chat 3 - I Wonder Why - End of pt 2 - Intro to pt 3 - And The Night Stood Still - Ruby Baby - Runaround Sue - Outro
Musicians: Terry Harr - sax/keyboards/backing vocals, Paul Harris - keyboards/backing vocals, Johnny Sambararo - guitar/backing vocals, Gay Bailes - bass/backing vocals, Larry Hurt - drums
Recorded for the BBC's Saturday Sequence, the piece was hosted by Roger Scott, who'd joined BBC Radio 1 the previous year after an illustrious decade on Capitol Radio. Sadly, within a month of recording this Dion programme, Scott died of cancer, aged just 46. Obviously a big fan of Dion, Scott interviews him with a real fan's enthusiasm, genuinely happy to be in the company of one of his heroes. Dion was in the country promoting the recently released Yo Frankie album, complete with his crack band. He's in great spirits throughout the set, both when he's singing and during the chats. He describes doo-wop as " a poor man's horn section" saying they had to sing the sax parts because they couldn't afford instruments.
From the new album we get Written On The Subway Wall, And The Night Stood Still and the marvellous King Of The New York Streets. Dion's best work always had a New York street-corner hoodlum swagger, and after years of folkie shit, Yo Frankie saw the Wanderer return to that glorious sound. The band here lay down a solid beat and give these new numbers a great feel. Dion devotes I've Got To Get To You to Roger, but in fairness it's my least favourite on the show.
The Wanderer is relentless, a classy stroller with a great sax solo. Perhaps my favourite Dion song, Drip Drop comes with jangling guitar instead of backing vocals, giving it a busker feel. It's all street corner music I suppose. It's fascinating to here him describe how the introduction to I Wonder Why came about, with Carlo of the Belmonts mimicking King Curtis' sax. The version here is closer to the 50's than anything else on the set. Dion sounds brilliant and the band have their "dun, dun,s" down to a tee. When is this bloke coming back to the UK, the thought of him working with a band like the Metrotones gets me dribbling. Ruby Baby is given a semi-modern reading while Runaround Sue stays true to the original and is very nice indeed.
They talked about a potentially mouth-watering tour that was hoped to hit the UK featuring Dion, Dave Edmunds, Stray Cats and the Fabulous Thunderbirds. Request - could someone rearrange that for this year please? Sound quality as you'd expect from a BBC product is first class and I'd recommend digging out a copy for both it's historical importance and because the music is great. The more stuff like this that surfaces the better. Bring me more.
Shaun Mather
June 2007.
The Pomus & Shuman Story:
Double Trouble 1956-1967
- Various Artists
Ace Records - CDCHD 1152
This is the first official CD to celebrate the eclectic works of the hit making songwriting team of Doc Pomus and Mort Shuman. Although they enjoyed more pop hits as a team than Leiber and Stoller, I think most people agree that L&S have a higher quality CV. That's not to say that Pomus and Shuman were poor in any way, a fact that this CD proves, it's just that the Leiber and Stoller product was amongst the greatest ever written.
An unlikely team, Pomus and Shuman joined forces when Doc Pomus felt he was too old to completely capture the thoughts and sounds of the teenagers who had taken over the record buying market. I've always thought of them as being on the poppy side of rock 'n' roll, and while that is certainly true, what did surprise me was the quality of their songs with a soul edge. The numbers in this category are the unexpected highlights of this marvellous CD.
The opener, (Wake Up) Miss Rip Van Winkle by Tibbs Brothers could have been written by Leiber and Stoller, and is a highlight here, as it has been on a few other Ace CD's. LaVern Baker's answer to Little Sister needs to introduction, ditto Save The Last Dance For Me by the Drifters, Dion & the Belmonts Teenager In Love and the brilliant Hushabye by the Mystics. Terry Stafford's excellent version of Suspicion holds up well against the King, whilst Fabian's Turn Me Loose should have been recorded by the old hip-swiveller. I Ain't Sharin' Sharon by Bobby Darin and So Close To Heaven by Ral Donner are both fairly well known and are top notch performances.
In November 1959 the pair came to London for a special edition of the ITV show, Boy Meets Girls and proceeded to find a home for their songs, some good, some dodgy. Two are featured here, a mighty fine It's Been Nice by Marty Wilde and Too Good which became a hit for Little Tony & His Brothers. Keeping the British connection, there's a couple of songs here that were done better by Billy Fury, Angel Face by Jimmy Darren and A King For Tonight by Barry Darvell.
A few that weren't known to me, but hit the spot were the rockers Seven Sins by Barrett Strong and Seven Day Weekend by Gary U.S. Bonds, and the exotic ballads, Ben E King's First Taste Of Love and Spanish Lace by Gene McDaniels. Irma Thomas treats us to a tasty soul ballad with I'm Gonna Cry `Til My Tears Run Dry and there's more up tempo soul with Howard Tate's pleading Stop.
There's only a couple that didn't hit the spot for me. Andy Williams is a square as ever with Can't Get Used To Losing You, but again it shows the hit-making powers P&S had. Say Those Magic Words by the McCoys was a bit too 60's for my taste and I didn't think that Del Shannon's version of (Marie's The Name) His Latest Flame stands comparison to Elvis' original. Having said that, it was nice to hear. Bobby Vee is, well, Bobby Vee.
The strangest inclusion is the Elvis Presley number, Double Trouble. It's the first time Ace have issued a song by the King (they're too classy to take advantage of the 50 year copyright rule) and the song from 1966 is the last that Pomus and Shuman ever wrote together. The fact that the song is crap isn't the point, its historic interest is enough to warrant inclusion. So, a thoroughly enjoyable release that should hopefully sell in big enough numbers to ensure a second volume. Highly recommended, as long as you're not expecting wild rockabilly.
Shaun Mather
June 2007.
Shakin' Stevens - Now Listen
[BMG/Sony] ... Now Listen - Somewhere In The Night - Lonely Too Long - Got My Mind Set On You - Baby Its You - Fire Down Below - How Could It Be Like That - Its A Shame - Pump It Up - I Hear You Knockin - Trouble - Get Together
It's been well over a decade since Shakin' Stevens' last real album. There have been plenty of compilations released but the rest of that time was spent pretty quietly, with the Welsh superstar keeping a low profile away from the limelight. However, in the past year there has been a noticeable upturn in the number of television and radio appearances, and also the promise of a much awaited new album. I heard him talking about the album on the UK Radio 2 about 6 months ago and being completely underwhelmed by the song they played at the end (Now Listen I think). Well it's finally been released and with a touch of doubt I ventured in.
The whole album is a million miles away from the rock 'n' roll tunes that he made his mark with, they aren't even that close to the latter days hits he enjoyed in a more poppier vein. That's not to say it's not good music, it's just not rockabilly. A handful of tracks have a rocky edge to them, the remainder are adult contemporary pop music. The voice is always good and the backing is fine.
The most obvious rocker here is I Hear You Knockin', Shaky's version owing more to Dave Edmunds' cover than Smiley Lewis' original. George Harrison/Travelling Wilbury's Got My Mind Set On You is given an acoustic feel and is a welcome addition. I was left completely cold however, by the Elvis Costello number, Pump It Up. My favourite track is the self-written swamp rocker How Could It Be Like That which has the legendary Tony Joe White on guitar. It's a smokin' number that would make a worthwhile single if accompanied with a well shot video.
The Youngbloods/Jesse Colin Young number Get Together is the best of the non-rock material and again could have single potential. I wasn't impressed by either the title track or Fire Down Below, but his co-writes with fellow countryman John David, Somewhere In The Night and Lonely Too Long were pretty good. Two more goodies were the covers of Trouble and Baby Its You.
So a bit of a mixed bag. Nothing stunning and certainly nothing to slap an imaginary double bass to, but still good to have the Shakester back. Let's hope the next album sees him working with the likes of Stuart Colman, Dave Edmunds or Darrel Higham. Shaun Mather
June 2007.
Shaky's Occasional Bootleg Series - No. 3
Dave Edmunds - MTV New Years Eve
Party - 1986/87
What a way to bring in 1987. Dave Edmunds and band are on red hot form and are joined for cameos by rockabilly legends Carl Perkins and Brian Setzer together with Marshall Cranshaw, the fella that played Buddy Holly in the then newly filmed La Bamba. Dave's band are the Taf Mafia, fellow Welsh rockers, Dave Charles on drums, John David on bass, the irrepressible Geraint Watkins on piano and guitar wizard Mickey Gee. Having Dave Edmunds and Mickey Gee on guitars is cheating really, it's like having Jimmy Greaves and Pele in the same team or Michael Vick and Steve McNair both playing quarterback.
The CD kicks of with a trio of Edmunds classics, Queen of Hearts, I Knew The Bride and Girls Talk, all given brilliant treatments. No one does Chuck Berry better than DE (Chuck certainly doesn't) and the version of Run Rudolph Run rocks like the clappers. I reckon Santa could have visited every kid in the world in one night with Rudolph going at this speed - four minutes of perfect rock 'n' roll. The Wanderer has more menace than even Dion's original, no mean feat. Listening to this, you salivate at the thought of a live show with Dion backed by this band. Here Comes The Weekend is better than the single, relentless boogie. Geraint Watkins gets to show why he's so respected worldwide, running free on Paralysed, another rollickingrockandroller.
The first guest is Cranshaw, who as in the film sings Crying Waiting Hoping. I thought at the time that it was a good choice for the film, it's showed some imagination instead of just doing That'll Be The Day or one of the obvious ones. The same couldn't be said for my man Brian Setzer who chose Summertime Blues instead of Pink Peg Slacks. He's on form here though, giving a blistering take on Ricky Nelson's Waitin' In School. With Setzer joining DE and Mickey Gee, the guitar fest goes out of orbit. This is now like Warren Moon joining Vick and McNair or Zico coming in alongside Greavsie and Pele. I'm glad I wasn't at this show as I'm sure I would have shit my pants at this stage. It's another four minute preview of what heaven might be like. Can it get any better - well, it certainly doesn't get worse. Carl Perkins treats us to his Class of '55 gem, Birth Of Rock 'n' Roll - "I watched Memphis give birth to rock 'n' roll", CP more than watched, he was in the delivery room and was there from the time the waters broke. Being the Southern Gent Carl gives Watkins a chance to join in the fun, typical of the beautiful man he was. Honey Don't is not my favourite CP song, but it rocks here and keeps the good time going. The set closes with two covers, Sweet Little Rock 'n' Roller (the comments for Run Rudolph Run apply again!) and I'm Ready. A fabulous concert, preserved for generations to marvel at and serving as a fine testament to what rock 'n' roll stands for. Clips occasionally crop up on youtube so look out for them. As good as it gets.
Shaun Mather
March 2007
Rockabilly Hall of Fame - 10th Anniversary
Well what can I say, happy birthday Bob just doesn't seem enough. The debt that this music owes to Bob Timmers is massive. To go into this venture ten years ago using all his savings in the process is something that very few (sane!!) people could undertake. To put all your future into the past is a novel concept, and all for the love of the music. I know Bob has got to meet a lot of his idols along the way (and he's very proud of that) but he has also helped me meet a few of mine as well. I hope someone like Dickie Harrell knows just how much Bob loves him - I'm sure he does, and hopefully it's mutual. Bob's dedication to his site holds no barriers, he works from sunrise to sunset, only letting his hair down when the neon lights start glowing down the road in Nashville.
It was purely co-incidental that I met Bob. For some reason, I started writing about Charlie Feathers and really enjoyed myself. I wasn't planning on doing anything with it but one day I was driving along the M4 in South Wales with Phil Davies when I showed him what I'd written. Phil said "Shaky baby, I love it and I want your babies". Well, he didn't really, but he did say that Rod Pyke had recently suggested that Phil and I write some stuff for a Welsh page on the RHoF. Call it fate or whatever, but it's a day that changed my life. I now get to listen to my music and write about it, and it's something that I really enjoy. Bob gives me and Phil free rein to write whatever, and never comes back to me offering a difference of opinion or suggesting changes. I'm sure he cringed at some of the things I wrote in my recent Just Don't Get It piece, but he appreciated that it was my views and he published it.
I know the past ten years have given Bob some great moments, but I also know there have been a lot of heartaches along the way. Family life was bound to suffer, but he has pressed on, obsessed with bringing us the best rockabilly site in the world. There was hassle from the money grabbing scum bag over in Jackson, and I'm sure there have been other obstacles that I don't know about. Bob has overcome them all and the site continues to thrive - long may it continue. Bob, it's a pleasure be your friend, here's to the next ten years. I love ya baby.
Shaun Mather
March 2007
Crazy Cavan and the
Rhythm Rockers and Breathless
Dewstow Golf Club, Caldicot
24 February 2007
The Dewstow Golf Club near Caldicot was home to two nights of rock 'n' roll mayhem with the legendary Crazy Cavan and the Rhythm Rockers and 1980's favourites Breathless. It's a great setting being just off the M4 with a sizeable dance floor and surprisingly good sound. Me, Phil and Laurie Enticott caught the Saturday night gig and a cracking night it was too. It was good to see Johnny T and some other London Teds get out of the smoke into the fresh air!! Breathless hadn't played together for 16 years but they showed little signs of rustiness as they pleased the locals with a hard edged set that wasn't for the faint hearted. The trio, which consisted of a former member of Kat Squire and Cavan's brother, sounded best on the Memphis stuff with the Cash and Feathers covers being the highlights.
Cavan and the boys hit the stage running with a storming version of Both Wheels Left The Ground. They did all the usual biggies with plenty of audience participation on tracks like My Little Sister's Got A Motorbike, Rockabilly Rules OK and Ol Black Joe. Trouble Trouble, Wildest Cat In Town and Stompin' Shoes were frantic and kept the crowd sweating. It was only the requested Sadie that saw the pace ease up and then it was back to rock 'n' roll like the daunting Teddy Boy Boogie. Cavan pretended to slit the coppers throat with a razor courtesy of Johnny T - great stuff. There was a great moment when the guy who swears at the end of the original Knock Knock single joined them on stage to do the "knock knock, who's there" bit. Cavan was in great voice and Lyndon Needs was as boisterous as usual, screaming and picking as only he can. We met him after and he seemed such a calm guy, totally in contrast to his stage manner. The other guitarist, Don Kinsella, impressed me as well, playing some lovely fills, without fuss in the background. Dewstow and organiser John Harris are to be congratulated on a great night and I can't wait for next year. Thanks to the London Teds for the photo.
Shaun Mather
March 2007.
Top Ten Things
That I Just Don't Get
Billy Lee Riley - Baby Please Don't Go
I love BLR and think he was probably the unluckiest rocker not to become a major leaguer. But I can never understand why this track keeps cropping up on Sun compilations. I think it's such an average song and its inclusion always gets me scratching my head wondering they don't use the likes of Trouble Bound or Pearly Lee.
Long Tall Sally
I know the record books show that I'm way off the mark here but I just hate this song. I don't like Dinky's original, Elvis' cover or any other version. Why so many bands feel the need to try their hand at it I've no idea. Long Tall Sally might have everything that uncle John needs, but she ain't got what I want.
Tweedle Dee
Tweedle friggin Dee, what a childish piece of rubbish that amazingly has blighted the repertoire of no less than Lavern Baker, Elvis and Wanda Jackson. Is the woman who sang this and the equally appalling Tra La La really the same woman who bangs her way through Hey Memphis and Voodoo Voodoo?
Garage style frantic rockabilly
Now don't get me wrong here, I love plenty of rural homespun rockabilly but some of this tack that's rougher than a lumberjack's arse just leaves me cringing. A lot of what I'm talking about here is the manic, 100 mile an hour, shout and scream nonsense. As Gene Vincent perv Kevin Carey says, it belongs on albums like "Crap I recorded in my grand pappies wooden shithouse volume 42". Just because it's wild doesn't necessarily mean it's going to be good.
Hasil Adkins - Chicken Walk
Finest or should that be worst example of the dreaded grungeabilly mentioned above is Hasil Adkins and his atrocious Chicken Walk. "Well a push in and a push out, do the chicken chicken walk" - what the hell is that all about?
Lew Williams
No offence to Lew Williams who I'm sure is a lovely guy, but I just can't stand his music. The Cat Talking CD of Imperial material was one of my first CD's after finally going digital and I played it to death but I always skipped the Lee Williams numbers. I'm not sure what the problem is with him and me, but Abra Cadabra, Cat Talk and the rest just leave me miserable - and I hate being miserable. It can't just be the songs though, as I think the Restless version of Centipede is great.
Ruth Brown - Lucky Lips
I love this song and think it's a great rock 'n' roll record. What I don't understand is how people always seem to slag it off and call it the worst thing in the Ruth Brown and Leiber/Stoller catalogues. It's got the loping Atlantic beat with Lloyd Trotman playing his usual meaty bass, and Miss Ruth singing like a lark. Why is it so trendy to bad mouth this beauty. If it's because the lyrics are a bit twee, then most of the rock 'n' roll songs we love are going to suffer - need I refer you to Tweedle Dee again?
Eddie Fontaine - Cool It Baby
There's nothing shaking but the shit in the grooves! Cool It Baby might have hot-potato-in-the-mouth vocals but as far as I'm concerned, those potatoes are on a bad platter. Put 'em back in the garden and get your food elsewhere.
Doo-wop with a rhumba beat
I'm a big fan of doo-wop, from the Moonglows and Five Keys to Dion and the Mellow Kings, but any time a song kicks in with the exotic rhumba or mambo beat I have to dive for the "next" button.
Ric Carty - One and Only
Same sort of song to Cool It Baby. Quick, excitable vocals but the music is just too weak. Skip. One for luck...
John Lennon quote - "Elvis died when he went into the army" Did Lennon ever listen to Such A Night, Little Sister, Kentucky Rain, Suspicious Minds, the '68 Comeback Special, A Mess of Blues, Reconsider Baby, Feel So BadЉ... Got A Lot of Livin' To Do and I Got Stung were even cut in his army uniform! I suppose that it should be noted that Lennon also said "I am the walrus", need I say more. We all live in a yellow submarine - shame it ever surfaced I reckon. I don't suppose he got much time to listen to Elvis as he was busy recording the pathetic Yoko Ono.
Shaun Mather
March 2007
Shaky's Occasional Bootleg Series - No. 2
Stray Cats - The Fumble
Beech Marten Records 019
Double Talkin' Baby - Rumble In Brighton - Blast Off - Runaway Boys - Rockabilly Rules Okay - Nine Lives - Gina - Stray Cat Strut - Rock This Town - She's Sexy And 17 - Built For Speed
This cracking bootleg was recorded for the King Flower Biscuit Hour at the Ritz, New York City on 18 October 1988. As you would expect from the King Flower shows, the sound quality is excellent. The programme aired on 5th January 1989 some three months after it was recorded. The tracklisting, as you would expect from that timeline, features four songs from the then current Blast Off! album.
When the opening track kicks off you could be mistaken for thinking that the recording was just the original with an overdubbed crowd. Two superb extended guitar solos soon put you straight. Rumble in Brighton has all the menace and attitude you'd expect, with Brian's mumbling guitar driving the song along as Slim Jim beats the skins into submission. This is as good a live version of the song as I've heard. Blast Off is introduced as "the first one we've written for a long time" is a stormer, quite literally blasting off. Runaway Boys is good, but I don't think I've ever heard them do it live that quite captures the excitement of the original single. When the 45 came out in 1980 it was a totally new sound, more atmospheric than most rockabilly songs - I just don't think it's been possible to recreate that on stage.
Rockabilly Rules OK storms along with Lee Rocker and Slim Jim proving they're the best two-man rhythm section on the planet. Nine Lives slows the pace down, a fine version of the Fever meets Stray Cat Strut single. Setzer sums up Gina with the announcement that it's "a new song with a kinda Buddy Holly beat". The crown lap up the extended version of Stray Cat Strut and Rock This Town with the later building into a frenzy by the end. I remember being so excited when I first heard She's Sexy And 17 and being so disappointed when it stopped climbing the charts - the version here is great and unlike Runaway boys it does manage to reflect the magic of the 45.
Lee Rocker produces the goods on Built For Speed, dedicated to everyone who got to the gig in a '57 Chevy or on a Harley Davidson. The boys turn it into a medley with a snippet of Hot Rod Race thrown in half way through. It's a cracking end to an excellent live CD. Long may goodies from the early days of the Cats turn up.
Shaun Mather
March 2007.
Darrel Higham -
Crazy With Love
Foot Tapping Records FT042
Temptation - Ah Pretty Girl - Crazy With Love - Feelin' Low - Tennessee Stud - Down The Line - Date On The Corner - Kingston Town - Anyplace Is Paradise - Crazy - Never Mind - Gonna Back Up Baby - Butterfingers - Love Is My Business
I'm not sure how many albums Darrel Higham has done now but by my reckoning I've got a dozen. This is his 5th one for his own label, Foot Stompin' which is pretty prolific by any standards (outside of Willie Nelson - although he hasn't released one for two weeks now!). Masterful of the Gretsch guitar, Darrel seems to be spreading his wings. Much more than just being a performer, he now runs his own label and does production work for the Embassy Studio in Upton Grey, Hampshire. He has also become a partner in the studios ownership and hopes to record plenty of rockabilly bands there in the future.
So to this latest album, a fourteen tracker which features Frank Spank on bass and Niaill Phillips on drums. I can almost except that Frank Spank is a real name but with Darrel's love of Sunderland F.C. I wonder if Niaill Phillips has a brother called Kevin Quinn. They form a tight rhythm section and in the best Enforcers tradition, their relentless beat gives Darrel plenty of room to weave his guitar work around. The first track is a storming version of the Everly Brothers' Temptation. For the vocals Darrel is joined by his wife Imelda the wonderful torch singer who I see has recently left the band Blue Harlem to persue a solo career. They gel beautifully here and the backing is full on. It's a great start to the album and one of the best three songs on here. The others have to be the great reading of Ernie Chafin's Sun recording Feelin' Low and best of all, Kingston Town. I remember the song from my school days when half our class used to like UB40, but I think Darrel's wonderful interpretation of it here leaves their version in the shade. To me it ranks with Elvis' Pocketful of Rainbows, as one of his finest ever covers.
The best of the rockabilly covers is the early Buddy Holly/Bob Montgomery number, Down the Line which moves along at a fair lick. I really enjoyed the country favourite Tennessee Stud and it was always pretty obvious that he would shine on Eddie Cochran's Ah Pretty Girl. I felt that the cover of my favourite Gene Vincent song, Gonna Back Up Baby, lacked a bit of the swing and momentum of the original. Anyplace Is Paradise is turned into a nice stroller and I enjoyed his reading of the Johnny Burnette track Butterfingers. Big Boy Bloater plays guitar on the Cliff Gleaves rocker Love Is My Business. It'll be interesting to see whether Darrel remains as prolific now as he starts to spend more time the other side of the studio glass - I hope so.
Shaun Mather
February 2007.
Shaky's Occasional Bootleg Series - No.1
Johnny Cash and the Tennessee Two
"Guest Star" Radio Show - 1959
1. Intro - 2. Country Boy - 3. Chat with Johnny - 4. Don't Take Your Guns to Town - 5. Buy Saving Bonds Spot - 6. Swing Low Sweet Chariot - 7. Outro
I'm not sure of the origins of this or whether any of it has been released before, but I'm pretty sure that the show as a whole hasn't seen the light of day before. A transcribed feature presented by the Treasury Department for the United States Savings Bonds, the show dates from 1959 and comes in astonishing sound quality. How some of this stuff becomes available and with such clarity is hard to comprehend. The beauty of this little gem, apart from the short running time, is that because of the sound quality, it's a pleasure to listen to, not just an historically important recording.
The CD kicks off with deejay Lou Crosby introducing the houseband Buzz Adlum and his Orchestra and "today, starring Johnny Cash", as Buzz and the band play merrily in the background. Johnny and the Tennessee Two kick of with an on-the-money reading of his Sun recording Country Boy. They are at their pure and basic best, boom-chicka-booming like only this trio could. This really could have been a studio outtake such is the quality of both the music and the sound. Johnny and Marshall Grant are as tight as a gnat's snatch, the perfect boom-chicka-boom rhythm section - well, they did invent it after all. Luther rings away in Country Boy, superb as always, especially the opening jangles! His guitar is blunt and the notes sullen in Don't Take Your Guns To Town, totally appropriate to the songs lyrics. The sparse arrangement gives the song a better feeling than the Columbia single in my opinion.
Between the two songs Johnny tells his life story to date, summing it up in a couple of sentences. He joked that he and the Tennessee Two bugged everyone in Memphis until someone would listen to them. Crosby informs us that there are more than 40 million Americans with Savings Bonds before asking Johnny whether he recommended it. Being on a show that was being sponsored by the product you'll not be surprised to hear Johnny say it sure was a tip top idea and that listeners should "try it and watch your savings grow".
Buzz Adlum and his Orchestra provide a pleasant enough western instrumental, Twilight On The Trail, complete with clip-clop rhythm and strings and flutes. No doubt he listeners were dying for the song to end and JC to come back on. I know I was tempted to hit the skip button. It's a fascinating glimpse of what our heroes had to put up with in those pioneering days. For the last song, Swing Low Sweet Chariot, Johnny says, "we got a real rockin' spiritual here that we love". That pretty much sums it up, and a great version it is too.
To sum up, a brilliant little show with unbelievable sound quality, a real must for Johnny Cash fans to snap up.
Shaun Mather
February 2007.
YouTube Top 12 of the
Rockabilly Revival Era
Growing up in the early '80s was a great time to be a rockabilly fan, with all the music programmes having regular appearances from a host of new rockers. It was a time when you could watch Top of the Pops and see the Stray Cats or Matchbox, the Jets or Polecats ­ even bands like Coast to Coast and Sigue Sigue Spotnik were better than what you get today. Thos days seem a long way away and the appearances long forgotten, but thanks to the wonderful YouTube website they can now be relived a second time. The wealth of material is mind blowing, from the original 50's guys to the late 70's, early 80's rockabilly revival. It's even given a stage for tdays new bands to get an airing, so we can enjoy bands like Jack Baymoore and the Go-Getters who would otherwise go by the world.
I've chosen a dozen acts from the rockabilly revival era ­ not necessarily their biggest songs, but some memorable performances. Take a look and then keep delving. Don't forget to go to bed at some stage though. Note ­ the list below is in no particular order, just 12 gems.
Shakin' Stevens ­ Trouble
Early days of Shaky from the Let's Rock tv series. Before he was calmed down a bit for the Radio 1 years! Love the bit where he kicks the bass.

Jets - Yes Tonight Josephine
The brothers mime to their top 30 UK hit fro a tv show circa 1981. They look so young! Even the Boy George lookalike seems to be enjoying it.

Crazy Cavan & the Rhythm Rockers - Teddy Jive
From the Blue Suede Shows movie, filmed at Caistor in 1979, these guys kick ass.

Stray Cats ­ Rock This Town
Awesome trio. Lee Rocker is a fabulous bass player, you gotta love Slim Jim's drumming and Brian Setzer is a genius on guitar. That Gretsch must have set off the smoke detectors. From the tv show Live Friday's , vintage 1981, the quality is stunning.

Dave Edmunds ­ King of Love
King of Love, king of rockabilly wouldn't be too far off the mark. This song is still a big dance favorite in the south Wales clubs.

Dave Philips & Blue Cats (Trio)
B-I-Bickey & Rockabilly Boogie
Brillaint medley of Gene Vincent and Johnny Burnette Trio from the Lets Rock show. Dig that bass on Rockabilly Boogie.

Polecats ­ Rockabilly Guy
From May 1981. This is what made Top Of The Pops watchable ­ bring them days back!

The Stargazers _ Hey Marie
Great promo video for their cover of the Louis Prima classic. What a brilliant album Back In Orbit was.

Matchbox - Midnite Dynamos (Musikladen)
Taken from the European TV show Musikladen 52 during the heyday of the rockabilly revival, 1980.

Robert Gordon ­ The Way I Walk
Just about as commanding as Jack Scott's original ­ and that takes some doing. Chris Spedding blasts into orbit halfway through.

Levi Dexter and the Rockats ­ Note From The South
Rebel flag waving rockabilly, with Levi doing his best Tim Polecat impersonation.

The Cramps - Like A Bad Girl Should
This wouldn't have made Top of the Pops in the early 80's, but it's a riot.

Shaun Mather
February 2007
Arsen Roulette
Let's Get On With It
El Toro Records ETCD7001
Let's Get On With It-Chance On Me-Messed Up-I Do For You-Shake It Around-Sounds That Charge-Bop Away Blues-Honky Tonk Alone-On The Prowl-Lovin' On My Mind - Shake Loose-Strolling Back To You
From the opening strains of "hey baby, let's get on with it" you're left in no doubt that Arsen Roulette is in fact going to just get on with it. Full blooded, full throttle rockabilly with vocalist and the band never letting up from beginning to end. From Central Valley, California this is his second album following the Lost Recordings CD a couple of years ago. Recorded in San Francisco, this ain't no hippy rubbish but hot rockin' rockabilly. The sound quality is superb with all the instruments coming through loud and clear - I know that should be the case in this era but as you know we still have labels struggling to reach this quality.
The majority of the songs are in the kick-ass vein and sound like the Johnny Burnette Trio and Gene Vincent contacting us from the grave. The CD opens with three high class rockers with the rhythm section (Mark Millard and Alex Vargas) solid as a rock, and guitarist Mark Pavlovcic playing with great skill. I Do It For You slows down the pace before we're back on the dance floor for Shake It Around. Sounds That Charge is an unusual stroller, with a bullfight moment to keep the label bosses happy!
There's a strong modern feel to the menacing Bop My Blues Away (more great work from Pavlovcic), before we get the country sound of Honky Tonk Alone. Whereas a lot of their rockers sound not unlike the Bourbanaires, this one reminded me of the western sound that Mack Stevens (where's he gone?) is so good at. On The Prowl could have been cut at Sun - surely it's the Little Green Men backing him here! The final three songs close the CD the way it was started, with a driving, dirty rockabilly beat.
A great album for Arsen Roulette and the ever growing El Toro label. This is an artist to watch, especially if he stays with El Toro who are fast becoming one of the biggest and most prolific on the scene. Shaun Mather
February 2007

Miss Mary Ann & the Ragtime Wranglers
Rock It On Down To My House
Sonic RendezvousSRV33
Tracklist: Rock It On Down To My House - Easy Does It - I Got Stung - Don't Wait Up - Tell Me Who - Forget About The Past - Ooh La Baby - I'll Be Your Slave - Watch Dog - That's The Way I feel - Don't Lie To Me - I Can't Quit - Sweet Sugar Booger - What Am I Doing Here - Don't Stop The Music.
Miss Mary Ann made her name on the rockabilly circuit as one half of the delightful Dutch duo, The Ranch Girls. From Rotterdam in the Netherlands they have spent the last ten years having played all over the world in a rockabilly/western swing style. Rock It On Down To My House is her second solo release and it has a more rockin' edge than the Ranch Girls sound. For anyone not lucky enough to have seen either act, I can tell you Miss Mary Ann's voice is a joy to behold. She reminds me of Marti Brom, a great voice with just the right touch of raunch. That's to say that their voices have a naturally sexy tone, not like someone trying to do Bettie Page meets Marilyn Monroe. Confused?
The Ragtime Wranglers surely need no introduction, the Dutchmen having been involved in no fewer than 17 albums and in their time have backed Sid King, Hardrock Gunter, Curtis Gordon, the Collins Kids, Marvin Rainwater, Jack Earls, Barbara Pittman and Janis Martin to name a few. The trio consist of Joe Sixpack on guitar, Huey Moor on double-bass and the lovely Sietse Von Helsing on drums. Me and Phil had a great time with Sietse a few years ago at Hemsby - his limited English and our Double Dutch called for lots of hand signals but plenty of laughs.
The CD opens with a belting version of the title track, helped in no small measure by the piano of Carl Sonny Leyland. The piano and Sixpack's guitar give the song a Carl Mann feel and to me it improves on Justin Tubb's original. Watchdog is the Lula Reed song not the Al Terry classic, but could be a future classic. Don't Wait Up is a great version with more neat vocals and a tasty, extended solo from Mr Sixpack. Peggy Upton's Sweet Sugar Booger is a stop starter that could easily have been recorded in the mid '50s such is the authentic sound.
Don't Wait Up, That's The Way I Feel, Don't Lie To Me and I Got Stung are different enough and good enough to stand up favorably to the originals, but I felt that Big Maybelle's Tell Me Who was a weak cover and the only bad one on the album. There's more high energy and high quality rockin' on Orville Couch's Easy Does It, I'll Be Your Slave and What Am I Doing Here. The cover of George Jones' Don't Stop The Music is excellent with the added steel of the ever reliable Jeremy Wakefield giving it a lovely lilting edge. There's more country with a stellar take on Faron Young's Forget The Past, with Wakefield combining well with Joe Sixpack.
The absolute showstopper of the album though has to be the fabulous arrangement given to Marty Robbins' I Can't Quit. I love Marty Robbins, he's one of my favourite country singers but I can honestly say that this adorable version is better than is. Given a shuffle beat, the vocals are perfect and the steel guitar with it's subtle Drifting Cowboys figures add a further touch of class. All told, a thoroughly enjoyable album that will please old fans and should bring in plenty of new ones.
Shaun Mather
February 2007

Sonny Burgess
Tear It Up
St George Records 7712
Wow, this really is one of the surprise releases of the last few years. I enjoyed Sonny's previous modern albums, Tennessee Border and the self titled Rounder CD, but this new one on St George records is the best thing he's done since he left the hallowed ground of 706 Union Avenue. Now 75 years old, Sonny Burgess manages to sound the same as he did 50 years ago. As you know, his is not a voice of beauty, but a soulful rasp in the best traditions of hardcore rockabilly and it doesn't appear to have lost any of the energy, enthusiasm and drive that helped make the likes of We Wanna Boogie and Red Headed Woman such classics of the rockabilly genre. Sadly this new album seems to be a low key affair, which has come in so low under the radar that I haven't seen one review for it, even though it's been out a couple of months. Producer and arranger George Paulus should take great credit for the choice of band and songs. The rockers are blistering and the blues songs are so blue they'd have made Muddy Waters proud.
The album kicks off in menacing style with a frantic rockabilly take on Tear It Up with his voice standing comparison to the Sun days. It's followed by perhaps the best version of Around and Around that I've heard. Roll over Chuck, and tell your guitar tuner the news! Junior Thompson's Raw Deal shows that Sonny was listening to the local radio stations as he was trucking down the avenue in 1956. A new song, presumably written for the album, Rock On Mars, is given two breathless versions, one with sci-fi sound effects and an even better skeleton version. Bop Crazy Baby, Who Do You Love and Pointed Toe Shoes are all quality numbers with an urgency in Sonny's voice that drives the songs along. Cry Mercy from the hot pen of Ruby Toombs is simply stunning, the best song on the album and for my money, one of the top ten songs done by a Sun artist since the golden era. The hypnotic beat kicks in from the opening bar and Sonny's voice strips the paint off the walls, whilst Studebaker John's heavily amplified harmonica wails away ­ brilliant.
The album closes with three strong blues numbers, Goin' Away Baby and Howlin' Tomcat sounding like the stuff Muddy cut late on with Johnny Winter. The best of the bunch though is Farmers Blues, a stunning song written by Burgess. It's atmospheric to the point where I wanted to get out a ball and chain and take a heavy sledgehammer for a walk down the local highway. This would surely be a contender for a Handy Blues Award if it was heard by the right people. Whereas a lot of modern blues sounds too crisp, clean and downright uninspiring, this is the real deal. I can just imagine Howling Wolf and Sam Phillips giving each other the high-five as they sit around their radio in heaven listening to this with happy hearts.
This is a remarkable album and everyone involved should be mighty proud of their part. Sonny Burgess is still one of the big boys of rockabilly, and his stock has just gone up further. Buy this CD with confidence, it's a pearler. Shaun Mather
3 February 2007

Porky & the Pin-Ups
One Single Yellow Rose
Foot Tapping Records ­ FT044

ONE SINGLE YELLOW ROSE - THEY ALL KNOW ME - OLD JACKS CREEK - RIGHT NOW - ANGEL - I LOST MY RHYTHM - MODERN DON JUAN - SENIOR CLASS - ONE LITTLE KISS - HEARTBREAK TELEPHONE - FIRST NAME MISTER - THE COWBOY SONG - ITS YOU I NEED - HULA HULA BETTY
Lead singer David 'Porky' Coates has been on the scene for a few years, fronting both Hot Rockin and Good Luck Charms. For this latest release he has teamed up with guitar legend Darrel Higham, bass player Jeff Bailey and drummer Naill Philips. Although the album has been out for six months or more I've only just bought here, so here's a review, better late than never.
The title song kicks the album off brilliantly, a rockabilly in the country mold, but not hillbilly if you know what I mean. Porky has written the majority of the tracks here, and he really has a taste for the unusual. That's the beauty of this CD, it's not your usual bang-bang rockabilly thrash that some bands seem hellbent on providing. It's a refreshing sound that allows Darrel Higham to show his versatility. They All Know Me and Old Jack's Creek are again different to most modern rockabilly, and mighty fine they are too.
Of the covers, Right Now is full-blooded and the early 60's Elvis ballad Angel is given is new lease of life, becoming a great stroller. Higham is again on cracking form here and transforms the song much like his brilliant version of Pocketful of Hearts on his own Urban Jamboree CD from a few years ago. Modern Don Juan stays close to the original arrangement but Porky sounds a bit flat in places. I've never liked Senior Class and the version here does little to change my mind. It's You I Need is a faithful cover of the early Billy Fury, a great choice.
I Lost My Rhythm and Hula Hula Betty have the same country/rab qualities of the title track whilst One Little Kiss and Heartbreak Telephone are pure rockabilly. First Name Mister is a hard rockier that sounds like a cross between the Blue Caps and Eddie Cochran. You won't be surprised to hear there's a country feel to The Cowboy Song, but the great bass beat on this makes it a future rockabilly classic, helped again by Higham's playing.
A well rounded album that stands out from the crowd thanks to great material and the well constructed numbers which have much more than just the slap-slap-slap sound of a trio that seems to be the in thing these days. I loved it and I'm sure you will too.
Shaun Mather
February 2007.
2006: A Review

Best Live Gig
John Fogerty - Hammersmith Apollo, London, 29th June
The best gig of the year had to be the summer date in London by Creedence Clearwater Revival's John Fogerty. With Phil in pant-peeing mode and half of the crowd near the point of orgasm before the show even began thanks to a great video compilation on the big screen, this show was destined to be something special. From the first song to the last Fogerty played with great energy and stayed close to the original arrangements of his solo work and the CCR classics. For a couple of hours we ate out of his hands. It was nice to see Billy Burnette in the band as well. A great night and a totally professional show throughout.
Best New Album

Slim Jim Phantom & Darrel Higham ­ Kat Men
As I said in my review at the time, this CD is "not for the faint hearted, it's hard-boiled rockabilly for the 21st Century with half a dozen Higham originals and half a dozen rip-snorting covers." Further listens have done little to change my mind, I'm still impressed and still feel that this could be the future for modern rockabilly. The cover of Ronnie Dawson's Do Do Do is a stunner. Get yourself a copy, it's a belter.
Box Set of the Year
Johnny Cash ­ The Legend
I haven't got the Bob Luman box on Bear Family, so I'm going for the JC 4 CD set, The Legend. Featuring a handful of unreleased gems and a non-obvious track selection, this is a great celebration of the Man In Black and the music he blessed us with over the years. The sound quality is first class and the four themed discs move effortless through the years. Lovingly packaged and thoughtfully chosen, this is the way all box sets should be released.
Country Find of the Year
The Road Hammers
This year was the year I discovered the Road Hammers, who only made their debut in the summer of 2005. My comments about them at the time pretty much sum them up: "The band play country music in a hard-driving, ass-kicking style, with their trucking songs featuring a healthy splash of good-ol'-boy Southern Rock. In other words, they sound like Dave Dudley being backed by Lynyrd Skynyrd circa 1975."
Worst Album of the Year
Alan Jackson - Like Red On A Rose
No doubt in my mind that the biggest disappointment I've had this year is the woeful waste of talent involved in the Alan Jackson album, Like Red On A Rose. Great voice, crap songs , and boring arrangements. I eagerly await the follow-up, surely this experimentation is over and the man in the hat will get back to the honky tonk stuff he's so good at.
Best Find of the Year
YouTube.com
What a brilliant website this is video clips of anything from Louis Prima and Keely Smith from Ed Sullivan in the 50's, to dogs running into trees. I've spent hours watching the early 80s rockabilly bands like Matchbox and Polecats on Top of the Pops, and been blown away by some of the Stargazers clips which I never saw first time around. Just today I caught a rare 1960 clip of Link Wray playing Trail of The Lonesome Pine from the Jack Spector Show. The football vids are great too, from an amazing 10 minute Pele compilation to clips of the genius Glen Hoddle as curls another into a top corner past some helpless keeper. Then there's Bobby Day, Jerry Lee, Crazy Cavan ...
Biggest Snub of the Year
Jerry Lee's Last man Standing being snubbed by the Grammys, even though lesser duet albums like Tony Bennett's manages to get a nomination. The only explanation can be the high number of dodgy partners the Killer outperformed. Whereas a perfect duet has both acts on an equal plain, JLL's saw him outshine most of his guests making it a bit painful when they took their turn at the mic. Shame.
Best Rediscovery of the Year
Billy Wallace & the Bama Drifters ­ That's My Reward
(Mercury 70876) Inexplicably it must be five years since I played any Billy Wallace. Great slap bass and driving acoustic guitar, this 1956 Nashville recording is one of my favourite rockabilly records ever. The nasal vocals and clever lyrics could have helped Billy boy to a good career but it was sickeningly curtailed by a debilitating stroke days after the session. As long as there's a rockabilly fan on this planet, the name Billy Wallace will never die ­ ah, play it Mr Gibson.
RIP's
We lost a lot of originals again this year from Gene Simmons to Tilman Franks to Buck Owens, but the one that saddened me the most was the death of the great Ruth Brown. As is my want, and I bet most of you do it to, as soon as I hear that one of our heroes has died I dig out their records and give them a spin in rememberance . The sounds of Lucky Lips, As Long As I'm Moving and in particular, This Little Girls Gone Rockin' sounded greater than ever ­ you'll be missed Miss Brown.
Shaun Mather
December 2006

Brian Setzer
13

Sounding more akin to The Knife Feels Like Justice than Rant 'n' Rave, Brian Setzer's 13th album (hence the title) contains plenty of exquisite guitar picking and a fair mix of styles. On first hearing I thought it was poor but since then I've warmed to about half the tracks. The problem for me doesn't lie in the music which I'm sure will only enhance his already big reputation, but it's in the lack of pure rockabilly.
The opener, Drugs and Alcohol pretty much sums up the album, it's got an unrelenting beat, a stasty as hell guitar riff and it rocks like the clappers, sadly, it just ain't what I call rockabilly. Take A Chance On Love also goes along feverishly, with the heavy billy beat BS used on Drive Like Lightnin'. Broken Down Piece of Junk is another goodie, with it's "ooh la la's" making it perhaps the heaviest doo-wopper ever recorded.
Don't Say You Love Me has a Merle travis country style and is again a high spot, as is Really Rockabilly. Set to a Runaway Boys beat it takes a pretty funny stab at the fake rockabilly styles. Back Streets of Tokyo is a hardassrockabilly duet with Hotei which has been a big hit in Japan. I quite like the banjo driven folktale, Hennepin Avenue Bridge, a neat change of pace with a hint of the 1960's New York coffee bar scene.
That's pretty much where the good stuff ends though. I thought Bad, Bad Girl was crap, sounding too contrived. Everybody's Up To Something and Rocket Cathedrals also sound a bit forced and didn't really work for me. Mini Bar blues is a so-so instrumental, jazzy and flashy, but not in the same league as Wicked Whiskey or Sleepwalk. When hepcat gets The Blues has it's moments but I could happily have done without the organ.
So for me it's a patchy release, but I'm sure anyone who isn't such a narrow minded throwback will find plenty to enjoy. When I first heard it I thought, um, 13, unlucky for some, yeah me for buying it, but a second listen has at least enabled me to come away a bit of satisfaction. I'd love number 14 to be a straight ahead rockabilly effort, but I can understand why he feels the importance of growing as an artist. We'll see. In the meantime I'm off to put half a dozen onto the iPod.
Shaun Mather November 2006

Jerry Lee Lewis
Last Man Standing

Over a decade after his last studio album, Jerry Lee is back on record and back in the public eye. Whilst the past ten years or so have seen him continue to tour, the profile has been low, with TV appearances few and far between. Until now. On the back of his new release, Last Man Standing, the Killer has been strutting his stuff on all the top primetime shows on American TV and featured in all the big selling mags and newspapers from Rolling Stone to USA Today.
At 71 years old JLL's seen it all before, but reports suggest that this new lease of life has put an extra spring in his step, suggesting that he knows that he's back where he belongs. The album debuted at #1 on the Billboard Top Independent Album Chart, at #4 on the Billboard Top Country Album Chart and at #26 on the Billboard Top 200 Album Chart in the first week of its release.
So after all this wait what does it actually sound like. On the whole I'd say it was a major success, 8 out of 10 in my book, probably 10 out of 10 if he didn't have any guests. Talk about outgunning your peers, whilst some of the guests might sound worthy, not one guest on the 21 tracks can actually say they bettered him - and that's a guaranteed fact!
The album kicks off in blistering style with Jimmy Page helping out on his old Led Zeppelin rocker Rock And Roll. Next up, Before The Night Is Over sees the two Kings of Memphis lay down a belter, a track that has become a staple of the JLL live show. Given a funky blues treatment, Jerry plays a beautiful solo while BB picks away at his crystal clear best. With over 150 years between them, these two troubadours show that age is nothing but a number and that they can kick the ass of any modern upstarts - bar none. Pink Cadillac is rompin' stompin' stadium rock 'n' roll with Jerry taking the plaudits and Bruce doing the honourable thing and becoming little more than a cheer leader. A brilliant animated video for the song has been added to the CMT playlist.
Evening Gown is another highspot. Jerry Lee sounds great in a style that we're not used to hearing him sing in - further proof (if needed!) that there ain't nothin' the old Killa can't do. Mick Jagger sounds almost like a parody of himself, but it works, and it's four minutes of class. You Don't Have To Go is the first of the "why bother" guest spots as Neil Young adds nothing to a song that is perhaps the weakest on the album. Sweet Little Sixteen is similar with the ever-shite Ringo Starr turning a Chuck Berry classic into a karaoke krapper. Even Jerry Lee can't repair the damage done by Rod Stewart on What's Made Milwaukee Famous, a song they both enjoyed success with many moons ago. Rod's voice is completely shit, sorry shot, and is the lowest point of the album.
Twilight with the Band's Robbie Robertson is another treat, a beautiful version showing that the Killer could move into the "clever-sod" market that Johnny Cash took advantage of during the last decade. The Pilgrim Ch. 33 with Kris Kristofferson slips into the same category. CCR's John Fogerty joins the Killer for a lightnin' quick Travellin' Band. JF sounds as good as ever and JLL sounds 30 years younger. An unrelenting romp that left me Breathless!!
The excursions into country are real highlights of the CD, not surprising when you consider that JLL is possibly the greatest country singers that ever lived. Just A Bummin' Around with Merle Haggard is a jazzy little snapper whilst A Couple More Years with Willie Nelson is inspired. The delay between their vocals is great - something they've both done during the years on other duets or group gatherings (witness Big Train From Memphis for the ultimate example). Their vocals sound totally individual and unique, yet they blend beautifully - a treat. Producer Jimmy Ripp should be congratulated for his casting of Jerry Lee with one of todays top country stars Toby Keith. Anyone not sure what TK is all about, check out I Love This Bar, I Wanna Talk About Me or As Good As I Once Was from his solo albums. He's a patriotic all-American in the Waylon mould, and combines perfectly with Jerry on Old Glory, the song that was originally going to be the title track. Don't Be Ashamed Of Your Age is a blast, the Killer and the Possum trading vocal licks over some hot Merle Travis style picking. It's great stuff, and even ends with a Jerry yodel.
I Saw Her Standing There is a wasted opportunity. Bog standard rock 'n' roll from two the of the greatest rock 'n' roll piano pioneers. LR gives a couple of whoops and screams ala his crap modern day gigs, whilst at least JLL gets down and tries to make a shite song reasonable. A boogie woogie instrumental along the lines of Meade Lux Lewis and Pete Johnson should have been the order of the day, otherwise some Amos Milburn style r'n'b. Honky Tonk Woman sees the Killer joined by kindred spirit Kid Rock, for a call and response rocker complete with a blistering piano solo. "Man that just blew my mind" drawls Jerry at the end - same here Killer. Talking of kindred spirits, what a combination for a night out, Keith Richards and JLL. Where's the aspirin? Richards plays some delightfully tasty guitar on Mack Vickery's That Kind of Fool, the steel gives it a lonesome Drifting Cowboys feel and do you need me to tell how absolutely brilliant Jerry Lee is on it.
It's long been assumed that Hank Williams must have wrote his songs with Jerry in mind, and Lost Highway is just further proof. It sounds like an outtake from the Young Blood years, but with better sound. Not sure what Delaney Bramlett's role is but who cares, Jerry Lee sparkles. What Makes The Irish Heart Beat with Don Henley is eclectic and shows Joe Public that there's more to the Killer than Great Balls of Fire. Trouble In Mind has been another staple of the JLL live show for years and the version here with Eric Clapton is another highlight of the CD. Jerry uses every key on the board and Clapton gives it the London Sessions treatment - a stunner. Buddy Guy has never been my favourite blues singer, nowhere near it in fact, but he shines here on Hadacol Boogie. It's a hot rockin' boogie with Guy and JLL playing storming solos in perfect harmony, black and white together like the keys on Jerry's piano.
So all in all, the album is a blast, and deserves the success it's getting. Hopefully the follow-up will come quickly and will be a solo affair with no need for guest appearances. The Killer is back, long may it continue.
Shaun Mather
November 2006

Jerry Lee Lewis with Matchbox
Wolverhampton Civic Hall - 9 August 2006
This always looked a great match-up to me, the Killer himself and stalwarts of the British rockabilly scene Matchbox. For some reason I'd never seen Matchbox live before but had been a fan since the heady days of my school days when they were a constant fixture on the UK pop charts.
They got the evening of to a fine start with a thunderous Train Kept A Rollin'. With the original line-up of Graham Fenton on vocals, Steve Bloomfield and Gordon Scott on guitars, Fred Poke on bass and Jimmy Redhead on drums, there was a refreshing, happy spirit between the guys. All the hits were there, from Buzz Buzz A Diddle It to When You Ask About Love. Some Bloomfield originals, Put The Blame On Me, Gunning For The Dog and Hurricane showed what a quality writer he was, as well as a tasty guitarist. What struck me was the versitality of the band, and whereas a lot of todays up and coming bands are happy to slap away in their three piece, Matchbox were very melodic with a great variety of tempo and some tasteful backing vocals. Fenton is a wonderful singer in his own right, but he also does a stunning tribute to Gene Vincent. Tonight we were treated to sublime versions of Baby Blue, Be Bop-A-Lula and the Steve Bloomfield arrangement of Over The Rainbow/You Belong To Me. Their choice of the Elvis song Don't Leave Me Now was also inspired. Their set finished in blissful style, the years and memories rolling back with the hits Rockabilly Rebel and Midnite Dynamos. A great opening set and they left the stage to rapturous applause.
The Killer Band/Memphis Beats came out to a standing ovation and treated us to a couple of the usual covers, plus an uptempo version of George Strait's The Fireman, courtesy of Buck Hutcheson. Buck's returning to the fold is a welcome addition, he plays hot bluesy licks with fire and fury, a perfect compliment to the perfection that is Kenneth Lovelace. Robert Hall on drums and BB Cunningham on bass completed the foursome. Sat in row 2, slightly left of centre, I got goosebumps looking at the empty piano stool just yards away, excited in the knowledge that the space would soon be consumed by the Killer - what a feeling. When he first came from being the curtain I thought he looked a bit old and frail but he looked a lot healthier the closer he got. Pure love and adoration poured on stage from the crowd and Jerry Lee soaked it up before plonking himself astride the mic, and launched into Roll Over Beethoven. Highlights of the rockers from the set were Drinkin' Wine and a storming blast through Mexicali Rose. From the slower end of the scale we were given You Win Again and Coming Back For More, but the highlight for me was a stunning She Even Woke Me Up To Say Goodbye, with JLL twinkling beautifully on the ivories. The intro to Shakin' bought the inevitable groan from within my chest, the end was coming. What an end it was though, Jerry Lee pounding away at the high note for over a minute. He had on his best shit-kicker face and seemed to be giving the crowd a battle as to who would give up first, his pounding or our shouting and bawling. We won, so Jerry stood up, grinned goodbye and left the stage, 45 minutes after he'd entered. Whilst the crowd tried to draw breath, Kenny and Buck jammed away as if their life depended on it. Well, if it did, I'd say these two just got themselves another 20 years down here.
A great night with Jerry Lee showing there's still plenty of life in the old dog yet. It was nice to meet up with some Killer fans old and new, in no particluar order - Graham, Rocky and Lulu, Lee, 2 Scott's, one of whom took his lovely gal to her first JLL show, Aled, Tony, 2 Andrews, Suave Richard, Cornwall Fergie, and the Neath cat, Blueberry Phil.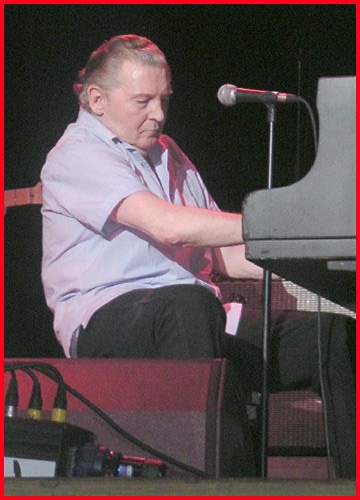 Recently on the Jerry Lee forum on Yahoo, pianist and long time fan Richard Harvey (http://www.suaveharv.com) beautifully summed up the Killer's performances these days and has allowed me to share them. He also kindly provided the photo.
"A personal observation. There comes a point in a performer's life when the audience begins to appreciate and respect the fact that the performer is no longer in their prime. Whilst some fans would no doubt argue Jerry is still in his prime, I think most there last night were comfortable with the fact that age slows us all down. And the atmosphere, down at the front anyway, was quite something else. It was almost like a if the crowd were there as a celebration of the fact that he's still here, still on stage, still doing it. It was a forgiving crowd, and a warm and friendly crowd. I've felt this kind of thing before at concerts. As if the crowd are saying "hey, it's great you're here, do what you want, it's your show and we're going to love it anyway because there's fifty years of pleasure and memories stretching back, and we'll judge the performance kindly in respect of that". And at last, after 17 gigs I was finally able to meet him and shake his hand. I told him how I'd enjoyed the show, and he thanked me. He smiled, looking directly at me, and his grip was firm and sincere and I wouldn't trade that brief moment for anything (you know how it is!)."
Shaun Mather
August 2006

Slim Jim Phantom + Darrel Higham
KAT MEN

TRACK LISTING: DOMINO, DARK HAIRED WOMAN, A HEARTACHE I CAN'T BARE, SWEET SWEET GIRL, JUMPIN' WITH GENE, DO DO DO, C'MON EVERYBODY, YOU SHOULDN'T HAVE SAID THAT, I'M LEAVIN' IT ALL UP TO YOU, BIG RIVER, STOCKINS 'N' SHOES, THAT SOUNDS LIKE FUN
What a combination, the world's number one stand-up drummer and the rockinest cat in the galaxy. This CD is a rockin' blast from the beefed up Domino to the closing original That Sounds Like Fun. Not for the faint hearted, it's hard-boiled rockabilly for the 21st Century with half a dozen Higham originals and half a dozen rip-snorting covers. It ranks amongst Darrel's best work and although it can't quite compete with the Stray Cats' debut album, it must be amongst the top five albums that Slim Jim's ever played on. It's certainly the best project he's been involved with outside the Stray Cats, including the Phantom Rocker & Slick albums and the likes of the Swing Cats.
Recorded at the Redrum Studio in Sherman oaks, California, it features Slim Jim on the drums with Darrel singing, playing guitar and overdubbing the double bass (more shades of Eddie C!). Of the covers, the highlights have to be a storming take on Ronnie Dawson's Do Do Do (perhaps the best track on the CD), Big River (Chris Cummings and Ian Calford will be shaking their heads in disgust) and a wonderful slow version of C'mon Everybody.
The originals are a credit to Darrel's ever improving songwriting ability. I'm Leaving It All Up To You has the same beautiful guitar sound that he used to such good effect on his cover of Pocketful Of Rainbows. The closer, That Sounds Like Fun does indeed, and Jumpin' With Gene is an exciting romp through the GV catalogue, paying equal homage to Messrs Gallup and Meeks. A Heartache I Can't Bare gives a wonderful glimpse of how rockabilly will need to develop if it's to spread it's wings to reach a wider audience.
If you caught the tour then I'm sure you picked this up, if not, get a copy now, it's a modern day rockabilly classic.
Shaun Mather
May 2006

Johnny Cash - The Legend
Sony/BMG 517461 2
As is human nature, the market place has been flooded with Johnny Cash compilations and reissues since his death, most of the offering the same hits with very little surprises. That's been great for the casual buyers, of which there are many these days following the success of the American recordings and the Oscar winning film, Walk The Line. Sony/BMG have come out with the best of the bunch with this 4CD career retrospective. There's also a special addition for the richer folk, featuring a lithograph, a bonus disc, a DVD, and no less than a 120-page, 12" x 16" hardcover book. Unfortunately, that's not what I'm reviewing here!
Johhny Cash's recordings have always been unique in that whatever line-up he used, ranging from basic three piece, to trumpets, to full blown orchestra, it always came out unmistakably a Johnny Cash record with boom-chicka-boom sound and booming vocals. This is clearly evidenced on this release with the shed-load of pickers on Highway patrolmasn sounding not disimilar to the Johhny, Luther and Marshall efforts of Hey Porter.
Of the 104 songs on offer, only seven see the light of day for the first time, and I'll look at those in a minute. The 97 that we have had the previous pleasure of, are arranged into four themed CD's. The first, Win Place and Show-The Hits, has 27 classics from the early Sun days of Walk The Line throught the Columbia biggies like A Boy Named Sue. A couple of the less heard gems here are Kate and the great Oney. Oney is a brilliant song about a guy retiring and waiting for the going-home bell so he can give the boss what he's had it coming for years. "With his folded hands behind him, every morning Oney waited at the gate, where he'd rant and rave, like I'd committed murder clocking in five minutes late".
CD2, Old Favorites and New is pretty much a spill-over from the first disc, together with a few well chosen less obvious numbers, like his holy-rolling, dust-kicking version of Elvis Costello's "The Big Light", taken from the 1987 Mercury album Johnny Cash Is Coming To Town. Disc 3, The Great American Songbook, features a number of tracks from the 60's concept albums, Blood, Sweat and Tears and Ballads of the True West as well as an alternative version of Delia's Gone from 1961.

The last CD, Family and Friends, is obviously a collection of collaborations with, would you believe it, family and friends! What stands out among the family songs, is the quality of Anita Carter. As flat and bad as her sisters and mother were, Anita sounds like an angel. Listen to her on Were You There When they Crucified My Lord. Mother Maybelle might have a bit of a dodgy voice, but she was quite a musician, listen to her lovely acoustic work on Pick the Wildwood Flower.
So to the seven unissued songs. The 1980 duet with Billy Joe Shaver, You Can't Beat Jesus Christ, is a fine romp in the style of Waylon Jennings, well worthy of single release at the time, and possibly even today - how great, but unlikely that would be - dream on baby. I'm Never Gonna Roam Again and When I'm Gray are full band efforts from '80 and '81 respectively while I've Been Working On The Railroad and Down In The Valley are solo demos.
The last unreleased track, and a stunning way to close the box set is "It Takes One To Know Me" a song written by Carlene Carter. Johnny and June recorded it in 1977 and in 2005, John Carter Cash overdubbed a vocal by Carlene. It's a love song for Johnny and June, "it takes one to me, and June you're the one". May they rest in peace together, they were a classy act.
Shaun Mather
April 2006

BR549
Dog Days

Dualtone 80302-0122602 - Produced by John Keane and BR549. Lineup: Chuck Mead, Don Herron, Shaw Wilson, Mark Miller, and John Keane. Track list: Poison; After The Hurricane; Lower Broad St. Blues; Leave it Alone; Bottom Of Priority; The Devil & Me (Featuring The Jordanaires); I'm Going Down; You Are The Queen; Cajun Persuasion; A-1 On The Jukebox; Let Jesus Make You Breakfast
When BR549 released Live at Robert's in 1996 we all said a prayer that the music contained within would be the future of country music, the sound that all acts would have to follow to match the success of this multi-platinum seeling group. History tells us that it didn't quite work out like that. Not that the band was to blame, just the big knobs who run the record labels and radio stations. Ten years later and the band are still recording outside the mainstream, but the quest to beat the system seems to have been diminished in its intensity.
The band is now in it's third line-up and possibly it's third musical life, having moved from the Gary Bennett hard-core country years to the twangy Chris Scruggs Tangled In The Pines years to today's eclectic sound. Whilst their early albums showed the influence of any Johnny Horton CDs they might have in their collection, I'd say that the latest release, Dog Days, shows the influence of the Brother Where Art Thou phenominum more than anything else. Not that there's anything wrong with that, it's proper country music after all. Chuck Mead writes or co-writes all but two of the eleven tracks here and he continues to develop as a fine craftsman.
The opener, Poison, is a great banjo-led Louvinesque tale of the horrors of drink ("poison, get thee out of me") which gets the album off to a cracking start. Written before Hurricane Katrina, Tim Carroll's After The Hurricane is a beautiful ballad that takes on extra poignancy following the New Orleans disaster, with some sweet Mead vocals and the usual exquisite fiddle work from Donnie Herron. The slow almost western swing of Lower Broad St Blues is a co-write with the legendary Guy Clark.
They step up a gear for Leave it Alone, but to be honest it's little more than an album filler. Bottom of Priority is a honky tonk tale of the Native American activist Leonard Peltier complete with tasteful licks from Mead and Herron. The Devil And Me is a fun rocking-gospel romp with the Jordanaires, ooohing and aaahing as only they can. I'm Goin' Down harks back to the groups early offerings and uses their chugging beat to perfection - one of the highlights of the album.
I don't rate You Are The Queen, and Let Jesus Make You Breakfast left me relatively cold. Cajun Persuasion on the other hand, is just fine, paying homage to the country cousins down in the bayou. The cover of A-1 On The Jukebox lacks the drive of Dave Edmunds' original but does have a groovy, laid back feel with Herron's fiddle giving the song fresh impetus.
So all in all it's another fine album from the pride of Robert's Western Wear. Although it may lack some of the unadulterated drive and enthusiasm of the first few albums, it shows the band developing into a mature, fully rounded country outfit - long may they continue.
Shaun Mather
February 2006
Hexxers
Buried Alive!

Golly Geel Records GGR1047 - It's time to lock up your daughters again, the Hexxers are back on the prowl. As I stated when I reviewed their debut album (Freaks With The Savage Beat - Golly Gee Records), if you think Dickie Harrel went a bit far when he screamed on Be Bop-A-Lula, you best steer clear of the Hexxers, you might get nightmares. If you could imagine Link Wray and Dick Dale playing for Screamin' Jay Hawkins in a rat infested cellar you might be starting to get close.
This latest release features two live sets from April and June 2005. Both come with tip-top sound and plenty of atmosphere, and I do mean plenty. The high octane energy of the band oozes throughout the album. The first eight songs come from the Marlin Bar followed by eleven numbers from Freight Night, but despite this there's very little duplication between the two shows. The best of the songs that are on both is a cracking cover of Johnny Otis' Castin' My Spell, with the boys in a tasty groove. The standout song of the whole shabang is Let's Dance, an hypnotic beat that would fill any dancefloor. Ghoullabilly is alive and well and thriving in Creepy California - long may the Hexxers rein.
This great new CD coincides with the release of the graphic novel, Savage Freaks On Cannibal Island. A limnited edition comic, it features the artwork of Shawn Dickinson and Noah Snodgrass of the underground comic Untamed Highway. It's a tale of cannaba;ism, agents and rock 'n' roll. You can either buy the comic on its own, or get a free copy with the purchase of Buried Alive. Both are available from Golly Gee's website at www.gollygeerecords.com
Shaun Mather
January 2006

Concert Review: St David's Hall, Cardiff - Sunday 4th December 2005
Shakin' Stevens

It's been a couple if years since I've seen Shaky live and in that time he's made somewhat of a comeback. He won a major televised series where singers from the 80's performed new and old tracks and were voted on by the public. There's also the release of a DVD and a Greatest Hits CD.
Last time he played his hometown of Cardiff he was in good spirits and even introduced the original Sunsets who were among the crowd. This time he seemed less of a happy-chappie - perhaps he'd met Paul Barrett outside.
The band has changed a bit lately with the introduction of a sax and trumpet. This added a great deal to the sound on the New Orleans numbers, of which there seemed to be more of. It was way down yonder in that very place where we started with I'm ready and at this stage I was a bit worried that we were in for an evening of karaoke. Thankfully I couldn't have been more wrong. I Ain't Never followed by an extended medley of Marie Marie and Oh Julie were spot on, as was Don't Lie To Me and Give Me Your Heart Tonight.
The highlights of this tour for me were the lessor known, less predictable numbers like With My Heart, Baby It's You and Don't Tell Me We Are Through. Pick of the hits would be Turning Away, You Drive Me Crazy and a great version of It's Raining with Shaky in superb voice. This Ole House was also gtreat but the closer So Long Baby Goodbye was a shambles, ending the concert on a strange note. He introduced the band just when the number was gaining momentum and the song never recovered.
Still, a really enjoyable evening, which would have benefited from a more positive attitude from Shaky, and a bit more rapport with the audience - he seemed to retreat to the dark area in front of the drums during all the solos. Special mention to the piano player Elio Pace, guitarist Martyn Hope and the ever reliable rhythm section of bass man Stuart Colman and drummer boy, Howard Tibble. Detention for the guy on lights who failed to shine the spotlight on the right man for every solo - quite a trick. Biggest thanks of the night to Phil for my birthday present - the ticket.
Shaun Mather
December 2005.

Concert Review: St David's Hall, Cardiff - 20 November 2005
Everly Brothers Live in 2005
It had been about 10 years since I last saw the Everly Brothers and I was a bit apprehensive of what time may have done to their wonderful voices. Fear not, Old Father Time is protecting them well, he's obviously a fan of country harmonising. With a price tag of Ј50 a ticket, the boys need to perform well to keep the cynics at bay. The pressure was also on Albert Lee and the band as they must be the Special Guests the tickets referred to! Again, fear not, Albert is one of the top guitarists in the world and the other guys aren't too shoddy.
I'd seen a couple of photos of Don and Phil from earlier performances on the tour and "baby boy Phil" was looking like he was carrying a bit more than puppy fat. In the flesh though he looked really fit with the only extra weight being on the face. He was sharp in a suit and spats - he was born in Chicago so perhaps he was paying homage to Baby Face Nelson and the boys. Don looked amazingly fit and sounded better than he had for decades. He looked trim and handsome in jeans and jacket.
They opened the evening with three lesser known gems with Phil forgetting the words to the opening of Kentucky. It was so great to see the boys appear on stage that I saw most of Green River through tears stained eyes. A lot of the classics were done with the the band being spot on with the most recent addition Pat Seivers playing some great steel. You could have heard a pin drop when the boys sang the ballads, such was the beauty of their harmonies. There is nothing to compare to them and it seemed onvious to everyone in the crowd that we were in the presence of God given talents.
Thankfully Don has changed the between-song patter, referring to Ebony Eyes as his favourite "plane death ballad"! He talked more about the various songwriters they've used over the years, giving mention to Roy Orbison and Boudleaux Bryant among others. They seemed very comfortable around one another and shared a few laughs. I know they've had more than a few differences and even travel on different buses, but onstage at least they are able to bury the hatchet and sing as one.
The boys left the stage for a quick break whilst Seivers excelled on a beautiful rendition of Sleepwalk and then Albert tore us up with a breakneck Restless. There was a brilliant addition to the show when the boys returned to the stage with just Phil Cranham on upright bass (the real man's bass). The speakers played a clip from 50 years ago, with their dad Ike introducing the Everly Brothers radio show. It was surreal to listen to Don and Phil as young kids whilst watching them in the flesh in their 60's. Don't Let Our Love Die played from the original show before the radio show died away and Don and Phil started singing it live. They sounded great and belied the advancing years. Silver Haired Daddy, Rocking Chair and Willow Garden followed in the tradition of their original Songs Our Daddy Taught Us album, and again, the place was enraptured by the sheer beauty of the performance. Listening to T For Texas and Blues Stay Away From Me left me feeling cheated that no record label is recording these legends today. I'm sure Nashville could find one label and a sympathetic producer who could revive their career much the same as Rick Rubin did with Johnny Cash on American Records.
The night finished with a perfect version of You Send Me - boys, you certainly do. Although this was advertised as their farewell tour, I hope they have a change of heart and come back again. The world needs them, there is no-one else around who can harmonise like them. If they don't come here again I'll just have to close my eyes and relive those sweet vocals and count my blessings that I've seen them a half dozen times.
Set list: Green River, Kentucky, Bowling Green, So Sad, Claudette, Crying in the Rain, When Will I Be Loved, Devoted To You, Ebony Eyes, Love Hurts, Bye Bye Love, All I Have To Do Is Dream, Gone, Gone, Gone, Sleepwalk (the band) Restless (the band), Ike Everly Intro - Everly Family Show into, Don't Let Our Love Die, Silver Haired Daddy of Mine, Old Rocking Chair, Willow Garden, Long Time Gone, Blues Stay Away From Me, Till I Kissed You, Cathy's Clown, Wake Up Little Susie, Lucille, Let It Be Me, T for Texas, You Send Me
Band: Albert Lee, Pete Wingfield, Phil Cranham, Tony Newman, Pat Seivers
Shaun Mather
November 2005

Jerry Lee Lewis Turns 70

Thursday, September 25, 2005 - Jerry Lee Lewis is 70 years old today. Let that sink in ­ the man who has abused his body with drink and drugs for about 50 years, has outlived most of his contemporaries, despite having spent the last twenty odd years without half his stomach, is 70 years old. That Jerry Lee saw his 40th birthday was a shock, the fact that he has survived another 30 after that is nothing short of miraculous.
I wanted to pay tribute to him here, because I dearly love him and because he deserves all the accolades he gets. I was going to pick 70 of my favourite tracks or 70 reasons to love him, but instead I've chosen to look back at the live shows I've seen. To date I've seen him 12 times, poxy by a lot of peoples standards, but hey, that's the fact and I'm chuffed with each one of the dozen. Outside of the old stuff, I've seen Bruce Springsteen play a three hour show to nearly 100,000 at Leeds, I've seen Dire Straits a few times and even Garth Brooks, but I'd swap all of those for half an hour of Jerry Lee. The saddest thing about a Jerry Lee show is the massive drop from the high of the show to the low of the fact that it's over. Also, it's like visiting an old relative, every time you see them you wonder if this will be the last time. Keep rockin' Killer, this world needs you.

16.4.87: The Newport Centre, Newport, Wales.
Kenneth Lovelace (guitar/fiddle/vocals), Linda Gail Lewis (vocals), Phoebe Lewis (vocals), Joel Schumaker (guitar), Harvey 'Duke' Faglier (bass), Danny Harrison (drums), Moetta Stewart (keyboards, vocals)
Rockin' My Life Away / You Win Again / Why Don't You Love Me / Mean Woman Blues / Over The Rainbow / Rock & Roll Is Something Special / One Of Them Old Things / Meat Man / Autumn Leaves / Drinkin' Wine Spo-Dee-O-Dee / You Belong To Me / Roll Over Beethoven (with Linda Gail Lewis) / We Live In Two Different Worlds (with Linda Gail Lewis) / When You Wore A Tulip (with Linda Gail Lewis) / Great Balls Of Fire / This World Is Not My Home / Tennessee Saturday Night / Middle Age Crazy / Whole Lotta Shakin' Goin' On ­ You Can Have Her (Medley)
My very first concert by the Killer. The day started off with the car breaking down on Plynlimon next to the Elvis sign, but it finished in spectacular fashion. Looking at the track listing it was a pretty varied show and must have run to well over an hour. A couple of things I remember most about the show was why did Jerry Lee need Moetta Stewart on keyboards, and being thrilled that his sister Linda Gail and daughter Pheobe were on backing vocals with him. If the show kicked off at 8, by 8:01 I was totally in love with this man. Before the shows I was an Elvis, Jerry Lee, Eddie Cochran, Gene Vincent and Billy Fury man ­ by the end I was a Jerry Lee man only. It's not that they all went down a level, Jerry Lee just went up a few. I was in such a gob-smacked state to finally see Jerry Lee live that I can't even remember Middle Aged Crazy, my favourite song of all time. The one song which I do remember was a brilliant version of Over The Rainbow. Man I would love to relive this concert again, with less of the starry-eyed bewilderment and more of a compos mentis enjoyment.

21.11.89: The Hammersmith Odeon, London, England.
Kenneth Lovelace (guitar), James Burton (guitar), Dave Edmunds (guitar), Brian May (guitar), Dave Davies (guitar), Stuart Adamson (guitar), Phil Chen (bass), John Lodge (bass), Jim Isbell (drums), Van Morrison (vocals)
Blues At Midnight ­ Boogie Woogie Country Man (Medley) / I Don't Want To Be Lonely Tonight / You Win Again / Mean Woman Blues / I Am What I Am / Goodnight Irene (with Van Morrison) / What'd I Say (with Van Morrison) / Lucille / Coming Back For More / Jailhouse Rock / Chantilly Lace / Mexicali Rose (slow & fast) / High School Confidential / Rockin' My Life Away / Johnny B. Goode / Hang Up My Rock & Roll Shoes / Whole Lotta Shakin' Goin' On / Great Balls Of Fire / Good Golly Miss Molly ­ Tutti Frutti (Medley) / Me & Bobby McGee / High Heel Sneakers / Real Wild Child I remember getting all excited for this show after playing football in Penrhyncoch on the Saturday. With Julie and my sister Sharon again going, together with John and Alan Galbraith, we were all set for an early start on the Sunday when we got news that the gig had been postponed for a week. The following week was bad timing for me as I had to endure the six hour drive with Bombay belly (Julie was sick as a dog the following day). Anyway, what about the show. I remember it being a shock when Jerry Lee came onstage and started playing without the band (I've since read Dave Edmunds' account of it where he said they were all sat around having a beer when they suiddenly heard a loud roar and realised Jerry had just decided to go ahead and start the show). Jerry was brilliant and completely upstaged the guests - that's the megaheads, not Dave and James Burton. It was hysterical when Brian May went posing down the front, sliding on his knees during an ill-conceived solo when his guitar lead came out - he was Unplugged before his time. Van Morrison was abysmal on Goodnight Irene, whining away in a key that must have caused havoc to the local dogs. Whoever the guest, Jerry Lee was the star.
17.4.90: The Leisure Centre, Gloucester, England.
Kenneth Lovelace (guitar), Peter Oakman (bass), Jim Isbell (drums)
Roll Over Beethoven / Rockin' Jerry Lee / Trouble In Mind / Hey Good Lookin' / You Win Again / What'd I Say / Jailhouse Rock / I Don't Want To Be Lonely Tonight / Sweet Little Sixteen / Drinkin' Wine Spo-Dee-O-Dee / Baby What You Want Me To Do / Blue Suede Shoes / Rockin' My Life Away / The One Rose That's Left In My Heart / Whole Lotta Shakin' Goin' On / Great Balls Of Fire
We met Kenneth Lovelace in the pub before the gig and gave him and Jerry Lee invites for our wedding (needless to say they didn't turn up). This is the show where I was probably the only one at the gig who enjoyed opening act Johnny Dumper. I didn't like the histryonics but I thought his voice was pretty good. Again I loved the show and remember him using the "Hank said to Miss Audrey on bended knee" line during You Win Again. I got to shake his hand at the end of Great Balls Of Fire and my love was cemented stronger than ever. I managed to get his glass off the piano and it still enjoys pride of place at home. I remember a review of the show in Now Dig This saying that Jerry Lee looked so ill and thin, but it was the first time I'd ever got that close, and he seemed fine to me ­ love is blind!!
6.12.92: The N.E.C., Birmingham, England.
Travis Wammack (guitar), James 'Buck' Hutcheson (guitar), ? Velline (bass), 'Monkey' Wammack (drums)
Rockin' My Life Away / Sweet Little Sixteen / C.C. Rider / Johnny B. Goode / High Heel Sneakers / Whole Lotta Shakin' Goin' On / Great Balls Of Fire
This was one of the those Rock 'n' Roll Revival shows that featues the good and the bad from the early days. Highlights were Lloyd Price and Duane Eddy, lowlights were Boby Vee and worst of all Little Richard. The crowd seemed a bit nervous as word was going around the Arena that Jerry Lee hadn't turned up. After what seemed like an age of waiting, on came the band. Ol' Buck Hutcheson looked as drunk as a skunk as did the Killer when he followed them on. It was a brilliant performance with Jerry obviously relaxed (!) and enjoying himself. He made plenty of sexual references as he wiggled his hips, it was great stuff but the management pulled a finger across the throat to get him finished and after a magic 20 minutes it was all over. That twenty minutes was better than two hours of just about anyone else. I thought afterwards that this must have been what it was like watching Jerry Lee in the Memphis bars during the boozy years.
13.3.93: The King's Hotel, Newport, Wales.
Kenneth Lovelace (guitar), Leo Green (sax), 'THE RED HOT POKERS' [Ned Edwards (guitar, harmonica), Pete Hurley (bass), Colin Griffin (drums)]
Roll Over Beethoven / Fraulein / C.C. Rider / Brown Eyed Handsome Man / Mean Woman Blues / Release Me / Johnny B. Goode / Over The Rainbow / Mona Lisa / Mexicali Rose / Boogie Woogie Country Man / Lewis Boogie / End Of The Road / Whole Lotta Shakin' Goin' On / Chantilly Lace / Great Balls Of Fire / High Heel Sneakers
Until the show in Memphis I remember this as the best Jerry lee gig I'd ever been to. Up close and personal as they say, not sat in some concert hall in a restrained manner. There was a purple patch in this show when he went from Boogie Woogie Country Man to Lewis Boogie to End of the Road where he just blew everyone away. The red Hot Pokers were cooking and seemed to bring out the best in Jerry Lee. It was a hot and sweaty show where everyone in the crowd jostled to retain their view, no-one prepared to give an inch as we breathed in the amazing aura of the greatest showman on the planet. A fantastic night which left me more in love with Jerry Lee Lewis than I thought was possible. I remember on the way home I told Julie that I was now completely fulfilled and didn't care if I never went to another gig in my life.
22.7.98: The Wembley Arena, London, England.
Kenneth Lovelace (guitar), James Burton (guitar), B.B. Cunningham (bass), Robert Hall (drums)
Down The Line / You Win Again / Drinkin' Wine Spo-Dee-O-Dee / Over The Rainbow / Boogie Woogie Country Man / Chantilly Lace / Mean Woman Blues / Whole Lotta Shakin' Goin' On / Great Balls Of Fire
After five long years of waiting I got to see the Killer again in Wembley Arena. What a crap venue, we were sat towards the back and the sound was echoing around the ceiling. Mind you, the tickets only cost about two weeks wages!! Jerry Lee was on first and it was great to see him again, but the intimate setting of the Kings was a long time gone and the performance lacked a bit of excitement because of it. Little Richard was rubbish and Chuck Berry was embarrasing. I had a five hour journey to make back home but decided to sit through Chuck hoping that Jerry Lee might come on stage for a duet. At 5 o'clock in the morning as I sat behind the wheel fighting the eyelids, it was decision I regretted.
11.7.2000: The London Arena, London, England.
Kenneth Lovelace (guitar), B.B. Cunningham (bass), Robert Hall (drums), Bill Strom (organ)
Drinkin' Wine Spo-Dee-O-Dee / You Win Again / Boogie Woogie Country Man / Rockin' My Life Away / High School Confidential / Georgia On My Mind / Chantilly Lace / C.C. Rider / Whole Lotta Shakin' Goin' On / Me & Bobby McGee / Great Balls Of Fire
Same line-up and running order as the Wembley gig to years earlier, but the sound was a lot better. Jerry Lee was on great form and I really enjoyed Georgia On My Mind and Me And Bobby McGhee. As always it was an anticlimax when Jerry Lee finished. Little Richard was as excruciating as usual but Chuck Berry finally played a decent show which was a pleasure to witness after so many disappointments.
30.9.2000: Holiday Inn Select, Memphis, TN, USA.
Kenneth Lovelace (guitar), B.B. Cunningham (bass), Robert Hall (drums), Bill Strom (organ)
Set list: 3 hours of anything the crowd requested. Five years later I still can't beging to do justice to how amazing a show this was. Jerry Lee on his own patch is quite a thing and when he's trying even harder to please the on-looking Sam Phillips, he's even better. Seeing Sam boogie on down was beyond belief and to meet the two of them after the show was a lifetime ambition realised. Read reviews elsewhere on this site for more drooling.
24.02.04: The Clyde Auditorium, Glasgow, Scotland.
Kenneth Lovelace (guitar/fiddle), Jimmy Rip (guitar), B.B. Cunningham (bass), Robert Hall (drums), Bill Strom (organ)
Why You Been Gone So Long / C.C. Rider / Blues At Midnight / Why You Been Gone So Long / Sweet Little Sixteen / She Even Woke Me Up To Say Goodbye / Drinkin' Wine Spo-Dee-O-Dee / Trouble In Mind / Chantilly Lace / Whole Lotta Shakin' Goin' On / Great Balls Of Fire
Thanks to BMI Baby me and Phil were able to fly to Scotland to stay with Jerry Lee fanatic Des ? JLL was in fine form but it wasn't quite the cracker we'd hoped for. It was great to hear She Even Woke Me Up To Say Goodbye and I also remembered enjoying Why You Been Gone So Long. I was surprised that the crowd wasn't a bit rowdier but this lack of atmosphere probably came hand in hand with the Killers performance. Great to hear Kenny on the fiddle and Jimmy Rip played some tasty licks throughout.
28.02.04: The Opera House, Blackpool, England.
Kenneth Lovelace (guitar/fiddle), Jimmy Rip (guitar), B.B. Cunningham (bass), Robert Hall (drums), Bill Strom (organ)
Roll Over Beethoven / No Headstone On My Grave / Why You Been Gone So Long / C.C. Rider / Drinkin' Wine Spo-Dee-O-Dee / Before The Night Is Over / Sweet Little Sixteen / Trouble In Mind / Lewis Boogie / Mean Woman Blues / Whole Lotta Shakin' Goin' On / Great Balls Of Fire
A better show than Glasgow, Jerry Lee and the band were cooking in Blackpool. Although the set was pretty much the same, there was a lot more urgency tonight and he had the crowd at fever pitch. A lot of Killer fans met before and after the gig and everyone agreed that Jerry was sounding better than he had for over a decade.
29.02.04: The Carling Apollo, Manchester, England.
Kenneth Lovelace (guitar/fiddle), Jimmy Rip (guitar), B.B. Cunningham (bass), Robert Hall (drums), Bill Strom (organ)
Roll Over Beethoven / C.C. Rider / Why You Been Gone So Long / You Win Again / Trouble In Mind / Drinkin' Wine Spo-Dee-O-Dee / Sweet Little Sixteen / Chantilly Lace / Lucille / She Even Woke Me Up To Say Goodbye / Before The Night Is Over / Whole Lotta Shakin' Goin' On / Great Balls Of Fire
This show had it all. We got a couple of beautiful country numbers, stinging blues and some hard rock 'n' roll. The crowd were boppin' in the aisles much to the annoyance of the bouncers. There were scuffles to go with the jiving and it all added to the live-wire tension filled atmosphere.
14.07.04: Colston Hall, Bristol, England.
Drinkin' Wine Spo-Dee-O-Dee / Lucille / You Win Again / Before The Night Is Over / Sweet Little Sixteen / No Headstone On My Grave / Roll Over Beethoven / Chantilly Lace / Mexicali Rose / C.C. Rider / Whole Lotta Shakin' Goin' On / Great Balls Of Fire
Nice opening to show courtesy of the Sugar Creek Trio who played some firecracker rockabilly. Highlights of Jerry Lee's show were Headstone, You Win Again and a stomping Roll Over Beethoven. During the show he seemed a bit put-out by the sound crew who were trying hard to keep him happy ­ their payment was a comment from Jerry, a sarcastic "everyone thinks he's Sam Phillips" with a sly grim to the audience ­ wonderful. A truly great show with JLL absolutely cooking. Sat in the front row, it was great to see a fire in Jerry's eyes. He's great and he knows it, and on this show it seemed like he wanted everyone else to know it.

Shaun Mather
29 September, 2005
B.B. KING ­ 80 Years Old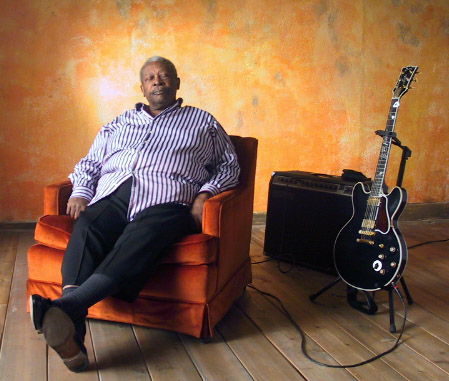 Born Riley B. King, 16 September 1925, Itta Bena, Mississippi
This week saw the 80th birthday celebrations of legendary bluesman BB King. Certainly the King of the blues, B.B. King is one of the most influential guitarists of the 20th century and perhaps the most famous blues singer of all time. Between 1951 and 1985, he hit the Billboard R&B charts no fewer than 74 times, and also scored 35 pop hits, the biggest of which was "The Thrill Is Gone" (#15, 1970).
As with most great bluesmen, he grew up poor and picking cotton in Mississippi before heading to the big life in Memphis. His cousin lived there, the great country blues guitarist Bukka White who taught BB the finer points of blues guitar. By 1948 BBK was broadcasting live from the all black Memphis radio station WDIA. In 1949 he recorded for Jim Bulleit's Bullet Records before signing for the Los Angeles-based RPM Records. His sides for the next couple of years were normally recorded in Memphis (many of them produced by Sam Phillips at his Sun Recording Service) . He was part of the Beale Streeters with Bobby Bland, Earl Forest and Johnny Ace.
His first R&B chart-topper came in 1951 with "Three O'Clock Blues", cut at a Memphis YMCA. Throughout the decade he built a formidable reputation on RPM and and its successor Kent, scoring with the likes of "You Know I Love You" (1952); "Woke Up This Morning" and "Please Love Me" (1953); "When My Heart Beats like a Hammer," "Whole Lotta' Love," and "You Upset Me Baby" (1954); "Every Day I Have the Blues", "Ten Long Years" (1955); "Bad Luck," "Sweet Little Angel," (1956) and "Please Accept My Love" in 1958.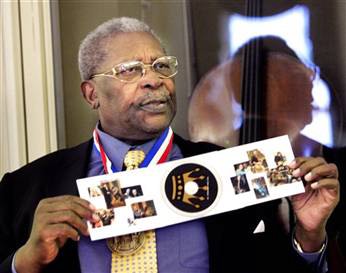 His sound went more urbanised during the proceeding decades but the guitar was biting just as ferociously. He moved to ABC-Paramount Records in 1962, where his output became more album based and saw such revered classics as Live At The Regal (1964). Sterling singles still came out, like "Paying the Cost to Be the Boss" (1968) and "Why I Sing the Blues" (1969). As with his his counterpart John Lee Hooker, the '90s were one of his most successful decades, with his 300 live shows a year playing to sold-out white audiences.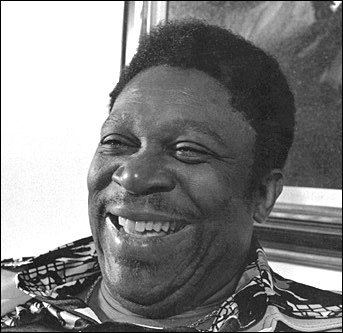 Despite the advancing years BB still continues to perform to sell-out crowds around the world. The Library of Congress in Washington has named him the recipient of a living legend medal and Mississippi is honouring him with B.B. King Day. Happy birthday BB, have a day off and put your feet up.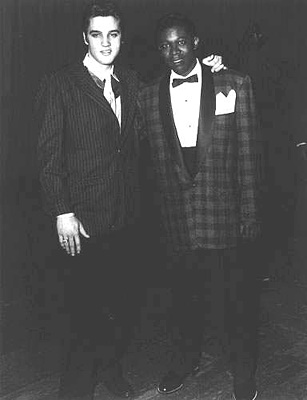 Recommended listening:
"The Vintage Years" a 4-CD box-set on ACE Records.
"King of the Blues" a 4-CD box-set on MCA Records.
Any album with Beautician Blues on it!
Official website:
Brilliant website complete with videos Autobiography: B.B. King with David Ritz, Blues all around me : the autobiography of B.B. King. New York : Avon, 1996. (Paperback : New York : Spike, 1999.)
Shaun Mather
September 2005


Brian Setzer
Rockabilly Riot, Vol. 1: A Tribute to Sun Records
My first thought when I heard about this project was one of concern. Why would anyone want to buy another album of Sun covers, even if it does match up the greatest record label in the world and the greatest rockabilly on the scene for the last couple of decades. Whilst it seems like a match made in heaven, why wouldnt people just listen to the glorious originals on the yellow label or the Stray Cats hits of the 80s. Brian Setzer has done an album of covers before (Original Cool ­ Stray Cats) and whilst there was no denying his guitar playing, the songs just lacked that bit of spice to make you want to play them instead of the originals. Another problem was that some of the tracks chosen for that album were rock n roll not rockabilly and therefore sounded just a tad sparce in a trio setting. That has been eradicated here with the worthy inclusion of a pianist.
Cut in Nashville in double quick time, Setzer is joined by regulars Bernie Dresel on drums and Mark Winchester on bass, plus the welcome addition of Kevin McKendree on rockin piano. The 23 songs are a fine mix of the well known and some lessor known gems (to Joe Public) like Tennessee Zip and Flatfoot Sam. I think its the first time Setzer has recorded in Tennessee, but he seems to have enjoyed the experience, "Most modern day studios use 'canned echo' or echo created by a digital machine. We used an old water cistern (dating from the 1800's) that was located behind the house. Talk about a vintage echo machine! Of course on only vintage and antique microphones were used and (if you notice) we change sounds, tape delays, and echo on each track to keep it fresh."
From what I can gauge, the press reviews have been really favourable whereas the rockabilly fans have been mixed with their views. The majority of them seem to love the album but one of two are less than glowing and feel that Brian is going through the motions. I mentioned at the start I was unsure why we needed this album. Im happy to report that I think the album is a corker. To me the four billies sound like theyre working on a labour of love. Im glad theyve stuck to the original productions and havent gone on a ground breaking ego trip. Ive said it before and Ill repeat it, the inclusion of McKendree was key to making this work. Hes given the rockabilly trio a more rounded sound and it works a treat. Whilst virtually every band on the circuit today would scoff at the inclusion of piano player in the ranks, most of the rockabilly songs we love from Sun Records had a piano pounding away in the background. Listen to Flyin Saucers and then imagine it without the 88s. In the sleeve notes Setzer suggests that Mark Winchester may just have played on the originals and managed to find a cure for the ageing process ­ its feasible, this guy is a quality bassist who maintains a tremendous beat throughout the album along with Dresel.
Whilst the majority of the album covers flat out rockers, there also some neat choices that veer more towards straight forward pop n roll like Charlie Richs Lonely Weekends and Carl Manns Mona Lisa, both of which work extremely well. Peroxide Blonde features its originator Gene Simmons and he must have been happy with the result. For the rockabilly rebs, Red Cadillac And A Black Moustache and Flatfoot Sam are note for note perfect covers as is Tennessee Zip. Highlights of the album have to be Real Wild Child (perhaps the best Jerry Lee cover since, well never) and Ray Harris Lonely Wolf which is a full-blown, menacing rip-snorter. Manic rockabilly at its very best. The album title suggests that there will be a further volume(s), which is great news. Ill actually be looking forward to it this time.
Shaun Mather
September 2005
TRACKS:
-RED HOT
-SLOW DOWN
-REAL WILD CHILD
-ROCKHOUSE
-PUT YOUR CAT CLOTHES ON
-LONELY WEEKENDS -GET IT OFF YOUR MIND
-JUST BECAUSE
-GLAD ALL OVER
-FLATFOOT SAM
-ROCK 'N ROLL RUBY
-BLUE SUEDE SHOES
-TENNESSEE ZIP
-MONA LISA
-PEROXIDE BLONDE (IN A HOPPED UP MODEL FORD)
-GET RHYTHM
-STAIRWAY TO NOWHERE
-BOPPIN' THE BLUES
-RAKIN' & SCRAPIN'
-SWEET WOMAN
-FLYIN' SAUCER ROCK N ROLL
-LONELY WOLF
-RED CADILLAC & A BLACK MOUSTACHE

Golly Gee Records ­ Recent releases
Hot Rod Trio ­ Live!
Rip Carson ­ My Simple Life
The Hexxers - Freaks With The Savage Beat
The Pioneers ­ Rockabilly Gospel
Various artists ­ Rockabilly Showdown Vol. 1
Golly Gee Records keep the rockabilly flag flying with another batch of top-notch, varied releases.

Buddy Dughi, Suzy Dughi, and Pete Bonny formed the Hot Rod Trio in Orange County, California in 1991 and have produced the goods for this their third album. They play in a straight ahead rockabilly style, with frontman Dughi being a hot guitarist capable of licks galore. Whilst the cover photo suggests he's a disciple of the Brain Setzer School of Cool, his engaging voice is more reminiscent of Ray Campi ­ and there's nothing wrong with that. The album is a fine mix of covers and originals. Of the covers, the highlights are Eddie Bonds' Here Comes That Train and Johnny Powers' Long Blonde Hair. Suzy Dughi (the wife) plays the bass and takes the vocals for a couple of numbers including Hop, Skip, Jump and her own Hot Rod Heaven. The Trio branch out in the dark world of rockabilly for a storming Demon's Got A Motorcycle.

I've always been a fan of Rip Carson and am happy to report that his latest platter maintains his high standards. His new band features Paul Diffin (Blue Cats, Big Six), Joel Morin (Dawn Shipley, Pep Torres), and Michael Faghnan (Jaxon 4, Lustre Kings) and a beautiful little band they are too. Morin is really melodic guitarist whose licks are always tasteful and compliments Carson's great vocals. His albums have always been varied affairs with ballads and rockers not just a dozen flat out stompers. The best numbers here are the mid-tempo All I Ask, the opener The Hate Inside of Me, the hypnotic Let Me Be, I'll Tell You and That Ain't Enough. Don't get me wrong, there are some go-ahead-onners here, none better than a blasting The One I Want. The two covers see the boys pay fine tributes to Jackie Lee Cochran (Miss Heartbreak) and Charlie Feathers (Stutterin' Cindy) during which Carson manages to sound uncannily like the Rockabilly King during the hiccups halfway through.

First thing to say about the The Hexxers is that anyone who thinks Elvis went a bit far when he added a drummer to the trio need read no farther. You are too anal and will find nothing here to interest you. Go back to 1955 and shut the door behind you! Anyone who can believe and understand that rockin' music has evolved over the years and can happily digest a heavier, savage sound, please read on, you'll find plenty here to enjoy. The four-piece band were formed out of the Southern California rockabilly scene and include in their ranks none other than Rockin' Ryan Sagat and Rip Carson. The sound is an aggressive garage-punkabilly with flashes of guitar, rolling thunder claps of drums and B-movie vocals to make the CD player shiver. Depending on your nerves this album should either be played in the dark or driving down the highway when it's pissing down. Not for the faint hearted, but what rockabilly is? Get a copy and play it loud.

The Pioneers are a new group to em and they preach the Rockabilly Gospel, and what a sermon it is. This is full-blooded rockabilly with the word God replacing the likes of rock, chick, short skirt, ponytail, love, Cadillac etc. From the cracking opening title track to the closing western styled Ride to Glory this is an almighty good album. Pick of the bunch would probably be the hot-rocking Me And My Lord And My Hot Rod Ford. The high priest of the Pioneers is Brian Bent who seems to be taking his sound and message to believers and non-believers alike via his own Hotrod Church for Sinners. If like me you can't make the Sunday morning mass, grab this CD instead, you won't regret it.
Shaun Mather
August 2005


Dwight Yoakam
Live at the Forum, London
Wednesday, 13 July 2005
Making his first visit to these shores for 11 years, Dwight was on a mission. Me and Phil arrived at the venue early and made our way to the pub opposite whilst we watched a sea of cowboy hats stand in line in the soaring heat. Apparently some of them cow-folk had been there since 2 o'clock ­ I love Dwight but that's ridiculous. We met rocking Johnny T and his lovely wife Helen, fackin' Brian and the Bandit Kid. We discussed the merits of sheep shagging and the differences between a geezer and a guvnor, and came to the conclusion that you shouldn't knock what you haven't tried!! Phil and Johnny T had a bet on whether Dwight would do Sunglasses After Dark...
The Forum has loads of character and serves two purposes as a lovely old music venue and sauna. Tonight it worked well on both levels with Phil looking like a wet t-shirt contestant. I know his nickname's Flippar but it looked like he might have to walk around in a pair. Heather Myles opened the show with a well received acoustic set of around 30 minutes.
Anticipation was building and reached fever pitch when Dwight strode on stage with She'll Remember from the new album. He looked sharp in a dark red nudie suit with white piping and white cowboy boots and hat. The band were cooking from the get-go and featured Keith Gattis on guitar and the brilliant Dave Roe on bass. I didn't get the name of the drummer but he provided a solid beat and looked an extra from Giant. With no break after the opener, Dwight launched into Blame The Vain followed by Long Way Home from a couple of years ago. I must admit I was a bit worried at this stage that he was going to ignore the early days. Fear not ­ before you could catch wind he gave us Please Please Baby, If There Was A Way and Turn It On, Turn It Up, Turn Me Loose. The crowd were going nuts by now, not least a group of Barcelona bum-boys who seemed hell bent on kissing, cuddling, waving their hats in the air blocking the views of everyone and waving a crappy handmade poster saying how much they loved Dwight. From what I saw they'd have loved anyone called Dwight, or Bill, George, anything but Sue...
Dwight was in great spirits and seemed more jovial than I'd imagined him to be. He gets a bit anal in country documentaries and I wrongly assumed this serious side would carry over onto the stage ­ wrong. He joked about ageing and wearing the wrong suit for the temperature. The only time he got serious was to sympathise with Londoners following the previous weeks bombings.
The show went from red hot to volcanic when his acoustic guitar kicked of Honky Tonk Man. It was a fabulous version and lead straight into 1,000 Miles From Nowhere. Before you could ring out your shirt he gave us Little Ways, I Sang Dixie and with a nod to Waylon, Stop The World And Let Me Off. I'm not sure of the order of some of these songs (and I know I've missed a few off) but we also got great takes of Two Doors Down and Guitars Cadillacs. He took a seat for a wonderful homage to his Kentucky roots ­ with Sunnyside Of The Mountain (as well as a heartfelt tribute to the recently departed Jimmy Martin), Miner's Prayer and Bury Me. Beunos Noches From A Lonely Room was damn near perfect but my favourite of the whole show was a stunning version of Streets of Bakersfield.
His sat again for the slow, bluesy montage of Baby What You Want Me To Do and Long White Cadillac before kicking back the stool Jerry Lee style and blasting out Fast As You ­ it was like watching the old CMT video but with better sound and vision! He gave us his twirls, shuffles and hip-shakes, all the while in perfect unison with the band who were really kicking ass at this stage. The song finally died away as Dwight drifted off stage to a tumultuous ovation. He came back on and encored with Crazy Little Thing Called Love and the thumping new single Intentional Heartache. Two hours later he was gone and everyone poured outside, sharing the experience with complete strangers. A brilliant night, please don't leave it another eleven years before you come back.
Shaun Mather
July 2005


Beat Farmers
This year marks two anniversaries for the Beat Farmers both of which shouldn't go without mention. Twenty years ago they released Tales Of The New West, one of the decades finest albums, full of self-written tunes of what today would be described as Americana. Ten years later in 1995, the band's leader and heartbeat, Country Dick Montana died on stage of a heart attack, following a brave, prolonged fight against cancer. With a deep voice as big as his personality, he was a wonderful contrast to the more soulful vocals of the bands other vocalist Jerry Raney. Not a rockabilly group in the strictest sense, their music was a colourful blend of pop, country, roots and rockabilly. Some of their stuff reminds me of Dave Edmunds and there is also a hint of Creedence in there too. But above all else, their sound is quintissentially, that of the Beat farmers, one of the best loved groups of their day, and sadly now, one of the most deeply missed.
The Beat Farmers were formed in San Diego in 1983, the original quartet consisting of Country Dick (drums, guitar and vocals), Jerry Raney (guitar and vocals), Buddy Blue (guitar and vocals) and Rolle Dexter (bass). Their first gigs in San Diego's Spring Valley Inn soon became the talk of Southern California and resulted is the band signing a one-off deal with Rhino Records in March 1984. With a tight budget of ,000 they recorded Tales Of The New West. Released in January 1985 it became an underground classic. As with all classics that missed the mainstream ears, owners of it (myself included) can have that smug feeling that you were lucky enough to catch the ride. It was one of my favourite albums during my youth, although for some reason I hadn't played for seven or eight years. I spun it again the other day and the thrills of listening to Lost Weekend and Bigger Stones for the first time came flooding back.
In December, 1985, Buddy Blue left and was replaced by Joey Harris (guitar and mandolin) who knew Montana from their precursor to the Beat Farmers, Country Dick and the Snuggle Bunnies. A move to Curb should have seen them hit the big time, but half-cocked promotion of their albums Van Go (1986), The Pursuit of Happiness (1987) and Poor And Famous (1989) assured them of their status as California's best kept secret. Curb even issued a live album (Live, Loud and Plowed) without the band's knowledge. Apparently they suffered from the age old problem of being difficult for the music industry to pigeon-hole. They were considered too country for rock-radio and too rock for country-radio. Throughout their tenure with Curb, Country Dick Montana continued to play in other bands including the Pleasure Barons with Dave Alvin and Mojo Nixon. Held in high esteem by his piers, he was justifiably recognised as the consummate performer. His onstage antics became legendary and nearly always involved beer.
By the early 90's Country Dick had been diagnosed with throat cancer, but he fought the battle until the end and maintained his cheery, upbeat demeanour. In 1993, the Beat Farmers recorded their first album for Sector 2 Records of Austin, TX, Viking Lullabys. Released the following year, it coincided with Curb Records issuing a Greatest Hits package, amazing that, when they couldn't be arsed to push the band when they had the chance. September '95 saw the bands final studio album, the fine and dandy, Manifold.
The band toured throughout the fall to promote the album. Sadly though, on 8th November, three songs into the band's set at the Long Horn in Whistler, B.C. Country Dick keeled over from a massive heart attack, never to regain consciousness. They say he would have wanted to die on stage, but surely fate should have made that way into the future. With the passing of their talisman and inspiration leader, the Beat Farmers were dissolved weeks later. The surviving members have continued to play in various bands in the San Diego area and no doubt get requests for some of the old Beat Farmers classics.
Discography
Tales of the New West
1985 (Rhino Records) Demon 2773 39 2
Original line-up: Jerry Raney (guitar, vocals), Buddy Blue (guitar,vocals), Rolle Dexter Love (bass) Country Dick Montana (drums, guitar, vocals)
(1) Bigger Stones - (2) There She Goes Again - (3) Reason to Believe - (4) Lost Weekend - (5) California Kid - (6) Never Goin' Back - (7) Goldmine - (8) Showbiz - (9) Lonesome Hound - (10) Where Do They Go - (11) Selfish Heart - (12) Happy Boy
Glad 'n' Greasy
1985 (Rhino Records) wea/atlantic/rhino 8122 70791 2 (originally an EP released in the UK on Demon Records)
(1) Powderfinger - (2) Death Train - (3) Beat Generation - (4) Glad 'n' Greasy - (5) Delayed Reaction - (6) Big Rock Candy Mountain
Van Go
1986 (Curb Records) wea/atlantic/curb 1518 77504 4 (Joey Harris replaced Buddy Blue who left after recording this album)
(1) Riverside (3:27) - (2) Deceiver (2:48) - (3) Powderfinger (3:46) - (4) Seven Year Blues (2:31) - (5) Blue Chevrolet (2:50) - (6) I Want You, Too (1:54) - (7) Road of Ruin (2:27) - (8) Buy Me a Car (2:46) (9) Gun Sale at the Church (2:57) - (10) Bigger Fool Than Me (2:48) - (11) Big Ugly Wheels (2:18)
The Pursuit Of Happiness
1987 (Curb Records) wea/atlantic/curb 1518 77501 2
(1) Hollywood Hills - (2) Ridin' - (3) Dark Light - (4) Make it Last - (5) Key to the World - (6) God Is Here Tonight - (7) Big Big Man (8) Elephant Day Parade - (9) Rosie - (10) Texas - (11) Big River
Poor And Famous
1989 (Curb Records) wea/atlantic/curb 1518 77519 2
(1) Socialite - (2) Hideaway - (3) What I Mean to Say - (4) Wait So Long - (5) Wheels = (6) Girl I Almost Married - (7) If I Can Hold - (8) King of Sleaze - (9) Trouble with You - (10) Time in Between
Live, Loud, And Plowed
1990 (Curb Records) wea/atlantic/curb 1518 77265 4
(1) Introduction - (2) California Kid - (3) Socialite - (4) Texas - (5) Maureen - (6) Revenooer Man - (7) Lucille - (8) Happy Boy - (9) 20th Century Man - (10) Blue Chevrolet - (11) Big Big Man - (12) Ridin' - (13) Hideaway - (14) Selfish Heart - (15) Big Ugly Wheels - (16) Roll Another Number (for the Road) - (17) Hollywood Hills - (18) If I Were A Carpenter - (19) God Is Here Tonight - (20) Riverside - (21) King of Sleaze
Viking Lullabys
1994 (Sector 2 Records) Sector 2 catalog #10013-2
(1) Southern Cross - (2) Complicated Life - (3) Baby's Liquor'd Up - (4) Garden - (5) The Woo Woo Song - (6) Atomic Age Mutants - (7) Gettin' Drunk - (8) Are You Drinking With Me Jesus? - (9) Midnight World - (10) Why Should I Cry - (11) A Pretty Woman - (12) Are You Gonna Love Me - (13) Lakeside Trailer Park

Greatest Hits
1995 (Curb Records) Curb Records D2-77745
(1) Riverside - (2) Blue Chevrolet - (3) Gun Sale At The Church - (4) Socialite - (5) Girl I Almost Married - (6) Make It Last - (7) Key To The World - (8) God Is Here Tonight - (9) Lucille -(10) Happy Boy
Manifold
1995 (Sector 2 Records) Sector 2 catalog #10019-2
(1) Memphis To Nixon - (2) Doubts About Love - (3) Mystery - (4) Country Western Song (5) Blue Radio - (6) Got It Bad - (7) Whale Oil Beef Hooked - (8) Texas Heat - (9) Good For You (10) White Veil - (11) Beer Ain't Drinkin' - (12) I Could Be Anything - (13) Can't Remember - (14) Positively 4th Street - (15) Distant Horizon

This is Rockabilly Clash
Various Artists
Raucous Records
1. The Honeydippers - Guns of Brixton
2. Farrell Bros. - Career opportunities
3. The Hyperjax - Capitol Radio
4. The Caravans - Jail guitar doors
5. The Sabrejets - Train in vain
6. Long Tall Texans - Should I stay or should I go
7. XX Cortez - I'm so bored with the USA
8. Frantic Flintstones - Jimmy Jazz
9. Charles Napiers - What's my name
10. The Pistoleers - Bank robber
11. The Accelerators - Brand new Cadillac
12. Farrell Bros. - Janie Jones
13. The Caravans - Know your rights
14. Rancho Deluxe - Guns of Brixton
This has been out for about a year now but I've just come across it and thought it was well worthy of a review. Raucous Records are one of the world's premier rockabilly/psychobilly labels, with their vibrant young bands keeping the scene fresh. A compilation of covers of the world's greatest ever punk band made sense and really works well.
The album kicks of in brilliant style with the Honeydrippers excelling on one of the Clash's finest, The Guns of Brixton. Next up come Canadian band, The Farrell Brothers. Career Opportunities is good but their take on Janie Jones is even better, a highlight of the CD. A lot of the songs aren't that far removed from the originals, the most obvious exception being The Pistoleers who turn in a superb rompin' version of Bank Robber. The Frantic Flintstones, a band I always enjoy, sound neat on Jimmy Jazz.
The Caravans bring the slap bass to the fore for Know Your Rights and give a powerhouse performance of Jail Guitar Doors. Long Tall Texans stick to the beaten path for a good crack at Should I Stay Or Should I Go, ditto The Accelerators with Brand New Cadillac. The Sabrejets are first class on Train in Vain, giving it a pure rockabilly reading, with great vocals and guitar.
A cracking album that should appeal to rockers and Clash fans alike. A second volume would make sense, they've got quite a catalogue that could be adapted. 'Billies and Clashers have no doubt bought this already, if not, do yourself a favour and check it out. I've just given it another once over and the one that really hit home this time was the Pistoleers doing Bank Robber, great guitar and a a real thumper.
Shaun Mather
April 2005.
Psychobilly - My Top Ten
I don't have a particularly big collection of pretend to be any sort of Psychobilly or Neo-rockabilly, or do I claim to have any great knowledge and shakers in the genre. But what I do know, is what moves me, really moves me. I don't think it's a musical style that you can warm to over time - you either like this manic sound where rockabilly meets punk in a mutilating car-wreck. What I want to do here is pick a Top Ten which will serve as a Recommended list for anyone who hasn't yet been bitten by the bug.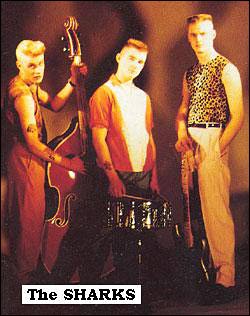 1 - The Sharks - Charlie
Members Alan Wilson (guitar), Steve Whitehouse (bass) and Paul Hodges (drums) developed from a typical rockabilly revival band into one of the neo-rockabilly/psychobilly movements premier bands. Recording for the genre's leading label, Nervous Records, they produced my favourite neo album ever, the brilliant Phantom Rockers in 1982. The album was recorded in just a few days with most of the songs written on the way to the studio. The band still play and record on an occasional basis, and have played in numerous bands over the years. Gigs seem to have been restricted lately as Wilson is busy running his own studio and label (Western Star ) which is quickly becoming one of the best on the rocking scene. Virtually the whole Phantom Rockers is worth listening to, but special kudos must go to the frantic Moonstomp and Short Sharp Shock and the superbly atmospheric Love Bites (brilliant and probably my second favourite psych-o-tune of all time). The pick of the hole lot has to be the wonderful story of Charlie, the chainsaw wielding 12 year old schoolboy who decaps the teacher before "He butchered all his classmates/and just to make his day/He smeared blood on the blackboard/saying 'Charlie rules OK'. His parents would surely disapprove so "The headmaster sent a letter home/telling of what he done/'I know he is a lively lad/but this is not my idea of fun./You must point out to Charlie/that what he did was bad'/But Charlie doesn't care because /he's killed his Mum and Dad". Classic psychobilly, in fact, the best pyschobilly track ever, no question.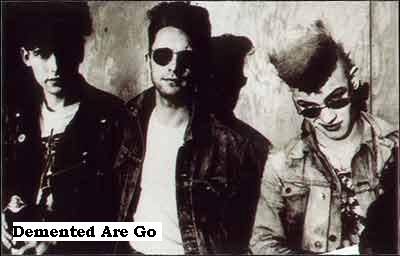 2 - Demented Are Go - Holy Hack Jack
South Wales has for years been a hotbed of rocking bands, but surely none have a crazier sound than Cardiff's Demented Are Go. I really like this group and think their lyrics are always worth a giggle. Musically they play an almost rural-psychobilly with vocals that sound like Lee Marvin being tortured. The band formed around 1982 and made their first appearance two years later on the Nervous Records compilation, Hells Bent On Rockin' (now that's an LP I haven't played for too long). Two years later they released their debut, the superb In Sickness And In Health on ID Records. The emphasis is on the Sickness part with classics including Rubber Love, I Was Born On A Busted Hymen and Pickled And Preserved, a novel way of looking at lasting love.
The band spent years playing the continent and recorded a few albums in the '90s for Fury records. On-stage antics like making out with a hoover and arrests on an American tour for starting a forest fire and pinching the ass of a 16 year old meant that their time has never been, what you might call, calm and settled.
If you've never heard them before and you don't know where to start, get ISAIH. Favourite on the album has to be the heavy, Holy Hack Jack. Although their best stuff is their crazy originals they also do a couple of neat covers in Be Bop A Lula and Crazy Horses, both well worth a listen.
3 - Meteors - Papa Jupe
The Meteors are to psychobilly what Bob Marley is to reggae. If any song sums up the rocking beat and lyrics of the Meteors sound I would have thought it was Graveyard Stomp, the title track of their 1996 Nectar release. Power drum beat, plenty of menacing guitar and ghoulish lyrics. If you like that, there's more of the same in Mutant Rock and Wreckin' Crew.
Founding member Paul Fenech started in the Southern Boys, later changing their name to Rock Therapy, then the legendary Raw Deal. Following a decision to move from a straight ahead rockabilly trio to something with more attitude, Fenech made the final name change to the Meteors. The debut album, In Heaven, was released in 1981, followed two years later by their breakthrough album, the definitive Wreckin' Crew, featuring a surprise hit in the cover of Johnny Remember Me. As with most rocking bands, they have continued to tour and record despite various line-up changes, Fenech being the one constant.
4 - King Kurt - Destination Zulu Land
The legendary King Kurt were at the forefront of rocking madness in the mid-80s, hitting the top 40 and even getting the chance to shock the nation on Top of the Pops. Formed in 1981, they were originally called Rocking Kurt and the Sour Krauts in honour of their stage act which saw them giving away saurkraut to the audience. Any band whose members include names like Smeg, Maggot and Thwack are going have more fun and mayhem than your average pop band. Their early gigs in London included audience participation like sausage juggling, baked bean eating competitions, Smeggy fire breathing and cheap haircuts. Best of all, they used to charge 50p admission unless you were a student, in which case it cost you Ј1.50. Following an independant release on Thin Sliced Records (Zulu Beat) they were signed to Stiff Records in 1983. Stiff had the good sense to get Dave Edmunds to produce their label debut, Ooh Wallah Wallah. Destination Zulu Land was released as a single and climbed to number 36 on the UK charts thanks in part to an eye opening shot on TOTP. The next album, Big Cock named after the large cockerel on the cover (subtle or what!). The band called it a day before the end of the decade but they reformed for a few years in the mid-90s. As regards their best song, I'm going to go with the hit record. I know this seems like an obvious choice but who cares, it's my list. I love a lot of their stuff, especially Wreck A Party Rock, Gather Your Limbs and King Kurt Is Back Again, but the non-stop excitement of DZL wins the vote.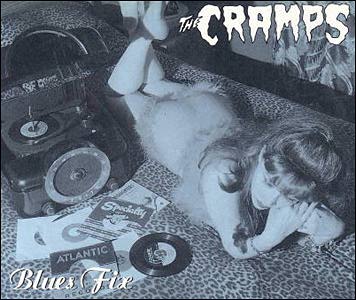 5 - The Cramps - Bikini Girls With Machine Guns
Wow! Where do you start with the Cramps. The band is legendary from their look to their sound. Don't be fooled into thinking they're just a gimmicky image driven band, they play some tight rocking stuff, and have done for three decades. Formed in Ohio in 1976, two of the original line-up, Lux Interior (vocals) and Pioson Ivy (guitar) are still together today. They made their mark on the New York punk scene, where they developed a rockabilly sound blended with touches of surf, psychedelia, sixties punk and more than a splash of madness. They soon became cult figures and like many a rockabilly legend, made their recording debut at the Sun Studios in Memphis, allegedly funded by Ivy's income as a dominatrix in NYC. Their gig posters from the period were the first to feature the term 'psychobilly'.
What about the music? As with any band that's been around this long there's a few clunkers (Drug Train is rubbish), but man are there some classics too. The first Cramps album I bought was Smell of Female, followed a few years later by Aloha From Hell. If you want to hear them doing their own tack, among the many highlights are All Women Are Bad, Alligator Stomp, Burn She-Devil Burn, Can Your Pussy Do The Dog, What's Inside A Girl and The Hot Pearl Snatch. They're no mugs when it comes to cover versions either, picks of which are the Way I Walk and Georgia Lee Brown. My top two Cramps songs are Bend Over I'll Drive which hints at the pleasures that can be enjoyed whilst driving, and Bikini Girls With Machine Guns with some sterling machine gun drum rolls akin to DJ Fontana at his best.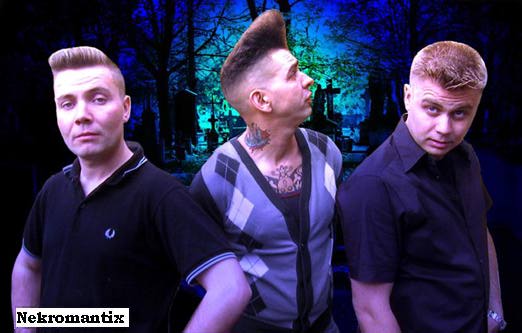 6 - Nekromantix - Demons Are A Girls Best Friend
These guys are dark and dangerous even for a psychobilly band. They rock like the clappers and are top-notch musicians who have a pile driver beat and a screw driver mentality. Following eight years as a submarine operator in the Royal Danish Navy, lead singer and bassist Kim Nekroman formed the band in 1989 in Copenhagen, Denmark, together with the Sandorff brothers, Peter and Kristian. Despite Nekroman emigrating to Los Angeles they have kept the band going. Albums they've released include Curse of the Coffin, Return Of The Loving Dead and Hellbound. Track highlights are many again, with personal favourites being Alice in Psycholand, Back From the Grave, Hypnotised and Who Killed The Cheerleader. Pick of the bunch though has to be Demons Are A Girls Best Friend. It's almost commercial and sounds like the sort of thing that Billy Idol would do if he had a shot of Vitamin's R&B. The bass and drums pound out the beat and the vocals are full of bad by malice - wonderful stuff.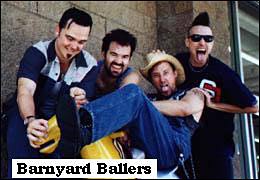 7 - Barnyard Ballers - Nudie Bar Blues
I'd never heard any of their stuff until about a month ago, but I'm making up for it now. Mixing titty humour with a solid rockabilly beat they're great fun. Nudie Bar Blues is about pent up frustration of the sexual kind, all in the Johnny Cash rhythm (just one dance on the lap, and I'm a pervert ready to snap). Formed by a couple of mates in San Diego, their sound is a blend of psycho, rockabilly and hillbilly. Albums to check out are Rock Out With Your Cock Out and Punkabilly Invasion - track highlights are Silicone City (honouring the bigguns), Lesbians (tribute to our tongue and groove compadres), Hellbilly Jamboree and Grease Up That Pig (two redneck-psychobillies that surely need no further explanation).
8 - Tiger Army - Cupid's Victim
Another band that are fairly new to me, and now I'm happy to be making up for lost time. They are everything you think of with psychobilly, rockabilly beat with a punk outlook. Their storming American Nightmare is a perfect example. Unlike a lot of psycho bands they steer clear of the comedy/horror in favour of a more serious outlook. Nearly a decade ago singer and guitarist Nick 13 formed the band in East Bay, California, a brave move in an area which wasn't exactly bustling with psychos (bands that is). The self titled debut album came in '99, followed two years later by Tiger Army II: Power of Moonlite.
If you're not a died-in-the-wool psycho there's still plenty to enjoy in tracks like Devil Girl, a pure rockabilly with some great double bass, the spagetti-western-a-billy in The Orchard or the Johnny Cash rhythm of Outlaw Heart. Highlights in the neo vein would include Power of Moonlite, Annabel Lee and Trance. Check em out, they're one of the out there now.
9 - Hillbilly Hellcats - My Baby Moved
Hillbilly Hellcats are another band you should delve into. As the name suggests they come from the rural side of psychobilly (at other times they sound like Restless), as witnessed by their storming Train To Nowhere. The guitar playing is always good with some blistering solos on items like My Baby Moved and Hillbilly Cats On Speed. HCOS is a warning not to go out when the local-yokels are high and drugs and done to the sound of a relentless rockabilly beat, whilst My Baby Moved tells of his misses leaving him for a hippie. The guitar breaks are dynamite.
10 - Guana Batz - Brand New Cadillac
From the glorious first period of psychobilly, the Guana Batz were formed in Feltham, Middlesex in 1983. Listening to their early stuff now iot's impossible for it to have been recorded any time other than the 80's. Psychobilly had the energetic punky sound, without being too heavy. The Klub Foot in London did for psycho bands what the 2-I's did for wannabe rockers in the '50s. The Batz played their regularly and landed an EP record deal with Big Beat Records, followed by another with ABC/ID, who released their debut, Held Down...At Last! In 1985. Loan Sharks followed a year later, Live in London and Rough Edges came in quick succession. The group disbanded in the 90's with leader Pip Hancox moving to San Diego. Highlights of their career would have to include Electra Glide in Blue, Jungle Rumble, You Can Run and Guilty Conscience. My pick of the bunch is their take on the much covered Brand New Cadillac. The song ahs been tackled by numerous rockabilly and punk bands, but none as ever bettered the energy of the Guana Batz version.
Just failing to make the top 10 but well worth checking out are Empress of Fur, the UK's version of the Cramps. Fronted by the Bettie Page lookalike Venus Raygun (not sure if that's her rreal name!), she's at her most sultry and groovy on Johnny Voodoo. The Frantic Flintstones are another great band who really slap that double bass whilst they sing about having their way with nuns and watching blue movies. If that's a bit much for you they cater to the softer souls with some tasty straight ahead rockabilly like Alley Cat King, Oh Baby Oh Yeah and my favourite, What The Hell. Also on the rockabilly side of madness are the Quakes, another hot band who bare more than a passing resemblance to the Stray Cats, visually and musically. The Groovy Ghoulies are more Clash than Cash, but I really like their driving Have Your Way With Me. Graveyard Rumblers are another good group with their menacing Cruisin' Low being a great song to drive to, but again, probably not for the fainthearted. Same sentiments go to Pilbullfarm who pay a throbbing homage to the boys in blue on Army of Assholes.
Elvis:
The King of the mid-Wales Rock
Since 1962 the main link road (A44) between England and the mid-Wales coast has been home to a famous bit of "Elvis" graffiti. A couple of things made it standout, firstly, it's the only bit of graffiti in the area and secondly, it was facing the steady stream of traffic heading to the seaside. For generations, myself included, this landmark on the Plynlimon range told you were less than half an hour from sun and sand (well the sand anyway). That's all changed now though as the rock face has been chipped away, probably by the hard frosts. I remember this happening about ten years ago. I was travelling to a football match and pulled over to collect a few pieces of the slate with the paint on them. Something to sell on eBay I suppose!
This time no one has repainted the rock face, which has resulted a fair bit of publicity, best of which has been some good coverage on the BBC Wales website. It was here that I learnt the history of the graffiti's origins. There was a 1962 by-election for a Montgomeryshire seat following the death of the Liberal Party's Clement Davies. One of the candidates was Islwyn Ffowc Elis who was standing for Plaid Cymru. Two of his followers, John Hefin from Borth, a former head of drama at BBC Wales, and David Meredith from Llanuwchllyn, near Bala visited the site one June night in balaclavas and painted "Elis" on the prominent rock where it couldn't be missed. They painted the sign in Plaid Cymru's colours, red and white. When they returned to the site a couple of days later they were amazed to see that someone with a bit more taste had changed their handy work to "Elvis".
Plynlimon is partial to a fair bit of inclement weather with more than it's fair share of rain and snow, so a periodic touch-up has been the order of the day through the decades. Since 1962, Elvis has stood proudly on his rock untouched except for a brief spell in 1992 when Benny Hill died. Some Ernie the Milk Man fan whitewashed the rock and painted a tribute to Benny. This was changed to Leeds United within a couple of weeks, but much like the team, a stay at the summit was only ever likely to be temporary. It's been Elvis since '92 although the venue changed for a while to the site of the rock. Ironically, myself and Julie were headed over the A44 to see Jerry Lee Lewis in Newport when my car broke down next to the rock. Whether this has anything to do with the King and the Killer's long running rivalry is doubtful but it resulted in the pair of us sat on the rock for two hours as we waited for Ted to bail us out.
I don't know what the future holds for our mini-monument, but I hope Elvis returns to the hills, just like he has the charts. I'll get my brush.
Shaun Mather
February 2005.


The SIMPSON's Rockabilly Top 30
Here's a fantasy chart based on characters from the brilliant animated cartoon series, The Simpson's. I'm sure all fans of rockabilly and the show can come up with a few more. Johnny Cash and Brian Setzer have been featured on the show, as have Hank Jnr and Dolly, not too sure if any other of our heroes have though. Cash was great as the worldly voice of a coyote, but Brian's role was a bit underdone in an episode that featured loads of rock's biggest icons. Just imagine if they made a feature length movie with a rockabilly theme and used these songs for the soundtrack.
Merrill Moore - Millhouse of Blue Lights
Nappy Brown - Crabapple of My Eye
New Mule Skinner Blues - Maddox Bros. & Rose
Seven Come Eleven - Crusty Draper
Santa's Little Helper Back To Me - Elvis Presley
What Made Maggie Run - The Del-Vikings
Little Lisa Jane - Heuy Smith & the Crusty the Clowns
Anything by Homer & Jethro
Itchy - Billy Lee Riley & Sonny Burgess
Scratchin'- Eddie Cochran
You're Barting Up The Wrong Tree - Don Woody
Billy Fury - Margeo
Joe Wiggins - Chief Heartbreak
Ralph Pruitt - Hey Mr Porter
Ral Donner - I Got Monty Burned
Anne Murray - Snowball
I Otto Mo - Elvis "You May Remember Me From Such Films As Roustabout" Presley
Jerry Lee Lewis - Smithers Aged Crazy
Charlie Feathers - I Can't Barney Stand It
Barney Burcham - Can't Steal My Way Around
Bob F-Landers - Cherokee Dance
Ray Scot - Boppin' Wigwam Willie
Eddie Clettus - Flying Saucer Boogie
Lee Pickett - Fatty Patty and Velma
Anything by The Light Crusty Do-Boys
Anything by Sideshow Bob Luman
Anything by Kenneth Rev.Lovejoy, That Lonesome Fiddle Man Shaun Mather
December 2004

Paul Galaxy and the Galactix
Sling Shot
Rollin' Rock CD 115
If I'm not mistaken this is the first release on Rollin' Rock for some time. The scene needs Rockin' Ronny Weiser's label to be healthy, so let's hope that sales on this are strong enough to enable him to hit the market again. You know with Rollin' Rock that you're gonna get a first class production from a wealth of vibrant young bands.
Three years on from their previous outing (Cross the Line), and eight years after their inception, they sound as strong as ever. The high octane trio from Denver, Colorado are Paul Galaxy, "Mad Dog" Mike Minnick and Chris "Chopper" Cordoba. With all fourteen songs written by Galaxy, their sound is a heady mix of thumpin' rockabilly with a bit of a surf/hotrod thrown in. fans of the Stray Cats will enjoy a lot on offer here, both Bobby Vee fans might find themselves turning their white trousers a horrible shade of brown. The blurb inside the sleeves said that the whole thing "was recorded and mixed in 12 hours with a case of beer and four microphones". They should have cut a double CD, that would have been a good days work!
Highlights for me include On A Mission with it's insistent beat and tasty picking and Road Dog which is just pure fun. If you want to hear music that changes the way we look at the universe you probably won't be reading this, if you want to hear music that changes your lips from a grin to a shit-face smile, this track could be the one for you. Although surf music isn't my favourite, I thought the atmospheric instrumental Piranha was superb.
Don't Push Your Luck is one of those to avoid when you're driving through speed limits. All I Want is a slowie that works well and provides a pleasant bit of respite before we bop in spectacular fashion with Model "A". That's another thing where this CD excels, the track order is refreshing and never gets boring.
Support the band and the label in confidence with this powerful release. Well done to both parties - it's good to have you back.
Shaun Mather
December 2004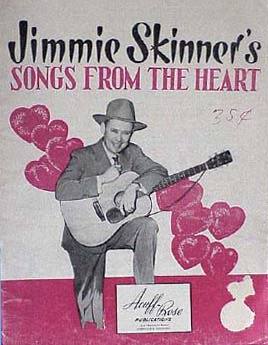 The Roots of Rockabilly - 1940-1953
Rompin' and Stompin'- Various Artists
Indigo
There's no end of these type of compilations out at the moment, but surely none will be any better than this Indigo triple CD set. While the first two discs take us down hillbilly highway, the third one comes from the juke joints across the tracks. As with most of these type of releases, the material ranges from the well known like Hawkshaw Hawkins' Rattlesnake Daddy to the more obscure like Jack Cardwell, You're Looking For Something.
Does the set live up to it's title as the Roots of Rockabilly? I'll say it does and you'd be hard pressed to take Indigo to the courts for breach of the Trade Descriptions Act. Most of the country tracks are in the hillbilly vein but there's a couple of detours to western swing and bluegrass.
Darrell Glenn's Hang Up That telephone has long been a favourite as has the great Luke McDaniel's Whoa Boy! Is there a definitive CD of his stuff out there? Songs that became rock 'n' roll classics once given a rocking reading from Elvis and Gene Vincent include Jack Turner's hillbilly outing of the legendary r'n'b number Hound Dog and Monroe's Rocky Road Blues. Shorty Long's I Got Nine Little Kisses could pass as Bill Haley. Jimmie Skinner's orignial of You're My Big Baby Now is included here, later to become a rockabilly classic via Roy Moss, ditto Jess Willard's Honky Tonk Hardwood Floor when tackled by Johnny Horton (not that Willard's isn't stellar).
Grandpa Jones is hypnotic on Grandpa's Boogie (a new number to me) and Chet Atkins is wonderful on Oh By Jingol. Other lessor played items that hit the spot are Hillbilly Jive With a Boogie Beat by Reece Shipley and Hardrock Gunter's Perfect Woman. Tommy Scott is great on his pair of Rockin' and Rollin' and Tennessee and the Delmore Brothers are as splendid as ever with their Pan American Boogie.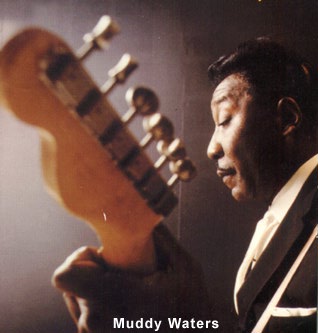 The rhythm and blues of the third disc features a lot of early performances from some of the genre's true legends, men like Howlin' Wolf, Muddy Waters, Lightnin' Hopkins, Sonny Boy Williamson, and Elmore James. If anyone deserves to be on a roots of rockabilly CD it's Arthur Crudup who penned more rockabilly classics than Jerry Lee Lewis! His Shout Sister Shout was one that escaped the grips of the Memphis Flash but would have fitted him like a glove. I suppose the biggest number here in rockabilly terms is Junior Parker's Love My Baby which attained immortality when Hayden Thompson cut it a later in the decade in the same Sun Studio in Memphis. Washboard Sam & Big Bill sound like a skiffle group but their Shirt Tail has the the exhuberance that we love about rockabilly. A manic piece of glorious nonsense - I love it. Lightnin' Hopkins is brilliant on I'm Wild About You Baby as is Tampa red on She's Dynamite, not to be confused with BB King's equally fine stomper of the same name.
A great compilation for the avid collector and beginners alike.
Shaun Mather
October 2004


STRAY CATS: RECORDED LIVE IN
MANCHESTER 16th JULY 2004
Surfdog Records 44052-2
As promised prior to the tour, Brian Setzer's label, Surfdog Records have issued a CD for each show of the 17 date tour. Recorded straight from the board, the sound quality is excellent, as obviously is the music. Due to running time constrictions, there's a handful of songs from each show that have had to be dropped.
The only show that won't be issued on CD is the London show from the night after Manchester. That's coming out on DVD, together with a much anticipated new single, Mystery Train Rollin' Down The Track. Cut within the last week, I think the title suggests that it might be a rocker!! Get it out there boys, we're ready for a revolution.
The sound quality is excellent and brings back great memories of a stomping show. For those that couldn't attend any of the shows, these CD's will have to be the next best thing. It's raw rockabilly with energy and technique in equal abundance. It's pointless picking favourites, every one was a highlight. The five songs from the show that aren't included are Sleepwalk, Fishnet Stockings, That's Alright Mama, She's Sexy & 17 and 20 Flight Rock.

Buy it with absolute confidence, and play it until they return. That'll be next year hopefully!!
Shaun Mather
September 2004.

ROCKABILLY RUMBLE DUECE
Various Artists
GGR1026/RAUCD147
Following the success of the first instalment, Golly Gee Records and Raucous Records have again teamed up to offer 27 tracks from the pick of their labels. A musical Ryder Cup it pitches American rockabilly (Golly Gee) against rockabilly from this side of the pond (Raucous). The pace is unrelenting throughout and is a great compilation for both the committed and the curious.
The CD gets off to a blasting start with Rockin' Ryan and the Real Goners, Get On or Get Off, taken from his excellent Caged Heat album (the title track of which is also featured). Another artist I rate highly is Rip Carson who's great Cause Of It All, is a sampler from his much anticipated Golly Gee album, Pleasure's All Mine. His second track here, Come On is pure rockabilly with enchanting and very 50's vocals. There's a real Sun feel to the Rory and Crash Justice rocker, Waitin' For You, with father and son sharing the vocals to great effect.
Long Island rockabilly bands The Spinouts cover Trapped Love in fine style, and Rhythm Bound border on psychobilly with Born To Love You. Completing the trio of New Yorkers is the Long Island Hornets who feature their previously unreleased Chop Top Christmas, surely a number one next December.
Pick of the album could well be '52 Pickup who are brilliant in their authentic style. From the rural crossroad where hillbilly meets rockabilly, I'd love to hear more from these guys.


The first Raucous track is Ready To Rock from 69Beavershot. It's high charged rockabilly with the band obviously praying at the Church of Setzer. Very much like the Stray Cats Everybody Loves Rock 'n' Roll, it's a guitar blast. Pete Hodgson & the Fireballs give Rockin' Daddy a piano treatment that owes little to Sonny Fisher or Eddie Bond. It's a perky version though, with Hodgson sounding vocally like Ray Campi. King Drapes from Finland feature a female vocalist on their uncompromising cover of Alabama Shake.
The Farrell Bros stomp away in Breakin' Out of Here, a top-class rocker that sounds the Clash meets rockabilly. There's some straight ahead rocking from the Young Savages on their sax led Top Down Mama whilst Jeff Potters' Teaching My Baby To Drive is piano rock 'n' roll. The Ramshackle Daddies shine on their fine cover of the rural classic, Better Not Go - another highlight of the set.
So their you have it, over two dozen hot rockers that highlight the pick of two of the most respected labels on the scene. Pick this one up, there's something here for everyone's taste.
Shaun Mather
August 2004.
Jerry Lee Lewis at Colston Hall, Bristol
14 JULY 2004 - Long time fan Terry Adams reckoned it was the best show of the tour.A great venue,the Colston Hall Bristol, England, good sound and very friendly staff. Nice to find that the box office phone staff actually understood what "left of centre,looking along the keyboard" actually meant. Sitting within 2 metres of the piano is my idea of heaven. Nice to chat to Barrie Gamblin, Terry and Tony Houlton beforehand, the social side of the Lewis scene is very important too.
Opening act Sugar Creek Trio were full of rockabilly flash and pizazz, guitarist played some cool Gallup licks on the Vincent songs and two dazzling instros by Link Wray and Joe Maphis. Tall cool one on bass looked and sounded sharp on the Horton songs, fine versions of Slim Harpo and Diddley classics, a bit more stage craft and eye contact with the large audience needed but a great 50 minute show. Shuddering memories of awful JLL openers in the past evaporated, roll over JD Sumner and tell Johnny Dumper the news
Kenny and the Kennyettes strolled on to great applausea around 9:15, Kenny's opener of the old country classic Columbus Stockade Blues was a delight, Robert romped through Lonely Weekends in fine Animal of the Muppets style and BB showed old Chuckles how to tackle his catalogue, appearance of JW, Phoebe and Linda Gail at the side of the stage removed any lingering doubts about the great man's presence. Also the shuffling entry behind me of messers Gamblin & Adams meant it was showtime.
Looking sharp and focussed the Fireball strode on to a standing ovation and with a "well we finally made it" type aside bestrode the piano stool romped into Drinkin' Wine, a fine opener. The pale looking legend asked Kenny to sort out his microphone lead being short due to it being stuck under the front monitor, the sound man came out to help Kenny before JLL grinned and said "that's ok Killer just leave it" proving how relaxed he was. The opening chords of Lucille prompted a nudge from Shaun as he knows it's not one of my favs or to be precise the plodding usual mid tempo stage version isn't, I always liked the studio version. I was delighted when this version rocked and was more uptempo than the norm. Next we were "running out all over Bristol" and I love You still, pause "but not TOO still" on a stellar version of ole Hank's You Win Again, dazzling solo on this, turning into a great show now.
To Pat Wall's delight a fine Before The Night Is Over was next, contrary to Lucille the current stage version knocks spots off the old Mercury discofied version. With a quick "well Chuck ain't here tonight so we'll do one of his" we rapidly zipped into a rattling good take on Sweet Little 16 lively shoulder work and plenty of high treble hammering showed the songwriter who's boss on this song. My thoughts went back to April 1960 and wondering whether Eddie Cochran had sung this on the same stage at his final gig. My personal highlight of the night was No Headstone, as good a version as he did back in Gulfport, plenty of pyrotechnics in the solos and a well controlled and intense vocal with a great roar from the nearly sold out venue for the "monument" line.
The current version of Roll Over Beethoven is a bobbydazzler, my attempts to lure Linda Gail out with a few pleading gestures met with giggles off stage. Her older bro' Lewis again took quality solos as the band cooked on this. Kenny played the licks he left the Five Jets for and Robert grinned and pummeled the skins in his great lively manner, the more stoical BB and Bill chug along as one.
To keep them in their place JLL caught them out with an abrupt ending to Chantilly Lace, met with a great roar from the fans, stopping after the stuttering Nekkid, Nekkid bit whilst the band played on before the boss said hey we finished that one, embarrased grins all round. Straight into the uptempo version of Mexicali Rose making Mr Hall shed a few pounds as he pounded, a slower ending where the band stopped unsure before Jerry told Robert you can join in if you want to!
Somewhere along the way we had the great "everyone thinks he's Sam Phillips" line hurled at the sound crew, the instrumentation and vocals all sounded fine from my close seat.
A superfine laid back bluesy CC Rider gave the old Regular Stud vocals a breather before the fans erupted for what I now reagrd as the two song closing encore, fans piled forward in the aisle as the hallowed opening chords of Sun 267 lead the way to easy now and finger wingling, thunderous ovation at the close, just over the half hour mark. Sun 281 had some awesomely concentrated stiff wrist hammering with that oh so cool half smile/half sneer look on the Lewis lips sort of "not bad for a 68 year old living legend huh"?
With a huge grin at the end of a lengthy work out on this show stopper (and indeed it is these days) JLL acknowledged us all with a wave and off he strode to the welcoming arms of his daughter and younger sister. They looked as enthralled as the rest of us. Overall a great show, no surprises in the catalogue but all the songs were performed with panache, no faking show biz chat but some dazzling keyboard work, what more could an ageing rocker want? Felt like one of the old 70s Rainbow shows.
Probably my most favourite UK show since the legendary Kings triple header. Whilst Blackpool and Manchester were great on the previous tour, the stage lighting was brighter here and the piano was closer to the stage front so there was more of a rapport with the crowd.
Jerry's relaxed demeanour coupled with the pride in playing and singing to the best of his ability augurs well for the future. This is down to Phoebe's TLC and its wonderful to see JLL and Linda together again. Enjoy Croydon guys and the upcoming French dates as well.Mr Lewis is a man with a mission, rock n roll IS something special
p.s. nice to meet up with lil' Bro Davies, Pat, Scott, Rocky N Lulu and the rockabilly Taffia too.Rockin Ron Gregory said he was in Cloud 10. Look forward to seeing Shaun's digi pics once he returns from his upcoming Stray Cat pilgrimage. The cockney Kalin twins aka Barrie and Terry were still grinning from ear to ear when we met them Waitin' For A Train. Phil Davies
Recent Purchases - June 2004

Elvis Presley - The Impossible Dream - BMG FTW 82876 59845-2
Elvis Presley - Recorded Live On Stage In Memphis - BMG FTW 82876 60987-2
Darrel Higham - The Cochran Connection Vol.2 - Rockstar RSRCD 023
Darrel Higham - At The Thunderbird Rock 'n' Roll Venue - Rockstar RSRCD 024
The two Elvis CD's are on BMG's collector's label Follow That Dream, aimed at the dedicated fans as opposed to Joe Public. The bulk of the Impossible Dream CD comes from a 27th January 1971 show at the International in Las Vegas. The sound quality is fine and shows Elvis in reasonable voice and spirits. Although the challenge of the comeback and conquering Bright Light City had long past been achieved, he was still a long way from reaching the mid-70s period where the rut had truly set in. Highlights from the show are the opener That's All Right and the closer, The Impossible Dream. As a bonus we get seven number from the same season, including Mystery Train/Tiger Man which sees James Burton and Ronnie Tutt cooking, although in fairness it's not Elvis' best ever crack at it.
The Recorded Live On Stage In Memphis set is distinguishable in that it comes in unusual style packaging. Done like the original vinyl album it's lists the tracks as if it's two-sided. The packaging comes in the 7" variety allowing for bigger graphics, which should make it a bit more eye-catching. If anything the photos are too grainy though and the booklet is devoid of too much information. The ten pages show pictures from the show in question (20 March 1974 at the Mid-South Coliseum in Memphis) with a short review from the following days Commercial Appeal as well as a simple tour itinerary for March 1974. Perceived by BMG to be the whole show, it does in fact miss out a few bits, like the false start to Help Me - for this you need Fort Baxter's "Steamroller Blues". Sound quality on both versions is good and shows Elvis giving the hometown fans a real treat.
Darrel Higham's Cochran Connection CD from a few years ago was rightly acclaimed as the best ever tribute to Eddie baby and you'll be glad to hear that this follow up maintains those exceptional standards. Sometimes he sounds so much like EC it's uncanny. Rockstar are the kings of the Cochran reissues and it's fitting that this label and artist should get together for this project. Helping out this time we get Les Curtis on drums, Al Nicholls on sax, James Compton on piano and the Jets on backing vocals. The whole shooting match was recorded at the House of Boz under the production of Boz Boorer (Polecats) who appears to have done a great job. Highlights, and there are many, would include Don't Bye, Bye Baby Me, Eddie's Blues, Rock 'n' Roll Blues and Pretty Girl. My favourite of all is probably Pocketful of Hearts with the Jets. If anyone doubts how close Darrel sounds to Eddie, take a listen to My Way or Teenage Heaven and then play the originals - if anyone could copy Elvis this close they'd be a friggin' millionaire. Brilliant.
The live CD was recorded the same week as the Urban Jamboree album and it's therefore no surprise to see plenty of overlap. No complaints here though because UJ is Darrel's best album to date. Too often, rockabilly music doesn't lend itself well to live recordings, sounding thin and lacking the excitement that you get from being there - a big part seems to be that the double bass can't rip through your heart like it does live. No worries here though, the sound quality and mix is exceptional. Best of the Urban Jamboree material are Generation Rumble and Ice Cold. Highlights from the rockabilly classics would have to be the opener Please Don't Leave Me, Go 'Way Hound Dog and Alvis Wayne's Sleep Rock-A-Roll. It's pointless telling you how good he does the Cochran stuff and anyone who's seen him live will know what he does with Elvis' 70's number Way Down and Burning Love. If you don't know and haven't seen him live, grab this CD then check out his gig list and treat yourself.
Shaun Mather
June 2004

Scotty Moore and
the Grundy Pritchard Band
Aberystwyth Arts Centre
11 March 2004
You could have knocked me down with a feather when Julie phoned me to say that Scotty Moore was appearing here in Aberystwyth. Why would a piece of rock 'n' roll history come here? Well he's on his 50th Anniversary Tour and has undertaken a lengthy tour of the UK, all this after being in a life threatening condition at Christmas. Talk about a tough ol' trooper. With this being the only date in Wales the ticket sales were healthy, but a lot of empty seats were left empty on the night due to the snow blizzards that affected mid and south Wales.
Before the show it was great to catch up with Rhys Williams and his lovely wife Mel of Neath's House of Bop. We had a quick chat with Paul Ansell before the show who said that Scotty was really tired after the long eight hour drive from London. With this in mind I didn't expect much of him, but he delivered the goods in the circumstances and seemed in high spirits.
The show started with a 45 minute set from the Grundy Pritchard band, highlights being the Carl Perkins and Charlie Rich covers. Their own 24-7-365 and 200lbs Of Hard Time were also good. They are a professional unit with Pete Pritchard's double bass being particularly melodic.

Paul Ansell
Following a moving tribute from the immaculate Pritchard, Scotty came on to a standing ovation and although he walked gingerly onto the stage he looked better than I was expecting. Any fears that he wouldn't be able to play properly were soon laid to rest with his guitar well to the fore. They kicked things off with some of the Sun songs before treating us to the RCA sounds of Heartbreak Hotel and My Baby Left Me (tip-top drumming here from Jimmy Russell). I Was The One was beautiful with Paul Ansell sounding amazing.
Another treat was the inclusion of Charlie Rich's Who Will The Next Fool Be with Liam Grundy providing the vocals (I would have preferred Ansell to do the singing here as he does Charlie to a tee). It gave Scotty a chance to lay out some late night blues as did the Otis Rush cover that guitarist David Briggs sang. The last song, King Creole, was blinding, another of the night's highlights. The encore was strong with Paul Ansell sounding superb on Feel So Bad. A great night, and a real honour to have one of the true legends of popular music here in mid Wales. Thanks should also go to Scotty's companion Gail Pollack who was a pleasure to chat with during the interval and who has done a sterling job in helping Scotty get over this latest obstacle.
Shaun Mather
March 2004
BR549
Tangled In The Pines
Dualtone 80302-01149-2
After hitting the scene like a gasp of fresh air in a broken down lift, BR549 are a now well established band, this being their seventh album. Unlike a lot of other bands, they've never been able to settle into a groove and release an album every year or so. The sound has changed through each release, from the pure honky tonk strains of the initial album to the poppier sounds of This Is BR549 on which they were forced to adopt a more radio-friendly style. A change in line-up with Chris Scruggs (guitar and vocals) and Jeff Firebaugh (bass) replacing the departed Gary Bennett and Smilin' Jay McDowell has seen them return to their hillbilly best. Their new label, Dualtone seem to have let them forsake the chart attempts in favour of the purer country sounds.
The lead off track is a great mid-paced country song from the joint pens of Chuck Mead and Maverick Raul Malo which comes with some great insistent fiddle. Meads own I'm All Right has some galloping double-bass and has the bouncy sound that made their first two albums so good. Ain't Got Time is a mover and is the first of the album to showcase the bands new line-up with Scruggs playing some mean electric guitar. She's Talking To Someone is a weeper that sounds a bit like a Please Help Me I'm Falling re-write. The title track is a love song with an unusual sound that works well, and has some neat vocal harmonising from Scruggs and Mead. When I Come Home is Nashville circa 1953 and is honky tonk to the core. It's a highlight of the album with the master Don Herrons sounding like a Drifting Cowboy in a time machine. If you want more proof that these boys are the real deal, try Honky Tonkin' Lifestyle. Written by Scruggs, he also provides the tip-top vocals, and it's another of the albums many gems with more tasty work from Herron. When I saw the title I had visions of one of those corny numbers that used to spoil Joe Diffie's work, but no need to panic, this is a tasty tonker with shades of Webb Pierce.
No Train To Memphis chugs along with a Mystery Train beat and some smoking guitar and fiddle solos. Way Too Late also has the rockabilly edge and sounds like some of the mid-80's Stray Cats tracks, the guitar and Hawaiian steel playing as explosive as the band have ever sounded.
Die-hard country fans who still haven't forgiven Ray Price for going uptown will shake their head at the heavy Movin' The Country, but it works really well and those who prefer Hank Jr. to Hank Sr. will find it very rewarding. I'll bet it's a crowd pleaser at their live shows. Run A Mile sounds like it's from the O Brother soundtrack, you know the bit where they go down to the river - more good stuff. The band describe No Friend Of Mine as George Jones meets The Clash and I wouldn't argue with that, although it's perhaps my least favourite on the album.
I'm really impressed with this album, but more than that, I'm so happy that the new line-up hasn't changed the band's mission statement. They still play as if they want to take the music forward to 1955!!!! The album has great variety but always keeps firmly on the traditional side of country. The spirits of Johnny Horton, Johnny Cash, Waylon Jennings, Hank and co, are still alive and well, and with bands like BR549 around, that should remain the case for a long, long time.
Shaun Mather
March 2004
Gene Gambler & the Shufflers
A Joker and Three Aces
Royal Flush Records RFRCD001
One of the newest acts on the scene at the moment are the South Wales rockabilly quartet Gene Gambler & the Shufflers. As with most things in south Wales there's a lot of insest involved, with Gene Gambler (Dave Williams) being the brother-in-law of guitarist Rob Nedin and the lover of drummer Mark Kemlo!! Kemlo and Nedin should be familiar names to everyone as they are mainstays of the great rockabilly/hillbilly band The Rimshots with the great John Lewis. With double bass player Martin Ford, Gene & the Shufflers play a more rockin' style than the Rimshots, with Sun being the most obvious influence. Don't get confused though, this band is more than just a Hayden Thompson tribute bar band. They've worked hard at their craft and have now settled into a high energy sound that shows plenty of originbality and just as importantly, loads of enthusiasm.
Gene Gambler himself is a newcomer to performing. I knew him when he was just a DJ, who could spin his misses round the dancefloor as good as anyone I've seen. After being persuaded and tutored by Rob, he's now building a big reputation across Europe. Not only has he turned into a fine singer, he has also written a handful of cracking tracks for this their debut CD. His high vocal style gives the songs great excitement and the band are a refreshing shot in the arm for the British scene.
The fourteen tracks feature seven covers with the rest coming from varies parts of the valleys. The opener is a stop-stop rockers that kicks off like Big Fool before turning into something that Narvel Felts might have done. Moanie Minnie actually is the Sun song that Narvel Felts never did. It's amazing that Dave wrote this not Narvel. Mark's drumming with Narvel has now reached legendary proportions and he gets to play a Did You Tell Me style here. It's a first class bopper that is a great live favourite. Like A Bomb could easily have come out on the yellow label half a decade ago. Rob Nedin plays some great stuff on this and his solo is as explosive as the title. Anyone who meets Rob sees this quiet laid back cat who only seems to have the energy to light his cigars, then he goes on stage and comes to life with these sterling guitar sounds. Not to be outdone by the in-law, Rob has also contributed a couple of excellent numbers, Party Night and Heart of Black which gives a nod to Gene Vincent. My Cousin Louis is another flat out rocker that gives Nedin plenty of room to show-off. It comes from the pen of Swansea barrister Wayne Beard who previously wrote the hilarious Three Minute Warning for the Rimshots. One night in a pub in Swansea he sang me a pile of doo-wop songs he'd writte. They sounded great and would provide some much needed original numbers for the Extraordannaires.
What an inspired decision to cut Cowboy Jack Clemet's Worry. These type of country ballads are so overlooked nowadays, but the boys show here that it's time to put an end to that. Fred Prentiss' Jungle Queen is bound to be another live highlight. The vocals are fun and the band are on fire. That's gotta be Mark screaming in the background - some folks like to dress in women's clothes (they do where I live anyway!!) and some like to scream. Mark's a screamer. It says on the notes that he plays the marracas, I can vouch for that. I walked into our chalet at the Rhythm Riot once and caught him playing with his marracas- it's a wonder he ain't blind!
The high vocals make Sweet And Easy To Love and Domino perfect choices. Ben Hewitt's Quite A While is blistering, and the two Sun numbers, How COme You Do Me and Chains of Love fit the guys like a glove.
I know I'm biased but this really is a fantastic release. If you've got a couple of Jack Baymoore CD's in your cupboard and like the sound on them, then you can buy this one with confidence. The most refreshing thing in the country at the moment, and their early success couldn't go to a better bunch of guys. I look forward to the second album, a song in the Billy Fury style would sound great I reckon. The Welsh scene is looking healthy at the moment - Rimshots, Gene Gambler, Railman, Reservoir Cats, Class of '55, Crazy Cavan, even Dave Edmunds is back on the scene.. Just wait til Ryan Giggs starts a rockabilly band.
Shaun Mather
Johnny Cash
Unearthed
Box Set
Wow. This is the way to be remembered. The last couple of years have seen two of our heroes coming back to the public eye and being cool all over again. Elvis had A Little Less Conversation and Rubberneckin' taken through the mixing desk, coming out the other end as dance-floor friendly products that to my ears were inoffensive but added little to the originals. Johnny Cash on the other hand, returned to the spotlight by cutting four albums that featured no fancy mixing, just some gut wrenching performances of songs old and new, always stark and always honest. They came from his soul, and gave us precious insights into the Man in Black, the Stephen Foster of our generation. No doubt we'll be inundated with new Johnny Cash books now that he's died, but none of them can hope to portray the inside of this great man's mind better than these recordings. This is an immense box-set and whereas most releases of this kind give an overview of a singers career, this box gives you a peak at the world as seen through the wise, learned eyes of this great musical historian. Somehow, these CDs go beyond the music. They're more like a lifetime's diary.
Johnny Cash was almost washed-up as a star turn when he signed with Rick Rubin's American Recordings label in 1992. Not even the most optimistic fan could have predicted the success that he was to enjoy over the next eleven years. Rubin seemed to be from the Sam Phillips school of producing - give the singer space to let him be himself. Sessions are like auditions but without the pressure, JC didn't have to prove himself to anyone. The four albums that resulted from the collaboration were all critically acclaimed and the name Johnny Cash took on another meaning. He moved from being the guy who did A Boy Named Sue to a serious purveyor of serious songs - you don't sing about death songs lightly!
The last couple of years have been tortuous for Cash, constantly battling illness, either in the form of Parkinson's or relentless bouts of pneumonia. Then last year he had his very soul cut in two when his beloved June died following complications from heart surgery. The only way he knew to cope with it all, was to immerse himself in music. He was recording and writing like a teenager eager to make his mark. This has resulted in a proposed American V album, and plenty of unissued sides for Unearthed. Finding material for Unearthed wasn't a problem though because for each of his American albums he cut at least 50 songs for consideration. Listening to them now, you wander how some were left off the original albums, but that's subjective, one man's meat is another man's gravy as they say.
Tracks for the Unearthed box were chosen by Cash and Rubin and each of them have spoken about the individual tracks in the fabulous 100 page book. I wish more releases would do this, you get an insight into why the song was chosen, or how they recorded it. It's just gives the songs an extra dimension. For instance I now look at Flesh And Blood in a new light. JC tells that he wrote the song whilst watching June walking during a picnic by a river in Tennessee - perhaps I'm just an old sentimental fool, but those lyrics now seem to be more beautiful than before. However, you don't need a write up to hear the hurt in the pleading, "please don't take my sunshine away". Try listening to that and not getting a tear in the eye.
A review of the songs is pretty pointless - it is a near flawless collection, where highlights are plentiful. Whilst there will never be a version to beat George Jones' He Stopped Loving Her Today, have a listen to Johnny on this one. The grain on his voice is old, and he comes across as sad, not desperate. The lyrics to me aren't about desperation, just sadness and the sad tone in his voice makes this a wonderful cover.
The rocker in me loves a trio of up-tempo numbers that really pack a punch. The two with old-amigo Carl Perkins leave you ruing the fact that they didn't do a full album together at this time. They really cook on Carl's Everybody's Trying To Be My Baby and Chuck's Brown Eyed Handsome Man. The CP song is particularly brilliant with Cash singing like it's 1955 and Carl picking like the king of rockabilly. Of the session Johnny reminisced, "If you ask me what the highlights were of my past ten years with Rick, that session has got to be near the top. It really was a fantastic day." He adds that there was a "lot of laughing and joking" - well the good nature certainly shifted to the grooves and a good time is now being had by the rest of us. The third of the rockers is a glorious cover of Roy Orbison's Down The Line, with Tom Petty and the Heartbreakers excelling in the rockabilly sound. Johnny Cash was a deep man with an enormous appetite for songs. These three rockers show that his tastes ranged the full breadth of emotions from the hundreds of dark, death songs he cut to these three party tracks. Petty is also good on his duet on Merle Haggard's The Running Kind.
Jimmy Rodgers' "T" for Texas is giving a blues treatment with plenty of tasty guitar and harmonica. I'm Movin' On is taken at a gentle rockabilly pace with more Perkins like picking. It's churlish to pick favourites in a set with so many highlights, but special mention should be made to Chattanooga Sugar Babe, Pocahontas and Marty Robbins' Big Iron. Very few songs fail to hit the spot here. The duet with Glen Campbell could be better and Fiona Apple sounds horribly flat to these ears. The live version of Bird On A Wire from a Nashville TV show is really funny. After being told by the bandleader that he should be playing the opening chords in a different key, Johnny jokes to the crowd, "I was just doing it the way I wanted to".
A future plan was to do a full album from inside a church. We also get another teaser of what that might have sounded like with a haunting You'll Never Walk Alone (Danny Boy was cut at the same Los Angeles church and was previously issued on American IV). The fourth CD here is a gospel affair, with the sub-title, My Mother's Hymn Book. It's stark and moving, and is an obvious labour of love. The songs are some of his favourites taken from his mothers original hymn book and whether they be songs that were knew to me, or well known standards like If We Never Meet Again This Side Of Heaven or I'll Fly Away, they are all pure Johnny Cash. As the song says, this is where the soul of man never dies. Sam Phillips always said it about Howlin' Wolf but I never quiet knew what he meant, now I do.
The fifth CD is a Best of the American Recordings and it goes without saying that it's great. Everybody would have chosen songs that aren't included but has there ever been a compilation that wasn't like that. With hundreds more tracks still to see the light of day, a second volume on this scale would be greatly anticipated. The only thing it won't have is further comments from Johnny.
The most poignant song on the collection, Singer of Songs could stand as his epitaph. Although it plays down his genius, it sure sums up the man.

I'm not a great man, I don't claim to be
But when I meet my maker, and he questions me
I won't hang my head, I will stand proud and strong
And say I was a singer, Lord I was a singer of songs.

A cracking release and a fitting testament to the final chapter in the Johnny Cash story. God bless you Johnny, you'll be sorely missed.
Shaun Mather
February 2004.
Following the review of Unearthed, I've been contacted by Tim O'Connell who wrote the brilliant, Singer of Songs. I asked Tim if he'd had any other cuts and also how Johnny Cash got to record his song. Here's Tim's reply;
No, this is my first cut by anybody. I moved to Nashville in 1973, and I've been writing songs here for 30 years without any success until now. But I couldn't ask for a better first cut than getting that particular song on Unearthed.
I had tried every thing I could think of to get the song to Cash. One night some time in the mid-1990s, I went to see John Carter Cash play at a club called Douglas Corner here in Nashville. I went out of curiosity; I didn't know what to expect. There weren't many people there -- John Carter was performing his own original material, and it was some of the worst songwriting I'd ever heard. (He was only 25 years old at the time.) I remember he had a song with the line "I know what the blind men and kangaroo know."
But about halfway through his set, John and June came in and sat at a table about 10 feet from where my wife and I were sitting. And suddenly, the sleepy little club was transformed. Talk about somebody with a presence. It seemed like there were only about five people in the whole place when they arrived, but in about two minutes, they had a crowd of about a dozen people sitting at their table, and the whole room was buzzing with energy.
And I sat there kicking myself because I hadn't brought any tapes of my song with me.
So in the spring of 1999, I read a story in the local newspaper about the tribute concert for Cash that was being put together in New York, and John was talking about his plans for his next album, which turned out to be American III. His health was really bad at that point, and I just had the feeling that his next album might be his last, so I was determined to do whatever I could to get him to at least listen to my song.
He lives on Old Hickory Lake just outside of Nashville, and I was seriously planning to put a canoe in the lake and paddle around to his boat dock and just knock on the back door and ask him to listen to my song. But right about that time, I saw where John Carter was going to be playing at Douglas Corner again. Well, I wasn't going to miss an opportunity twice.
So that night, I went to Douglas Corner with three cassettes in my pockets. John Carter's band showed up about an hour after their set was supposed to start, and right before they started playing, he called out, "Does anybody have any harmonicas?" Well, I play harmonica, and I have a case that holds harps in every key, but I didn't have them with me. But I figured this wouldn't happen again in my lifetime, so I drove home to get my harps.
When I got back to the club, the band was just finishing its first set, and as I walked in the door, I literally bumped into John Carter coming off the stage. I asked him if he really wanted some harmonicas, and he said that Eddie wanted to play harmonica with the band.
My reply to that was, "Who's Eddie?" To which John Carter replied, "You know Eddie. Eddie Money." It turned out Eddie Money was there and wanted to sit in for a couple numbers. So I lent Eddie Money a harp and he played a couple of songs with the band, and when he came offstage he came over and asked me if he could keep my harp until the next day because the band was scheduled to do a live spot on the radio early in the morning, and he wanted to play with them again. I wasn't too crazy about the idea because a good harp costs about these days, and I wasn't sure I'd ever see my harmonica again if I lent it to Eddie Money.
So when the band came offstage after their second set, I explained the situation to John Carter. He told me that if I would trust him to do it, he would make sure I got my harp back, and we exchanged phone numbers. So Eddie Money left, and I told John Carter how much I was enjoying his band and asked if I could blow some with him on the next set. He said okay, we played an enjoyable last set (his songwriting had improved 1000 % since the last time I'd seen him), and I went home and went to bed.
The next afternoon, I called John Carter, and he told me to come out to the studio on the Cash estate (it's the little cabin pictured in the booklet that came with the Unearthed box set) to pick up my harp. When I got there, he showed me around the studio, and I told him I had a song I'd been trying to get to his dad for 20 years and asked him if he'd listen to it.
I could tell he didn't really want to, but I had done him a favor, and he couldn't really say no. So he put it in a cassette player and started listening. The demo he listened to was a very primitive guitar/vocal tape that a friend of mine had recorded for me in my living room. I had been pitching it to people in Nashville for years, and the reaction was always the same. They always said the demo was too rough; I needed to spend some money and have a "professional" demo made. I remember one fairly well-known publisher even laughing me out of his office, saying, "God, Tim, it sounds like the guy is going to die!"
But there was something about the feel of that tape that I thought was just right, especially for Cash, and that's the tape I wanted to play for him. So John Carter listened to the first two verses and gave me a little look, and I knew he could hear his father doing it, and when the song was through, he said, "Alright, you got me. I'll play it for my dad." So I called him about a week later and he said, "I played your song for my dad, and he said, 'I know this song. I love this song. I wanted to do it once before, but I lost it and didn't know where it came from." Somehow, through all of my attempts to get it to him over the years, he must have actually listened to it.
When I called John Carter about a week after that, Cash had recorded it. A couple of months later, I came down with mononucleosis, probably from either Eddie Money or John Carter Cash playing my harmonica.
Then American III came out, and my song wasn't on it, and for a while I thought the only thing I was going to get out of the whole amazing story was mononucleosis.
But, finally, Unearthed appeared, and when I saw John Carter shortly after I found out my song was on the box set, he told me that they had played "A Singer of Songs" to accompany some sort of video presentation of scenes from Cash's life at John's funeral.
And that's the story of my first cut as a songwriter - Tim.
Anyone singers out there who want a song from a songwriter that was good enough for Johnny Cash, contact Tim at
Bill Fadden & The Silvertone Flyers
Satellite Rock
Western Star WSRC 003
This Boy's Moving On / You're Gonna Have To Bawl / What'll You Do / Rocket Powered Daddy / Tracking My Baby Down / Foolish Thoughts / Shake Rock-a-Bop / I Hope You Cry / Too Bad Baby / My Search / Hot Rod V8 Rumble / Stubborn Boy / I've Got Another Love / Crazy Lovin' / I Fell In Love / Satellite Rock / House Rent Blues
This is a stunning release. If you like your rockabilly to sound like it was cut in Shitsville, Arkansas, circa 1956, then this is the one to buy. Recorded by Alan "Moonstomp" Wilson at his Western Studios and released on his fledgling Western Star Record label, it is a real peach. From the opening rhythm guitar strums of This Boys Moving On to the fade-out electric guitar on House Rent Blues, this is a rockin' romp full of hot guitar, hypnotic beats and energised vocals.
Fadden handles the vocals and rhythm guitar duties whilst the Silvertone Flyers consist of Buddy Coles on lead guitar, Katie-Jane Fielding on drums and Jack Boxwell on the double bass. Ten of the 17 tracks are self-written and they stand shoulder to shoulder with the originals with no hint that they emanate from fifty years later. The opener, This Boys Moving On sets the scene for what follows. Fadden is great on vocals and Coles plays like his life depends on it.
Rocket Powered Daddy stands alongside Jack Baymoore's A-V8 Boogie and the Rimshots Planet Bop as one of the best and most authentic songs to come out of Europe during the last few decades. Too Bad Baby is another hard driving bopper as is the hillbilly stop-starter Hot Rod V8 Rumble. Going through each track is pointless - there's not a duffer here, they all ooze class.
The covers are true to the original and are really well chosen. Narvel's Foolish Thoughts is great as is Ben Hewitt's My Search. Better still are Tommy Collins' You're Gonna Have To Bawl and Joe Tate's Satellite Rock. Jimmy Pickard's 1958 Jiffy single I've Got Another Love is given a perfect country reading.
It's rumoured that the band have since split with Bill Fadden going solo. That's sad news indeed, and I hope that both factions continue in this vein. The only good thing to come out of the situation is that there should be twice as many releases in future! Good luck to all concerned, as well as the new label, who are off to a flyer.
Shaun Mather
January 2004
The Blue J's
Red Light Girl
Raucous RAUCD132
This impressive CD marks the debut release for this West Country rockabilly quartet. Engineered and produced at the Western Studios by studio owner Alan Wilson, the sound has a full, crisp sound that gives the whole thing a professional quality not always found on modern releases.
The nucleus of Darren Taylor (vocals), Steve Hillman (guitar), Mark Tomes (double bass) and Chris Needs (drums) are ably supported by Wilson (Sharks) on rhythm guitar and lead on four tracks, as well as the great axeman Mark Harman (Restless), who treats us to his considerable fireworks on ten of the tracks. The blurb on the packaging tells us that the Blue J's play "melodic rockabilly". That intrigued me, as did the inclusion of Harman, so I thought I'd give it a go. And boy I'm glad I did. I love a bit of raw, back to basics rockabilly, but there's definitely a place for this more rounded sound as well.
The opener, a cover of the Travelling Wilbury's Rattled is a perfect example of the melodic sound, beautifully cut with some subtle backing vocals and tasty licks from Harman. Other cover's that come off well are Kenny Parchman's Love Crazy Baby which stays close to the original and two interesting and unlikely Rolling Stones numbers. Both of these, Surprise Surprise and Off The Hook lend themselves well to the rockabilly beat. It's refreshing to hear bands trying songs like this, instead of giving another reading of Mystery Train or Blue Suede Shows - they're great songs, but do we need any more versions.
Of their originals, the title track and Fools Gold are superb. Favourite song on the album though is a toss up between the moody This Girl Is Taking Bets (great guitar solo) and the stomping Burn The House Down - surely a riot in their live sets. To me the only one that didn't hit the spot was their cover of Garth Brooks' Papa Loved Mama.
A thoroughly enjoyable album that should appeal to everyone. Well done to all concerned, especially Tomes who seems to have a knack for writing some catchy ditties. His trio at the end are good examples particularly Hillbilly Fool. Great stuff.
Shaun Mather
January 2004
Rockin' Ryan & the Real Goners
Caged Heat
Golly Gee GGR1024
Various
Rockabilly Rumble
Golly Gee GGR1016
The Found Cats
Full Gospel Rockabilly
Golly Gee GGR1025
Golly Gee Records is one the States' greatest supporters of today's rockabilly music scene. These three beauties see the label hit the quarter century of CD releases - great testimony to the dedication the label.
Caged Heat is the second release for the Los Angeles quartet who play upbeat 21st Century rockabilly in a dangerous back alley 1950's underworld. It's great stuff and they are one of the most impressive bands on the scene today. Rockin' Ryan and the Real Goners consist of the fine drumming of Joe Perez, the superbly versatile Jerome Van Gasteren on lead guitar and Rockin' Ryan Sagat on rhythm guitar and vocals. He's a hot singer who's comfortable on any of the styles they undertake. As well as this he co-wrote (with Van Gasteren) all but two of the tracks on this stunning release. Helping out on the bass duties are non other than Rip Carson, whose albums for Rollin' Rock I've raved about before.
I'd never heard the band before but after ten seconds of the blistering opening rocker I was converted. Get On Or Get Off is frantic rockabilly with lashings of hot guitar, with a splash of the JB R'n'R Trio and no doubt a great number live. Hey Teen Baby is a change in sound that works really well with the addition of Brain Strickler on sax and Rip Masters on piano. The sound is fuller and the sax gives it a straight rock 'n' roll sound. Wasting Time is Johnny Cash played at the wrong speed. With its Luther Perkins guitar frills it's another highlight. When's Daddy's Getting' Paid pays homage to Gene Vincent and the Blue Caps circa 1956 and will appeal to all fans of the Screamin' End.
You Done Lied has the early/mid 50's sound when country singers were just starting to pep up their rural sound, superb stuff. Please Tease Louise is in a similar vein and is equally as impressive. We get two versions of the title track, described in the liner notes as a "garage version" and a "stroller version". I wouldn't mind taking my car to a garage that echoes to this sound!! The stroller version is obviously a bit slower in tempo but retains the same menacing beat and guitar. The CD comes to a close with a hidden track that rocks like the clappers. Fabulous stuff.
All in all, a brilliant CD that will please their fans and should help convert the unaware. Highly recommended.
Rockabilly Rumble is a transatlantic joint venture which showcases some of the rockin' acts on the Raucous and Golly Gee labels. It kicks into immediate overdrive to the wonderfully authentic strains of Bill Fadden and the Silvertone Fliers, and the title track of their excellent Raucous CD, Bop Party. The Wildkatz give us some teddy-boy bop with Pink 'n' Black Cadillac - a driver in more ways than one. The Blue Flames shine with the hot rockin' blues, Hello Baby, whilst The Slingshots give a great atmospheric performance on Steamhammer Jones. Like the Fadden opener, this could easily have been cut at Sun. Steve "Big Cleveland" Russell handles the vocals and you'd swear he was Warren Smith's brother not some young cat from Sheffield.
Union Avenue cover Ace of Spades ala Johnny Cash and the Tennessee Two while The Accelerators give a fine reading of Tennessee Ernie Ford's Blackberry Boogie. The Tennessee Trio are as rural as their name suggests on the hillbilly bopper Track Down Baby, a great advert for their Raucous album of the same name. I bought the Riverside Trio's Flat Broke album in the mid-80s and always loved their acoustic skifflebilly sound. I haven't heard it for years so the inclusion on Dopey Frutti here has given me the urge to dig out the Northwood vinyl.
The American stuff on the comp sees a couple of numbers each from Peter & the Wolves, Rebel Rockers, the Spinouts and the Long Island Hornets. Peter & the Wolves blow the house down with Rock 'n' Roll Boogie and the Elvisy, Girl Of My Dreams, both from their Trouble With Girls CD. Rock and Roll Zombie from the Rebel Rockers verges on the psychobilly side of things whilst their Red T Bird is a more customary rockabilly bopper.
Ralph Rebel is blessed with four numbers. Set 'Em Up Joe is a r'n'b jiver, and Rebel Rouser is a cover of the Duane Eddy classic. 51 Chevy is a sax-led rocker, but pick of his tracks is the stomping Rockabilly Vampire, which comes with a Stray Cats beat and some tasty guitar solos. The Spinouts have the slap bass to the fore on Mean Little Mama and the slower Red Hot And Real Gone, a perfect way to sum up this fine album.
The Found Cats are a trio from Long Island, New York play a fusion of gospel and rockabilly, a concept which is new to me. If you want to get the message, what better way to spread it than with a stomping rockabilly beat - if my village chapel played this stuff, I'd visit it more often than just for weddings and funerals. Their debut CD, Full Gospel Rockabilly marks the landmark 25th CD release for Golly Gee - what better way to do it than to give thanks to the Lord. Produced by Golly Gee artist Ralph Rebel, the album features fourteen songs written by the band, together with a spirited cover of the standard, Run On, best known to most of us via Elvis.
Highlights for me were Heavenly Teardrops which sounds like Mac Curtis' Rolling Rock days, the gentle Living In Your Grace, Carbon Canyon Road and the rocking I Beat The Devil. There's a couple of straight ahead rockabilly workouts like The Power of Prayer and John The Baptist that also lend themselves to this new genre. Well done guys - we've now got a new way to spend Sundays.
Snatch up the Rockin' Ryan one now, and get the others when you've been paid. For further details visit the Golly Gee site at
Shaun Mather

January 2004
Glen Glenn
Glen Rocks
Bear Family BCD 16671 AS

I first became aware of Glen Glenn when I was a kid and picked up the Hollywood Rock 'n' Roll album on Chiswick, which included six of his prime cuts. I was knocked out by Everybody's Movin' and immediately wanted to know more about this cat with the strange double name. As with most rockabilly fans I used to see the name Glen Glenn Sound after loads of movies and assumed that it was our man. Hollywood R'n'R and the movies, it all seemed to make sense. Now we all know better, and luckily, we have no shortage of the real Glen Glenn to listen too. That situation has just improved somewhat with this release from the king of reissue labels. The sound is, wherever possible, really bright and crisp, and the packaging is astonishing. The booklet is 68 pages long, packed with some of Glen's legendary array of photos. When I met him a couple of years ago he told me that he always knew at the time, that those moments needed to be captured for posterity. How many singers have told us that they met Elvis, but regret not having a photo taken. Well, Glen Glenn certainly doesn't need to worry about that. Apart from Elvis, there's photos of him with the likes of Johnny Cash and the Tennessee Two, Everly Brothers, Porter Wagoner, Marty Robbins, Chet Atkins - great to look at now, and no doubt great souvenirs for Glen.
That's just the booklet. The music is shit hot too!! Although he never had a sniff of a hit, Glen Glenn was a real Hollywood rockabilly, just a rung down from Eddie and Ricky. The CD focuses on his late 50's cuts plus a pair from the summer of '64. His sound was quite unique in that he had all the ingredients for a hot rockabilly band - flashing guitar, thumping slap-bass and energised vocals - but it came in an attractive, slowed down, less manic package. It was mid-paced rockabilly that has a strange hypnotic quality. Everybody's Movin' being the perfect example, chugging along but never having to increase the pace to sustain the momentum - classic stuff. Guitarist Gary Lambert's role in Glen's career can't be overlooked. His playing is out of the top drawer, ranging country style picking to hot rockabilly licks (listen to the alternate tale of Blue Jeans And A Boys Shirt).
We get both sides of all the early singles together for the first time on CD, as well as some of the more often used alternate takes of some of the numbers. I would have thought that these were well known by anyone remotely interested in the rockabilly genre - classics one and all. What a productive session he had on January 8th, 1958 in the Gold Star Studios in Hollywood. With regulars Gary Lambert, Connie "Guybo" Smith (Eddie Cochran's bass player) and Joe O'Dell (drums) being joined by future country superstar Wynn Stewart helping out on rhythm guitar, he cut One Cup Of Coffee And A Cigerette, I'm Glad My Baby#s Gone Away, Would Ya and Everybody's Movin'. If he'd never entered a studio before or since that day, he'd still be revered in rockin' circles, such is the quality of the quartet cut that day.
Not everything he cut made it to 45 though, and there's some great stuff that went un-issued for a couple of decades. Top of these are Kathleen (written for Rod's wife?), Don't You Love Me and Kitty Cat. Of the live stuff, the earliest track comes from January 1955 where Glen gives a hillbilly boogie reading of That's All Right Mama. He claims never to have heard Elvis' version at this stage and only knew the song after hearing the great Gene O'Quinn perform it on the Hometown Jamboree.
As well as the Era era we also get both sides of the Dore singles from '59 and '64. Goofin' Around has beena round, but Suzie Green From Abilene gets it's first release since the original single came out. The last session was cut in the summer of 1964 and sees Glen sounding like Buck Owens on I Didn't Have The Sense To Go, as well as I'll Never Stop Loving You, an of the period country ballad, which is okay but no great shakes.
A brilliant release, a real contender for CD of the year. Congratulations to Bear Family and Deke Dickerson, but more importantly to Glen and Gary. Everybody's Movin' - they are in my street, coz the music's too loud.
Shaun Mather

Heralding The Hits
Remembering Roots of Soul
RPM - Shout RPMSH248

CD 1
Faye Adams - I'll Be True / Charlie & Ray - I Love You Madly / Faye Adams - Your Love Has My Heart Burning / Nutmegs - Story Untold / Turbans - When You Dance / Tommy Ridgley - When I Meet My Girl / Big Bob Kornegay - Stay With Me / Mello Kings - Chapel On The Hill / Tommy Ridgeley - Just A Memory / Turbans - Congratulations / Tommy Ridgley - Come Back Baby / David Clowney - Movin & Groovin / Five Satins - To The Aisle / Billy Myles - The Joker / Billy Myles - Honey Bee / Lee Allen - Walking With Mr Lee / Five Satins - Love With No Love In Return / Silhouettes - Get A Job / Silhouettes - I Am Lonely / Lee Allen - Tic Toc / Nutmegs - My Sweet Dreams / Big Bob Kornegay - Man In Phone Booth / Ernie K - Doe - My Love For You / Maurice Williams & Zodiacs - Stay / Maurice Williams & Zodiacs - I Remember / Little 'Butchie' Sanders - Lindy Lou / Dean and Jean - We're Gonna Get Married
CD 2
Embers - Paradise Hill / Thrillers - Please Talk To Me / Five Willows - Baby Come A Little Closer / Heralds - Eternal Love / Sunbeams - Come Back Baby / Turbans - Sister Sookey / Cashmeres - Little Dream Girl / Nutmegs - Key To The Kingdom / Desires - Cold Lonely Heart / Smoothtones - Dear Diary / Concords - I'm Satisfied with Rock'n'Roll / Starlites - Tears are Just for Fools / Five Satins - Our Anniversary / Silhouettes - Miss Thing / Loungers - Wedding Bells / Wonders - I'll Write A Book / Five Satins - I'll Be Seeing You / Fabulons - Give Me Back My Ring / Maurice Williams & Zodiacs - Come Along / Edsels - These Precious Words / Vocalaires - Dance Dance / Premiers - Diary of Our Love / Paramounts - In A Dream / Bobtones - Running After You

This tasty little double CD looks at the Herald and Ember labels. Subtitled "Focusing On The Roots of Soul", it focuses on the vocal group recordings between 1953 and 1963, showcasing the labels R&B and pop hits as well as masses of other less successul, but no less-worthy, top-notch doo-wop.

The Herald label was formed in New Jersey in 1950 by Fred Mendelsohn who'd been working for fellow N.J. label, Savoy Records and went on to work for Syd Nathan at King Records. The initial releases were in a blues vein (inc. Little Walter, Eddie Boyd) and failed to register anything like big sales. Mendelsohn approached Al Silver who worked at the labels pressing plant and persuaded him to become his partner. Before long, Silver had sole ownership of the label and began to change the labels output to R&B and vocal groups.

His first signing was Faye Adams who immediately had a million seller with her interpretation of the gospel number, Shake A Hand. Her entries on this compilation are the powerful I'll Be True and Your Love (Has My Heart Burnin') - she's got a great voice and is sadly overlooked today.

Connecticut sextet the Nutmegs show their class with three tracks, their 1955 biggie Story Untold, the following years ballad, Key To The Kingdom and their last single for Herald, the beautiful My Sweet Dream from 1959. Also given three tracks are the Turbans, another band who scored bigtime in '55, with When You Dance. Sister Spooky used a similarly exotic beat whilst Congratulations from '57 is primetime doo-wop with all the genres best characteristics - mindless shoo-bops, wails and a gorgeous lead. Other high profile groups on show here include Maurice Williams & the Zodiacs, Silhouettes (Miss Thing is great) and the Five Satins (I'll Be Seeing You is stunning), who all get three songs for us to wallow in - good stuff. The Mello Kings of Tonite Tonite fame are superb on the slowie, Chapel On The Hill.

Not everyone who cut for the label was able to crack the charts though - there're plenty of one-shot efforts here, with several mid'50s numbers having real merit. The Five Willows are tight as a sparrow's snatch on the catchy Baby Come A Little Closer. The Heralds sound like a doo-wop parody on the delightful Eternal Love, with the added attraction of piano and sax. The Sunbeams are bright and enlighten us with the terrific bouncy Come Back Baby. The Cashmeres are beautiful on Little Dream Girl as are the girl-group, the Desires, both from 1956. Same vintage is Dear Diary, pure street corner magic from the Smoothtones.

Tommy Ridgley was already a seasoned performer when he was signed by Silver. The New Orleans native had recorded for Imperial, King and Atlantic before joining Herald. His three numbers here are firmly in the New Orleans rhythm and blues style. Also from the Big Easy, we get a couple of 1958 outings from sax-man Lee Allen, the immortal Walking With Mr Lee and the strolling Tic Toc with it's great bass-line.

After a couple of years in a slump vocal group harmonies were all the rage at the end of the decade and in the early '60s. Herald/Ember were still in the market and continued to record in the genre. The Wonders, the Fabulons, The Vocalaires and the Premiers all had the songs and voices to have scored big hits, but obviously lacked that little bit of luck.

Quite why The Lougers' Wedding Bells went unissued until now is a mystery. It's has touches of Mister Sandman but is a million times better. The Bobtones were also a bit unfortunate to see Running After You remain unheard.

I know this peach has been out for a year but I've only just come across it - dig it out, it's a well packaged product, thoughtfully put together by Clive Richardson and sells for around Ј12. And for 50 tracks of great doo-wop with some straight r'n'b thrown in, it's great value for money.

Shaun Mather
November 2003

Brian Setzer
Nitro Burnin' Funny Daddy

A couple of years after the brilliant Brian Setzer's 68 Comeback Special album, Ignite, he returns to the trio format for Nitro Burnin' Funny Daddy. After a couple of listens I'm not convinced it's as good as Ignition, in fact I'm sure it isn't. It doesn't have the outstanding tracks, some just rely on his guitar - not that that's a problem, his playing get's more explosive each time.

The addition of a bit of doo-wop is a real bonus. I always thought he should have cut more ballads with the Stray Cats, with both Lonely Summer Nights and I Won't Stand in Your Way being highlights of the Cats back catalogue. The street corner harmonies of That Someone Just Ain't You show his New York tenement roots and comes complete with a gorgeous guitar break. To Be Loved is a lovely bit of accapella - doo-wop for the die-hards. Although not strictly doo-wop, St Jude is a pleasant ballad with a message in these troubled times - the sort of thing he was writing during his Knife Feels Like Justice period.

No one can touch the man when he storms through a solid rocker like Don't Trust A Woman (In A Black Cadillac) and Ring, Ring, Ring which kicks off like Runaway Boys. There's a Tear it Up-like intro to Smokin' 'n' Burnin' which turns into a Setzer rumble at his menacing best.

I wasn't struck by the instrumental Rat Pack Boogie and both Sixty Years and Drink Whiskey And Shut Up sound like they were written in a rush, and are nothing more than album fillers.

There's some great country moments, particularly the stomping When The Bells Don't Chime, which gives our man to show off his considerable banjo skills. I know Wild Wind better as Wild Goose by Hank Thompson - Brian's is a neat cover.

So all in all, goodish, but a bit disappointing after Ignition. I didn't find the variety of styles was the problem, I think the lack of quality songs was.

Shaun Mather
October 2003

Lee Rocker
Bulletproof

As with the last album, the thing that hits you as soon as Bulletproof kicks off is the quality of the bass playing. Right up there in the mix, it's perfect rockabilly slapping. There's nothing in life quiet like the sound of the double bass live, it thuds away and can make a three-piece cat band sound like a full-blown orchestra. This rarely comes over on studio cuts, but it certainly does here. Not that this album is a one-horse trick - the duel guitars of Brophy Dale and Tara Novick add a strong support which gives the disc a fat sound, whilst retaining the rawness that rockabilly sometimes requires. Another thing to note is Rocker's voice, it seems to get more accomplished outing - a few years ago he sounded like a bass player who was chancing his arm as a singer, nowadays he sounds like a bona-fide front man.

Rocker is becoming a consistent song writer, writing or co-writing all but a handful of the tracks on offer. Rocking highlights include the opener, Evil and the storming title track. Listen to this for some great bass work, as well as some blistering guitar solos. The guitar is on fire throughout, witness Upright and Underground and Nothing Lasts Forever for further examples.

Top of the covers is Johnny Cash's interpretation of the standard, Johnny, Frankie's Man but slightly less appealing to these ears is Buddy Holly's Midnight Shift. On the last album Lee Rocker was brilliant on his Carl Perkins covers, he is equally as successful this time with the little heard One More Shot which sounds like something from the Class of '55 session. With Dale helping on vocals, it's a modern day rockabilly with a healthy splash of '50s Memphis. "Shit hot" as they on Union Avenue. Lennon and McCartney's I'll Cry Instead sounds like never before, Mega Mac should have cut it like this when he returned to his roots (ha!) - he couldn't dream of being this good.

With the Stray Cats set to reform next year, it's exciting times indeed. I wonder whether Lee Rocker will be a more forceful member of the trio this time around - he should be. His solo albums are the equal of Setzer's trio work, and his songwriting gives a nod towards rock's heyday, but has a freshness of it's own. He's good and he keeps getting better. Even his quiff is getting better.

Shaun Mather
October 2003-10-24


ROCK BABY ROCK IT!
Record Hop Rock 'n' Roll
Castle Pulse - PBX CD 355

CD 1
Rock Baby, Rock It - Johnny Carroll; Date Bait - Bill Skidmore III; Skinny Jim - Eddie Cochran; Lovin' Lorene - Glenn Garrison & The Note Kings; Mean Little Mama - Roy Orbison; Come On - Wynn Stewart; Go Little Go Cat - The Four Teens; You Better Dig It - Bill Johnson; The Hucklebuck - Earl Hooker; Sugar Babe - Buster Brown; No.9 Train - Tarheel Slim; Let's Coast Awhile - Bo Davis; Rock-ola Ruby - Sonny West; Stack-a-Records - Tom Tall; Ballin' Keen - Bobby & Terry Caraway; What a Beat - unknown artist (prob.) - Marlon Grisham; Kansas City March - Wild Jimmy Spruill; Let Me Miss You - Earl Wade

CD 2
Three Months To Kill - Huelyn Duvall; I've Been Twistin' - Jerry Lee Lewis; Hide and Go Seek - The Four Dots; Oh Little Girl - Dee Clark; Buzz Saw - The Gee Cees; Jelly Bean - Eddie Cochran; Doing the Hully Gully - Jewel Aikens & Eddie Daniels; Judy - Rudy Grayzell; Sock Hop - The Gorman Sisters; Spot Light - Frank & Ernie; I Wanna Know - Eddie Daniels; The King - Greg Madden; Story Tellin' Baby - The Jodimars; Little Lump of Sugar - Scotty McKay; Tokyo Stomp - Chuck Fayne; Night and Day USA - Charlie Gracie; Slow Dance - Karol Kelly; Shout Shout (Knock Yourself Out) - Ernie Maresca

CD 3
Senior Class (They're All In The) - Mickey Lee Lane; I Dig Rock'n'roll - Earl Wade; Spark Plug - Four Teens; Wiggle Wobble - Les Cooper; I Done Told You - Gene Simmons; Miss Froggie - Warren Smith; Shake Around - Ray Smith; Uncle Jonah's Place - Harold Dorman; Wee Bit More of Your Lovin' - Jewel Akens; Just A Little Bit - Rosco Gordon; The Twist - Hank Ballard & The Midnighters; Run, Chicken, Run - Link Wray & The Raymen; Shiverin' and Shakin' - Dean Beard; Itty Bitty Betty - Darry Weaver; Life Begins at Four o'clock - Bobby Milano; Quick Like - Elroy Peace; Bumble Twist - Phil Baugh; One Minute To One - Eddie Cochran

Wow! Is this the greatest value for money compilation since the emergence of the CD era. This CD box set features 54 bopping delights and sells for just Ј7.99. That's' 10 bucks. You'd think there'd be a catch, but there isn't. No re-recordings, superb sound quality and certainly no duff selections. There's the usual highly entertaining sleeve notes from the "becoming-legendary" Stuart Colman which includes some vintage advertisements and the original 45 release details. A package like this makes a track by track review impossible - how many superlatives are there? The bevy of beauties comes from a fine selection of labels like Sun, Crest, Fire, Swan, Challenge and Joy.

Flat out rockabilly comes in the shape of Stack-A-Records, Come On, Ballin' Keen, Rock-Ola Baby.. ah, you get the drift. Eddie Cochran makes a number of appearances with three of his own, Skinny Jim, Jelly Bean and One Minute To One as well as a guest spot slinging the Gretsch for Bo Davis.

There's plenty from the coloured end of the scale with obvious highlights being Tarheel Slim's fabulous No. 9 Train and Wild Jimmy Spruill's stomping Kansas City March. Try listening to this without strolling around the living room. Buster Brown's Sugar Babe is up there with his Fanny Brown and even saw him scrape into the Hot 100 in 1962. There's a couple of visits to the Little Richard school of rock with Earl Wade winning the sound-a-like contest. Bill Johnson and Dee Clark came close but the vote was decided by all the women going "wooooohh" ... (you'll have to excuse me - I've been to too many crappy 90's shows by the Georgia Peach). Both sides of Wade's Swan 4008 release are here and fine they are too - baby that is rock 'n' roll.

As with any such compilations, the Memphis boys stand out. This time the plaudits go to the likes of Sun stars Roy Orbison, Ray Smith, Warren Smith and Gene Simmons. Whereas most compilations would choose Great Balls of Fire for their Jerry Lee track, it was nice to hear something less obvious and equally as great. The Killer gets the Twist to meet Feelin' Good to superb effect on I've Been Twistin'.

There's a few that I didn't really know before and fine additions to the collection they are. I don't suppose I could stand an album full of The Gorman Sisters, but their Sock Hop is a neat mover. Frank & Ernie's song Spot Light was something they managed to avoid, but it's an enjoyable Boyd Bennett type number. Ebb 133 sees Eddie Daniels come over all Elvis Presley like on the sublime mover I Wanna Know. You'd be forgiven for thinking that Greg Madden's The King was also a nod in the Hillbilly Cat's direction, but in fact owes more to Dion.

The deadly combination of Colman and Sam Szczepanski has come up with another winner, showing that it doesn't have to be cheap and nasty if you pay the right attention to detail. Talking of the sleeve-notes, I love the way Stuart Colman sums up a rock 'n' roll record - "As a rule, the rapid pace allowed for a round of choruses, plus a pair of gangbusting guitar and tenor breaks to be squeezed into two minutes flat, thereby giving record buyers maximum bang for their buck". I look forward to the next instalment.

Shaun Mather
September 2003


Darrel Higham and the Enforcers
Urban Jamboree
Foot Tapping Records - FT007

Two things that stand out straight away with this latest release from the Great While Hope is that this is the beefiest, clearest sounding CD that Darrel Higham has recorded (save his Eddie Cochran Rockstar CD from a few years ago) and secondly, what a great title.

The disc kicks off with a Johnny Burnette in the new Millenium rocker complete with some sterling guitar in the style of JB's Coral recordings. Immediately it's obvious that this recording is more in your face than some of his other albums. The balance is spot on and serves as a great advert for the Sweet Georgia Brown studios in London. I've always loved Restless' Ice Cold and the version here is equally as pleasing. Darrel takes a couple of superb extended solos - imagine him and Mark Harman trading licks on stage!

There's a couple of later day Elvis covers that are given the full Enforcers treatment, a driving Burning Love that's been a part of the live act for a couple of years, and Clean Up Your Own Backyard. There's some lovely acoustic work on Backyard, and it's a well thought-out cover. There's also a nod to a couple of rockabilly heores - both Johnny Carroll's Crazy Crazy Lovin' and Gene Vincent's She She Little Sheila rocking like crazy. From the cellar end of the rockabilly mansion we get covers of Delbert Barker's 1956 King release, No Good Robin Hood and Larry Dowd's Blue Swinging Mama. Both versions are brilliant with the unrelenting Blue Swinging Mama being particularly special.

When you play guitar this guy you have to do a few instrumentals, treats in the past included tributes to Cliff Gallup and his hero Eddie Cochran. This time we get a stroming version of the Ventures' Walk Don't Run. The guitar work being matched by some great work from long-time sidekick Mick Wigfall on bass and Rob Tyler on drums. Wigfall's bass playing pounds away on stage, it's great to hear it get full justice on record.

Nick Lowe's Soulful Wind is an unlikely number that works fine whilst the cover of his Rockpile compadre Dave Edmunds' Generation Rumble is even better. I've loved it since I bought DE7th years ago, and was pleased to see Darrel give it the chugging stroller treatment that should make it a dance floor pleaser across the scene.

The best thing on the album is perhaps the best thing he's ever done. His cover of Elvis' GI Blues track, Pocketful of Rainbows has to be heard to be believed. His voice has never been more perfectly suited to a song, and his picking is delicate and beautiful. When me and the wife were coming home from Hemsby the other week, she played it eight times in a row. Honestly! I've never heard her talk about guitar playing before, but she was smitten. If you're after take-off guitar that launches a track into orbit, look elsewhere on the album. What you have here is touch, sheer class. Compliments go to Tyler as well whose drumming is subtle and maintains just the right mood. Julie reckons this is in her top 3 songs of all time. It's a cracker.

So there you have it. Darrel and the Enforcers are closing in on perfection. Watch out Robbie, there's a better cat on the prowl, all he needs a record label to take their head out of their ass and take a chance. It's about time we saw three quiffs on MTV again!!

Shaun Mather
June 2003


Jack Baymoore & the Bandits
Diggin' Out!
Tail Records - TRCD120

1. Move On (K. Vikmo)
2. Pink Dress (and a diamond belt) (K. Vikmo)
3. Partycrashers Bop (K. Vikmo)
4. To Fall In Love (K. Vikmo)
5. Poor Heart (K. Vikmo)
6. I Wanta Make Love (L. Dobson) 7. Bandit Ball (J. Juvonen)
8. I'll Miss You (K. Vikmo)
9. Shake Around (T. Blake-J.Ross)
10. Bankrobbin' R&R (K. Vikmo)
11. I Wish You Were Here (K. Vikmo)
12. True Blue (F. Miller)
13. Rock'n'Roll Mister Moon (J Poynter-J. Dyson)
14. Mr Love (K. Vikmo)

I raved about the bands last album Big Boys Rock a couple of years ago and now I'm salivating at the mouth over their latest release, Diggin' Out. It's their best to-date and is one of the most rounded rockabilly albums of the last couple of decades. It's got their usual high voltage rockers, a scorching instrumental, a Johnny Casher and best of all, a couple of delves into the Elvis RCA rock'n'roll sound.

The two Elvisy numbers feature additional backing vocalists, the Besk Quartet who sound a lot like the Jordanaires, and Boppin' Steve on piano. Too Fall In Love has a Don't Be Cruel/Baby I Don't Care feel, and is the sort of commercial rocker that bands sadly overlook these days. It's a classic and sounded great at the Hemsby record hop earlier in the month. I Wish You Were Here is a sentimental ballad, again in the 1956-57 mould. These two were cut in September 2001, 18 months before the rest of the album. It's an exciting addition to their sound, and one I hope they continue to persevere with in future.

Other highlights on the album are many, in fact the whole album is a highlight. The only song that didn't work hundred percent for me was the cover of Shake Around and then only because it lacks the fireworks of some of the other stuff. It's good, but the rest is better. Move On is a mid paced rocker with echoes of Paul Burlison on the solos, whilst Pink Dress (And A Diamond Ring) sounds like a Jerry Lee Sun rocker. Baymoore takes a breathless vocal approach and Boppin' Steve returns for some piano pounding.

A trio of equally good numbers that have the trademark Bandits sound are Partycrashers Bop, the brilliant instrumental Bandit Ball and the frantic Bankrobbin' R&R, which rocks like the clappers in a Fireball Roberts way. Antti Pihkanen takes centre stage for a rip-roaring guitar solo. He shares the lead guitar duties with the great JJ Juvonen, who also adds some tasty steel guitar work - listen to them gel on I Wanna Make Love.

I'll Miss You walks the Johnny Cash line with Tennessee Two backing, a stark tribute to his '50s Sun sound, as authentic as you'll ever hear. Written by JB it's another great moment. It's another example of Jack's versatile voice, which seems to improve in range with each release.

So if you dug the first two platters, you'll no doubt grab this one anyway. If you haven't heard the previous efforts, do yourself a favour and get this now. This is a classic and enhances their position as one of the genre's premier bands.

Shaun Mather
May 2003


Show: Darrel Higham and the
Enforcers plus Paul Ansell
Route 66 Club
Caldicot, South Wales

This was my first visit to the Route 66 Rock 'n' Roll Club in Caldicot and a lovely little set up it is. It's got a nice friendly atmosphere, plenty of room for dancers and ample seating . There was a healthy turn out for Friday's gig, featuring two of the UK's top acts. I wrote in my review for Bill Beards' Cochran Connection that the stars of last October's Eddie Cochran tribute at Chippenham were Darrel Higham and the Enforcers and Paul Ansell. If the Chippenham event had been a sort of "I'm An Entertainer - Get Me Out Of Here", these two would have been the acts to stay on for the final. Well, this was the final I wanted. The result - a draw, they're both class.

Darrel and the Enforcers kicked things off with their usual high quality mix of covers and originals. There were a lot of numbers from their brand new CD (review to follow in a couple of days). Mick Wigfall and Rob Tyler lay down a rock solid foundation for Darrel to stomp away with great vocals and some unbelievable guitar. I always new he could burn off blistering solos, but tonight he impressed with more subtlety than I'd appreciated before. This was never more evident than on his cover of Elvis' Pocketful Of Rainbows. It was a real highlight of the set - an unlikely but inspired choice. Another couple of Elvis covers that have been a part of his act for a while now and really rock in a rockabilly setting are Burning Love and Way Down. You'd swear the record hop had started again when he did Eddie's Completely Sweet, it's a note perfect version, as was Don't Blame It On Me. Another couple of covers that hit the spot are Ice Cold and Generation Rumble, modern rockabilly at it's best.

After a short break, the boys were back on stage to support the beautiful voice of Paul Ansell. When I spoke to him before the show he was a bit apprehensive, worried that he hadn't rehearsed with the band. What a waste of energy that was for him. They gelled straight away and after kicking off with both sides of Sun 209 he started taking requests.

This was a brave move, but worked a treat. It showed the immense talent that the four guys have, unfazed by any request. Darrel's picking was fantastic, so delicate on the slowies, and taking Scotty's solos a step further on the rockers. Highlights would probably be the less obvious numbers like His Latest Flame, One Sided Love Affair or the sublime version of Shoppin' Around.

Julie wanted me to request Fame or Fortune and Suspicion, but thinking it was a bit cheeky to ask for two, I plumped for Suspicion. The singing was so good I even asked her to dance. Things were going so well at this stage that me, Phil and my mate Jeff were convinced Paul Ansell could do anything. So we started writing down stupid requests like the Jaycees Speech and even the US Army Induction.

It was a great night and I look forward to many more at this club. There's also a new club starting in Neath with Darrel and the Enforcers due to appear in August. More details to follow soon. I've been to a few gigs over the last couple of years where the turn out has been poor. Let's start supporting the bands/clubs when they venture over the border, and give them a real welcome in the hillside.

Shaun Mather
May 2003


Oscar McLollie and his Honey Drippers
Hey! Lollie Lollie
Ace - CDCHM 879

ROLL HOT ROD ROLL TAKE YOUR SHOES OFF POP ALL THAT OIL IN TEXAS THE HONEY JUMP Pt 1 DIG THAT CRAZY SANTA CLAUS LOVE ME TONIGHT HEY LOLLY LOLLY WHAT YOU CALL 'EM JOE THE HONEY JUMP Pt 2 MAMA DON'T LIKE IT ETERNAL LOVE HOT BANANA LOLLY POP PRETTY GIRL WIGGLE TOE HOT BANANA MAMA DON'T LIKE IT ROLL, HOT ROD, ROLL

A few years ago, Ace Records ran a Fabulous series for the likes of Dion and Larry Williams, which featured just 12 tracks, sold for around a fiver and seemed to serve as taster for the genral public who'd be less inclined to pay full price for a 24-tracker. They've now started what they are calling their 10" series, which sells for under Ј8 and features a healthy 18 tracks. These are much more enticing for the real fans, and looks like Ace are on to a winner.

First in the series is Oscar McLollie. Ace have compiled his rocking Modern sides from '53 to '55, choosing to omit the ballads which have already appeared on some of their Modern Vocal Groups CD's. Coming from 5 or 6 sessions in Hollywood and Culver City, the sound quality is sparkling and does full justice to the tasty music on offer.

In his entertaining sleeve notes Billy Vera describes the importance of McLollie as one of the links between the jump blues of Louis Jordan and Roy Milton and the rock 'n' roll of Chuck Berry and Bo Diddley. Interestingly, this collection shows examples of the two styles, together with driving r'n'b from the years in between.

An integral part of McLollie's career was Leon Rene who served as his manager, producer and primary songwriter. Their first collaboration, The Honey Jump, started life on Rene's Exclusive label, but was soon leased to Mercury as it began to build momentum. A lot of Rene's songs here are co-writes with his esteemed brother Googie. The highlights of these are The Honey Jump and Pretty Girl.

The compilation starts and ends with the oft issued Winfield Scott rocker, Roll Hot Rod Roll. The alternate take that closes out the set features a blistering guitar solo that takes the song into orbit. It's the most rock 'n roll track on the album, the rest being great jumping r'n'b. The dancers will love the whole lot, even I was tempted to cut a rug during Take Your Shoes Off Pop and Love Me Tonight.

It's a great start to the new series and bodes well for further releases, the next of wish is slated to be a mouth watering Hadda Brooks compilation. As Ace say on their publicity, "Don't be a penny pincher, grab this big ten-incher".

Shaun Mather
March 2003.


Roman Self
"A Tribute to Ronnie Self"
Rockabilly Hall of Fame - RABHOF CD114
I've never reviewed any of the CD's put out on the Rockabilly Hall of Fame label before, because I always thought it would smack of nepotism. I never thought that would change when this one dropped through the mailbox, but once it was blasting through the speakers, I thought, bollocks, I'm gonna write about this one whatever people think. The albums inspirator, Ronnie Self, was a wildman act who rocked the country caravans whilst the others around him sang of cattle calls and railroad trains. He had a voice that could strip the paint of those trains and could call the cattle from another state. To cover his songs you run the risk of ripping your vocal chords to shreads or sounding too tame. Roman Self is to be congratulated for being able to carry off the job, he's got strong and melodic vocals, and coupled with a rocking band and crystal clear sound, the album is a belter.

Listening to the CD has given me a new, darker view on our beloved curator Bob Timmers. He always seems such a gentleman, the caring and thoughtful type, but here his guitar is all growly and macho. You can't play grumbly guitar like this without a few skeletons in yer closet. Check out his work throughout the opener, Ain't I Dandy and his solo on Ain't I'm A Dog.

The CD kicks off in superb style with my favourite of the bunch, Ain't I Dandy, a bluesy number where the young Self shows a handy set of lungs, and the older Timmers keeps a great groove going. Bop-A-Lena is one of the albums few songs not to be written by Ronnie Self, although it's the rocker most associated with him. Written by the unlikely bop-team of Mel Tillis and Webb Pierce, Roman keeps close to the original and manages to capture the same sort of excitement as his daddy and the Nashville A-Team did 45 years before.

There's plenty of other rockers that really hit the spot, Big Fool, Big Blon' Baby and Pretty Bad Blues are great and Big Town runs the opener for song of the album. Bob shows his Gene Vincent roots with his guitar work in the storming Flame of Love. Listening to these you have to ask why it never happened for Ronnie Self.

Bless My Broken Heart was a 1963 Kapp single for Ronnie, and Roman and the band give up a version that sounds like the Crickets during their Gordon Payne days. Very nice too. It's fun to listen to Roman tackle Sweet Nothins, the Brenda Lee hit which Ronnie wrote.

The album closes with a bang, the semi-psychobilly stomper, You The Mama Of My Song, surely a breathless way to close a live show. On the subject of which, the UK's premier writer, nowadays based in Tennessee, Stuart Colman reckons that Roman should head in the direction of the rockabilly festival circuit in the UK. I totally agree, surely he would be received with the same enthusiasm as someone like Rocky Burnette.

The album is getting rave reviews, and justifiably so. I look forward to him returning to the studio and cutting some original stuff as well as some more of his daddies classics which didn't make it this time around. I Ain't Goin' Nowhere, You're So Right For Me, Date Bait, Petrified and This Must Be The Place make volume 2 a must.

Congratulations to all involved, Roman's daddy would be proud.

Shaun Mather
February 2003.


Elvis is Back for a
Special 68 Comeback
This month could see the 68 Comeback to end all comebacks. Elvis would have been 68 on the 6th of January and may well choose it to make another appearance, by either rising from the dead or just appearing somewhere after never actually dying in 1977. After all, his 1968 Comeback Special was a massive success and so why shouldn't 68 be lucky again.

It would be a PR move that even BMG couldn't beat. They've done some amazing things in 2002 to get Elvis' profile back to the top. They've laid the foundation for this comeback, with A Little Less Conversation going to number one worldwide, followed by a smash album with 30 #1's and his music and image being used in the Disney film, Lilo and Stitch. But this comeback would be something too special even for them.

Anyone who feels that Elvis faked his death is kidding themselves really. He was too messed up in the late 70's to suddenly get better. Also, his father Vernon looked too genuienly upset and there was nothing in Vernon's cameo role in Loving You to suggest that he was a good enough actor to be faking it.

So what about the comeback then, where will it be.

Elvis loved American Football and supported the Cleveland Browns. There was a good chance they could be playing the Tennessee Titans in Nashville in the play-offs. What a scene for Elvis to come out and sing Star Spangled Banner, before treating the 70,000 stunned fans to Amazing Grace. John Madden would be looking through the list of injured reserves to see where he came from! He could Aloha Again From Hawai, it was a favourite haunt (excuse the pun!) of his and it's idylic location could be just what the Doctor Nick ordered. Another choice could be Las Vegas, bright light city. He could play there this time and keep the gate receipts - no need for 50% to go against the Colonel's gambling debts. The Colonel cashed his chips in a couple of years ago, but in the city of Elvis impersonators, the casino owners would be breaking the bank to have the King back on their stages.

Other options could be his birthplace, Tupelo, Mississippi - the town is very proud of it's greatest son and would surely be accommodating, should he want to be reborn there.

Memphis has to be the place where it happens though. It was home from the age of thirteen and the place where he kicked off his music career. Memphis still loves Elvis, and through his first life, until the time of his first death, Elvis loved Memphis. He could appear at the Overton Shell which is making something of a comeback itself - perhaps Slim Whitman will appear and they could relive the legendary 1954 show. If he really wanted to gig in town, I'd like to see him hook up with Scotty at the Eagles Nest or better still, join Jerry Lee for a show-stopper at Bad Bob's, just down the road from Graceland, where, after the show, he could ram through the gates with the Killer at his side. Jerry Lee could just look over to him and say, "been there, done that!".

What I really think will happen is Elvis will stroll down from the mansion to the Music gates and meet and greet the fans as if he's never been away. The he'd jump into his mamma's pink Cadillac and with school-sweetheart Dixie Locke by his side would drive downtown to board the Memphis Belle. They're both loved by the city and they both ruled the airwaves in their prime. Now the Belle would fly the King to the Burbank Studios in California were Elvis would do a live 68 Comeback Extra Special. Before the show, Elvis would get a spiritual visit from the Colonel who would suggest that Elvis sing a rollocking medley of frantic rockabillies like Mystery Train, Trying To Get To You and Blue Moon Of Kentucky. Elvis would snub the Colonel, opting instead to play some of his favourite christmas carols - Silent Night could be just the song to restart his new career!

If, and this is a big if, Elvis doesn't make this comeback, we'll just have to buy the next Follow that Dream release. Bugger.

Shaun Mather
January 2003.

Johnny Cash
American IV - The Man Comes Around
American 440 063 339-2
I've loved all his other albums for Rick Rubin's label and as with everyone, have been pleased and even amazed by his rejuvenation and better still, his reinvention. He's taken himself to another level and whilst his country music contemporaries have struggled to retain their fan base, Johnny Cash has managed to expand his to include a new young army of rock orientated followers. Sadly though, I think this album is one too many. The format that worked so well for the first three American albums, seems to have worn thin, mainly I think through the poor choice of material this time.

This album does have some strong selections, very strong in cases, but there's a lot here that just doesn't cut the mustard. And while Rubin was rightfully praised for giving Cash a new sparce sound, this time some of the songs were dying out for some urgency, Dave Roe slapping an upright bass, W.S. Fluke Holland laying down a train beat and Bob Whootton playing in his Luther boots. Dig out the Sun albums is the answer, I suppose.

I've never heard Johnny sound as bad as he does on things like Depeche Mode's "Personal Jesus," or as uninspired as on his duet with Nick Cave for Hank's "I'm So Lonesome I Could Cry". One of the magical things about the third album, Solitary Man was when he took any song, and sang it with his world weary vocals, he gave it new life and made you forget the original. That doesn't happen here and even gets boring in parts, witness things like "In My Life", "First Time Ever I Saw Your Face" or "Danny Boy". All I can say about "We'll Meet Again" is that it's nice to see him working with Cowboy Jack Clement again - it may be a touching personal message to June, but couldn't he have just put a demo inside a card?

To me, the three songs that really are strong are his great take on Sting's remorseful western ballad, "I Hung My Head", the revisit to "Sam Hall" and his own "Tear Stained Letter".

I really hope this isn't Johnny Cash's final curtain, his long career deserves a better ending. Hopefully he'll do what he's done all his life and reinvent himself and hit us with another cracker. Johnny, give Fluke, Bob and Dave a ring, and get in a studio and cut some boom, chicka boom.

Shaun Mather
November 2002.

King Hillbilly Bop 'n' Boogie
Various Artists
Ace - CDCHD 854
1. Grandpa Jones - It's Raining Here This Morning
2. The Delmore Brothers - Beale Street Boogie
3. Bill Carlisle - Rockin' Chair Money
4. Fairley Holden - Papa's Getting Old
5. Jimmie Widener - What A Line
6. Luke Wills' Rhythm Busters - Four Or Five Times
7. Mel Cox & the Flying Ranch Boys - She's A Backwoods Woman
8. Cowboy Copas - Three Strikes And You're Out
9. Redd Stewart - Brother Drop Dead (Boogie)
10. Tommy Scott - Rockin' And Rollin'
11. Grandpa Jones - You'll Make Our Shack A Mansion
12. Clyde Moody - Tend To Your Business
13. Brewster Avenue Rhythm Boys featuring Zeke Turner - Stop And Go Boogie (Rag Man Boogie Inst.)
14. Shorty Long - Goodnight Cincinnati, Good Morning Tennessee
15. Moon Mullican - Grandpa Stole My Baby
16. Ann Jones - Hi-Ballin' Daddy
17. Luke McDaniel - Money Bag Woman
18. Jack Cardwell - Day Done Broke Too Soon This Morning
19. Herb & Kay - We Did
20. Louie Innis - I Ain't Got A Pot (To Peel Potatoes In)
21. Bill Long - What A Waste (Of Good Corn Likker)
22. Charlie Gore - Stumbling Block
23. Hardrock Gunter - I Put My Britches On Just Like Everybody Else
24. Louie Innis - Sing Your Song Baby
25. Jack Cardwell - Ko Ko Mo (I Love You So)
26. Grandpa Jones - It's Raining Here This Morning

.
"26 hot hillbilly biscuits that pave the way for the arrival of the full-on rockabilly of the Elvis era". So reads the blurb at the back of the new Ace CD, and I've gotta say, the blurb is spot on. If you want a CD showing the roots of rockabilly, this could be just the little booger you're after.

Although King records is better known for its fabulous array of blues artists, the label showed a strong early commitment to hillbilly. King 45's were usually aluminated with some hot picking from the likes of Zeke Turner and Merle Travis, who was the label's A&R man on the west coast during King's formative years. Hillbilly boogie was a popular strain of country in the late '40's and there's plenty of prime-time examples in this volume. No-one did it better (or more often) than the Delmore Brothers. Their contribution here, the great Beale Street Boogie was cut in November 1947 and features some superb guitar from Roy Lanham, but was surprisingly unissued at the time. From the same year comes Three Strikes And You're Out by Cowboy Copas, who was hot at the time and it's a cooking item with Homer & Jethro among the sidemen.

Just a barnyard stride from rockabilly is Tommy Scott whose number comes from 1951. His Rockin' And Rollin' features steel and fiddle breaks but it's guitarist Junior Blevins who steals the show. Grandpa Jones (all of 30 years old at the time) has two versions of It's Raining Here This Morning (both great) and a rollocking You'll Make Our Shack A Mansion, an uptempo slice of hillbilly with plenty of fiery picking from Merle Travis. Another who was to have a prolonged career in music was Shorty Long, who boogies down the railroad line in fine fashion on Goodnight Cincinnati, Good Morning Tennessee.

Luke McDaniel has not been served well on CD and it's surely time for someone to put that right. Surely Hydra could update their 10 incher from '96. Funniest song has to go to Bill Long with the tale of his gal Lily who fell in and died in her daddies moonshine still - What A Waste (Of Good Corn Likker). The vocal delivery and musicianship are right out of the top drawer and the sick lyrics are brilliant, with lines like, "They had to bury poor Lily by the jug." "We watched them pour Lily in the ground". "I'm a clasping to my bossom, a glass of Lily Mae, and with broken heart heart I'm wishing for the rest".

As you would expect from an Ace release, the sleeve notes are informative and the sound quality is very good, especially given the vintage. With Ace promising the imminent release of a Wayne Raney CD and a second volume of Delmore Brothers, things in hillbilly central are looking rosy. A second volume of this wouldn't go a miss either.

RCA Hillbilly
Various Artists
Official - OFF-CD 5052
1. Hal Lone Pine - Honey, Honey, Mine
2. Porter Wagonner - That's It
3. Wade Ray - Idaho Red
4. Terry Fell - I Can Hear You Clickin'
5. Jack Turner - Put It Down On Paper
6. Kenny Lee - Holding Hands
7. Lee Bell - Beating Out The Boogie
8. Hawshaw Hawkins - Rebound
9. Hank Penny - Hadacllin Boogie
10. Tom James - I'm A Pig About Your Lovin'
11. Homer & Jethro - High Geared Daddy
12. Johnnie Lee Wills - Hot Check Baby
13. Dave Rich - Tuggin' On Your Heartstrings
14. Hal Lone Pine - Gonna Build A Fence Around You
15. Eddy Arnold - Hep Cat Baby
16. Charline Arthur - Just Look, Don't Touch, He's Mine
17. Tommy Sands - I Know About The Bees
18. Hawshaw Hawkins - I Wanna Be Hugged To Death By You
19. Billy McGhee - I'll Copyright My Baby
20. Terry Fell - That's What I Like
21. Jack Turner - If I Could Only Win Your Love
22. Curley Lewis - Bees In My Bonnet
23. Jimmy Murphy - Electricity
24. Tom James - Don't Lead Me On
25. Lawton Williams - Moon Joe
26. Hank Snow - Music Makin' Mama From Memphis
27. Skeeter Bonn - Rock-A-Bye Baby
28. Darrel Glenn - Bye, Bye Young Girls
29. Buddy Thompson - Don't Kindle Up The Flame
30. Hawshaw Hawkins - Flashing Lights
31. Jimmy Murphy - Big Mama Blues
32. Homer & Jethro - You Tell Her I Stutter

Looking at the RCA hillbilly catalogue is Official (?) records who have come up with a well chosen slice of numbers from a label that took it's country seriously pre-Elvis. Dubbed from disc, the sound quality is very acceptable, but falls woefully short of the Ace release in it's presentation. A lack of sleevenotes or recording dates and numbers is a real downside to an otherwise great compilation.

Among it's generous 32 tracks there's a healthy number of (to me) unknown gems, mixed with a handful of household numbers by Hank Snow, Hawshaw Hawkins and the Tennessee Plowboy's great Hep Cat Baby. Not as proto-rockabilly as the King stuff, it's got a more pure hillbilly sound - hence the CD title I suppose!

Jack Turner who has long been a regular on my record player with his version of Hound Dog provides a couple of solid up-tempo honky tonkers in Put It Down On Paper and If I Could Only Win Your Love (is that Chet Atkins on the wonderfully melodic guitar?). Fans of Dave Rich have been well served by Bear Family and here we get a fine Heartstrings, with some neat vocals. Terry Fell leaves his trucks well behind for 1955's stonker, That's What I Like, an uptempo number that's as country as it gets. His Cluckin' is equally strong, sounding a bit like Merrill E. Moore meets Wayne Raney - not a bad combination! Porter Wagonner's That's It is top notch hillbilly as is Tom James' I'm A Pig About About Your Lovin'.

Kenny Lee sounds for all the world like Narvel Felts on Holding Hands.

Highlight of the CD for me - You Tell Her I Stutter by Homer & Jethro. It's more than just a novelty with some great guitar and banjo solos, and must have been a real show-stopping part of their live act.

JOHNNY CASH
At Madison Square Garden / Silver

When you get twenty-six tracks, all unreleased from JC prime-time, you know you're on a winner. This latest release from Columbia in their Legacy series is a welcome release which perfectly compliments the recent reissues of the Folsom and San Quentin prison albums. Johnny seemed at one with his behind-bars crowd and here he eases effortlessly to the prestigious Madison Square Gardens in New York City. Playing to a sell-out crowd of nigh-on 21,000 he treats then to a folk lesson and they seem to soak it up. They are given the full Johnny Cash travelling show complete with Carl Perkins, the Statler Brothers and the Carter Family minus wife June who was heavily pregnant back in Tennessee. Her absence gives sister Anita more room, and she proves what a beautiful singer she was.

The sound on this release has the band slightly less in-yer-face than on the prison albums but this mix allows us more intimacy with Cash's stark vocals, added extra passion to life-story numbers like Five Feet High And Rising. It's hard to imagine how proud his daddy Ray Cash must have been, but I bet the lump in his throat was at breaking point as his son wowed the uptown New Yorkers with another tale of home, Pickin' Time.

As gritty as his songs are, the between song comments say just as much about the man. Not content to just introduce a song by it's title, he tells how the song came about, he's proud of his roots, and I think he's equally proud of how he got out of them. No one is left in any doubts about his thoughts on the Vietnam War as he introduces the peace song, Last Night I Had A Dream.

The four-song prison segment is great, although the audience response is understandably mild compared to the riotous response they got at Folsom and San Quentin. "I was in the Air Force for 20 years from 1950 to 1954." As always, Folsom Prison Blues is a standout with "The fastest percussionist in the world, WS Holland" in fine form as his Bob Wootton on guitar.

CP sings his "little love song" Blue Suede Shows and turns in a hard rocking version with his trademark rockabilly licks. I'm surprised that his second number is Folsom Prison Blues. He'd written a suitcase full of songs by then and could have proved to the Yankess that this southern boy was more than just a one-song wonder. Perhaps Marshall Grant didn't know the chords to Boppin' The Blues! The Statlers get to do Flowers On The Wall and the Carters really excel on Wildwood Flower.

Whilst Cash was a rock during a troubled era in 1969, by the time of 1979's Silver album, even he was struggling to provide inspiration. It wasn't just a Cash problem, the country music industry was in a low point of it's history in '79 and artists were having to search for new ideas to rise above the mundane. Columbia decided to update JC's sound by putting Brain Ahern behind the soundboard. He came to the studio with an interesting portfolio having been successful (sales and artistic wise) with Emmylou Harris, but his over production and use of brass did little to enhance the Johnny Cash legacy, (Ghost) Riders In The Sky being an obvious exception. That's not to say that this album can just be dismissed, it has several strong moments, but when his career is finally assessed, this won't be up there in his top 20 albums.

The L&N Don't Stop Here Anymore sounds very Appalachian with Ricky Skaggs on fiddle - the song is slightly marred by the brass though. Lonesome To The Bone sounds suitably depressing and sees him in his recent American recordings mode, twenty years too soon. Cocaine Blues is taken at a relaxed pace, perhaps he should have called it Marijuana Blues.

The album saw Johnny reunited with long-time soul-mate Cowboy Jack Clement, who penned another of the highlights, West Canterbury Subdivision Blues, again featuring some nice fiddle from Skaggs. The original album also featured I'll Say It's True, a duet with George Jones. This time we get the bonus of a couple more duets between the Man In Black and The Man On His Back as they tackle I Still Miss Someone and I Got Stripes. Someone is brilliant with George coming in in a higher register than I was expecting. It sounds great alongside Johnny, I wonder why it was left out originally. Stripes sounds more like a rehearsal but is still great to have.

To sum it up, it's worth adding to the collection but don't expect anything as inspiring as the Madison Square Garden concert.

Shaun Mather
October 2002

THE RIMSHOTS:
MUSICAL MEDICINE
Big Cigar Records No: BCRCD 001

Tracks: The World Keeps Turning; Dark Days; Dancin' Shoes; Cow Cow Boogie; Mercedes Benz; Please Pretty Lady; Hep Cat Baby; Call Me; My Baby Walks All Over Me; Hanging Tree; Whole Lotta Shakin'; More & More; 21 Carpenters; Salty Boogie.

After some cracking releases during their career, including the award winning tribute to Hank Williams and the great rockabilly CD Planet Bop, the Rimshots have a new album on the racks. As with Planet Bop it's a fine mix of rockabilly and hillbilly featuring originals and covers. Some of the originals are stunning and sound like they could have been written and recorded forty years ago.

The album kicks off in typical Rimshots countrybilly mode with The World Keeps Turning from the pen of guitarist Rob Nedin. It's a great opener which sounds like it could have been on a Capitol EP circa 1955. Same goes for John Lewis' Dark Days which gives him a chance to sing like Hank. He's a superb vocalist with great range, feeling and an unbelievable strength. The fact that he's a nutter on stage makes it ever more remarkable that he can wail like this. Steel guitarist Paul Godden whose introduction to the band a few years ago added a great new dimension to their sound, writes the third track, Dancing Shoes, a folksie number from the cajun bayou's south of the M5. If this was done by someone like the Coors or the Pogues everyone would be going ape-shit over it.

The first cover comes with Cow Cow Boogie. It's a belter with some great piano work from the legendary Welshman Geriant Watkins and some beautiful solos from Godden and Nedin. Janis Joplin's Mercedes Benz is a revelation. Done like a cross between Johnny Horton and Johnny Cash, it's hard to imagine the song now as anything but a country song.

Please Pretty Lady is a lovely ditty with John Lewis again on top form. Is there a better singer in the UK, he even gets to do his Cattle Call cry on this - why the British country press go on about the likes of Charlie Landsborough or Sarah Jory when we've got real country bands like this is a mystery to me. This band would blow them off any stage. Another couple of examples of their country pedigree come with another Lewis original Hanging Tree (not to be confused with the Marty Robbins song), and Nedin's weeper, Call Me.

Up-beat covers come with Hep Cat Baby, My Baby Walks All Over Me (inspired choice), Salty Boogie and a long-time live favourite, Whole Lotta Shakin'. When I saw them in a bar in Swansea a few weeks ago they did a riotous version of Shakin' with John doing some wicked adlibbing - I won't repeat any of them in case the Lewis family of Ferriday are reading! Bloody funny though.

Webb Pierce's More & More and the western swinging 21 Carpenters round off a blinding album. If you've never heard The Rimshots before and your tastes runs to something like High Noon or 50's boppin' hillbilly in general, give this CD a go. If they lived in the States they'd be based in Austin, if that helps.

Shaun Mather
September 2002


SUN Records - 50 Golden Years 1952 - 2002
A Commemorative Collection
Classic & Rare Recordings From The Legendary Sun Label
Fab-U-Lus Records - FBUBX002

Since the dawn (sunrise!) of the rockabilly revival in the 1970's there have been hundreds of releases celebrating the music of the legendary Sun record label from Memphis, Tennessee. Some of these have been lavish whilst there's also been more than a few cheapo compilations as well. This new release on the Fab-U-Lus label is probably the best of the lot and when you consider some of the product that Bear Family and Charley have put out over the years, that's no mean feat. As it's tilte suggests it marks the 50th Anniversary of the Sun label, the brainchild of the great Sam Phillips. The music he recorded stands as a vital artifact in the story of American popular music, traveling from blues and hillbilly into the birth of rock 'n' roll and in particular here, rockabilly.

This latest edition to the reissue program offers us no new finds or alternate takes, but it's 8 CDs are jam packed with classic music, whether it be the blues of Joe Hill Louis, the rockabilly of Ray Harris or the hillbilly of Ernie Chaffin. The compiler, Stuart Colman has chosen to ignore the usual formula of running the tracks chronologically, instead having the CDs are themed, creating a more enjoyable listening experience. I think this works really well and you can pretty much pick up any CD and leave it on until the end without using the skip button. As well as including the biggies like Great Balls Of Fire and I Walk The Line, there no end of lessor known gems like Beat It (Tracy Pendarvis) and Selling My Whiskey (Jackie Boy & Little Walter). And with only a handful of Jerry Lee tracks to include, what an inspired selection Hillbilly Fever is.

They say you never forget your first time(!), well I certainly remember hearing some of these for the first time on the Charley 10 inchers, and the magic they held then is still there now. Things like Billy Lee Riley's Rock With Me Baby or Trouble Bound still make the hairs on my neck stand on end and then there's stuff like A Thousand Guitars (Tracy Pendarvis) and Love My Baby (Hayden Thompson). There's a great combination on Disc 2 when we go from the brilliantly manic We Wanna Boogie by Sonny Burgess straight to the hypnotic control of Bill Justis's Raunchy. It's a great example of the mixture that emanated from Sun, it's just like Jerry Lee banging away at the piano and as he strolls out the door, the introverted Charlie Rich calmly adjusts himself on the same stool (after he's picked it up from across the room, of course!).

The last CD, From The Source, is an intriguing hour of interviews with the likes of Billy Lee Riley, Sonny Burgess and Gene Simmons before launching into one of their finest. Jerry Lee is in fine form, serving up his usual praise for Chuck Berry who he calls "the greatest rock 'n' roll singer" and calls Little Queenie the "best bit of material there's ever been". As well as the obvious choices there's also interviews with Billy The Kid Emerson and Cecil Scaife who says that "he'll loved ole Charlie (Rich), he had a lot of talent".

Also included as a bonus is a 7" single of Elvis' first Sun recordings from 1953, My Happiness and That's When Your Heartaches Begin. Apparently, the initial plan was to produce 10" replica acetates but his proved too difficult and has to be shelved.

The sound quality is first class and the unique mini-briefcase-like packaging is very eye catching and user-friendly. The 71 page booklet is a high class item with extensive track-for-track notes from Colman, whose work for Now Dig This is always really enjoyable/knowledgeable. I can't begin to do this package justice, just buy it and enjoy the greatest collection of music you'll ever hear. If I was stranded on a desert island and Anita Wood wasn't available, this is just what I'd want. Sam had a baby and he called it rockabilly.


Disc 1 Sun Rise - In The Beginning
1. Selling My Whiskey- JACKIE BOY & LITTLE WALTER
2. We All Gotta Go Sometime - JOE HILL LOUIS
3. Bear Cat - RUFUS "HOUND DOG" THOMAS, JR.
4. Baby Please - THE PRISONAIRES
5. Feelin' Good - LITTLE JUNIOR'S BLUE FLAMES
6. Silver Bell - THE RIPLEY COTTON CHOPPERS
7. Beggin' My Baby - LITTLE MILTON
8. Wolf Call Boogie - COY "HOT SHOT" LOVE
9. Boogie Blues - EARL PETERSON
10. No Teasin' Around - BILLY "THE KID" EMERSON
11. My Kind Of Carryin' On - DOUG POINDEXTER & THE STARLITE WRANGLERS
12. The Great Medical Menagerist - HARMONICA FRANK
13. Right Or Wrong - BUDDY CUNNINGHAM
14. Drinkin' Wine Spo-Dee-O-Dee - MALCOLM YELVINGTON & HIS STAR RHYTHM BOYS
15. Movie Magg - CARL PERKINS
16. Peepin' Eyes - CHARLIE FEATHERS
17. Uncertain Love - SLIM RHODES
18. Someday You Will Pay - THE MILLER SISTERS
19. Cry! Cry! Cry! - JOHNNY CASH & THE TENNESSEE TWO
20. The Signifying Monkey - SMOKEY JOE with THE CLYDE LEOPPARD BAND
21. The Chicken (Dance With You) - ROSCO GORDON
22. Ooby Dooby - ROY ORBISON & THE TEEN KINGS
23. Welcome To The Club - JEAN CHAPEL
24. Rock With Me Baby - BILLY RILEY
25. Jukebox, Help Me Find My Baby - RHYTHM ROCKERS
26. Crazy Arms - JERRY LEE LEWIS & HIS PUMPING PIANO


Disc 2 Sun Stars - The Principals
1. Mystery Train - LITTLE JUNIOR'S BLUE FLAMES
2. Blue Suede Shoes - CARL PERKINS
3. Just Walkin' In The Rain - THE PRISONAIRES
4. Red Hot - BILLY "THE KID" EMERSON
5. I Walk The Line - JOHNNY CASH & THE TENNESSEE TWO
6. Whole Lotta Shakin' Goin' On - JERRY LEE LEWIS
7. Paralyzed THE MILLION DOLLAR QUARTET
8. Rock'n'Roll Ruby - WARREN SMITH
9. Go! Go! Go! - ROY ORBISON & THE TEEN KINGS
10. We Wanna Boogie - SONNY BURGESS
11. Raunchy - BILL JUSTIS & HIS ORCHESTRA
12. Drinkin' Wine - GENE SIMMONS
13 Flyin' Saucers Rock & Roll - BILLY RILEY & HIS LITTLE GREEN MEN
14. Dreamy Nights DICKEY LEE & THE COLLEGIATES
15. A Thousand Guitars - TRACY PENDARVIS & THE SWAMPERS
16. Tootsie - CARL McVOY
17. That's The Way I Love - JOHNNY CARROLL
18. Walkin' Shoes - ONIE WHEELER
19. Shake Around - RAY SMITH
20. Pretend - CARL MANN
21. Greenback Dollar, Watch And Chain - RAY HARRIS
22. Rebound - CHARLIE RICH
23. The Hucklebuck - EARL HOOKER
24. Tragedy - THOMAS WAYNE
25. I Need A Man - BARBARA PITTMAN
26. After The Hop - BILL PINKY & THE TURKS

Disc 3 Sun Cream - The Key Components
1. Great Balls Of Fire - JERRY LEE LEWIS & HIS PUMPING PIANO
2. Ain't Got A Thing - SONNY BURGESS
3. Tiger Man - RUFUS THOMAS, JR.
4. Guess Things Happen That Way - JOHNNY CASH & THE TENNESSEE TWO
5. I Shall Not Be Moved - THE MILLION DOLLAR QUARTET
6. Right String But The Wrong Yo Yo - CARL PERKINS
7. No More Cryin' The Blues - ALTON & JIMMY
8. Pearly Lee - BILLY RILEY & HIS LITTLE GREEN MEN
9. It's Me Baby - MALCOLM YELVINGTON
10. Love Is A Gamble - IKE & BONNIE TURNER
11. Red Cadillac And A Black Moustache - WARREN SMITH
12. Flea Circus - BILL JUSTIS & HIS ORCHESTRA
13. I Won't Be Rockin' Tonight - JEAN CHAPEL
14. Claudette - ROY ORBISON
15. You Made A Hit - RAY SMITH
16. Listen To Me Baby - SMOKEY JOE
17. Little Fine Healthy Thing - BILLY "THE KID" EMERSON
18. Vibrate - MACK SELF
19. Rock Boppin' Baby- EDWIN BRUCE
20. Broke My Guitar - EDDIE BOND
21. My Babe - NARVEL FELTS
22. In The Mood - THE HAWK
23. Ain't Got No Home - CARL MANN
24. Sally Jo - ROSCO GORDON
25. Take And Give - SLIM RHODES
26. Popcorn Polly - CHARLIE RICH

Disc 4 Sun Shades - Rockabilly Central 1. Put Your Cat Clothes On - CARL PERKINS
2. Johnny Valentine - ANDY ANDERSON
3. Rainin' The Blues - ERNIE BARTON
4. Cotton Pickin' Boogie - JOHNNY BERNERO
5. You Better Believe It - TOMMY BLAKE & THE RHYTHM REBELS
6. Love Is My Business - CLIFF GLEAVES
7. What'cha Gonna Do - SONNY BURGESS
8. Take Me To That Place - JACK EARLS & THE JIMBOS
9. Love My Baby - HAYDEN THOMPSON
10. The Cause Of It All - ROY ORBISON
11. Don't Be Runnin' Wild (Problem Child) - KEN COOK
12. Rock Me Baby - JIMMY HAGGETT
13. Ten Cats Down - THE MILLER SISTERS
14. Bop, Bop Baby - WADE & DICK THE COLLEGE KIDS
15. Lovestruck JERRY McGILL & THE TOPCOATS
16. Ooh, That's Good - PATSY HOLCOMB
17. Come On Little Mama - RAY HARRIS
18. Did You Tell Me - NARVEL FELTS
19. Rock All Night - GLENN HONEYCUTT
20. Fine Little Baby - DICK PENNER
21. Everlasting Love - BARBARA PITTMAN with THE BILL JUSTIS ORCHESTRA
22. Me And My Rhythm Guitar - JOHNNY POWERS
23. Fire Engine Red - JIM WILLIAMS
24. Rock Baby, Rock It - JOHNNY CARROLL
25. Baby Doll - THE FOUR DUKES
26. Baby Please Don't Go - BILLY RILEY & HIS LITTLE GREEN MEN

Disc 5 Sun Styles - Rockabilly Crucial
1. I've Got Love If You Want It - WARREN SMITH
2. Ubangi Stomp - JERRY LEE LEWIS
3. Sweet Woman - EDWIN BRUCE
4. Let's Bop - JACK EARLS & THE JIMBOS
5. Me And My Blues - TEDDY REIDEL
6. Drive-In - MACK VICKERY
7. Jumpin' Jack - CLIFF & BARBARA THOMAS
8. Domino - ROY ORBISON
9. Yakety Yak - MALCOLM YELVINGTON
10. Sweetie Pie - TOMMY BLAKE
11. Lonely Wolf - RAY HARRIS
12. Look At That Moon - CARL PERKINS
13. Red Velvet - THE KIRBY SISTERS
14. Don't You Worry - HAYDEN THOMPSON
15. Mad At You - MACK SELF
16. I'm Gonna Rock - LOUIE ROBERTSON
17. Baby I Don't Care - CARL MANN
18. Beat It - TRACY PENDARVIS & THE SWAMPERS
19. Bop Pills - MACY SKIPPER
20. I Feel Like Rockin' - KENNY PARCHMAN
21. She's Gone Away - ERNIE BARTON
22. Life's Too Short To Live - JOE LEWIS
23. That's The Way I Feel - JIMMY PRITCHETT
24. Judy - RUDY GRAYZELL
25. Miss Pearl - JIMMY WAGES
26. Right Behind You Baby -RAY SMITH


Shaun Mather
August 2002


Darrel Higham
Ghost of Love
Hunka Burnin CD001
This album marks a couple of firsts for England's premier rockabilly, Darrel Higham. Despite this being his ninth solo album, it's the first containing all self-written songs and it's the debut release on his brand new label, Hunka Burnin Records. This release also sees him venture towards a neo-rockabilly style. Don't worry it's not a Meteors stomp, it's still very much within the confines of '50s, but taken a step further. It was something he always wanted to do to get off his chest - now it's done he's started working on an album in the hillbilly vein - versatile or what!

The title track is a brilliant number which really is one of the best numbers to ever come from this side of the pond. Hard to classify, it should be a classic which is so commercial that given the right breaks and exposure, could crack the charts. Another stormer song is There's Always Me, again full of hit potential and an example of his superb guitar playing.

Christmas Blues is a manic echo laden number that sounds a million miles from knitted jumpers and chestnuts on open fires. Johnny & Dorsey is a tribute to the legendary Burnette brothers (check out Darrel's CD with Rocky Burnette for more examples). A Scary Story has that dark, mysterious sound that I feel when I hear Ray Stanley's Love Charms. Love For Eternity is one of the most charming things you'll here, from the relaxed vocals to the country picking, and any song that mentions Charlie Rich is okay in my book.

It's a great album that Darrel can be proud of and one that if there was any justice would bring him to a whole new crowd. Buy this with confidence, then play it to death until the next one comes out. Check out and for further details on ordering.

Shaun Mather
August 2002


JOHNNY CASH
JOHNNY CASH & FRIENDS


Spectrum 544 982 2 - After spending three decades and a body-full of blood, sweat and tears at Columbia, Johnny Cash was unceremoniously dumped by the label. It showed an amazing lack of loyalty from them because as Dwight Yoakam shouted from the highest rooftop in Nashville, "he built the fing building".

He moved to Mercury where he cut some quality stuff without really finding the form that he'd enjoyed in previous decades. It's this association which forms the basis of this compilation, paying particular concentration on the duets he cut, hence the title! Most of them are collaborations with contemporaries like Waylon, Hank Jr and Tom T. Hall, and come principally from the albums, Water From The Wells Of Home, Boom Chicka Boom and Mystery Of Life.

1998's Water From The Wells Of Home album is included in it's entirety except for the Paul McCartney effort, New Moon Over Jamaica, which is just fine by me. Emmylou Harris shines in As Long As I Live, encouraged to "sing it pretty" by the songs composer Roy Acuff - not one to disobey her elders, she duly obliges. Waylon and Johnny sound suitably mournful in Sweeter Than The Flowers and turn in a brilliantly touching version. The lead off track from Wells album was a sublime version of Ballad of A Teenage Queen. Johnny is joined by daughter Roseanne who has never sounded better. The song takes on a new dimension when the Everly Brothers add their unbeatable vocals making the song better than the Sun version to these ears.

The two tracks with Tom T. Hall are really strong, The Last Of The Drifters and I'll Go Somewhere And Sing My Songs Again. They both have distinctive vocals which gel together nicely.

The Boom Chicka Boom album saw Johnny Cash working with Nashville A-teamer Bob Moore and returning to the basic rockabilly rhythm that he'd made his name with. The tracks chosen here are the whacky Harley and the memorable lyrics of A Back Stage Pass.

Mystery Of Life was a cracking album and was his strongest for many years. Cut at Jack Clements' Cowboy Arms Hotel and Recording Spa in Nashville, he stayed with the boom-chicka-boom but adapted it slightly for a more modern sound and it works really well. The title song has long been one of my favourites but it has been omitted here. Included though is his stunning version of John Prine's, The Hobo Song. Other highlights from the album include his own Angel And The Badman and I'm An Easy Rider.

So if you've got the original CD's you may want to let this one pass. If you haven't, snap it up, it's a great way to hear some of the best of his Mercury stuff. And Johnny Cash was a man who excelled at duets because he didn't have to try to out sing anyone. His booming voice had such projection that he didn't have to.

Shaun Mather
July 2002


Dave Edmunds
St David's Hall, Cardiff
Dave Edmunds made his much anticipated return to his hometown, Cardiff at the St David's Hall to a sell-out crowd. As Dave had cancelled the Chester show a few nights before, me and Phil kept in constant contact with the Hall's porter who finally confirmed mid-morning that the vans had arrived for a soundcheck.

We were all a bit disappointed to hear that Dave was doing a solo gig without compadres like Mickey Gee and Geraint Watkins - the feeling didn't last long. Former Wildwax Show legend, Jailhouse John Alexander was there and chose to partake in a few pints of Brain's Bitter rather than watch the support bands which sounded crap from the bar.

Phil arranged the tickets and though they were in the front row we could have done with being about two seats further to the left (:-)). Dave looked every inch the rocker when he bounded on stage to a tumultuous response. Despite his recent heart surgery he looked fit and appeared to be as happy to be playing back home as we were to have him. He kicked off with an extended blast through Blue Moon of Kentucky and immediately dispelled any doubts we had about a one man band. As soon as he started playing Girl's Talk it sounded as if he had a shy band who were hidden behind the curtain, it was an amazingly full sound which totally blew us away.

He told some nice stories about his Rockpile days and although not a big talker, he seemed a genuinely nice guy with his banter. Highlights of the set included Here Comes The Weekend, Queen of Hearts and I Knew The Bride When She Used To Rock 'n' Roll. He featured some lovely/lively instrumentals from his latest Hand Picked CD.

At one point he said "Every show I play in the States I ask before this song whether there's anyone from Wales in the crowd. I won't bother tonight!" and played an instrumental medley of Ar Hid Y Nos (All Through The Night) and Men of Harlech. The crowd went nuts and Dave looked visibly moved by the response.

He closed with an absolutely mind blowing version of Sabre Dance which was unbelievable. The guitar playing was awesome and left everyone standing there gobsmacked. He shook a few hands (including mine) and gave out a few picks and was then gone. It was a real pleasure to see him in this form, and also it made you proud to see him so touched by the response he was getting back home in Wales. It's hard to express the feelings of the audience, it was as if people were numb, unable to believe what we'd just witnessed.

Shaun Mather
May 2002.
[Photo Credits: Mikael Sandberg, Tibro, Sweden.]

Golden Age Of Rock 'n' Roll
Country Special Edition CD
ACE - CDCHD 845
REVIEW: Volume 9 of the great Golden Age Of Rock 'n' Roll series departs from the normal sequencing in that it's a Country Special Edition. Whereas the previous eight volumes featured a variety of tracks from doo-wop and instrumentals to straight ahead rock 'n' roll, this compilation looks at 30 tracks which all crossed over from the country charts to appear on the National pop charts. All the numbers come from the ten year period between 1956 and 1965. They echo the changing times that country music found itself in following the shake-up of the music industry courtesy of the rocking sounds of the teenagers. Whilst a lot of the teens (and most of the performers) had a steeped background in country music, they found something in rock 'n' roll that was cool and didn't suffer the cornball stigma associated with the country music of the late 40's and early 50's.

It is testimony to the talents of the artists on this CD that none of them appear awkward trying to balance the poppier sounds with the steel guitars. They all appear comfortable to sing their songs of heartbreak whilst an unfamiliar vocal chorus whirls away behind. Most of the songs are of such a high quality that the passing of time has seen them become recognised as legendary classics. A number of them like El Paso, Ring of Fire and Oh Lonesome Me have constantly cropped up on compilations, but their inclusions on another reissue is warranted here as their omissions would have lessened this CDs appeal.

It's great to hear such gems as Walk On By, Alabam and You're The Reason, which haven't suffered/benefited from the same overuse. Also good to hear Ferlin Husky's Gone, and especially interesting after reading Jack Clement (Now Dig This 230 - May 2002) say that him and Sam loved the vocal backing, which helped influence their decision to add the effect to Johnny Cash's Guess Things Happen That Way. As good as these are, I just can't say anything positive about the Bill Anderson track, Still. It's stands knees and feet below the rest - and is the only weak track in an otherwise flawless selection.

As with most Ace releases, the booklet is fine, this time running to 27 pages from Rob Finnis, and the sound quality is top-notch. The publicity blurb sums up it's appeal succinctly, "an opportunity to acquire 30 of their favourite records - beautifully sequenced and mastered - in the same place, at the same time!" Make that 29 not 30 (I hate Still) and the sentiments are mine.


Track listing:
WHITE LIGHTNING - GEORGE JONES YOU'RE THE REASON - BOBBY EDWARDS DETROIT CITY - BOBBY BARE ABILENE - GEORGE HAMILTON IV EL PASO - MARTY ROBBINS PLEASE HELP ME I'M FALLING - HANK LOCKLIN RING OF FIRE - JOHNNY CASH BIG BAD JOHN - JIMMY DEAN WALK ON BY - LEROY VAN DYKE LET'S THINK ABOUT LIVIN' - BOB LUMAN I FALL TO PIECES - PATSY CLINE CRAZY ARMS - RAY PRICE DON'T LET ME CROSS OVER - CARL BUTLER STILL - BILL ANDERSON OH LONESOME ME - DON GIBSON WOLVERTON MOUNTAIN - CLAUDE KING RIGHT OR WRONG - WANDA JACKSON HE'LL HAVE TO GO - JIM REEVES I AIN'T NEVER - WEBB PIERCE THE BATTLE OF NEW ORLEANS - JOHNNY HORTON WATERLOO - STONEWALL JACKSON HELLO WALLS - FARON YOUNG FROM A JACK TO A KING - NED MILLER A LITTLE BITTY TEAR - BURL IVES FLOWERS ON THE WALL - STATLER BROTHERS ALABAM - COWBOY COPAS GONE - FERLIN HUSKY GONNA FIND ME A BLUEBIRD - MARVIN RAINWATER SIX DAYS ON THE ROAD - DAVE DUDLEY KING OF THE ROAD - ROGER MILLER




The Cliff Richard Show with The Shadows.
Live at the ABC Kingston, 1962.
EMI

The Shadows:
Apache/Shazam; Shadoogie; Wonderful Land; All My Sorrows; Quarter To Three; Nivram; Little B; FBI.

Cliff & The Shadows
Do You Wanna Dance; Dim Dim The Lights; My Blue Heaven; Razzle Dazzle; Rovin' Gambler; Save My Soul; When The Girl In Your Arms; I Got A Woman; Lessons In Love/Got A Funny Feeling/The Young Ones (medley); We Say Yeah.

Cliff's had more than his fair share of limelight time throughout his career, but in March 1962 he was at his hottest. He was in the middle of a sold out 23-date UK tour when EMI decided to capture his live show with a live album, much the way Decca would with Billy Fury (We Want Billy!) the following year. For some reason the album was shelved and has had to wait 40 years to see the light of day. Well it was certainly worth the wait, and is much more than just a nostalgic look back to a time when Cliff still rocked a bit.

The first part of the disc features eight tracks from the Shadows. The opener Apache/Shazam is a great opener and rocks along with some crystal clear sound which highlights the distinctive twang of Hank Marvin. Other highlights are high driving takes on Shadoogie and FBI. There between song banter don't really stand the test of time although I did enjoy "We've had thousands of requests from one or two people."

Cliff's portion finds him rocking harder than you would think for 1962, a time when his releases showed a mellower sound. Following the very British introduction from Tony Marsh, Cliff let's rip with a great version of Do You Wanna Dance. Two Bill Haley covers are a surprise, but both Dim Dim The lights and Razzle Dazzle work surprisingly well.

A highlight of the CD is the laid back take on Rovin' Gambler which featured the great line, "She said "Do you know who you remind me of"/I said "no"/ She said "Adam Faith"". Another highlight is the Young Ones medley which includes a great segment from Got A Funny Feeling. Save My Soul fairly stomps along and gave an early indication of Cliff's Christian beliefs. The gentle beauty of When the Girl in Your Arms complete with an audience singalong also pointed to the future.

He really let's go for a rousing I Got A Woman which owes more to Elvis than Ray Charles and closes with a rocking We Say Yeah which allowed the screamagers to join in with the "Yeah, Yeah's". Despite the crowds best efforts top drown them out, Cliff and the Shadows still come through in astonoshing clarity. The informative sleeves notes, the photos and the tri-fold sleeve, designed to resemble a period EP cover, add up to a fabulous release which you should snap up now, as it's a limited edition.

Shaun Mather
May 2002.

COMETS: Aged To Perfection
Rollin' Rock 114

The next installment from Rollin' Rock is the second for the label by the world's first and now oldest rock 'n' roll band, the Comets. These legendary figures who are celebrating their 50th anniversary have lost none of their prowess and more amazingly, none of their enthusiasm.

At first glance the title seems spot-on but unlike whiskey, they didn't have to wait years to reach perfection, they achieved it straight away and have just retained it. As with their last album, this features a mixture of covers and originals, with more emphasis on new material this time out. The CD opens with a stunningly upbeat version of the old Haley number, Happy Baby. Dim, Dim the Lights, Burn That Candle and Two Hound Dogs are also given new life and feature their live frontman, Jacko Buddin who has now been the boys longer than they were with Bill. Joey Ambrose excels on the Louis Prima hit Buona Sera, a regular feature in their stage act and pulls out all the stops for his own r'n'b stroller, Don't Push Your Luck.

They are currently enjoying healthy airplay in Florida with a new song, Viagra Rock, a tribute to the miracle pill. It's got great lyrics and the beat is, well - rock solid! It stands up(!) well to the well known Haley classics and live must be hard to follow. The vocals are taken by fun loving bass player Marshall Lytle who also tales the lead another trio of tracks including the atmospheric ballad, You're The Greatest which features some great horn work. Somewhere There's A Woman is a high spot of the CD and features a jazzy solo from Frannie Beecher who plays his socks off on the remake of the instrumental Car Jam.

Whilst the version of Rock Around The Clock suffers a little for the vocals, Beecher is again right on the numbers with his solo. What a player! Now in his 70's, I hope he lays off the viagra, we don't want his fingers going stiff!

Another brilliant effort and one that all concerned can be proud of. I hope they're heading across to Europe to celebrate the golden anniversary.

Shaun Mather
April 2002


CARL PERKINS:
70th Anniversary
Born Carl Lee Perkins, 9 April 1932, Tiptonville, Tennessee
Died 19 January 1998, Jackson, Tennessee

Carl Perkins would have been 70 this month. The following is a short tribute that I wrote for a rock'n'roll list.

Carl Perkins is the epitomy of a rockabilly singer, from his singing and guitar playing to his choice of material, all revved up stories of dances, clothes and slitting throats with razors. Born to sharecroppers he spent his early years picking cotton and playing guitar. With his brothers Jay and Clayton he formed the Perkins Brothers Band and played the tough honky tonk bars of Jackson, developing a sound that mixed hillbilly with flashes of rhythm and blues. It was a new style that no-one had heard before so upon hearing Elvis on the local radio one day, Carl knew that there was someone out there who shared his ears and vision, and more importantly, that there was someone who was willing to record and issue the stuff. That someone was Sam Phillips and his label was Sun Records, sixty miles down the road in Memphis.

The brothers drove to Memphis and auditioned for Sam The Man who was impressed with what he heard. He cut their first single, the hillbilly duo, Movie Magg and Turn Around. It wasn't until Elvis had moved to RCA that Sam really let the Perkins boys put their cat clothes on, but when he did, the sparks flew. Blue Suede Shows backed with Honey Don't became the first single to top the pop, country and blues charts and was also the first million seller for Sun. They went to New York to promote the song on the Perry Como show but smashed into the back of a poultry truck on the way. Carl fractured his skull and Jay suffered a broken neck, an injury that he never really recovered from, dying a couple of years later. To add insult to injury, as the brothers lay in their hospital beds, Elvis was singing Blue Suede Shoes on the Dorsey Brothers Show.

Getting' Funky -
The Birth Of New Orleans R&B
Proper Records - PROPERBOX 28

The Proper label are making quite a name for themselves with over two-dozen 4CD box-sets, ranging from Western Swing, Jazz and Bluegrass compilations to the Wynonie Harris set, Rockin' The Blues. They all come with sizeable, well-written booklets, feature over 100 songs and sell for about Ј12, unquestionably value for money.

The latest offering focuses on the stomping rhythm and blues of New Orleans, with major contributions from the pioneering pianists, Champion Jack Dupree, Professor Longhair and Archibald as well as their understudies, Smiley Lewis and Fats Domino. In order to take advantage of the 50-year Copyright laws, all the tracks pre-date 1952, the earliest coming from 1941.

Disc one is called Piano Power and kicks off with three 1941, Okeh tracks from Dupree, including Junkers Blues which formed the basis of Fats Dominos million-selling debut, The Fat Man (also included on this set). Big Time Mama is a fine piano romp complete with some sterling guitar-work from Jesse Ellery.

We move forward to the end of the decade for the sublime sounds of Roeland Byrd, known to everyone as Professor Longhair. With more nicknames than tempo-changes (and that's saying something) he turned his attention to the keyboard having mastered tap-dancing and gambling. The first 5 of his 18 tracks here, come from a brilliant August 1949 session for Mercury Records, which produced the classic Bald Head as well as two lesser known but equally fine numbers, Hey Now Baby and Oh Well. Three weeks later he was back in the studio cutting a quartet of songs including Longhair Stomp which typifies everything about his unique style which he described himself as "a mixture of rhumba, mambo and calypso".

Having been blown away by Longhair at the Pepper Pot night-spot in Algiers, Louisiana in 1949, Ahmet Ertegun and Herb Abramson arranged for a moonlighting session for their Atlantic Record label. Nine tracks from a November of that year are included with She Walks Right In being the standout of a great bunch.

The CD closes with seven 1950 cuts from barrelhouse pianist, Archibald, five of which appeared on Imperial. Less idiosyncratic than Longhair, but equally delightful, he shares with us the dubious delights of his one-legged, one-eyed, false-teethed, bald-headed babe in She's Scattered Everywhere. She sounds like she's Piano Red's sister. We also get both sides of Colony 105, Little Miss Muffet and the rollocking Crescent City Bounce.

The second CD is called The Pioneers and features healthy doses of Dave Bartholomew, Paul Gayten and Smiley Lewis. The trio of DeLuxe tracks from April '49 are top notch with Bartholomew well to the fore with his trumpet, and Frank Fields providing a rock solid rhythm. Better known as a producer, Bartholomew has an engaging voice himself, which no doubt helped sell 100,000 copies of Country Boy. I Ain't Gonna Do It, an Imperial single from 1950 is a lively mover that became a staple of New Orleans bands. Good Jax Boogie from the same year is a brilliant advert for the beer, courtesy of a band that included such future legends of the Big Easy sound, Lee Allen, Red Tyler, Ernest McLean and Frank Fields.

The seven Smiley Lewis tracks are culled from two 1950 sessions and were issued by Imperial (5) and Colony (2). A sort of grittier-man's Fats Domino, his numbers here show him in his developing stage, and although all the numbers have that New Orleans drive, none of them (except the classic Dirty People) quite have the magic of later numbers like I Hear You Knocking, One Night or Blue Monday.

Paul Gayten was a singer/pianist who made his mark in the music business as a producer, firstly with DeLexe, then with their rejuvenated Regal label. The pick of his numbers here are undoubtably the ones featuring the sultry charms of Annie Laurie, whose impassioned vocals could have made her a bigger star than she was. Gayten himself went oin to better things when he joined the Chess ranks in the mid-50's.

The lion's share of CD3 goes to Roy Brown and Fats Domino, both giants of the industry who helped launch New Orleans rhythm and blues to a national level. Both singers need no introduction here and their selections include some great boogie numbers from Brown's Good Rockin' Tonight and Lolly Pop Mama to Domino's The Fat Man and Boogie Woogie Baby. The last three numbers come from the lessor known Larry Darnell whose 1949 session yielded no less than three big hits for Regal. All three are included with the ballads I'll Get Along Somehow and Lost My Baby, highlighting his fine vocals and some lovely tinkling of the ivories from Gayten. For You My Love finds him equally at home in Roy Brown territory, aided and abetted by some honking sax courtesy of Lee Allen.

The final CD, is summed up by it's subtitle, Hip Shakin' Mamas, Crooners And Shouters. There's a half-dozen numbers from Chubby Newsome, one of the few artists on the collection who doesn't hail from New Orleans. She revels in the risque blues of Hip Shakin' Mama and Bedroom Blues where the poor sassy lassy is feeling horny in her bed but her man ain't around. She has no such problem at a later DeLuxe session where she tells us that her New Orleans Lover Man leaves chills up and down her spine. A happy ending you could say!

Alma Mondy's answer to Roy Brown's Lolly Pop Mama, Miss Lollypop's Confession is a rousing number from an August 1949 session as was it's Mercury flip-side Baby Get Wise, which ranks with the finest songs to come out of the city. She rocks through her second session a month later where she displays the strength of her tonsils on the storming A Job For A Jockey which features a superb solo from one of the city's best guitarists, Walter "Papooose" Nelson. A couple of Mercury singles from August '49 highlight the splendid piano work of Alex "Duke" Burrell - She Won't Leave No More by Little Joe Gaines and Mercury Blues by Hosie Dwine Craven which also benefits from a great Lee Allen blast.

Jump And Shout from Erline "Rock 'n' Roll" Harris is a great up-tempo call and response mover which must have been a great live number and was issued on regal with it's fine flip, I Never Miss By Baby. The quartet of tracks from Jewel King come from two separate sessions for Imperial and range from the soulful words of wisdom of Don't Marry Too Soon to the good time nonsense of 3x7=21.

As an introduction this is an absolute must, but even for the serious collector who will have most/all the tracks already, it could still be worth it for the booklet and to support the label and encourage further rummages into the wealth of recordings emanating from this wonderful city.

Shaun Mather, March 2002

THE HOTTEST THING THAT'S COOL
GER RIJFF
TUTTI FRUTTI PRODUCTIONS

ELVIS IN TEXAS. The Undiscovered King 1954-58
LORI TORRANCE with STANLEY OBERST
REPUBLIC OF TEXAS PRESS

Two stunning new Elvis books are now on the shelves, both concentrating on the early days, and both thoroughly recommended.

The Hottest Thing That's Cool features the 1956 photos of Al Wertheimer, showing the young Elvis Presley at the peak of his considerable form. The photos that have been seen before (particulary in Elvis '56: In The Beginning) have been given a new lease of life thanks to Gir Rijff who has transformed them thanks to some really tasteful use of tinting. The unseen photos are equally great and show the Memphis Flash both on and off stage.

The other book features Elvis' Texas appearances between 1954 and 1958, including the short time he spent at Fort Hood during Army training. There' s about 60 never before seen shots as well as some great local stories. It' s a fascinating, well researched documentary that deserves a place on any rockabillies coffee table. Although there's a couple of factual errors (eg. Red West is not his cousin), the photos more than make up for it.

Grab 'em both, they really are the biz.

Shaun Mather
January 2002


Jerry Lee Lewis International Fan Club 1957

Kay Martin was the original Jerry Lee Lewis International Fan Club Preident when she and Elaine Berman set up the club in 1957. Below is an e-mail she sent me today - and I think you'll agree it shows that her enthusiasm for the Killer has diminished not a bit!

"A wonderful thing happened! A fan who was a member of the Jerry Lee Lewis International Fan Club almost from the beginning, sent me this gem, which I haven't seen in years, since all my JLLIFC photo catalog negatives are gone....

This photo was taken outside of the studio where the Alan Freed TV show ("Big Beat") was performed. Elaine decided we should start a fan club for Jerry, after we had spent a week with him in NYC between the first Steve Allen Show (7/28/57, when I first met Jerry) and this Alan Freed show (8/2/57). Jerry and the band were about ready to leave town. They were headed to Hartford, CT for a live show. Pictured here (l. to r.), Elaine, J.W. Brown in the rear, Russell Smith, a young Killer, and myself. In the photo, we are displaying the document that Jerry signed (and all of us witnessed) which said that Elaine and I had his authority to run a fan club for him all over the world in perpetuity! Highly illegal, I'm sure, but he was up for it... and I lived up to it. After their car drove off, I got names and addresses of all the people who were hanging out, and some of them actually joined the fan club.

I loved that shirt. There even was a photo in a magazine somewhere of Myra wearing it. Another photo I took of Jerry wearing this striped shirt, looking out the window of the car, was on the first JLL fan club membership card. I wonder if anyone still has that. So that all JLL fans can enjoy this moment in history.

Best, Kay"

Shaun Mather
December 2001


Grady Martin, R.I.P.

Just months after the death of Chet Atkins, the world of country music suffered another massive loss when legendary session guitarist Grady Martin passed away this week aged 72. One of the most important musicians of the pioneering era of the 50's and 60's, Martin appears to have suffered a heart attack at his home.

Martin was born on a farm near Chappel Hill in Marshall County, Tennessee, the youngest of four children. He spent many childhood hours listening to music on the families battery-operated Zenith radio, and soon developed a love for country music and the Grand Ole Opry which the family listened to every weekend. Young Grady began playing the fiddle and guitar and by his teens was playing in local bands and sitting in with visiting bands. At fifteen he was heard by Big Jeff Bess who persuaded Grady's parents to let him move to Nashville to play with his band Big Jeff and the Radio Playboys. Two years later he joined Paul Howard's Arkansas Cotton Pickers and then became a founder member of Little Jimmy Dicken's Country Boys. By now he had retired his fiddle and was becoming known as one of the town's top guitarists. He worked the Opry and played with the Bailes Brothers, Curley Fox and Texas Ruby.

He took over the lead of Red Foley's band and as well as the Opry they played the Ozark Jubilee. It was with Foley that Martin played on his first big seller, Chattanooga Shoe-Shine Boy. During the session he formed a long time partnership with Decca's Paul Cohen and their influential Nashville producer, Owen Bradley. The next two decades were when Martin made his name and built up an unprecedented reputation. Although he recorded with his Slewfoot Five for Decca it was his session work where he excelled.

He started working with Johnny Horton and the late 50's saw him at the peak of his craft on such Horton classics as Honky Tonk Man, I'm A One Woman Man, I'm Coming Home and The Woman I Need. It was Martin who suggested at one Horton session that Harold Bradley play a banjo on When It's Springtime In Alaska (It's Forty Below). It was a master stroke which completely changed the song's make-up and set a trend for such historic folk songs - Horton repeated the idea for his million-seller, Battle Of New Orleans. He was respected as a versatile and inventive guitarist and the full range of playing he used when working with Brenda Lee summed it up, whether it be his rockabilly boogie playing on Bigelow 6-200, or his fills on the poppier material like Let's Jump The Brromstick or My Baby Likes Western Guys.

The first Grammy ever awarded for a country song was Marty Robbins brilliant western ballad, El Paso, but only a fool would suggest the song would have been half as good without Grady Martin's fluent Tex-Mex picking. It was a high point in both men's illustrious careers. When they worked together a year later (1960), history was again made when Martin's malfunctioning amplifier caused a distorted sound, known from that day forward as fuzztone.

He worked thousands of sessions and amongst the artists Martin backed were; Johnny Burnette, Johnny Cash, Jim Reeves, Patsy Cline, Flatt & Scruggs, Lefty Frizzell, Don Gibson, Elvis Presley, Jerry Lee Lewis, Joan Baez, JJ Cale, Merle Haggard, Bill Monroe, Hank Snow, Ernest Tubb and Roy Orbison.

In the 70's he worked extensively with Conway Twitty and Loretta Lynn and produced the country-rockers Brush Arbor. After a brief spell with Jerry Reed he became a member of the Willie Nelson Family troupe, touring the world from 1980 to 1994 and working on such studio sessions as On The Road Again and Always On My Mind. He retired and spent his time back in Marshall County. He became the first recipient of the Nashville Music Association's Masters Award in 1983 and was awarded a Chetty last year during Chet Atkins' Musician Days festivities in Nashville. Married three times, Martin left behind ten children, seven grandchildren, one great-grandchild and an enormous body of guitar solos that helped change the face of popular music. As Bob Moore told the Tennessean newspaper, "I think he's the single greatest guitar player we've had here in Nashville".

Shaun Mather

Wayne Hancock
A-Town Blues
Bloodshot Records - BS080

This new release is Wayne "The Train" Hancock's fourth career album, and the first for the Bloodshot label. As he proudly points out in the liner notes, "it was cut in twenty hours, mixed in two days, and cost less than ten thousand to make and that is as it should be".

As with the previous trio of albums, the sound is a fine set of hillbilly, honky-tonk with a persistent slap bass driving each song along. Of the fourteen songs included, ten are written by Hancock and they cover the usual range of country topics. A-Town Blues is an autobiographical tale of touring while Man Of The Road is just what the title suggests! Route 23 is a sad tale about his gal getting killed in a car-wreck, two weeks before they were to be married - "They told me not to come here, but I had to see, All that's left of what was once mine on Route 23". Jeremy Wakefield's steel guitar beautifully echoes the tears in the lyrics and Hancock's nasal delivery rings with pity.

I wasn't that struck on three of the covers, they all sounded a bit too slow and jazzy. The best cover is his brilliant take on Jimmie Rodger's California Blues - taken at hypnotic pace, it's a roadhouse stomp. Perhaps the best song on the CD is the wonderful Miller, Jack & Mad Dog, a preach about the woes of booze and breaking the law. The album closes with a sparse track written by Hancock when he was 23. It's sang in the Hank Williams style, with lyrics and a yodel that give more than a passing nod to the Singing Brakeman.

The last word goes to The Train who sums it up best, "If you like music that moves and the trash on the radio can't satisfy your wanderlust then try this CD and burn a thousand miles. I'll see you on the highway"

. You can buy this CD with confidence - although there's nothing here to quite match the brilliant Thunderstorms And Neon Signs, it high class country nearly all the way.

Shaun Mather
November 2001.


I wrote the following review after seeing Wayne Hancock in Bristol last year but for some reason forgot about it. Now seems like a good time to dust it off.


Wayne The Train pulled into the Gas Station and blew everyone off the platform with a 2 ј hour ride through the America we only know now from black and white movies. After a great set from the Railmen, the sound of the Man In Black made way for the sounds of Luke The Drifter, who was fresh from a big London show with Reba McEntire, whose ears must have been burning on this particular night.

Hancock possesses a southern accent as thick as molasses including an understated yodel and played a worn out acoustic. TK Smith on guitar is one of the best in the business and his laid back approach was at odds with his dextrous picking. The same is true of Jeremy Wakefield whose steel guitar added the right amount of lonesomeness to the slowies and pepped up the two-steppers. Davie Ketchum on bass played superbly all night, playing left handed on a right handed set-up, which certainly impressed Railman Mark.

His songs portray an image of forties America with vivid images of small town, blue collar life. The highway is a common theme, his many hours and experiences on the road put to good use. Poor Boy Blues, Juke Joint Jumping, Double A Daddy and That's What Daddy Wants all showed he could cut some rousing rockabilly alongside the more subtle Johnson City or Highway 54. For pure atmosphere the brilliant Thunderstorms And Neon Signs and Cold Lonesome Wind were breathtaking, it was hard to believe that this young punk in the Hawaiian shirt had written them.

Cover versions were well chosen with the likes of Move It On Over, Wino Boogie, Kansas City, Honky Tonk Man ,a perfect California Blues and my pick of the bunch, Hank Snow's I Don't Hurt Anymore. The Train has just the right high pitched wail to do Hank Snow a treat, and the mouth waters at the thought of what he could do with the likes of Music Makin' Mama From Memphis or I'm Movin' On. The crowd were lapping up the sounds and were in hog's heaven when he dedicated Your Cheatin' Heart to "Reba, the bitch that sold Hank's house".

After an encore of Hoy Hoy, the Train done gone, and everyone went home happy, with Wayne's parting shot ringing in our ears, "If you're driving home, have a drink and run someone over". A big warm thanks to Elmer for putting on such a superb show, at an ideal venue, with good acoustics and only ten minutes from Temple Meads station.

Shaun Mather
May 2000.




Brian Setzer's 68 Comeback Special
Shepherds Bush Empire
18 October 2001


Photo supplied by Jason Fletcher
(Both photos courtesy: www.BrianSetzer.com)

There's always a bit of trepidation involved with watching your hero for the first time. All those years of idol worship could be wiped away if the guy can't match his records or worse still, if he seems like he's going through the motions (I hear Chuck Berry's just turned 75!). Brian Setzer's 68 Comeback Special were at the Shepherds Bush Empire for the final night of a long European tour whose only other date on these shores was a show in Glasgow two nights earlier and I was lucky enough to be there for the Sold Out show.

The opening band, Jessie James was abysmal, trying to mix punk and brass. The comments from the sold-out crowd were much more fun, but this being a family show, I can't repeat most of them. About the only comment I heard devoid of four letters came from Phil, who asked where Bob Ford was when you needed him. After a lengthy wait, the trio came out to a wild greeting, Brian looking cool with his hair pumped up high. He looked genuinely pleased by the reception, obviously not hearing Phil suggest that with the extra weight Brian now carried it should be called the 77 Comeback Special.

It was straight in to a brilliant cover of Please Don't Touch, full of drive and a couple of great guitar solos. It set the theme for the evening, and the London crowd lapped it up. The three-piece then showed that you don't need 17 pieces to storm through This Cat's On A Hot Tin Roof, before launching in to a trio of hot rocking numbers from the new album, Ignition, Hot Rod Girl and 5 Years, 4 Months, 3 Days. After remarking about it being twenty years since he'd written the song, the crowd went nuts to the strains of Stray Cat Strut. It was a great version which managed to match the original version.

The pace increased again with a storming Drive Like Lightnin'. If anyone was still skeptical about Brian's talent, their doubts were well and truly put to rest with Sleepwalk. His playing left everyone slack-jawed, with some fantastic solo work all done without the use of the whammy bar. The response was loud and long and you could see everyone looking around nodding and grinning. Next up came From '59 and then the yodeling train-stomper, 8 Track, another highlight from the new CD, which gave drummer Bernie Dreisel a chance to shine. The stage was then handed over to the superb bass player, Mark Winchester for his own Rooster Rock, which gave Brian ample space to play some more blistering solos and Mark showed what a fine singer he is in his own right.

Brian the Gretsch for a banjo and dedicated Gentle On My Mind to "the brothers we lost in New York". It was an emotional rendition, and in marked contrast to the follow-up, a rousing Old Joe Clark and then with the band taking a well deserved breather, a solo version of Black Mountain Rag.

The next quartet of songs left everyone breathless with Hellbent surrounded by three numbers from the Stray Cats debut album. Rumble In Brighton was brilliant but Rock This Town and Fishnet Stockings were my favourites of the whole night. By this time I was at the very front and it was a hot and sweaty game of push and shove to stay there. The band left the stage after Rumble but there was no way they could go without an encore.

The pace slowed for I Won't Stand In Your Way with the gathered mass replacing 14 Carat Soul for the doo-wopping. Then it was a flash back to John Beddoes School, Presteigne, as the band launched into Runaway Boys. What a breath of fresh air that was twenty years ago. The band finally left us with Gene And Eddie, with Brian slipping from Eddie to Cliff Gallup to Johnny Meeks with consummate ease.

It was a fantastic show and everyone I spoke to was surprised that Brian was still rocking this hard and good. A fine night was rounded off when me and Phil went for an Indian with Kevin Carey and Jailhouse John Alexander.

Shaun Mather, 2001





Elvis Presley
Midsouth Coliseum, Memphis, TN
July 5th, 1976


Unbelievably, it's twenty five years ago this month since Elvis Presley made his last stage appearance in his hometown of Memphis, Tennessee. The town is synonymous with Elvis and vice versa, and not surprisingly it was also the scene of his first ever, live performance. The first show, on 17th July 1954 saw a shy teenager play the interval set with Scotty Moore and Bill Black who were also playing with the main act of the evening, Doug Poindexter and the Starlight Wranglers. The noisy, drunken crowd in the smoke filled Bon Air Club would hardly of noticed the young, greasy haired weirdo as he played the only two songs the trio knew. After another performance the following Saturday, he got a bigger gig at the Overton Park Shell in town, where he got to upstage the big record stars, Slim Whitman and Billy Walker. Elvis soon took the world by storm, and despite the obvious advantages of moving to somewhere a bit more glamorous like Hollywood or somewhere a bit more useful like New York or Nashville, he stayed close to his roots, in the southern melting pot of Memphis. It remained his spiritual as well as physical home, a place where he continually drew his inspirations.

At the height of his amazing powers, Elvis got drafted and spent two years making fires to keep warm in Germany. Between his return from duty in 1960, and his 1968 comeback, Elvis only played two live dates, one in Hawaii and the month before that, on 25th February 1961, two shows at the Ellis Auditorium in downtown Memphis. After his comeback to live performances in 1968, he again started to criss-cross the country, playing to sold-out stadiums and concert arenas. For some reason though, none of the tours took in any Memphis dates, until he plays five sold out shows there in mid-March 1974. Such was the anticipation for the homecoming shows, that RCA decided to record the engagements and released an album four months later, imaginatively titled, Elvis Recorded Live On Stage In Memphis. I think the title was a bit vague and could have been titled, Elvis Presley Recorded Live By RCA On Stage In Memphis Tennessee In March 1974! He played a corking show in town again on June 10th, 1975 (see Let Me Take You Home - Diamond Anniversary Editions) in the middle of a dynamic eleven-day tour, which saw Elvis in some of his best form for years.
Unfortunately, when he next played a home match, at the Mid-South Coliseum on July 5th, 1976, it was at the end of a long, bad, eleven-day tour. There was constant unrest amongst the Memphis Mafia, with Red and Sonny West less than a fortnight away from the sack and the others bitching as if they were on the Opra Winfrey show. Most of the musicians remember Elvis being in a bad mood throughout the show - he'd even ignored the usual gathering outside the Graceland gates when he'd left for the show.

Elvis had played to about twelve people at the Bon Air in 1954, a nervous wreck, now he was playing to twelve thousand - just a wreck. He was a shipwreck, drifting uncontrollably towards the cliffs, with all his lighthouses standing by too scared to put a word out of place in case they got the Red West treatment. Although the crowd responded well throughout the show, he gave a lazy performance, fairly devoid of any emotion except for the usual crowd pleasers like Hurt and America The Beautiful. He always failed to reach the notes on Fairytale, but on this night he failed quite spectacularly. Polk Sald Annie missed the beginning, any power and also, the mark. He sang quite an extended Hound Dog, not as rushed and throwaway as usual and he really seemed to come alive when he turned back the clock and treated the crowd to That's Alright Mama. Introducing it as the first song he'd done in Memphis he said, "A lot of people say I can't do that anymore - well you by-God watch me". He sang it with some fire in his stomach and he proved to everyone that when he did it that way he was still the man. A great version of Blue Christmas followed - a neat choice for a steamy Dixieland night in July!


His fans in Memphis must have known better than anybody that things weren't good in the world of Elvis - they knew he'd spent long spells in hospital and must have seen how his excesses were getting more and more out of hand. Many would no doubt have been there wondering if this would be the last go round. One of them might have been Elvis himself!

After the show he went straight to bed and cancelled the Fourth of July fireworks display that had been planned. I wonder if he felt bad that he'd let down his oldest, most faithful audience. Even though he was a man living in denial, he surely couldn't have felt good about the night's performance. The King was slipping into a coma and he needed shaking. Jerry Lee called around the mansion a couple of months later thinking that nothing wakes a man up like a shotgun, but his early morning wake up call only rang alarm bells at the local police station. When Elvis watched the Killer's arrest on the close circuit cameras from his bedroom, I wander whether he thought that the cocky piano boy was right, or was he just too far gone to see or care. Long live Memphis and all the old rockers who sailed in her.

Shaun Mather
July 2001